Chip 'N Dale: Rescue Rangers Tried To Get The Perfect Star Wars Cameo, But Lucasfilm Didn't Approve [Exclusive]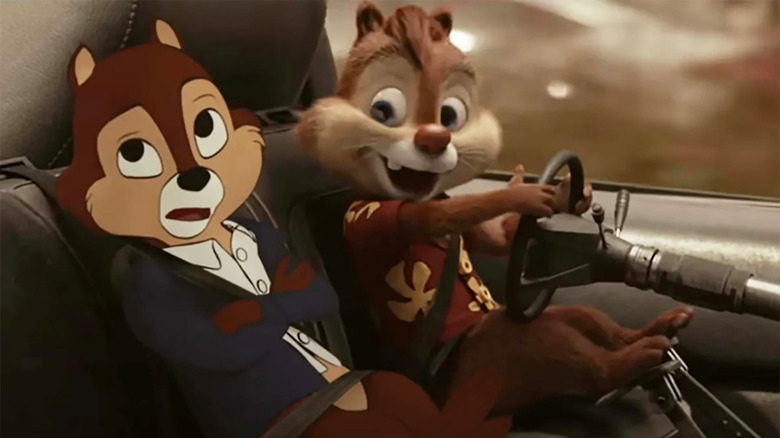 Disney+
In case you haven't heard, the Disney+ original movie "Chip 'n Dale: Rescue Rangers," based on the '90s animated series of the same name, is absolutely fantastic. Director Akiva Schaffer has delivered a worthy successor to "Who Framed Roger Rabbit" that is full of clever satire focused on the animation industry. The film features an immeasurable amount of cartoon cameos and references, and it's kind of a miracle that Disney let it happen, and that includes the use of certain classic characters from their long history of animation. 
However, getting some animated characters into the movie wasn't easy. Not only were there many characters who didn't make the cut, for one reason or another, but there was one specific character from the "Star Wars" saga that Schaffer wasn't able to use because Lucasfilm wasn't on board. 
The galaxy far, far away was just out of reach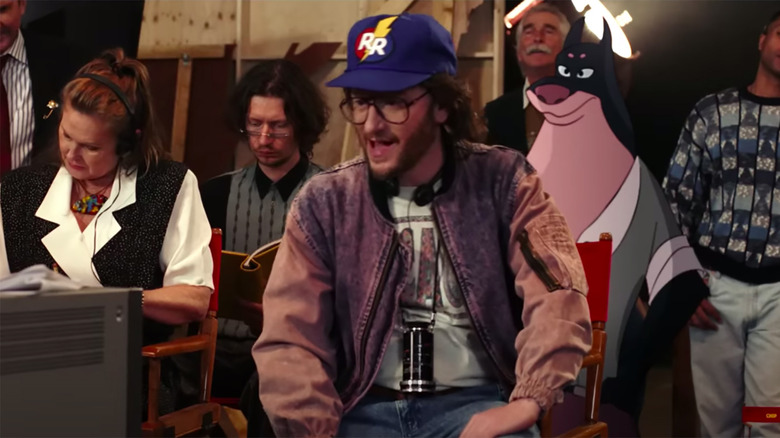 Disney+
During an interview with Akiva Schaffer, we asked about a possible "Star Wars" gag that was intended to be in "Chip 'n Dale: Rescue Rangers." Initially, Schaffer (seen above making a cameo in the movie) was reluctant to talk about any of the many characters that they weren't able to secure for the movie, because he's holding out hope that it might be possible in a potential sequel. When I inquired about a "Star Wars" reference specifically, he responded: "That's actually the one that was in my brain right now when I said that."
It sounded like Schaffer wasn't going to be able to answer the question fully, but then he followed up, "To be honest, you can probably think of who the most fun character in that universe is and you'll probably be right. An animated character."
Considering the fact that "Chip 'n Dale: Rescue Rangers" also features more photorealistic digital characters, not just cartoonish 2D and 3D computer animated characters, there was only one "Star Wars" character who came to mind. Without saying the character's name, I asked, "A certain infamous one maybe?" Schaffer confirmed, "Yeah."
'Ex-squeeze me!'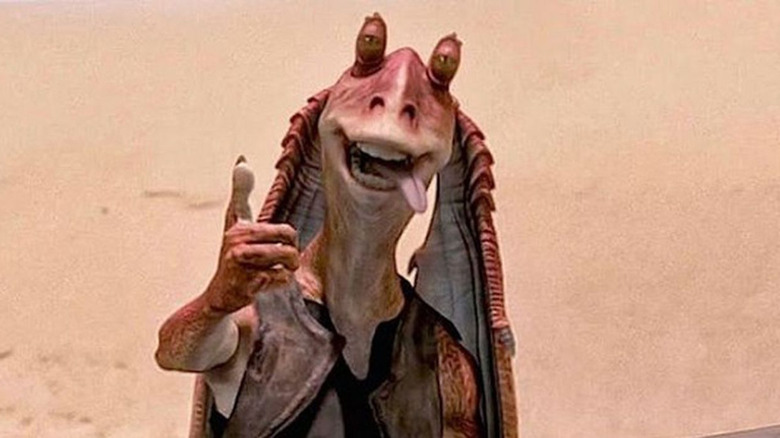 Lucasfilm
Ladies and gentlemen, we're talking about none other than Jar Jar Binks, the Gungan who arrived in the "Star Wars" universe by way of "The Phantom Menace" and was met with plenty of gleeful laughs from children and venomous vitriol from adult "Star Wars" fans. Binks became the most hated character in "Star Wars" history and remained a punchline for a long time. However, that's changed in recent years as younger fans have grown up in the two decades since the first prequel's release. So why didn't Lucasfilm want Jar Jar Binks to appear in the "Chip 'n Dale" movie?
The likely explanation is that whatever was intended for Jar Jar Binks used him as a joke. Since Binks has been mocked endlessly for years, they probably felt like it was beating a dead kaadu. Actor Ahmed Best, who provided the voice for Binks and acted as stand-in for the digital character on set, has even admitted that he contemplated taking his own life after the reception to his character was so hateful. So even if "Chip 'n Dale: Rescue Rangers" wanted to use him for a more innocent joke, Lucasfilm probably felt that it was an unnecessary jab after so many years. However, after seeing how the movie cleverly handled other animated characters, maybe they'll reconsider if a sequel moves forward.
"Chip 'n Dale: Rescue Rangers" is available to stream on Disney+ starting on May 20, 2022.