Firestarter Used A John Carpenter Classic As A Starting Point For Its Score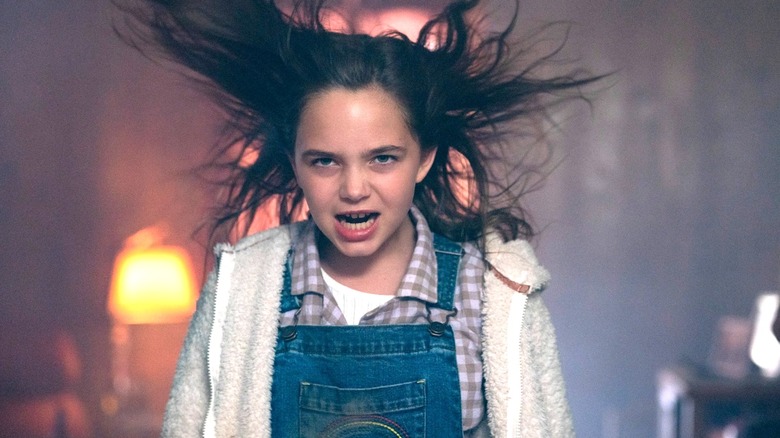 Universal Pictures
Hollywood has gone through so many Stephen King films that it's circling back to remake King movies that have already been adapted for the silver screen (see "It" and also "Pet Sematary"), but can you blame them? The man knows how to craft a terrifying story. The most recent King remake to hit theaters is "Firestarter," which is helmed this time around by director Keith Thomas ("The Vigil") and comes from the folks at Universal and Blumhouse. And it's that magical Blumhouse connection that made the score for the new film a little extra special.
In a Bloody Disgusting interview, Thomas shared that he had dreamed of having horror icon John Carpenter compose the score for the film, but he was keeping his hopes low:
"It was an idea that I had floated because I knew Blumhouse's history with Carpenter, with the 'Halloween' trilogy. I thought no way that was ever going to happen. Then crazily enough, it did. Suddenly, I was on the phone with John and talking about the score and what we wanted from it."
This isn't the first time that Carpenter has agreed to a project and made someone's day. Dave Grohl told a similar story when working on the movie "Studio 666," which includes a Carpenter-composed theme song and cameo. The man clearly loves to surprise people, especially when they give him the creative freedom to whip up whatever he wants, which was definitely the case with "Firestarter." As Thomas explained, once he got Carpenter involved with the film, the director was pretty hands off. His only note for Carpenter was that he wanted the score to sound like the music from another King and Carpenter adaptation: 1983's "Christine."
Carpenter's revenge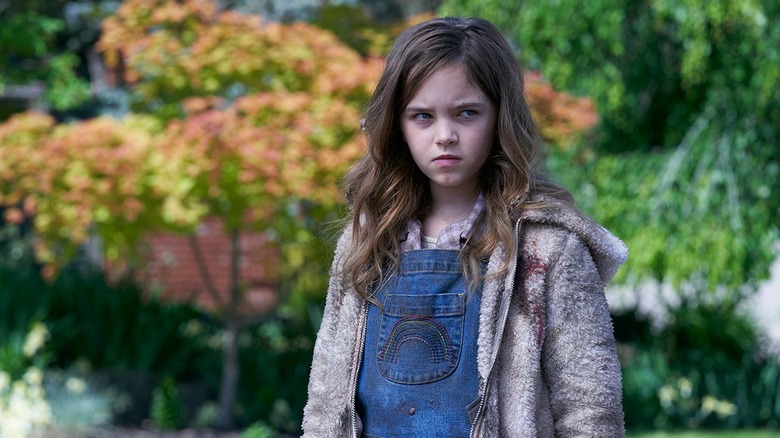 Universal Pictures
"We had talked about what it's going to sound like; he wanted references. I said, 'Christine,' in terms of what the sound should feel like and what we're going for," said Thomas, adding, "He watched the film. He gave me his overall notes of 'Here's what I'm thinking of doing.' From there, it was pretty much 'John, do your thing. I'll listen to it. I'll give you any notes if I have them, but I trust you a hundred.' I mean, who am I to say?"
In a way, working on the score to "Firestarter" must feel a little bit like sweet revenge, especially since Carpenter was fired from directing the 1984 adaptation by Universal after his previous project, "The Thing," was poorly reviewed. The joke is definitely on Universal, considering "The Thing" is easily regarded as one of the best horror films of the '80s and Carpenter was still able to make his way back to "Firestarter," even if it was in a roundabout way and more than 35 years later. As Thomas explained it:
"We didn't get into his history with 'Firestarter.' John's a very straight shooter. He's like, 'Right now, I'm composing this score, and this is what we're going to do.' So I didn't want to bring it up. But I think it was, in some ways, liberating for him because it was his first score not directly tied to something that he had done. He and Cody [Carpenter] and Daniel [Davies] were able to play in interesting ways. It's still very Carpenter. It's still very much what you would expect and what you'd hope for."
"Firestarter" is in theaters and streaming on Peacock now.