Halloween Ends Has, Well, Ended As Production Wraps On The Trilogy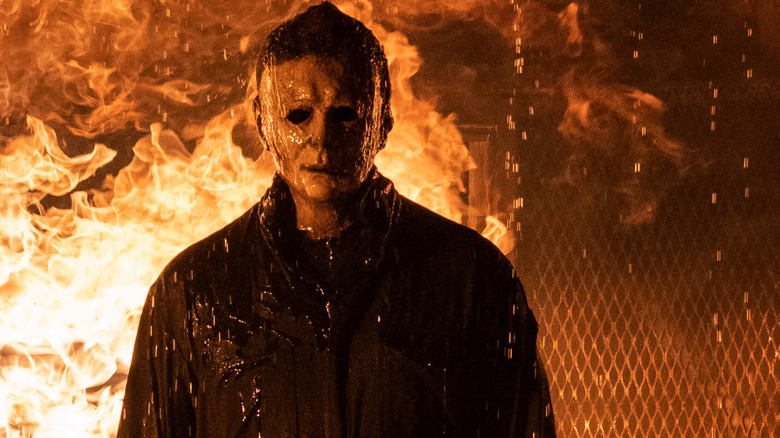 Universal
Get ready, horror fans! "Halloween Ends" has, well, ended! The final film in David Gordon Green's reboot trilogy is set to stab its way into theaters this fall, marking the latest "final" confrontation between Jamie Lee Curtis' Lurie Strode and local old William Shatner cosplayer, Michael Myers.
Starting with 2018's boringly titled "Halloween," Green's new trilogy has brought Michael Myers to a new generation with a decades-old conflict. That film, set decades after the events of John Carpenter's original 1978 classic, also titled "Halloween," finds Laurie Strode as a grizzled survivor. She spent her life preparing for the inevitable day Michael Myers would escape and turned her home into a murder house to trap and kill Michael, all while ruining her relationship with her daughter Karen (Judy Greer). Despite a big showdown, Michael survived that movie, and last year's "Halloween Kills" delivered one dark, bleak, violent sequel where Michael seemingly wins, killing a bunch of characters, including Laurie's daughter Karen. 
A different Haddonfield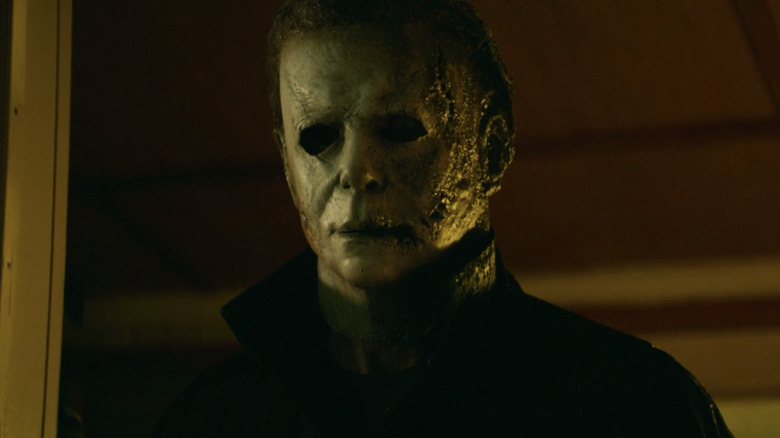 Universal
In an Instagram post, producer Ryan Turek shared an image of the last day of shooting for "Halloween Ends." The post reads: 
"Last night of shooting. A wrap on our Halloween trilogy. Incredible journey. Amazing cast, amazing crew. While we obviously have post-production ahead of us, it's still an emotional night."
While "Halloween" and "Halloween Kills" take place on the same night, "Halloween Ends" will do things differently. For one, David Gordon Green confirmed the third movie is jumping forward in time four years, and will reportedly explore Andy Matichak's Allyson and her psychology now that Michael killed both of her parents.
Likewise, Green also teased a "very different" tone for the final film in the trilogy, as well as some weird real-world events sneaking into Haddonfield. Speaking of the things the people of Haddonfield are dealing with in the new film, Green revealed: "they also had a worldwide pandemic and peculiar politics and another million things that turned their world upside down." Just what you want in your "Halloween" film.
A definitive ending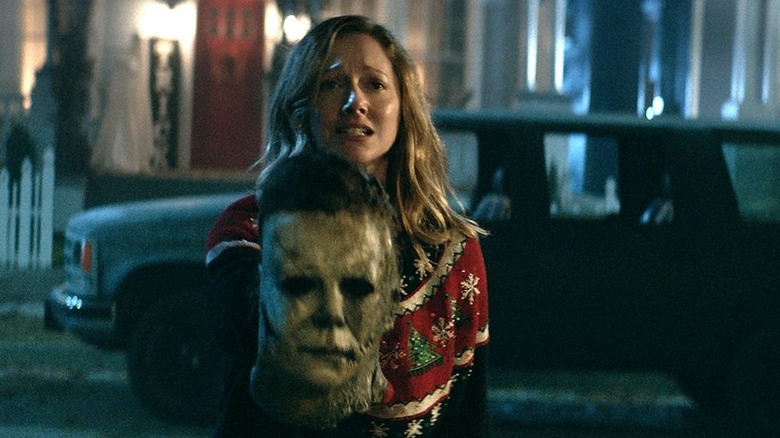 Universal
The thing about "Halloween" is that it never truly ends. This is far from the first reboot the franchise has gone through, so you'd be excused for being skeptical about the title "Halloween Ends."
Luckily, there's at least one person that believes the film will actually end the franchise, its creator John Carpenter. Earlier this year, Carpenter said in an interview that he was, for one, very uncertain about the future of the franchise. 
"I don't know, man. I don't know. This time, I do not know. They really want to end. They're going to shut it off, end it. It's what David has in mind. That's fine."
Now, to make a new "Halloween" movie after the one with the word "ends" in the title would be quite a dumb thing to do. At the same time, we have seen Michael Myers definitely die several times before, only to come back stronger than ever. Will "Halloween Ends" deliver a satisfying ending? Will the inclusion of a pandemic storyline be cringe-worthy? Only time will tell.
"Halloween Ends" may lie about its title or not when it stabs its way into theaters on October 14, 2022.