Halloween Ends Will Be 'Very Different In Tone' From The Other Movies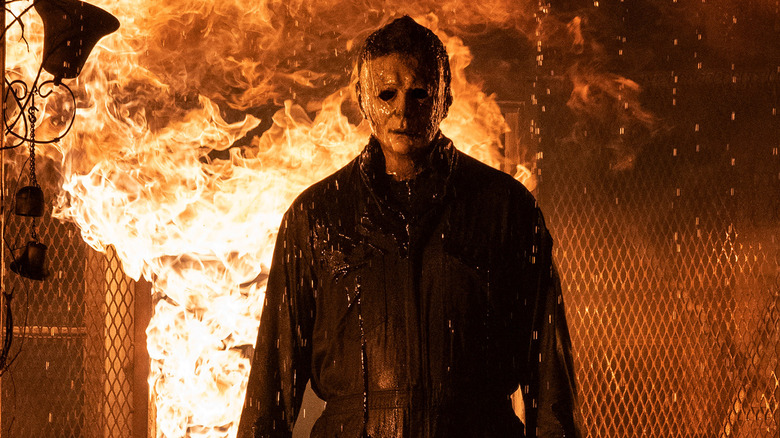 Blumhouse
"Halloween Kills" is now in theaters and on Peacock, and "Halloween Ends" is due out next year. I'll try to avoid giving away spoilers in case you haven't seen "Halloween Kills" yet, but let's just say that movie leaves a lot of stuff up in the air for the third and supposedly final entry in this new trilogy to address. While we'll have to wait until next Halloween for "Halloween Ends," director and co-writer David Gordon Green is offering up some hints as to what we can expect from the next entry. The filmmaker has already revealed that the next movie would jump forward in time, and even mention the COVID-19 pandemic that we seem to be eternally stuck in. In addition to that, Green is teasing something "different" from what we've already seen. 
A New Twist Ending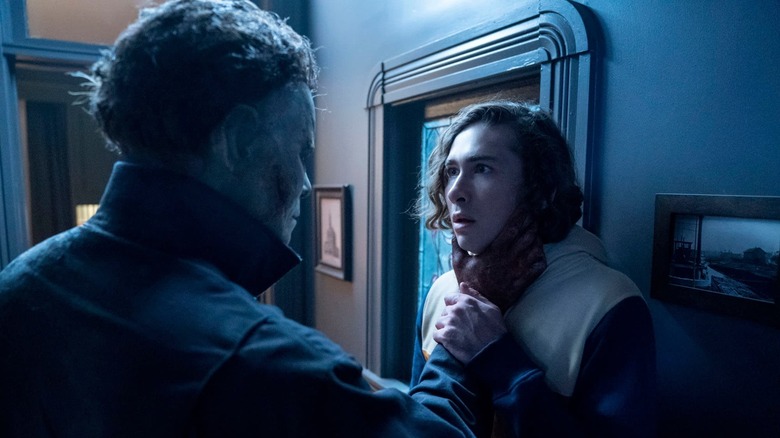 Blumhouse
I'm somewhat mixed on "Halloween Kills." I didn't hate it as much as some folks, but I didn't love it, either. I felt it was a film that had some good ideas poorly realized, and I can only hope that "Halloween Ends," the third and allegedly final film in this current series, will bring all of the elements introduced in "Halloween" 2018 and "Halloween Kills" together successfully. Right now, nothing is written in stone. As Jason Blum recently revealed in an interview with THR, the film doesn't begin shooting until January. 
In that same interview, director and co-writer David Gordon Green dropped a few hints about where the series is going. Specifically, he mentioned that the third film is going to be much different from the first two:
"Yes, it is. It's very different in tone from Halloween (2018) and Halloween Kills, and I think that's part of my self-indulgence. I very often jump around in genres and explore different themes and characters through movies. So I've made a point for my own interest as a fan to take different technical approaches to each of the three in this trilogy. So I'm excited to show you guys what we're working on, but we're just cooking it up right now."
Green also underlined how flexible all of this is by revealing that while they had an ending already in place for the trilogy, he recently thought up a brand new ending that he wants to add: 
"I'm sure it will evolve. I just came up with a new twist ending on the ending that existed a couple weeks ago, and that's something that only I hold the piece of paper that has those words on it. So no spoilers here."
What Now?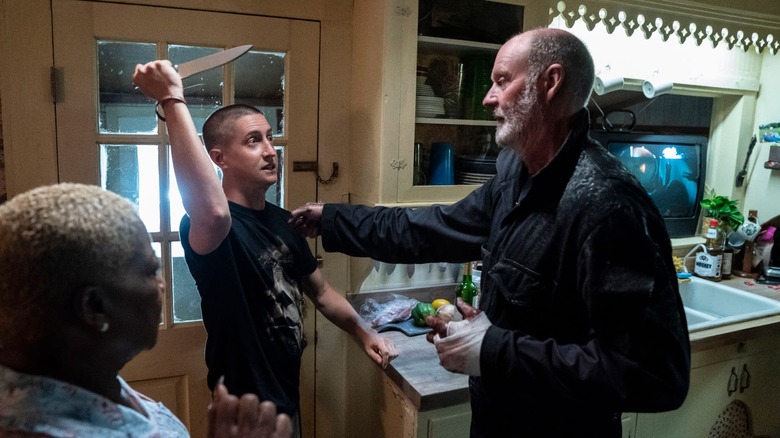 Blumhouse
I'm very curious to see where things end up with "Halloween Ends." I'm not entirely sure I like the whole "let's bring COVID-19 into this!" idea that Green has mentioned already. If you missed that quote, here it is: 
"So if you think about it, I mean, where we're leaving these characters on Halloween 2018, the world is a different place. So not only do they have their immediate world affected by that trauma, having time to process that trauma – and that's a specific and immediate traumatic event in the community of Haddonfield. But then they also had a worldwide pandemic and peculiar politics and another million things that turned their world upside down."
I appreciate that Green and company want to do something relevant here, but I personally think they might be barking up the wrong tree. Still, I'm curious to see how it all shakes out, and I'm curious to see just how different the tone ends up being. We'll know for sure when "Halloween Ends" on October 14, 2022.