Here's Why John Carpenter Wrote The Theme Song For Foo Fighters Horror Film Studio 666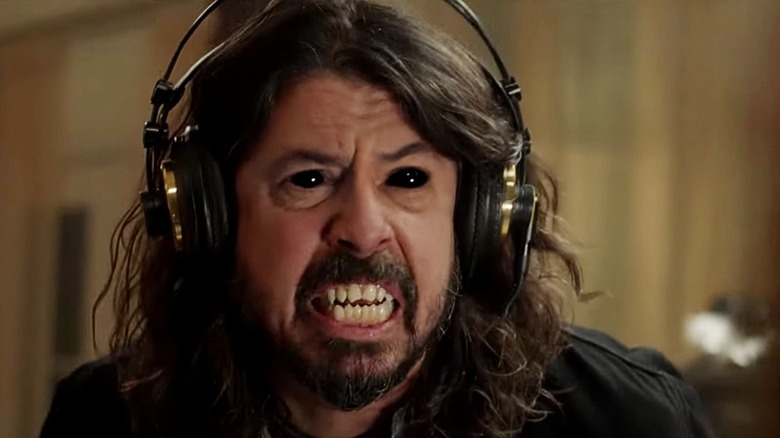 Open Road Films
Two great tastes that taste great together. In a hot collab for the ages, the Foo Fighters and John Carpenter have teamed up for the upcoming dad rock horror movie "Studio 666," and they both sound beyond pleased about it. Carpenter's involvement in "Studio 666," which was filmed in secret during the pandemic, gives the upcoming film an extra fairy dusting of horror movie magic. The entire project might seem a little out of left field for the Foo Fighters' major demographic (aka my dad and everyone else's dad, hi dad!), but frontman Dave Grohl's pure excitement proves that his intentions are pure. Also, literally no one in that band needs the money, which is fun.
"Studio 666," which is based on a story by Grohl and directed by BJ McDonnell, follows the Foo Fighters as they attempt to record an album at a mansion in Encino, California with a cryptic satanic history. Soon enough, the band finds themselves up against forces from beyond the grave, putting both their music and their lives at risk. Also, John Carpenter is in it! Even if only for the briefest moment.
Email is the scariest medium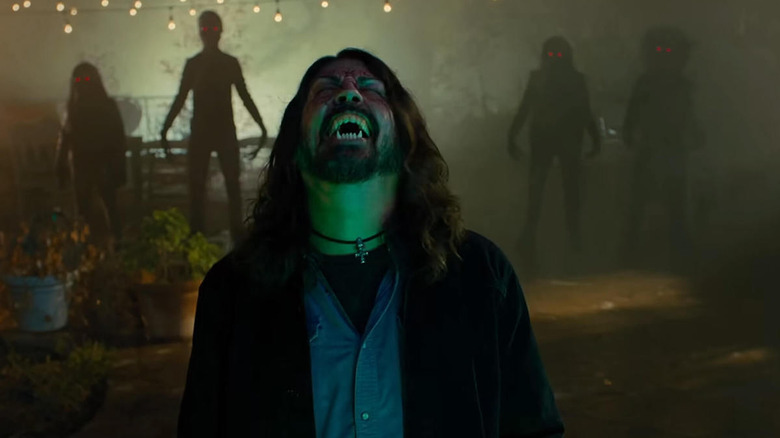 Open Road Films
Grohl relayed the entire story in an interview about the project with Bloody Disgusting, and it's clear from the get-go that he found it an honor to collaborate with Carpenter. The way Grohl tells it, it all started off with an email introduction (spooky!):
"When we told our road crew that we were making a horror film, our lighting designer, Dan Hadley, said, 'Oh my God, I know John Carpenter. I went on the road and did lights for him when he was performing his music for live audiences. You should email him and see if he'll make a cameo.' I'm like, 'There's no f****** way John Carpenter's going to be in our silly little horror film.' He said, 'You should try him.' So, I f****** emailed John Carpenter, 'Hi. My name's Dave; I'm in a rock band called Foo Fighters. We're making a horror film, and we have a mutual friend, Dan Hadley. Want to make a cameo in our movie?'"
While Grohl originally only asked Carpenter to make a cameo, their collaboration ended up blossoming into something a little more magical once Carpenter responded to that faithful email:
"He emailed back and said, 'Fifteen years ago, Foo Fighters took my son's band on tour. You treated him so well on the road. Not only will I be in your movie, but I'll write the theme song.'"
Where's my Carpenter x Foo Fighters album?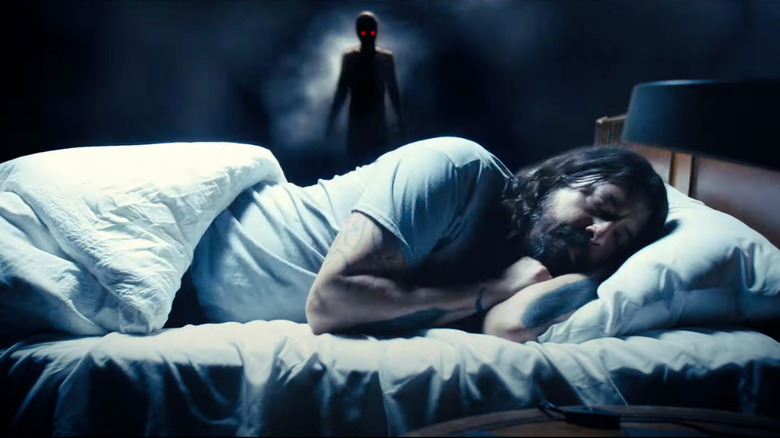 Open Road Films
There are so many sweet things happening in this story, it's almost hard to keep track. First off, it's very charming that Grohl thought John Carpenter didn't know who the Foo Fighters are, and that he doesn't think he has enough pull to get him to do a cameo in his movie. I've seen Carpenter do cameos for horror shorts you can only find on VHS; you know he was at least going to consider "Studio 666." And then there's Carpenter's response, which highlights the kindness of the whole Foo Fighters crew. Also, it's very fun that Carpenter assumed they would take whatever theme he wrote, I mean, of course they would, but still.
And speaking of that theme, it sounds like the whole crew was enchanted:
"Look, when we first heard the theme song, when he and Daniel [Davies] recorded the song, and they sent it to us, everyone got the chills. Everyone practically had tears in their eyes, and we looked at each other and said, 'How on earth could we be so lucky to have such an incredible experience?' It blew everybody's f****** minds. Yes, we had a great day on set. It was awesome. He was wonderful. Everyone was in awe. You listen to the music, and you're like, 'Okay, there's a reason why John Carpenter is a legend.' You just close your eyes, open your ears, listen to that, and you're like, 'That's John Carpenter.'"
Considering Carpenter's great theme work in his own movies, and the albums he's been steadily releasing since 2015 (I'd especially recommend "Lost Themes III: Alive After Death"), it's not hard to take Grohl at his word when he describes the effect of Carpenter's music. But we'll all be able to decide for ourselves when "Studio 666" hits theaters on February 25, 2022.