Ms. Marvel TV Spot Gives First Live-Action Look At Red Dagger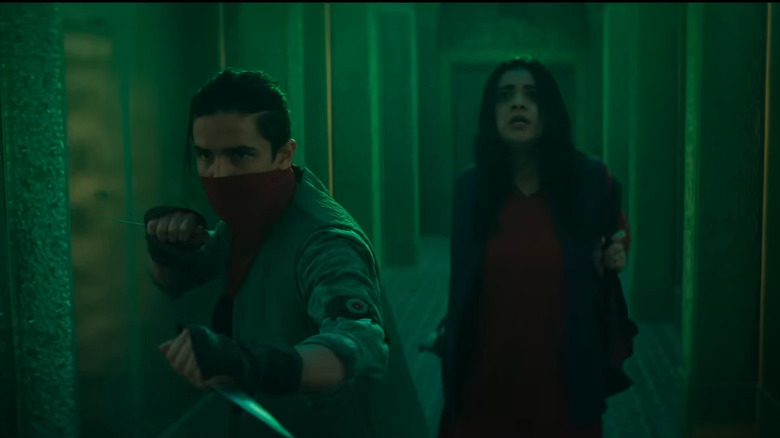 Marvel Studios
There are a couple of ways that even the most casual fan can tell that Marvel's "Moon Knight" has come to an end and the studio is gearing up for their next big Disney+ offering. First, you couldn't have missed /Film's consistent coverage of the Oscar Isaac-starring show and all the unexpected paths it charted on its way to resolving the fracture between Steven Grant and Marc Spector (and Jake Lockley). Second, have you noticed a significant increase in the amount of "Ms. Marvel" marketing lately?
In the last few days alone, we learned that the new show about Kamala Khan (Iman Vellani) would receive its own special theatrical engagement in Pakistan, the comic book character's native country and whose real-life counterpart hasn't received access to Disney+ just yet. Earlier today, some new Kevin Feige comments attempted to assuage the concerns of fans who had questions about the very different-looking power set featured by the live-action character in the upcoming series. Whether that actually worked or not, of course, probably remains in the eye of the beholder.
Now, today brings us another new look at "Ms. Marvel" and the briefest glimpse of a key supporting character suited up and ready for action, as well. You can check out the latest TV spot below!
Ms. Marvel TV spot
Things are about to get "cosmic" up in here, folks.
To newcomers, "Ms. Marvel" looks like a wholesome and fun adventure of a hero-worshipping teenager of color finding herself swept up into the superhero world that she so clearly admires. To comic readers eager for her first live-action adaptation, this provides a unique opportunity to do right by a fan-favorite character whose religion and cultural background form a major part of her identity. Another key part of what makes Kamala Khan such a strong and well-written character stems from her supporting cast, some of whom get a share of the spotlight in this latest TV spot.
In addition to Kamala's family, we also see a brief moment of Kamala teaming up with Kareem, who operates under the title of Red Dagger and is portrayed by Aramis Knight in "Ms. Marvel." The clip doesn't show the exact nature of their foes during this scene, but it's reassuring to know that the knife-wielding hero won't be shunted off to the background or saved for a last-minute origin story that only comes to fruition in the final episode. In fact, putting so much of a focus on Kamala's powers throughout this early stage of the marketing cycle hopefully points toward a story that kicks into gear relatively early. More and more superhero shows these days seem to drag out the story for as long as possible before getting into the exciting parts that everyone wanted to see right away — "Moon Knight," thankfully, avoided these pitfalls.
"Ms. Marvel" (and Red Dagger!) will finally have a chance to prove its worth for mass audiences when it arrives on Disney+ on June 8, 2022.