Kevin Feige Explains Why Ms. Marvel's Powers Will Differ From The Comics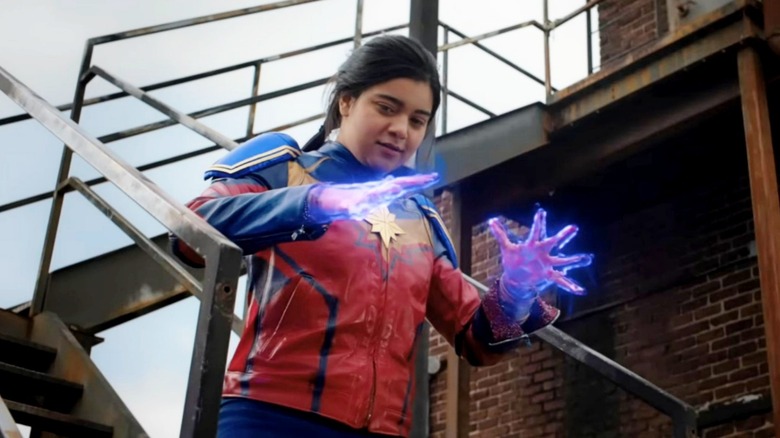 Marvel Studios
Chances are if you've caught any of the trailers and TV spots for Marvel's "Ms. Marvel," one rather noticeable change from the comics has probably stood out like a sore thumb. Since her original conception in 2013, the popular comic book character of Kamala Khan has always been depicted with a specific power set that could basically be described as shapeshifting, stretching and contorting her body to great lengths — lovingly referred to as "embiggening"! — in a way that reflects exactly the kind of self-esteem and body-related insecurities that any teenager would face. 
The source of her powers has to do with the Terrigen Mist that has a unique effect on Inhumans (as seen in "Agents of SHIELD"). The upcoming Disney+ "Ms. Marvel" series, however, seems to have found a whole different approach altogether, prominently featuring Kamala with a purple-tinged and seemingly cosmic-based power that has drawn comparisons more so to DC's Green Lantern than Marvel's similarly stretchy Reed Richards. The online backlash, as you can imagine, was swift and vocal ... even if the Marvel Cinematic Universe drastically switching things up from the source material isn't exactly a new development.
Nevertheless, Marvel Studios is forging ahead with this slightly different adaptation for the teenage Muslim superhero's live-action debut, portrayed by actor Iman Vellani. In a new interview with Empire, studio head Kevin Feige has opened up about his and head writer Bisha K. Ali's reasoning behind this major difference in visuals, referring to the decision as one that's "specific to the MCU." According to Feige:
"We adapt the comics; it's not an exact translation. [Kamala] came about in a very specific time within the comic-book continuity. She is now coming into a very specific time within the MCU continuity. And those two things didn't match."
You can check out the rest of his comments, along with a new image from the upcoming series, below.
'You will see great comic splash panels'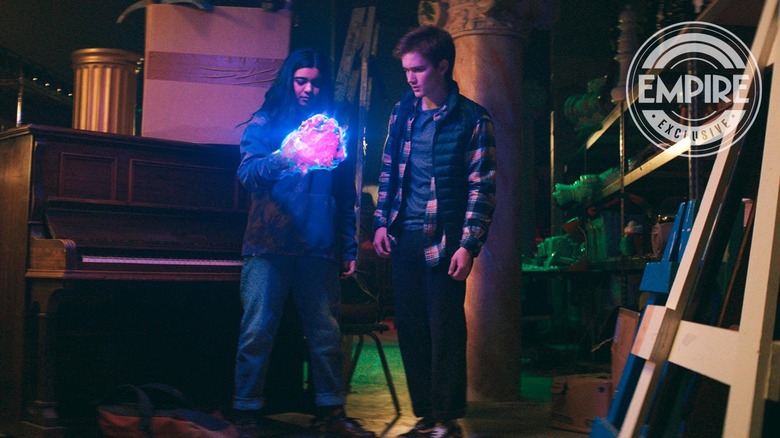 Marvel Studios/Empire
While we have a solid idea of just how different her powers will be in the Disney+ "Ms. Marvel" series, the precise origins of those powers still remains to be seen. In general, the franchise has grown progressively bolder about embracing the zaniest and most unabashedly comic book silliness — as you'll no doubt have most recently seen in this past weekend's "Doctor Strange in the Multiverse of Madness." 
The much smaller and intimate story featured in "Ms. Marvel," however, comes with its own unique set of narrative needs. That's how Kevin Feige lays it out later in the interview, going on to say that:
"What we will learn about where those powers come from, and how they come about, is specific to the MCU. You will see great comic splash panels in some of our action sequences. If you want big, giant hands and arms, well they're here in spirit, if not in stretchy, plastic-type ways."
After the generally well-received "Hawkeye" and "Moon Knight," "Ms. Marvel" will continue the more ground-level and character-focused adventures that fans now associate with the streaming service. It'd be an understatement to say that expectations and anticipation remain high for the first major adaptation of such a beloved comic book character as Kamala Khan, which is probably why Feige felt compelled to come right out and address this change right from the beginning. We'll have to wait and see whether this becomes yet another example of Marvel finding success in their unique approach to the MCU ... or an unnecessary change that inadvertently waters down a rich and compelling hero.
"Ms. Marvel" will debut on Disney+ on June 8, 2022.