Jeff Goldblum Had No Shortage Of Suggestions For His Jurassic World: Dominion Dialogue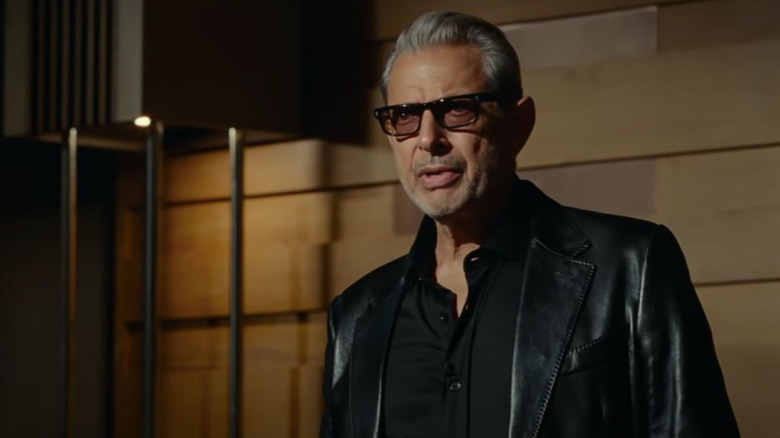 Universal Pictures
"Jurassic World: Dominion" is poised to be one of the biggest movies of the summer. Dinosaurs always find a way to break box office records. However, the real reason why the third installment of the "Jurassic World" series is going to be a massive success is because of the return of Ian Malcolm, played by the ever lovable Jeff Goldblum. Sure it'll be pretty neat to see Sam Neill and Laura Dern return to their iconic "Jurassic Park" roles too, but bringing back the chaotician we all know and love means infusing a charm this series has been lacking in recent years.
Of course, this won't be the first time Goldblum has returned to the world of "Jurassic Park," having been promoted to the lead role in "The Lost World: Jurassic Park," and popping in for a lackluster cameo in "Jurassic World: Fallen Kingdom." The extent of his role in "Dominion" is unknown, but everything points to a more substantial involvement in the dinosaur mayhem this time around. If there's one thing we can definitely count on, it's an array of Goldblum-isms manifested by the man himself. When interviewed by Empire, a giddy Goldblum couldn't contain his excitement, pulling out a little book filled with substitute dialogue he thought would perfectly fit with the humorous sensibilities of Ian Malcolm in the new sequel. Goldblum revealed:
"Oh boy, I have a ton of them...I'll just tell you one... We're on a computer trying to fix something or other, and somebody says, 'Uh-oh, it's started flashing Error 99.' And before Mamoudou [Athie]'s character comes in and explains, I was gonna slip in, very quickly, the line, 'Error 99? Is it Barbara Feldon?' Now, Barbara Feldon was an agent in Get Smart, a television series from 1962 or something, who played Agent 99. So a lot of my ideas have to do with references that are totally irrelevant and of no interest or amusement to anybody who could possibly be watching a movie, and inappropriate to the scene. But it tickled me."
Goldblum, uh, finds a way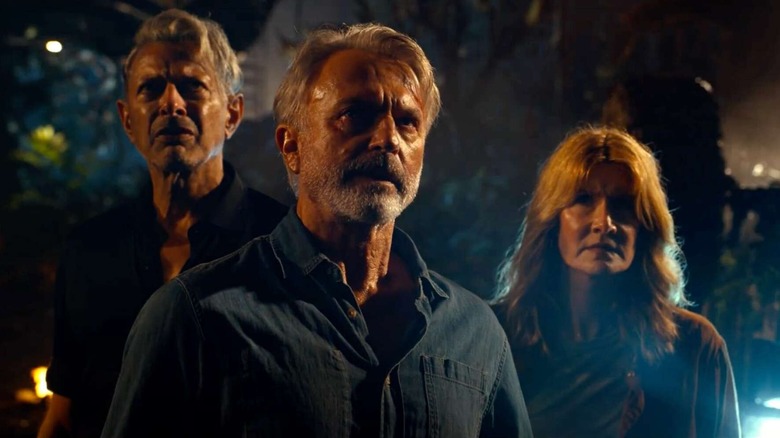 Universal Pictures
Director Colin Trevorrow further explains in that Empire piece how deeply Goldblum is connected to this character:
"He would always bring extra things in his book that, yes, were often references to 1940s musicals, but he's both hilarious and very powerful...it's not just a comedy role. It's the power of his presence in this movie that I love the most."
Goldblum has transformed his quirky personality into a brand unto itself. He even has his own show on Disney+ ("The World According to Jeff Goldblum"), which features the "Thor: Ragnarok" actor exploring whatever the hell he wants. I'm not the biggest fan of improvisational dialogue taking over a movie, but the beauty of Goldblum is that almost everything he has to say, whether on the screen or in interviews, is either funny and/or weird enough to put a smile on my face. This definitely applies to the character of Ian, who's consistently remained the voice of reason throughout all of the "Jurassic Park" films. "Yeah, but your scientists were so preoccupied with whether or not they could, they didn't stop to think if they should," is undoubtedly this series' mantra.
When we first meet the chaotician in "Jurassic Park," he wastes no time flirting with Dr. Sattler, ribbing John Hammond (Richard Attenborough), and being a generally smarmy individual who knows he's right, and that's before we even get to the island. Ian is one of the series' most beloved characters for a reason. For as much as he revels in knowing he's right, at the end of the day, he has a heart where it counts, and he's still willing to attempt a rescue of the people caught in the path of dino destruction. Now that the world has been inhabited by the perversion of evolution at the end of "Fallen Kingdom," it'll be exciting to see how far Ian has come.
The original "Jurassic Park" trilogy is currently streaming on HBO Max.