'Jurassic World' Sets Record For Fastest Race To $1 Billion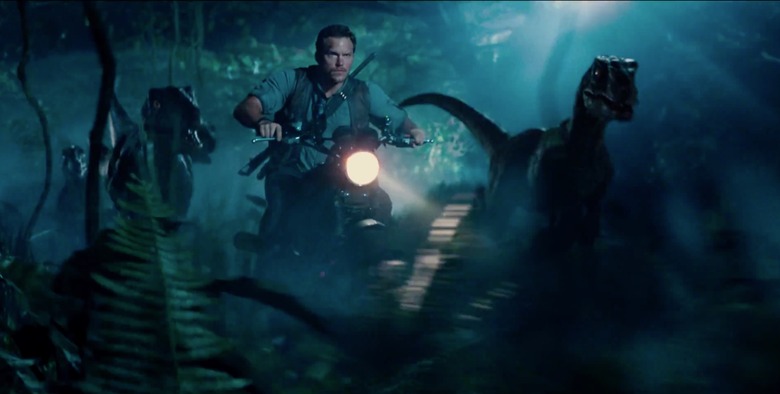 Jurassic World truly is the Indominus rex of the box office. After snatching the U.S. opening box office crown away from The Avengers last weekend, Jurassic World has just beat fellow Universal sequel Furious 7 to become the fastest film to ever hit the $1 billion mark. More details about the Jurassic World billion dollar box office take after the jump. 
Universal Pictures announced today that Jurassic World has crossed $1 billion at the box office in just 13 days. The dino adventure is now the 22nd film ever to join the billion-dollar club, and the third this year after Furious 7 and Avengers: Age of Ultron. In addition, Jurassic World now holds the title for highest-grossing second week at the U.S. box office.
Furious 7 set the previous record for reaching $1 billion, 17 days, this past April. Before that, Avatar set the record in 2009 by climbing to $1 billion in 19 days. Avatar's record was later tied by Harry Potter and the Deathly Hallows: Part 2 (2011) and The Avengers (2012).
It was never in doubt that Jurassic World would do well at the box office, but its performance has surpassed even the most optimistic predictions. That was true in its first weekend, and it was true in its second. On Sunday Universal estimated a $102 million take for Jurassic World's second weekend, but actual numbers showed the film pulled in $106.6 million.
All in all, Universal is having a hell of a year. Before this spring, the only Universal movie ever to make $1 billion was Jurassic Park, thanks to its 3D re-release in 2013. Furious 7 was the first title in the studio's history to hit that milestone in its original run, and Jurassic World is the second.
On top of all that, there's a decent chance Universal could have another billion-dollar film in next month's Minions. The last film in that franchise, Despicable Me 2, fell just a tiny bit short with $970 million. Maybe we're being optimistic, but Universal's track record so far this year has given us good reason to be.
[Source: THR]