John Williams Had A Huge Influence On Natalie Holt's Score For Obi-Wan Kenobi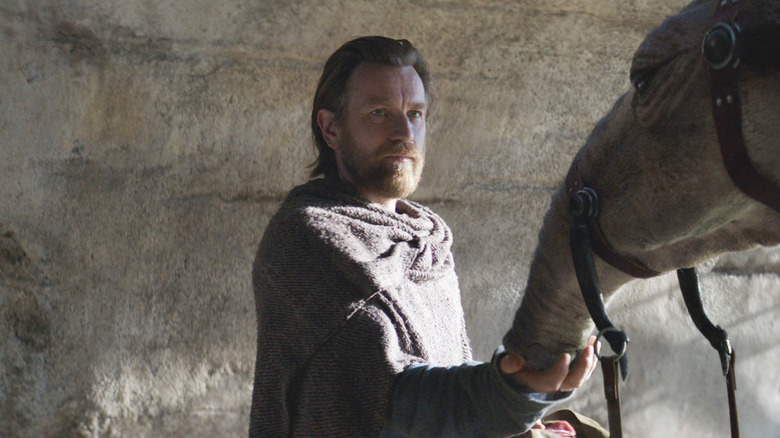 Disney+/Lucasfilm
For a long time, it was impossible to separate John Williams' virtuoso scores from the "Star Wars" franchise. Over the last 15 years, however, things have slowly begun to change on that front. 
It began with Kevin Kiner's first-rate work on the animated TV series "Star Wars: The Clone Wars" and "Star Wars Rebels," both of which honor Williams' classical orchestral style while bringing their own flavor to the table. Then came Ludwig Göransson, whose brilliant music for "The Mandalorian" is heavier on the synths and embraces a wider, more eclectic range of instruments than Williams' "Star Wars" music typically has (with exceptions, like his snazzy use of an electric guitar in the "Zam the Assassin and The Chase Through Coruscant" theme from "Star Wars: Attack of the Clones").
Now, the "Obi-Wan Kenobi" series aims to marry the past with the present, so far as its score goes. Natalie Holt, who broke out with her enchantingly strange music for "Loki" season 1, is handling the bulk of the tunes for the show, making her the first woman to ever do so on a "Star Wars" project. But at the same time, Williams has composed an original theme for Obi-Wan himself, and Holt has assured The Hollywood Reporter his influence can be felt across her own compositions on the series:
"We didn't collaborate [directly], but I did get to use his theme. He didn't have very long and it was quite last minute whether he'd have time or not. But he really wanted to write that theme because he was the one character that he didn't write the theme for in the original movie. So I think he had this feeling that he wanted to complete the challenge. I think he had two weeks and he came on board and wrote the Obi theme and a suite, which is the main title, and then a few variations of how the Obi theme can work. That was what he had time to give the project, and it was just a gift. It's so perfect and in a way, once I had that Obi theme, it set the tentpoles up for the project."
Combining tradition with experimentation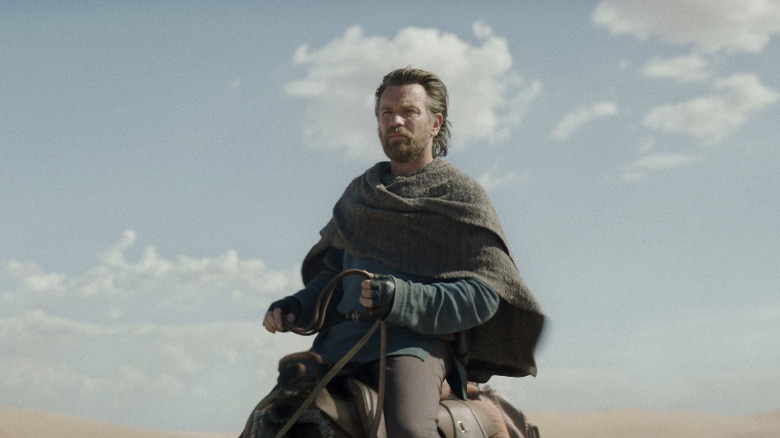 Disney+/Lucasfilm
The marketing for "Obi-Wan Kenobi" has deliberately tapped into our collective nostalgia for John Williams' "Star Wars" work, with its teaser trailer using the still-awesome "Duel of the Fates" to hype the rematch between Obi-Wan and his former padawan on the series. But for all the ways Natalie Holt intends to honor "this historical canon of sound for the universe" (as The Hollywood Reporter put it), she's also looking to mix things up and leave her own mark on the franchise:
"There are definitely some synth elements because I do like combining. It's not always straight-up orchestral, just sometimes it is. I had John Williams' orchestra, basically — the same orchestra that he used and the same lineup. What he's done is just within the orchestra and using orchestral colors. So I did a bit of that, but I also used more unusual instruments. I found this Swedish folk flutist. He's got this collection of 250 different flutes and horns. He had this hunting horn, which I recorded and then pitch-shifted it down. There are definitely some other unusual elements in the score as well. I just love to experiment with things and be inspired by a sound and then develop something else."
Obi-Wan is the only "Star Wars" legacy character who doesn't have their own theme, having died part-way through "Star Wars: A New Hope." For that reason, it only feels right that Williams is coming back to fix this, be this the final piece of music he ever writes for the "Star Wars" franchise or not. (Side note: the fact he refers to Obi-Wan as "Benny" is adorable.) As for Holt, she's also handling the scores for the "Batgirl" movie and the Elizabeth Banks-directed thriller "Cocaine Bear," so hopefully this is but the start of a long and fruitful career for the up and coming composer.
"Obi-Wan Kenobi" premieres on Disney+ on May 27, 2022.