Writer Michael Waldron Tells Us Exactly Where You Can Spot His Doctor Strange 2 Cameo [Exclusive]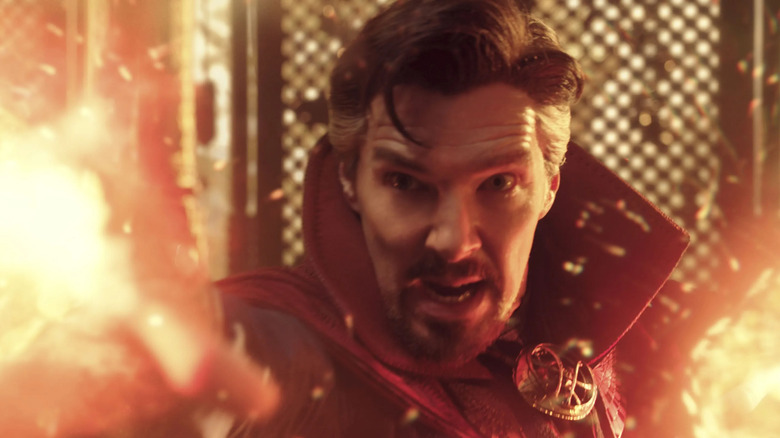 Marvel Studios
Michael Waldron has a hand in a number of high profile and extremely top-secret productions, including the upcoming second season of "Loki," a Kevin Feige-produced Star Wars project and a little indie set to debut later this week — it's called "Doctor Strange in the Multiverse of Madness." Waldron is no stranger to the threat of those pesky "Marvel snipers" so he's become a master of evasion, but that doesn't mean we can't learn a little somethin-somethin every now and then. During a recent chat with /Film's own Jacob Hall, Waldron was happy to divulge one particular detail about the upcoming film: it turns out the writer has gone from the scribe behind the multiversal insanity of "Doctor Strange" to a star in his own right — Waldron has a brief cameo in the movie! He told /Film that despite the press tour entering full throttle, he isn't the least bit tired of talking about "Doctor Strange" and one question he especially looks forward to answering is about his cameo.
From what we know, there are plenty of opportunities for extras in Doctor Strange's latest adventure' which evidently involves jumping across the multiverse. The film sees Stephen Strange answering for the consequences of his dangerous actions, dealing with the fallout of a forbidden spell that opens a portal to the multiverse. You never know who might slip through the cracks of such powerful magic — a powerful witch here, a member of the X-Men there, and maybe even the writer of his own movie.
Michael Waldron is ready for his close-up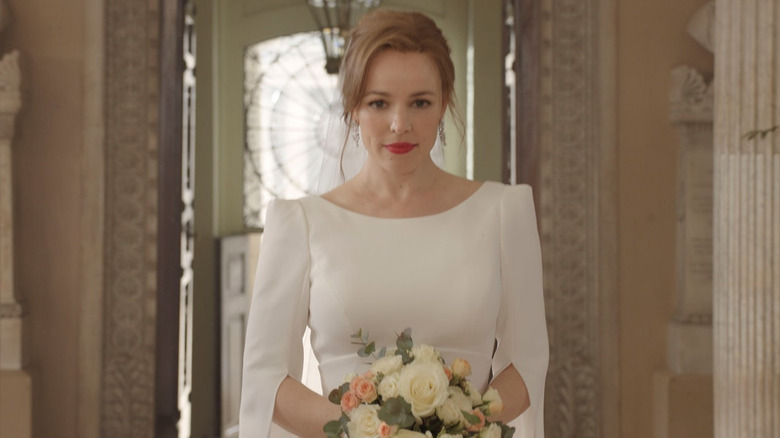 Marvel Studios
Perhaps you've heard tell of the infamous suitcase man fleeing the scene of catastrophe in "Doctor Strange in the Multiverse of Madness"? You can't miss him! He's seen running frantically past the former sorcerer supreme again and again... and again and again. Could that minor continuity error be calling attention to none other than Michael Waldron?! Nope, not at all — Waldron's cameo is a much more buttoned-up affair that (hopefully) includes less disaster. Waldron gave /Film readers the inside scoop on exactly where you can spot him in the film:
"You may have already seen it. If you saw the first 15 to 20 minutes, I'm in there ... I'm stepping out onto the balcony with Rachel McAdams' character, Dr. Christine Palmer, and her new husband. I step out next to them drinking a martini. And the backstory that I wrote for myself is that I was his best man at the wedding."
This means that Waldron got to be a Sam Raimi-directed extra. The background characters of Raimi's movies are often a treasure trove for laughs and now that he's part of that canon himself, Waldron happily sung some praises about working under Raimi's direction.
"Sam directed me there in that case. I mean, everything in frame Sam is the artist of. And so, certainly his focus is on the performance of his principal actors, but he's all about rendering a certain kind of portrait in frame. But no, I had the pleasure of being directed by Sam to look at a giant octopus, destroying a city and try not to embarrass myself in front of Rachel McAdams."
"Doctor Strange in the Multiverse of Madness" is written by Waldron, directed by Raimi, and features the return of Dr. Steven Strange (Benedict Cumberbatch) and Wanda Maximoff (Elizabeth Olsen) as they deal with the consequences of tampering with the fabric of reality. The film also features more Wong (Benedict Wong) and Mordo (Chiwetel Ejiofor), along with the entrance of MCU newcomer Xochitl Gomez as America Chavez and a trove of other surprise cameos. 
"Doctor Strange in the Multiverse of Madness" is set to inflict multiversal chaos on us in theaters on May 6, 2022.