Ethan Hawke Accepted His Role In The Black Phone As Creepily As Possible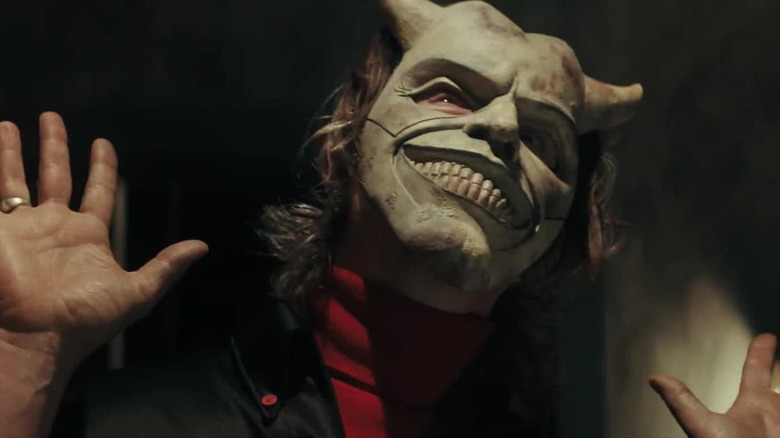 Universal Pictures
When "Doctor Strange" director Scott Derrickson returned to the horror genre with his frequent collaborator C. Robert Cargill to adapt "The Black Phone," he knew he needed exceptional elements to elevate Joe Hill's original source material to something as outright terrifying as Derrickson and Cargill's 2012 chiller, "Sinister." The Universal-Blumhouse effort concerns a young man named Finney Shaw (played by Mason Thames) who finds himself in the lair of a masked child killer dubbed The Grabber, played by Ethan Hawke. Finney seems as doomed as the rest — that is, until an unplugged phone rings in the basement where he is held captive. The callers on the other end? Grabber's previous victims, determined not to let history repeat itself. 
Hawke's unhinged Grabber is a real treat to anyone who enjoyed the actor's previous bad-guy roles, such as the serial killer in "Taking Lives" and the abusive father in "The Phenom." Hawke also left his mark playing the inept bank robber in Robert Budreau's "Stockholm" — and is familiar with the horror genre, having also starred as the perpetually horrified author in "Sinister."
But the award-winning actor had doubts about whether he wanted to play a scoundrel for "The Black Phone." He told Derrickson that he didn't do typical villain roles, a general principle he broke once the script came through. Derrickson tells Total Film:
"I sent him the script anyway and that night he left me a voicemail in this menacing voice, and he said, "I'm gonna murder the f*** out of you... It's gonna hurt really, really bad." It was a line in the script, and that was how he was letting me know he was going to do it."
Leaving nightmare fuel via voicemail doesn't seem to be Hawke's m.o., but it locked him in the role.
Why The Shining Kept Hawke From Playing Bad Guys
Having seen "The Black Phone" at Fantastic Fest, this writer can say that Hawke does a stellar job in the creepy role of The Grabber. Why did he avoid nasty roles like The Grabber for years? Hawke cites one of the most celebrated horror films of all time as one reason:
"What Jack Nicholson did in "The Shining" was that he taught the world to see his malevolent side, how to see his madness. And once you do that really well, audiences don't unsee it. It can be a cumbersome piece of baggage, and I think that's what I was scared of. But also, you know, there's something a little shamanistic about my profession and the idea of inviting all that darkness into my life just never really felt worth it before."
As The Grabber, Hawke does indeed access something awfully evil as a religious practitioner might. Much of his face can't be seen behind the convertible mask (designed by makeup maestro Tom Savini), which resembles something like the uncanny grin of Conrad Veidt in "The Man Who Laughs" or Lon Chaney in "London After Midnight." But what can be observed are Hawke's twinkling eyes and shifting tenor — the character is a self-appointed judge of children's moral character (not unlike the warped anti-consumerist Santa in the greatest Christmas horror movie of all time, "Christmas Evil"), and either mimics a child's singsong cadence or a deep-throated rumble of grave disappointment. It doesn't matter which comes out, because The Grabber's voice is often the last one his victims hear. It is definitely one of Hawke's scariest performances.
Arthur Harrow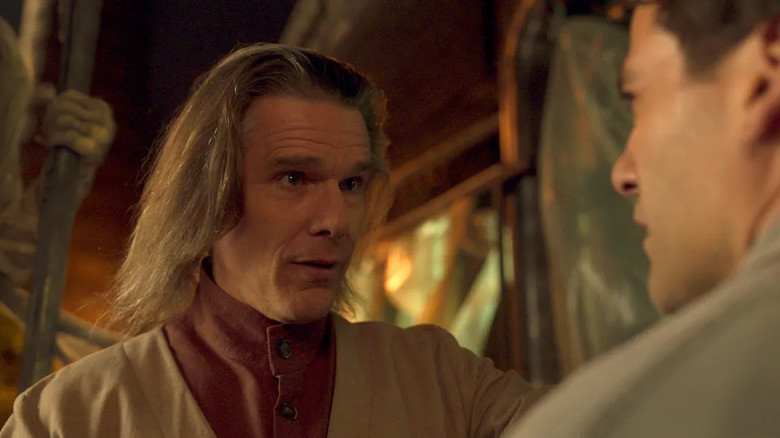 Marvel Television
Hawke further waded into villainous waters in 2022, this time by way of Marvel. Streaming exclusively on Disney +, "Moon Knight" stars Hawke opposite Oscar Isaac, who plays the dual roles of mild-mannered Steven Grant and ruthless mercenary Marc Spector — a somewhat-willing avatar for Egyptian god Khonshu. Hawke is the foil, playing the mysterious cult leader Arthur Harrow who acts as an avatar for the Egyptian goddess Ammit. According to /Film's guide to the character, Harrow was a Nobel Prize winner for his work on pain theory, but he only got there by "secretly using data obtained from Nazi experiments performed at Auschwitz during the Holocaust." 
Yikes. 
Hawke has named cult leader David Koresh as one influence for his understated performance (and it shows). Like The Grabber, Harrow is also judging his victims' character; acting on the goddess' behalf, the long-haired manipulator murders people based on vibes alone. He'll grab their hands and his tattoo — fittingly, the kind of beam scale often used as a symbol for justice — magically responds. This determines whether or not a person is predicted to do bad things in the future. If they are: instant death. 
"The Black Phone" arrives in theaters on June 24, 2022.