The Black Phone Star Promises That Ethan Hawke Is 'Terrifying'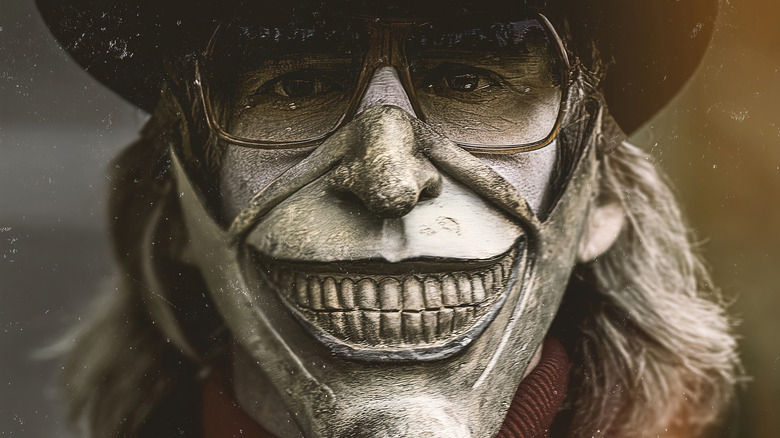 Universal Pictures
Ethan Hawke is no stranger to horror films, with roles in iconic genre entries like "The Purge" and "Sinister" proving that he's a force to be reckoned with in that cinematic vein. Now, once again he teams up with producer Jason Blum and director Scott Derrickson ("Sinister") for "The Black Phone," based on the short story by Joe Hill ("NOS4A2," "Horns," "Locke & Key"). While "The Purge" sees the actor being tormented by masked assailants, "The Black Phone" will see Hawke this time become the masked villain himself, embodying the character of a child murderer known as "The Grabber."
In the film, the Grabber captures his latest victim-to-be, young Finney Shaw (Mason Thames). Finney finds himself locked in a room with a disconnected black phone ... one that allows the Grabber's previous victims to contact young Finney from beyond the grave. Apparently Hawke's performance as the Grabber was so successfully intimidating that co-star Mason Thames had difficulties not being scared on-set, as revealed in an interview with CBR.
He Wore The Mask! He Wore A Monster Mask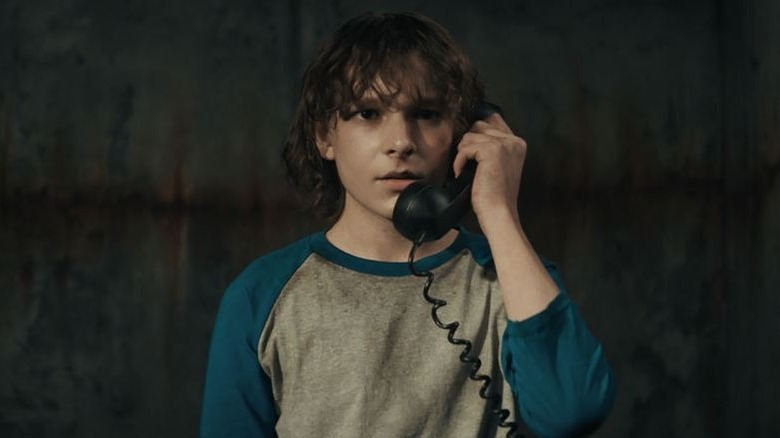 Universal Pictures
In the wide-ranging interview, Thames reveals that he genuinely found Hawke to be frightening. While he reiterates that Scott Derrickson "really knows how to make his actors feel safe," nonetheless "the vision he has, and Ethan as the Grabber is so terrifying." How terrifying, you ask? So much so that Thames himself had difficulties not being afraid of Hawke on-set. He explains:
"I really had to put myself in Finney's shoes, and really feel what it'd be like to be in this. It's terrifying. I don't know what I would do. I'd probably hide in the corner the entire time. But Finney has to go through a lot in this movie. It was really easy with Scott, and everybody, and Ethan's performance. It was really not too hard to get so scared when Ethan is in the mask ... It was really fun working on it."
If that's not a ringing endorsement of the effectiveness of Hawke's villainous performance, I don't know what is. One element of the Grabber's visage that Thames found particularly unsettling wasn't performative at all, however, but part of the costume.
No One Cared Who The Grabber Was Until He Put On The Mask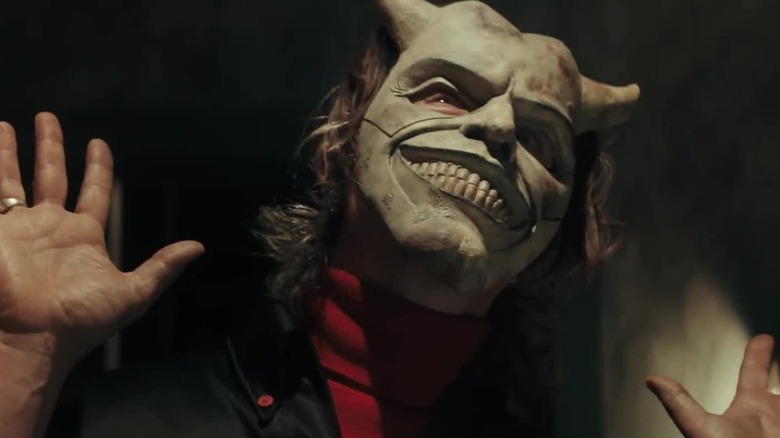 Universal Pictures
In the interview, Thames was asked about the Grabber's certain-to-become-iconic mask: a frightening wide-grinned face with devil horns. When asked if he was ready to see its prominence next year (most likely on Halloween), Thames replied:
"I never really thought about that! That'd be really cool. Tom Savini did amazing on that mask. I remember reading the script and just waiting. The first thing I wanted to see was the mask. Then I got on set, and then I saw it for the first time. It was in this big box, they unclipped it, they opened it like this giant suitcase, and it was just sitting there. I just stared at it. I loved it. I just want to take it, and steal it, and runoff. It's amazing how terrifying that mask is. Terrifying."
"The Black Phone" is surely shaping up to be a frightening outing, and any film that scared its own central performer has to pack a punch in theaters. The film initially premiered September 25th at Fantastic Fest, and premieres in the U.S. February 4th, 2022.