The Black Phone: Release Date, Cast, And More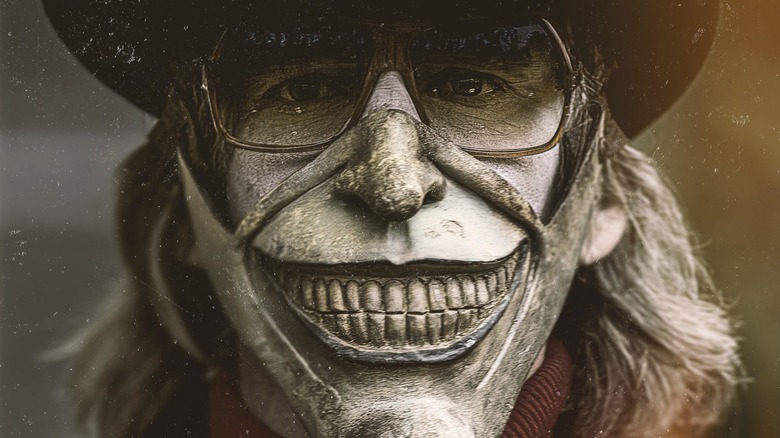 Blumhouse Productions
(Welcome to ...And More, our no-frills, zero B.S. guide to when and where you can watch upcoming movies and shows, and everything else you could possibly stand to know.)
When uber-producer Jason Blum, the name behind the horror-friendly studio Blumhouse Productions, says that "The Black Phone" is the "scariest movie" he's "ever worked on," that's some pretty high praise. It immediately raises expectations for "The Black Phone," as does some of the other movie talent involved. This fright flick marks a reunion for Ethan Hawke and several key players from another Blumhouse title, "Sinister," which science has determined to be the current record-holder for scariest movie ever.
"The Black Phone" already made its world premiere at Fantastic Fest 2021, but it's not in theaters yet, just approaching — like a kidnapper on the basement stairs wearing a demon mask. For Jane or John Q. Moviegoer, who couldn't make it to Austin, Texas, for the festival, we've compiled all there is to know about "The Black Phone" in one handy-dandy guide, below.
Read it on your phone or any darn device, even if it's not black.
The Black Phone Release Date and Where You Can Watch It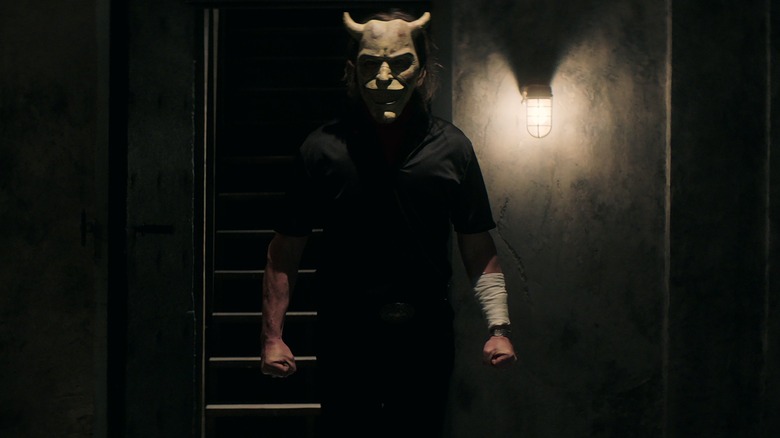 Blumhouse Productions
"The Black Phone" is coming to theaters on January 28, 2022.
In times past, January and February often functioned as a studio dumping ground for poorly reviewed films. However, streaming distribution, the pandemic, and the ever-moving goalposts of the movie release calendar in general have somewhat upended that model, since it's just as easy now to dump a dud on Netflix or some such platform. Even Blumhouse has gone straight-to-Amazon with its "Welcome to Blumhouse" anthology series.
The earliest round of reviews for "The Black Phone" has been uniformly positive. Keeping in mind that this perfect rating will likely slip once it screens for more critics outside the Fantastic Fest circle, the film still came away from its premiere with a 100% Rotten Tomatoes score. And unlike, say, "The Forever Purge," it isn't continuing a bankable franchise.
If Blumhouse and the movie's distributor, Universal Pictures, are sticking to their guns and making "The Black Phone" exclusive to theaters first, you can bet they have some measure of confidence in it. It's always possible that they could extend its window of theatrical exclusivity if it demonstrates serious legs at the box office. But if it goes the way of the aforementioned "Forever Purge" and Blumhouse's "Freaky," it should be available on VOD after three weeks.
What Is The Black Phone?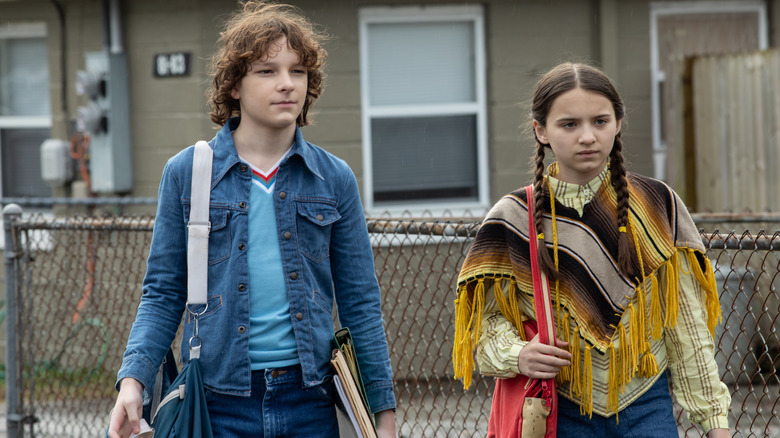 "The Black Phone" may sound like a special phone that only wealthy Purge participants can use, like an Amex Black Card. (Don't commit legal crime without it?) Please don't get the wrong idea, though.
What "The Black Phone" is, really, is a film adaptation of a short story by Joe Hill, who has long since escaped his father Stephen King's shadow with his own successful novels and comics, several of which have been adapted into movies and TV series, such as "Horns," "NOS4A2," and "Locke & Key."
Here's the plot summary for "The Black Phone," courtesy of Fantastic Fest:
"After being abducted by a child killer and locked in a soundproof basement, a 13-year-old boy starts receiving calls on a disconnected phone from the killer's previous victims."
Finney is the boy's name, and he goes missing in a suburban Colorado town. As you can probably surmise from his and his sister's period clothing (see above), "The Black Phone" is set in the 1970s.
Speaking of wardrobe details, Finney's abductor has a creepy mask, designed by Tom Savini and Jason Baker of Callosum Studios. And he has an even creepier name. They call him The Grabber ... which is just wrong, on so many levels.
The Black Phone Director, Writer, and More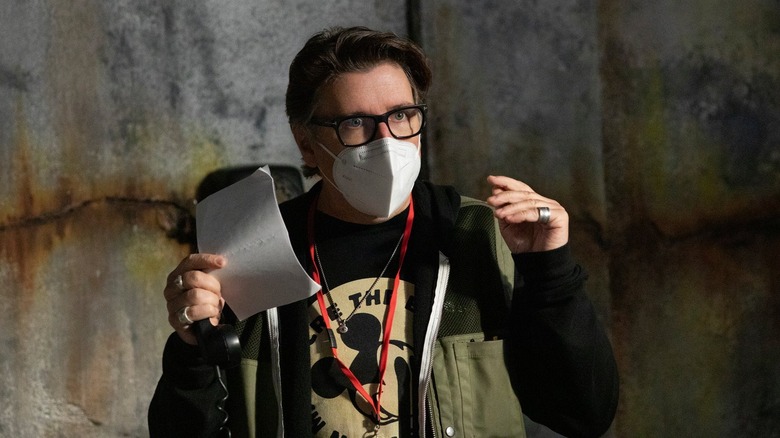 Blumhouse Productions
The Grabber's mask wasn't the only one on set during the production of "The Black Phone." Naturally, director Scott Derrickson and other crew members also wore face masks and observed COVID safety protocols.
Derrickson's filmography includes "The Exorcism of Emily Rose," "Sinister," and "Doctor Strange." He co-wrote the latter two films with C. Robert Cargill, who returns as his co-writer for "The Black Phone." Like Hill, Cargill is a screenwriter and an author who has published both novels and at least one short story collection. His bibliography includes "Sea of Rust," "We Are Where the Nightmares Go and Other Stories," and "Day Zero."
Blum, Derrickson, and Cargill all serve as producers. Jennifer Scudder Trent is also onboard as a co-producer, with Hill, Ryan Turek, and Christopher H. Warner serving as executive producers. 
Brett Jutkiewicz handles the film's cinematography. He's also the director of photography for the upcoming "Scream" remake, which opens two weeks before "The Black Phone." 2022 promises to bring a very spooky January, movie-wise.
The Black Phone Cast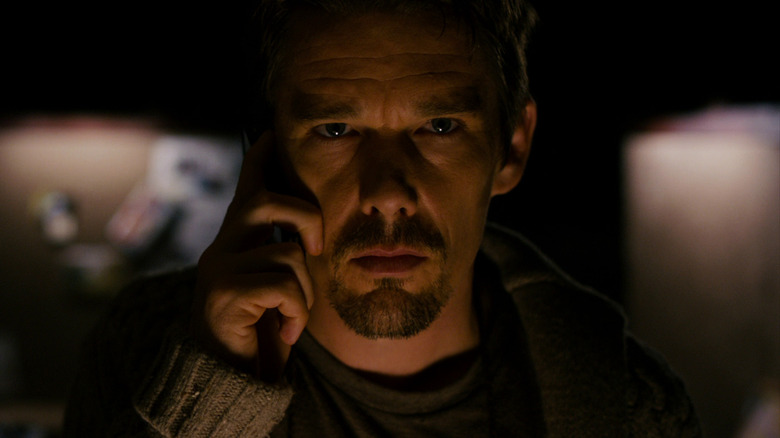 Blumhouse Productions
Ethan Hawke is playing The Grabber in "The Black Phone." Mason Thames stars as Finney and Madeleine McGraw co-stars as his sister, Gwen. Jeremy Davies plays their father, Mr. Shaw.
James Ransome — who portrayed "Deputy So & So" opposite Hawke's Super-8-obsessed crime writer in 2012 — rounds out the ten-year "Sinister" reunion as a character named Max.