Scott Derrickson's The Black Phone Is "The Scariest Movie" Producer Jason Blum Has Made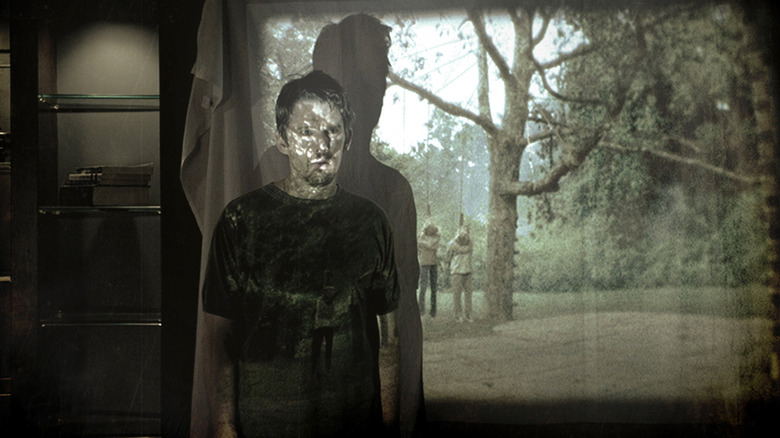 Blumhouse/Lionsgate
During CinemaCon this week, footage from Scott Derrickson's "The Black Phone" gave lucky attendees a glimpse of the Joe Hill adaptation to come. By all accounts, the footage was effective — and it probably helped that Blumhouse head honcho Jason Blum claimed the flick is the scariest film he's ever produced. That's a bold claim, Mr. Blum! The horror film reunites Derrickson with "Sinister" star Ethan Hawke, who this time plays a masked kidnapper with a captive kid in his basement. 
The Scariest Blumhouse Movie?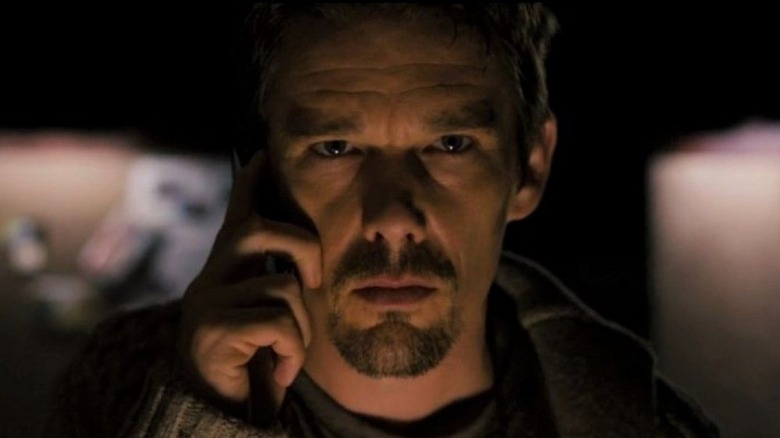 Blumhouse/Lionsgate
Jason Blum has produced a lot of horror movies, but which of them is the scariest? According to Blum, the answer is the upcoming "The Black Phone." During a pre-taped introduction at CinemaCon (via Variety), Blum boldly claimed that the upcoming Scott Derrickson movie is the "scariest movie he'd ever worked on." Obviously part of Blum's job is to hype up his movies, so we should probably take a proclamation like this with a grain of salt. Still, there's a lot of promise here, as Derrickson reunites with "Sinister" writer C. Robert Cargill and "Sinister" star Ethan Hawke to adapt Joe Hill's short story.
Blum has made similar claims about "The Black Phone" before, telling Collider the movie "is definitely one of the creepiest movies we've ever done. Scott thinks it is his best movie. I'm such a fan of Scott's ... I really like all of his movies. I loved 'Sinister' but I will certainly say it is one of his best movies. Maybe the best movie he has ever made." The film finds Hawke donning a creepy mask to play a kidnapper. "I have a no-bad-guy policy as an actor, but I broke it to work with Scott again," Hawke told CinemaCon (via THR).
Per the official synopsis, "Finney Shaw is kidnapped by a serial killer who traps him in a soundproof basement. After finding a disconnected phone, Shaw discovers its ability to transmit the voices of the killer's previous victims, who try to help him escape."
Answer the Call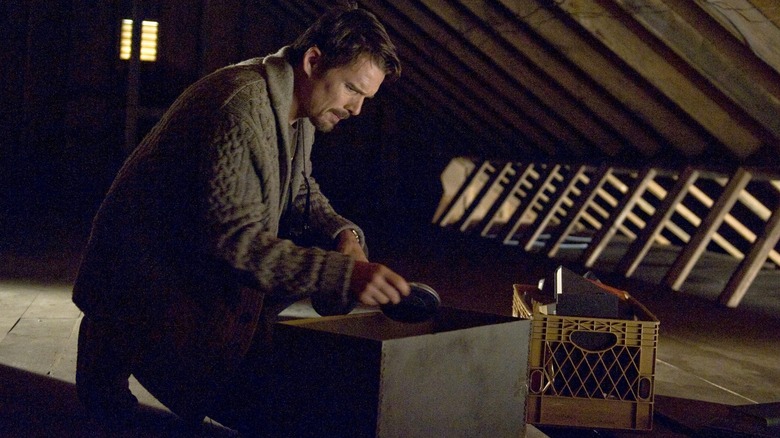 Blumhouse/Lionsgate
In the footage shown at CinemaCon, per THR, "a young boy is kidnapped by Hawke's character, a creepy man with a van and black balloons. The boy is imprisoned in a basement room with nothing but a black phone. The phone appears to be broken, but he starts receiving calls. The voices on the other end of the phone are the man's other victims, who offer tips for the boy's survival." Variety adds: "The supernatural is introduced via the phone calls, where the spirits of fallen children attempt to help [Mason Thames, who plays the kidnapped boy] escape, leaving clues and life hacks in his physical space."
This is actually pretty faithful to the story that inspired the film, with a few exceptions. The kidnapper in the story does not wear a mask, and he's also described as morbidly obese, so it's clear that in casting Hawke and making him put on a scary mask, the film is taking some liberties with this specific character. And that's fine. There's a chance we'll get to see "The Black Phone" trailer soon-ish, so keep your eyes out for that. 
The film is currently set for a January 28, 2022 release.