New Don't Worry Darling Image Shows Harry Styles And Florence Pugh Snuggling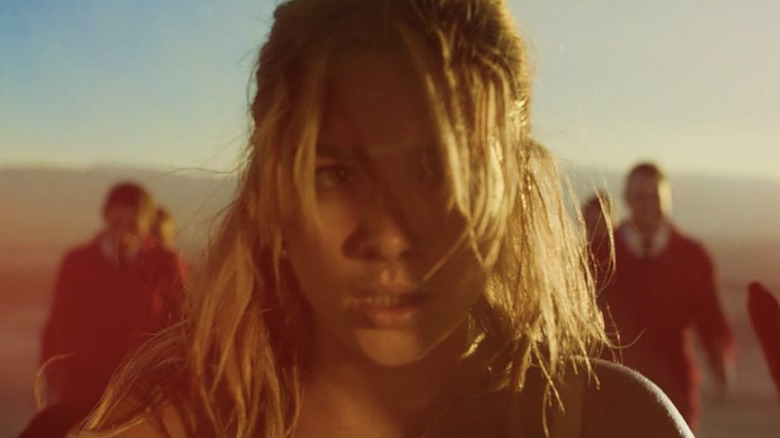 Warner Bros. Pictures
Darling, it's been a little slow going, but we'll get there. That's what I imagine director Olivia Wilde has been saying to those of us waiting with anticipation for her second feature film "Don't Worry Darling." The movie's trailer dropped in secret at CinemaCon, which was exciting enough ... until Wilde shared a first look image publicly, of course.
The director posted a still from the movie via Instagram shortly after the Warner Brothers showcase panel at CinemaCon on Tuesday, along with the caption, "9-23-22, only in theatres." The image shows a close-up of stars Florence Pugh and Harry Styles, who play an idyllic married couple in the 1950s, snuggled in bed together with Pugh's hand cupping Styles' cheek. She is looking at him with softness in her eyes, while his stare is a little more hardened and almost ominous.
New Line Cinema, who produced the film, has yet to release a synopsis, but the film has been described as follows:
A 1950's housewife living with her husband in a utopian experimental community begins to worry that his glamorous company may be hiding disturbing secrets.
Personally, I couldn't be more excited for this one. Between Pugh and Styles, there is a real star power emanating from this film and I can't wait to see the thriller-horror aspects of it in full force when the trailer is released publicly. The sneak peek image is both soft and unsettling at the same time, and it seems to really embody the tone Wilde is going for with this movie. Additionally, Pine, who seems to be playing a villainous character to some degree, is a revelation when he's allowed to go wild — see his underappreciated role in "Smoking Aces" as an example — so it will be really fun to watch him sink his teeth into this film (and seemingly corrupt Styles' character along the way, exciting stuff).
Don't Worry Darling at CinemaCon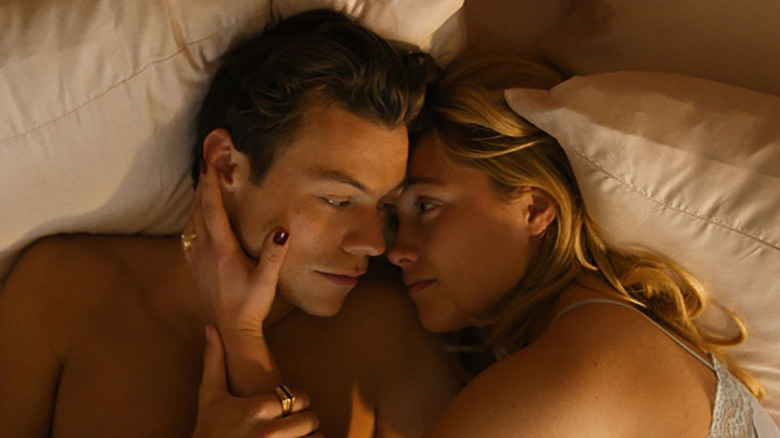 Warner Bros. Pictures
Prior to releasing the second official image from the movie — there is a still of Pugh and Styles making out that has been floating around for a while, but it's actually a screengrab from the six-second teaser trailer Wilde released in September 2021, and the first image of Pugh from the movie debuted on Instagram six months before that — the director herself appeared on stage to present the footage. She also described the movie for attendees, calling it a "psychological thriller" inspired by films like "Inception," "The Matrix," and "The Truman Show." Additionally, she said her movie was "a love letter to the movies that pushed boundaries of ambition," according to Deadline.
As for any plot details, Wilde was very tight-lipped. However, she did pose some questions to the audience to get them into the headspace of the film, the outlet explained. She said:
"Imagine a life where you could have anything you ever [wanted], not just the tangible things....But also the things that really matter: True love with the perfect partner, real trusted friendships. What would it take for you to give up that perfect life? What are you willing to sacrifice to do what's right? Are you willing to dismantle the system that is designed to serve you?"
Wilde directed the film from a screenplay rewritten by Kate Silberman, with whom she collaborated on her first feature, "Booksmart," from an original spec by Shane and Carey Van Dyke. Aside from Pugh and Styles, Chris Pine, Gemma Chan, Nick Kroll, Kiki Layne, and Sydney Chandler round out the cast.
"Don't Worry Darling" will debut exclusively in theaters on September 23, 2022.