Don't Worry Darling: Release Date, Cast, And More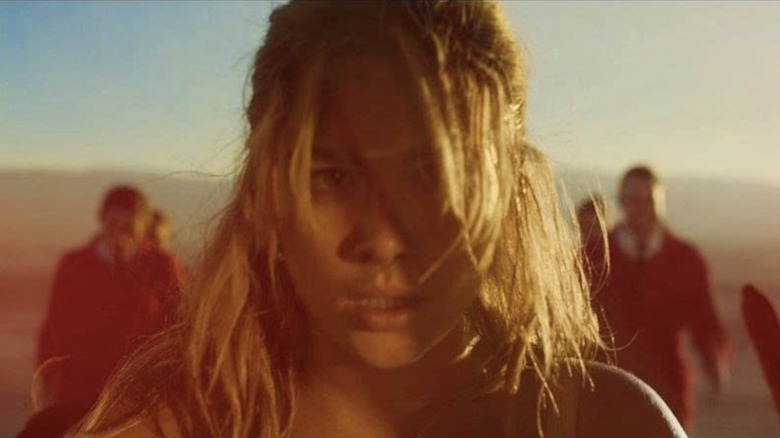 New Line Cinema
(Welcome to ...And More, our no-frills, zero B.S. guide to when and where you can watch upcoming movies and shows, and everything else you could possibly stand to know.)

There is much mystery surrounding Olivia Wilde's sophomore feature "Don't Worry Darling," but if you're asking me, I'd say that makes the anticipation all the sweeter.
Fans got a glimpse into the world of the film — which, going in the completely opposite direction from Wilde's 2019 directorial debut, "Booksmart," is a psychological thriller — on September 13, when the "Tron Legacy" actress released an 11-second teaser trailer via her Instagram.
It packs a pretty solid punch, with imagery ranging from a seemingly manic Chris Pine, a nearly suffocated Florence Pugh, and a heartthrob-y Harry Styles cleaned up all nice. The short look at the film gives just enough to intrigue, but still keep viewers entirely in the dark regarding the movie's plot.
The film's synopsis — our only source of info about the story aside from past drafts of the script that leaked online some months ago — aids in its mystery: "A 1950's housewife living with her husband in a utopian experimental community begins to worry that his glamorous company may be hiding disturbing secrets."
Who is in the Don't Worry Darling Cast?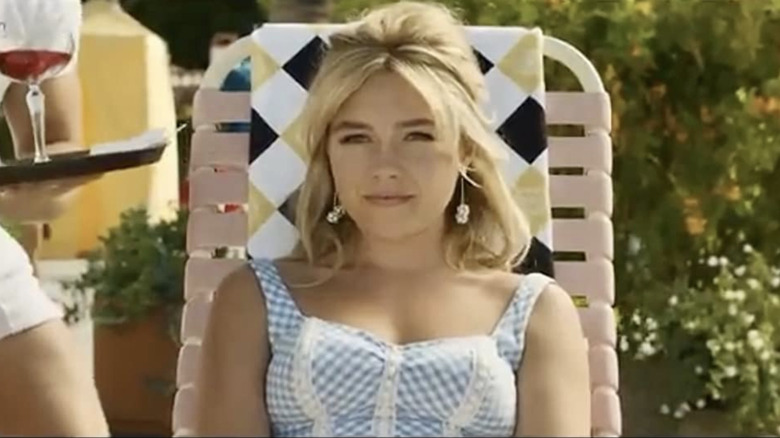 New Line Cinema
"Don't Worry Darling" stars Florence Pugh as the female lead Alice and Harry Styles as her husband, Jack. Chris Pine, Wilde, Nick Kroll, Gemma Chan and KiKi Layne round out the cast with supporting roles. Burlesque legend Dita Von Teese and comedians Kate Berlant and Asif Ali will also make appearances in the film.
Originally, Shia LaBeouf was cast in Styles' role, but Wilde reportedly dismissed him from the project due to poor behavior during pre-production.
Who is on the Don't Worry Darling Creative Team?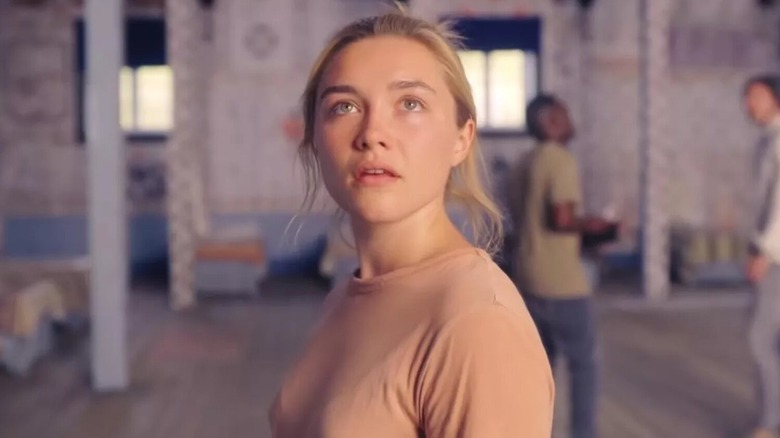 A24
Wilde will be directing the piece, two years after making her directorial debut with a coming-of-age comedy, which starred Beanie Feldstein and Kaitlyn Dever. Screenwriter Katie Silberman, who also wrote "Booksmart," wrote the screenplay based on a spec script by Carey and Shane Van Dyke.
Wilde and Silberman will produce the film alongside Vertigo Entertainment's Roy Lee and Miri Yoon. Executive producers for the project include "Twilight" director Catherine Hardwicke, Richard Brener, Celia Khon, Alex G. Scott, and original writers Carey and Shane Van Dyke.
Following the success of "Booksmart," "Don't Worry Darling" sparked a bidding war with production companies. New Line Cinema beat out 18 companies to produce the film.
When Does Don't Worry Darling Come Out?
According to that 11-second teaser, the film will be released in theaters on September 23, 2022. It's an Oscar-friendly release date, so I wouldn't be surprised to see the film pick up some general nominations (even if not Oscars) following the release if it lives up to the hype.
Plus, the fact that they're not tossing the film out with a hybrid, or even streaming only, release says a lot about the faith behind the project. All I know is, I'm worried, darling — in a good way.
Personally, I'm extremely excited for this film. It will be interesting to see Wilde take on a thriller that seemingly plays with gender conventions in a way that borders on horror. It's very different from how she's established herself, both as a director and an actor. Plus, she pulled together a very interesting and exciting cast. Styles is, particularly, someone to watch. We all know Pugh is going to knock it out of the park, but I think some people forget how effortlessly good the singer was in "Dunkirk." I'm excited to see him take his acting chops for a spin again.