New Installments Of Ghostbusters And Venom In The Works At Sony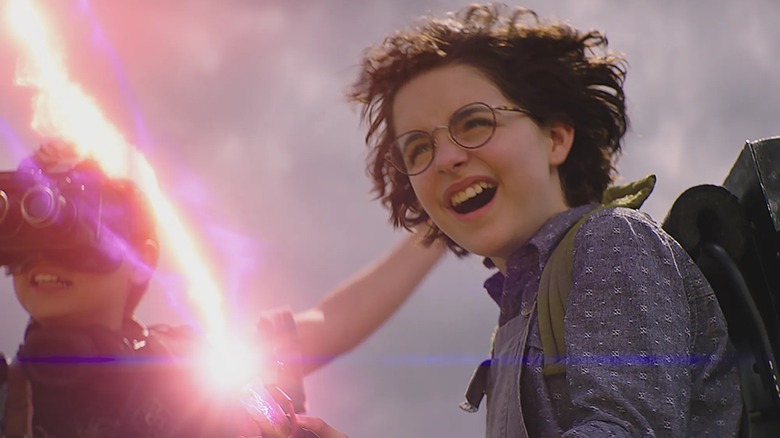 Sony Pictures Releasing
Last year, months ahead of its theatrical release, Sony Pictures Releasing surprised CinemaCon attendees and the internet at large by giving "Ghostbusters: Afterlife" its world premiere at the convention. Instead of just showing off footage from the film, it screened "Afterlife" there in its entirety. This year, the studio has made another surprise announcement that it is officially developing new installments in both the "Ghostbusters" and "Venom" film franchises.
No other details were provided beyond that, but we can hazard a guess about where they might go with a fifth "Ghostbusters" film and a third "Venom" film. "Afterlife" was the fourth installment in the franchise after the original "Ghostbusters," "Ghostbusters 2," and the 2016 women-led "Ghostbusters" reboot (also known as "Ghostbusters: Answer the Call.") "Afterlife" received mixed-to-positive reviews, but it was a commercial success and it saw director Jason Reitman taking the reins of the franchise that his father, the late Ivan Reitman, started in 1984. The elder Reitman passed away this year after serving as the producer of "Afterlife."
Spoilers for the end of "Ghostbusters: Afterlife" follow.
"Afterlife" was set in Oklahoma, but at the end, we saw the Ghostbusters' Ectomobile coming back to the team's old firehouse in New York City. In the post-credits scene, we learned that Winston Zeddemore (Ernie Hudson) had become a wealthy businessman and it seemed to imply that he was now ready to apply "the tools and the talent" that he has to a new ghost-busting endeavor. He had paid off debts for the family of Phoebe Spengler (Mckenna Grace), and there was some apparent ghost activity going on in the firehouse basement. So it's possible that this is setting up a sequel that will see Winston presiding over Phoebe and a new generation of Ghostbusters in New York.
Where Venom 3 could go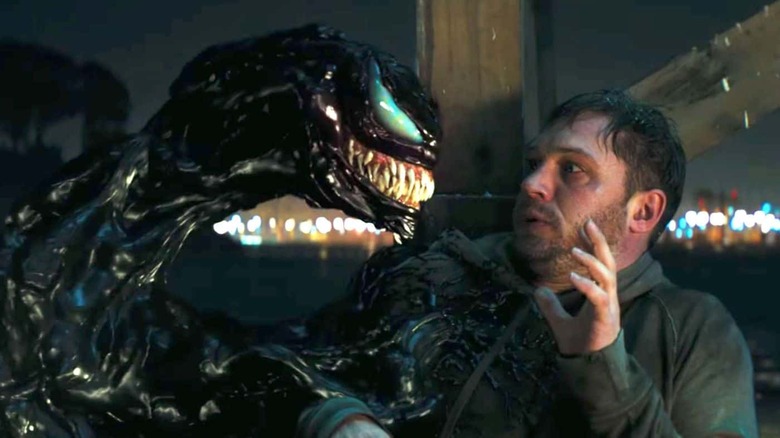 Sony Pictures Releasing
The most recent entry in Venom's solo film franchise was last year's "Let There Be Carnage," which received more mixed-to-negative reviews, but which was an even greater commercial success than "Ghostbusters: Afterlife," earning over half a billion dollars on a $110 million budget.
Spoilers for the end of "Venom: Let There Be Carnage" and "Spider-Man: No Way Home" follow.
Tom Hardy's "Venom" character, Eddie Brock, was last seen in a post-credits scene, too, though in this case, he was cameoing in a Marvel Studios film, "Spider-Man: No Way Home." The "Let There Be Carnage" post-credits scene brought Venom into the Marvel Cinematic Universe, and in the one for "No Way Home," we learned that he had only briefly remained there during the events of "No Way Home," staying on the sidelines in a kind of multiversal beach vacation while Willem Dafoe's Green Goblin and the other Spidey villains dominated the main storyline.
Hardy's appearance in "Venom" ultimately landed as more of a gag. It seemed to dispel the possibility of a true crossover between his movie series and that of Tom Holland's Spider-Man anytime soon, as Eddie was quickly sent back to Sony's Spider-Man Universe. He did leave a little piece of his symbiote self behind, which could have major ramifications on the future of the MCU, but for now, at least, it looks like Hardy's Venom and Holland's Spider-Man will be inhabiting separate sandboxes.
Given the events of "Morbius," however, it seems reasonable to assume that we might see some more overlap or crossover happening between him, Venom, and a certain other refugee MCU villain in the future. Whether this will happen in "Venom 3" or whether that movie will just continue to set the stage for a greater team-up to come remains to be seen.
We'll keep you updated as more "Ghostbusters 5" and "Venom 3" news develops.