Bubble Director Tetsuro Araki On How Attack On Titan Influenced His New Anime Movie For Netflix [Interview]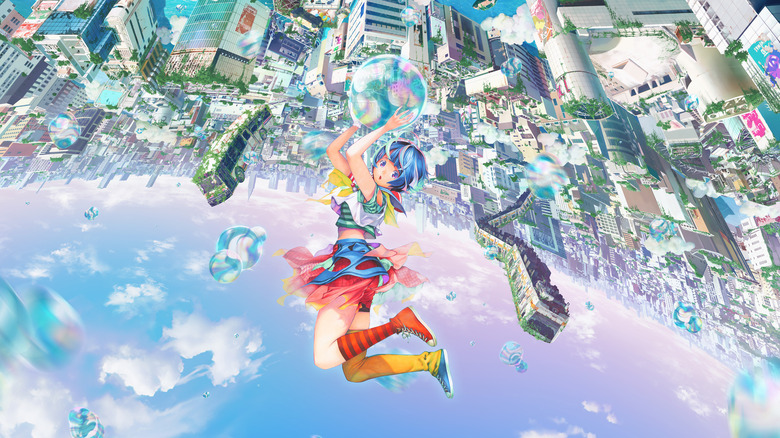 Netflix
Ever since it jumped on the scene with "Devilman Crybaby," Netflix has become one of the strongest anime distributors in the West, and the only real competition to Crunchyroll since Funimation essentially shut down.
Since then, we've had some miraculous license acquisitions like "Neon Genesis Evangelion," as well as truly unique originals like "Kotaro Lives Alone" and "Great Pretender." The streamer's latest, an anime original movie titled "Bubble," is a fresh new take on both "The Little Mermaid" and sports anime which boasts an impressive crew made up mostly of the same people that made "Attack on Titan" the juggernaut it is today.
We talked to director Tetsuro Araki about working on the film, making a parkour romance movie, and how "Attack on Titan" influenced its stunning action sequences.
'A Tetsuro Araki festival'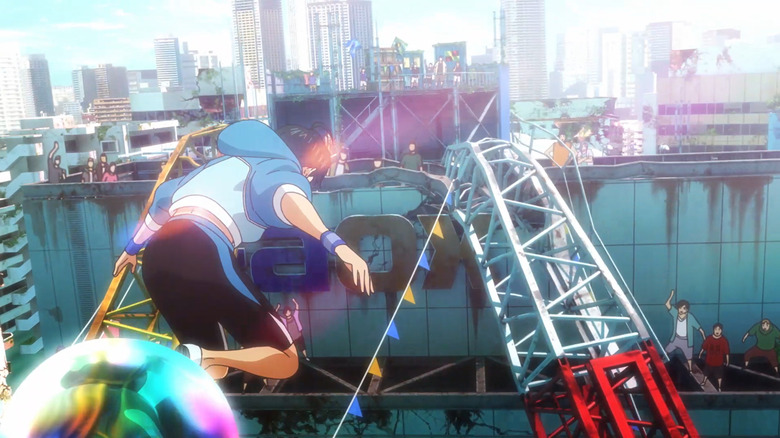 Netflix
The first thing that stands out about "Bubble" is the impressive list of people involved with it. Aside from Araki, the script was written by "Fate/Zero" creator Gen Urobuchi, while "Death Note" creator Takeshi Obata handled the character designs for the film. Meanwhile, "Attack on Titan" and "Promare" composer Hiroyuki Sawano composed the music, and Even (from the incredible first opening to "Jujutsu Kaisen") sang the main theme of the film. Most of the crew had worked with Araki in the past, and he describes the film as "what you could call a Tetsuro Araki festival."
"We just gathered together all of the teammates that I had previously worked with and that I found the collaboration to be wonderful with," Araki told /Film, and it shows. The visuals, the writing, the music, and even the voice acting all come together seamlessly, and you can tell that there was a clear and consistent vision shared across the board.
"Bubble" takes place years after a catastrophe flooded Tokyo and forced people to either flee the city, or live with new gravity distortions around the city which make debris float in the air. The city has become prime real estate for orphans and abandoned kids who race through the ruins of the former capital of Japan in a dangerous sport they call "Tokyo Battlekour," a parkour race where the winner gets food and other essentials.
"I had submitted to [producer Genki Kawamura] two separate ideas," Araki said, describing:
"This image of a mermaid, looking at a city that was sinking, that had sunken into the sea, and then another one was these boys playing parkour in a dystopian or derelict landscape ... when I presented them to Mr. Kawamura, he said, 'Why don't we just do a mashup of these two together?' And that's how this came together."
Even though real parkour doesn't involve jumping on floating bubbles, "Bubble" is still a first for the sport. Though there is an anime for every sport in existence, parkour has been severely underrepresented ... until now.
'The action sequences are also love story sequences as well'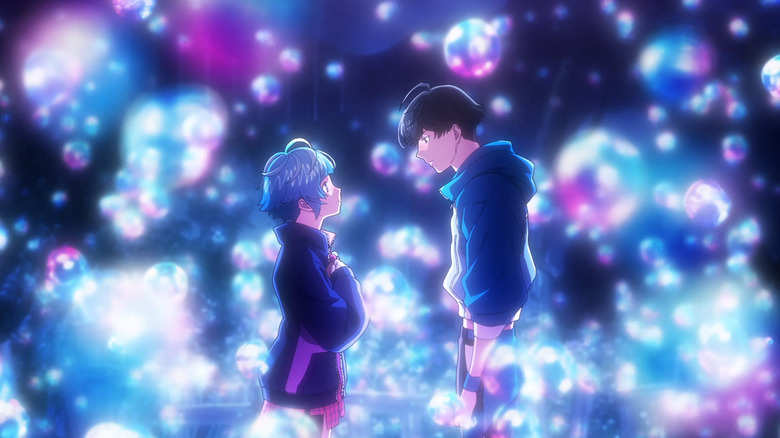 Netflix
The parkour scenes are, to a degree, an excuse for Araki and his team to show off their incredible animation. The camera swirls around with the parkour racers, revolving around them as they jump from one building to the next with impossible stunts that could only be made in animation. In a way, these scenes feel like the natural step forward for the ODM gear scenes in "Attack on Titan" that helped elevate those early seasons to mainstream success, with Araki and Arifumi Imai being responsible for most of those scenes which make you feel like you're on "Soarin' Around the World" at DisneyWorld.
"Our strength as a team is this hybrid mix of 3D CG, computer graphics, and also 2D 'sakuga' or in other words, animation," Araki said, but while the studio has already shown time and time again that they can deliver thrilling action sequences, for "Bubble," Araki and his team wanted something new. While "Attack on Titan" or "Kabaneri of the Iron Fortress" employ these sequences for moments of violence, Araki's goal this time was to tell a love story through parkour. In the film, we follow a particularly gifted parkour racer who finds a mysterious girl with a connection to the bubble situation in Tokyo, and through her, the film tells its own version of "The Little Mermaid" tale.
"Those action sequences are also love story sequences as well," Araki continued." You can see through the action how the girl and boy start to connect to each other, fall in love with each other. And I think that's something that's quite unique too, in particular to this film." Indeed, having already done shows focused on action for the sake of violence like "Attack on Titan" and "Kabaneri of the Iron Fortress," Araki wanted this movie to take a drastic turn. "This time around, we wanted to tell a very beautiful and ephemeral story, that is a love story."
Looking back at his time on "Attack on Titan" and the studio change in the middle of that story's run, Araki thinks the biggest downside to working on TV is that "you really just have to start anyway without necessarily knowing how it's going to turn out in the end or how the storyline or the arc is going to turn out in the end," whereas working on "Bubble" gave him more control over the story.
"The whole entire storyline or the storyboard is already in complete form, and then you can work backwards, so it makes for a much granular approach."
"Bubble" premieres on Netflix on April 28, 2022.