Bubble Trailer: Sci-Fi Parkour Anime Shows Striking Animation From Attack On Titan Studio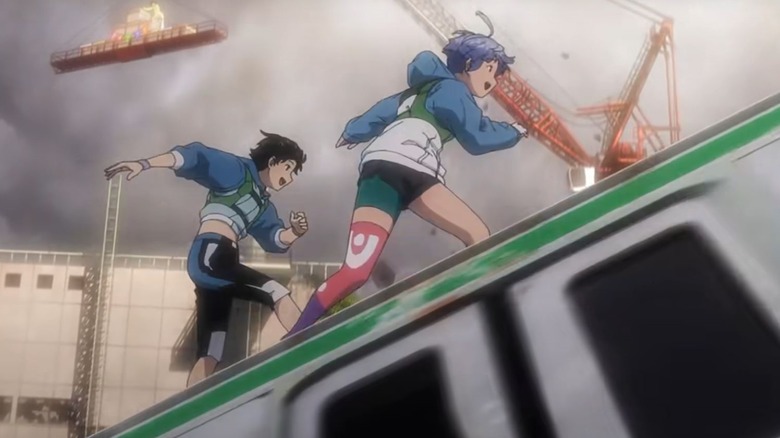 Netflix
Many anime fans are familiar with Studio Ghibli, or Toei Animation, Production I.G., and in recent years maybe Madhouse or even MAPPA. WIT Studio, however, is a name not many people know — but they should. The anime studio has produced some of the best anime shows of the past decade, having launched into the scene with the first three seasons of smash hit "Attack on Titan." In the years since, the studio has also produced stellar shows like the heist adventure series "Great Pretender," or the historical Viking epic "Vinland Saga."
This is to say, when Netflix released the trailer for their next feature film, "Bubble," I already had my ears perked up — then I watched it.
A who's who of anime talent
The trailer for "Bubble" expands on the gorgeous visuals of its first teaser, without revealing too much about the story. It seems to be set in a future where gravity is just messed up, with floating debris and buildings surrounding Tokyo. It also makes it clear that in the future, everyone is very into parkour, which seems like a brighter future than "Death Race 2000" at least. The parkour shots look like the ODM-gear swinging scenes from "Attack on Titan," which were some of the most visually impressive of those early seasons. There's also some interesting mermaid imagery going on, and a relationship between a young boy and a mysterious girl with mysterious power at the center of it all, giving off strong Makoto Shinkai vibes.
What makes "Bubble" stand out instantly is its staff, which is just a who's who of anime talent. For starters, the film is directed by Tetsurō Araki, who served as the chief director of the first three seasons of "Attack on Titan." The script comes courtesy of one Gen Urobuchi, creator of "Fate/Zero," and writer on "Psycho-Pass," while the creator of "Death Note," Takeshi Obata, handles character designs. But that's just the visuals! In addition, Japan's Hans Zimmer, Hiroyuki Sawano ("Attack on Titan"), is composing the music, and Eve (that fantastic "Jujutsu Kaisen" opening theme) is writing the theme song. Adding to the "Attack on Titan" reunion, the voice of Eren Yaeger himself, Yuki Kaji, is part of the film's voice cast.
"Bubble" had its premiere as part of this year's Berlin Film Festival, and will stream worldwide on Netflix on April 28, 2022. If nothing else, this is looking up to be one of the most visually stunning animated films of the year.
Here's the official synopsis for "Bubble:"
In a Tokyo where gravity has broken, a boy and a girl are drawn to each other...

The story is set in Tokyo, after bubbles that broke the laws of gravity rained down upon the world.

Cut off from the outside world, Tokyo has become a playground for a group of young people who have lost their families, acting as a battlefield for parkour team battles as they leap from building to building.

Hibiki, a young ace known for his dangerous play style, makes a reckless move one day and plummets into the gravity-bending sea.

His life is saved by Uta, a girl with mysterious powers. The pair then hear a unique sound audible only to them.

Why did Uta appear before Hibiki? Their encounter leads to a revelation that will change the world.