Becoming American Psycho's Patrick Bateman Bordered On Obsession For Christian Bale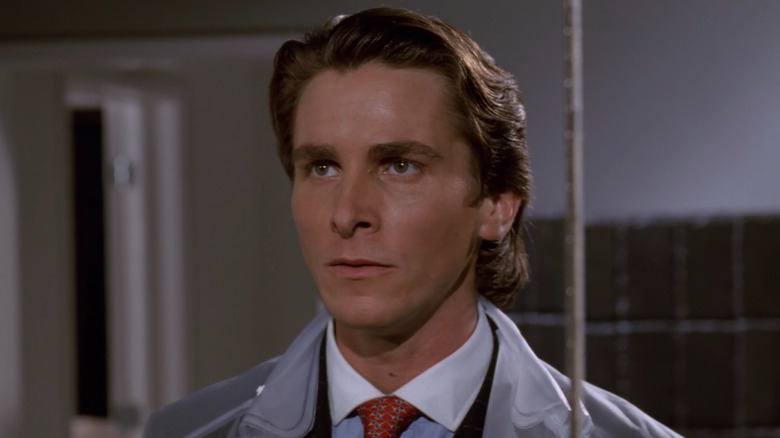 Lions Gate Films
Before he was Batman, he was Bateman. Christian Bale's turn as Patrick Bateman in "American Psycho" was a breakthrough role for him as a leading man. Bale got his start as a child actor, appearing in films such as Steven Spielberg's "Empire of the Sun" and Kenneth Branagh's "Henry V" in the late 1980s. But with "American Psycho," he achieved a new level of recognition for taking on a part Leonardo DiCaprio originally wanted to play as a subversion of his teen heartthrob image from "Titanic."
Although DiCaprio would go on to play "The Wolf of Wall Street" years later, director Mary Harron didn't think he was right for the role of Bateman, the investment banker and serial killer. She was courting other actors, including Billy Crudup, but as she told Vulture when "American Psycho" was celebrating its 20th anniversary in 2020, "nobody was quite right for the part" until she met Bale. The actor was just coming off of Todd Haynes' musical drama, "Velvet Goldmine," which required him to do a Manchester accent, and according to Harron, he struggled with Bateman's accent at first. However, Harron recognized he was "100 percent" into the role, even if his body wasn't quite ready for it yet. As she remembered it:
"He was this skinny English kid. I said, 'Christian, have you ever been to a gym?' He said no. And I said, 'Well maybe you should go to a gym, because Patrick Bateman works out, so just get a gym membership.' Two weeks later, he's totally transformed. I had no idea how obsessive Christian was or what I was unleashing with this kind of casual comment."
'It became a crusade'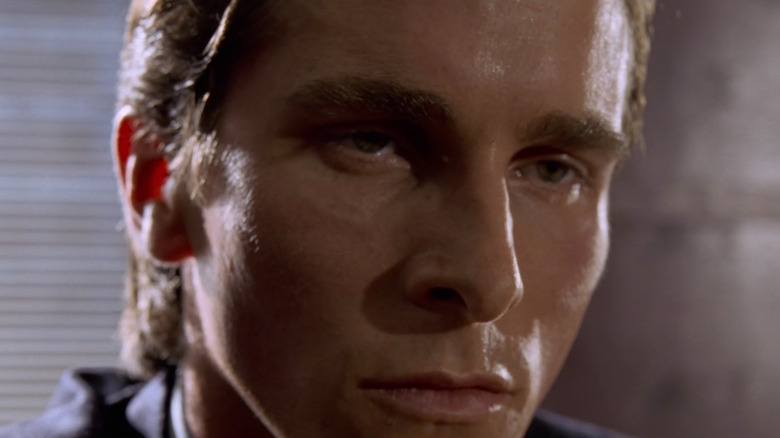 Lions Gate Films
Mary Harron, Christian Bale, and several other "American Psycho" actors also participated in an oral history with MovieMaker for the movie's 20th anniversary, where Bale confirmed he had "never been to a gym" in his life before he developed the rock-hard abs and sculpted pecs to play Patrick Bateman, a character whose morning routine consists of doing 1,000 crunches, among other things. Even after Oliver Stone took control of the project with an eye toward making it a DiCaprio vehicle, Bale was confident "American Psycho" would land back with him and Harron and they would get to make the movie. He explained:
"I said to her, 'I'm still gonna make this, and I'm still gonna keep prepping on it.' And I would call her to talk about scenes, and she would be on a family vacation and she'd say, 'Christian, please, I'm trying to have dinner. And I don't know if you've noticed, but there's other people making the film now.' And I'd say, 'Mary, just stop being so negative. We're gonna do this.' Everybody thought I was crazy, but it became a crusade for me."
Bale was right, and in the end, he and Harron did wind up making "American Psycho." On set, his dedication was such that he had a copy of the Bret Easton Ellis novel on which the movie is based with him at all times and was consulting it in between takes.
'He was like a machine'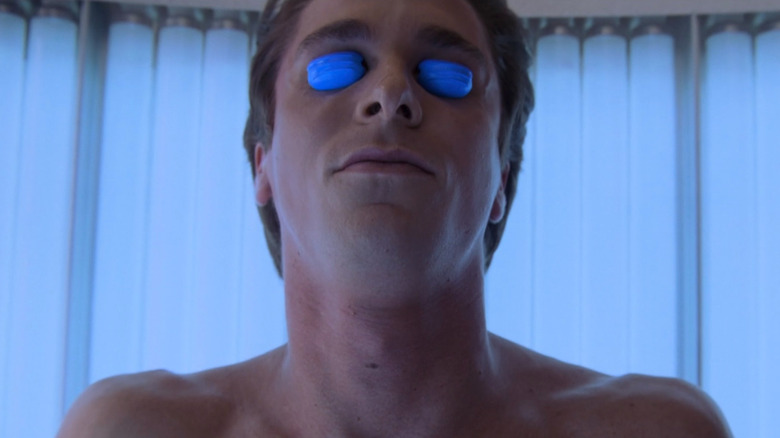 Lions Gate Films
Willem Dafoe, who played the private detective, Donald Kimball, opposite Bale, told MovieMaker:
"He was like a machine. And I mean it in the best way. ... His rhythms, his clarity, his control were just incredible."
For Chloë Sevigny, who played Patrick Bateman's secretary, Jean, it was hard to adjust to Bale's intense style of method acting, which is something she had never dealt with in a costar before. Guinevere Turner, who played Elizabeth, one of the women Bateman murders (or fantasizes about killing, if you think it was all in his head), said Bale was so committed that "he never spoke in his real accent and he never socialized with anyone." Other supporting cast members, like Matt Ross, who plays Bateman's closeted gay colleague, Luis Carruthers, admired Bale's "incredible work ethic" and recognized they had something special brewing with the famous business-card scene. Mary Harron added:
"We were filming the business-card scene and I remember that Josh Lucas and Justin Theroux came up to me after one of the takes and said [Bale] breaks into a sweat at the same time ... every time."
While the method acting techniques of Bale and his "American Psycho" costar Jared Leto may not be for everyone, and some actors have even spoken out against them in recent years, Bale's precision, attention to detail, and overall obsessive approach to "American Psycho" enabled him to transform his body and deliver a performance that was a crucial turning point in his career. Five years later, after going emaciated for "The Machinist," he would bulk back up to play Bruce Wayne in "Batman Begins," and the rest is history.