Angelyne: Release Date, Cast, And More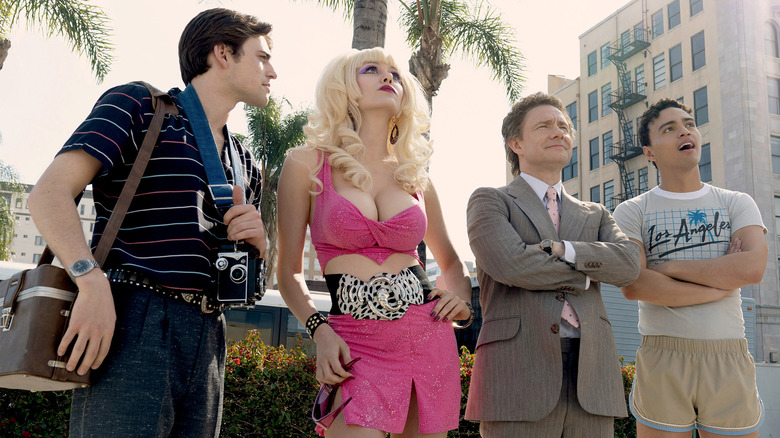 Peacock
(Welcome to ...And More, our no-frills, zero B.S. guide to when and where you can watch upcoming movies and shows, and everything else you could possibly stand to know.)
If you were looking to add a suite of Barbie pink outfits to your fashion inspo Pinterest board, you've come to the right place! "Angelyne" is bringing its killer sense of style and its pre-social media sense of branding straight to television and you can color me intrigued. A classic "based on a true story" series, this slots right into the fun and sexy throwback shows that seem to pop up every couple of years, like "Minx," and "Vinyl" and "The Deuce." Okay, so they're usually HBO shows, but still! Who doesn't love a sexy vintage time? I mean, look at how short those shorts are! I'm certainly not one to feel nostalgic for eras I did not live through, but everyone in this picture is dressed so cutely. I almost can't stand it.
Angelyne release date and where you can watch it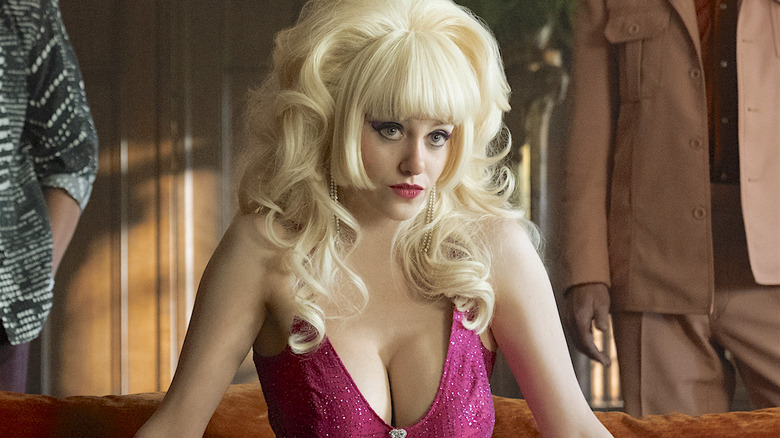 Peacock
Remember when I said this wasn't an HBO show even though it very much feels like an HBO show? Well, it's pure, uncut Peacock, baby. The entire eight episode miniseries will all drop on the streaming service on May 19, 2022, so you finally have one more reason (besides re-watching old episodes of "Yellowstone") to hang onto your Peacock account. Do we think that the same people who watch "Yellowstone" will also watch "Angelyne?" I think so. The duality of man, etc. Maybe "Angelyne" is the pickleback chaser to the shot of whiskey that is "Yellowstone?" There's a bar where I live that has a cocktail that's just a half glass of rosé served alongside a half pour of whiskey. Combining "Yellowstone" and "Angelyne" kind of feels like that.
What is Angelyne about?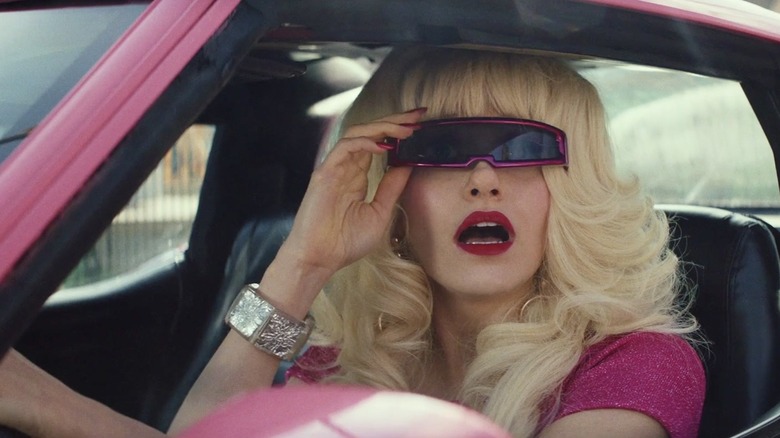 Peacock
It's about looking hot and driving around in an incredible pink corvette for a living! Duh! 
Okay, the "real" story follows our leading lady Angelyne, who took over Los Angeles in the '80s quite literally when she had billboards all over the city plastered with her photos. While many assumed that Angelyne's aim was to worm her way into the head of casting directors (which ended up working, she was in "Earth Girls Are Easy," "Can I Do It 'Till I Need Glasses?," and "The Malibu Beach Vampires," among other film appearances), her true goal was to be famous. Full stop. Famous for being famous. Just famous. She essentially paid to boost her posts on the feed of life way before influencers were able to do the same thing online. It's fun and smart, a delightful combination.
Angelyne writer, director, and more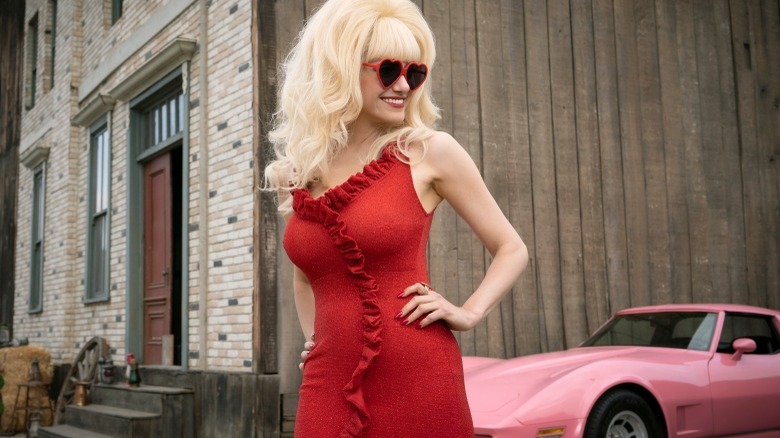 Peacock
"Angelyne" comes straight from the mind (I mean, she is a real person, but you know what I mean) of Nancy Oliver, who has also served as a writer and producer on shows like "True Blood," "Windfall," and "Six Feet Under," so the show definitely feels like it's in fun hands. Besides Oliver, Allison Miller, who has worked on "Brave New World" and "Strange Angel," will be serving as the showrunner and executive producer and there's also directors Lucy Tcherniak ("Station Eleven," "The End of the F****ing World") and Matt Spicer ("Ingrid Goes West"). Of course, the real Angelyne served as a consultant on the series, which is cool. I wonder if she lent her Corvette to the show or if they had to source their own?
The cast of Angelyne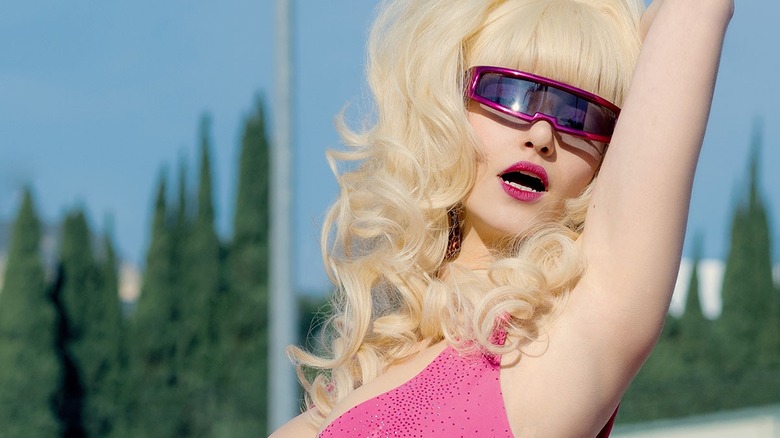 Peacock
Okay, I know I have been using the word "fun" far too much in this article, but this cast is damn fun. Emmy Rossum ("Shameless") is nigh unrecognizeable as our blond bombshell leading lady, but the rest of the cast is filled with surprises too, including Martin Freeman ("The Hobbit"), Hamish Linklater ("The Big Short"), Michael Angarano ("Minx"), Molly Ephraim ("Last Man Standing"), Philip Ettinger ("First Reformed"), Lukas Gage ("Euphoria"), Charlie Rowe ("Rocketman"), Alex Karpovsky ("Girls"), David Krumholtz ("The Deuce"), and Antjuan Tobias ("Scandal"). I'm mainly excited for Freeman, but still! Lots of cool folks and funny enough, a few of them have also been in the other sexy throwback shows I mentioned.
Angelyne trailer and synopsis
Do you feel like you've been sold something bright and sparkly and sexy and dangerous and also luxurious? Good, because I think that's the point. Scope out the trailer above and the official synopsis below and get ready for "Angelyne" to hit a screen near you very soon.
ANGELYNE is about the glow-in-the-dark queen of the universe and LA's original billboard icon from the 80's, Angelyne, who infiltrated pop culture and rose to fame in the 1980s when a series of billboards began to appear around LA featuring her signature curvier figure. The series also stars Martin Freeman (Fargo), Hamish Linklater (Midnight Mass), Michael Angarano (This Is Us), Molly Ephraim (The Front Runner), Philip Ettinger (First Reformed), Lukas Gage (Euphoria), Charlie Rowe (Rocketman), Alex Karpovsky (Girls), and David Krumholtz (The Deuce).