'The Deuce' Review: 'Why Me?' Takes Us To A Not-So-Jolly Christmas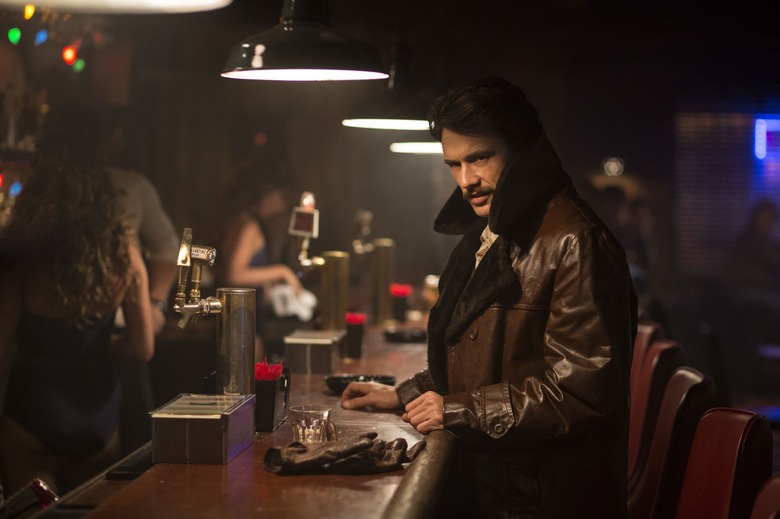 (We're going to kickstart our weekly discussion of HBO's The Deuce by answering one simple question: who or what is the "best bet" in this week's episode?)
The times, they are a-changin' — in both senses of the phrase. This week's episode of The Deuce moves us forward to the most wonderful time of the year, as well as giving us a sense of the changing landscape where prostitution and pornography are concerned. For being a Christmas episode, it's not quite as heart-warming as you might expect — it's got one of the most harrowing scenes we've seen in recent weeks — but progress is still being made.
This Week's Best Bet: Vincent
Of everyone in The Deuce, Vincent's (James Franco) Christmas is shaking out the best. Though he initially runs into a little trouble getting the pimps to agree to host their girls at the whorehouse that he and Bobby (Chris Bauer) are running, it's just a matter of time before things start to pan out. For the holidays, the police are cracking down on street solicitation, rounding up any prostitutes and pimps seen out on the street corners. So, as costs — both money and time — start to pile up, the pimps take Vince up on his offer. The girls don't care much for the accommodations at first (and there's some trouble from a corrupt cop, the same cop we saw come by the Hi-Hat a few weeks ago), but it looks like things are only gonna get better from here. On top of that, Vince is also seeing Abby (Margarita Levieva) again, and they share a tender moment together, listening to the Velvet Underground as she tries to explain just what it is that she likes about their music.
This episode also features a key conversation between Vince and Rudy (Michael Rispoli). Vince asks Rudy point blank why he's chosen him to take on so much responsibility, as he's now running two properties for him. Rudy's answer is simple: Vince is an honest man, or at least as honest as anyone can get in a business like theirs.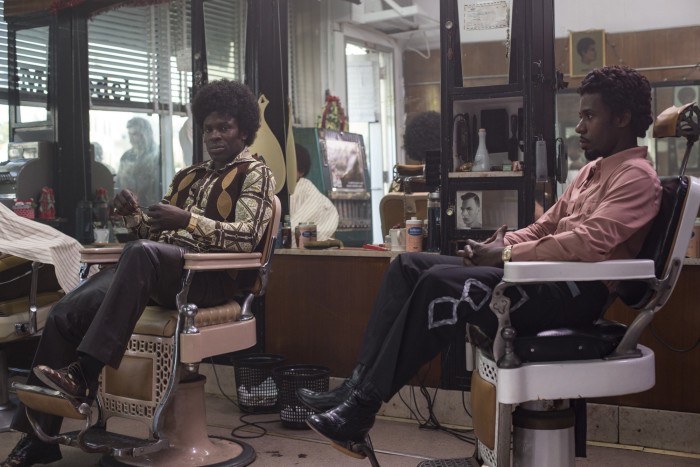 Money, Money, Money
Speaking of which, Rudy sends Frankie and Big Mike (Mustafa Shakir) on a mission. He thinks that some of his take is being skimmed, and he can't send any of his own men to investigate because they'll be recognized. So Frankie and Big Mike do their due diligence, and they also do their part in helping the porn effort along, as Mike makes a sketch of a "masturbatory," in Frankie's words, that might bring in a few extra bucks.
Things aren't too shabby for Rudy besides that; obscenity laws are starting to waver, as is evident when Harvey Wasserman's (David Krumholtz) case gets thrown out. As things start to get laxer, Wasserman calls on Candy (Maggie Gyllenhaal) for a shoot. The process of shooting porn is even colder and more mechanical than the sequences we've seen of prostitution, and it's a reality that's amplified by a few hitches in the system.
First, when Candy recruits Lori (Emily Meade) for a shoot, C.C. (Gary Carr) shows up on the scene not too long afterward, demanding compensation for Lori's time and the work she's doing. It's a tense scene — we've seen just how cruel C.C. can be, and there's nobody on the set that really has any power over him. (To wit, Harvey forks over what C.C. asks for, even taking cash from the crew in order to keep him appeased.)
Then there's the fact that Harvey tells Eileen that it'll be a month or so until the next shoot. She can't get by that long without resorting to going back on the street, which she's vowed never to do. She tells Harvey as much, and he eventually turns up, contrite, at her apartment. He can't really do anything about the pornography, but he sets her up with a madam, telling her that it's something to tide her over.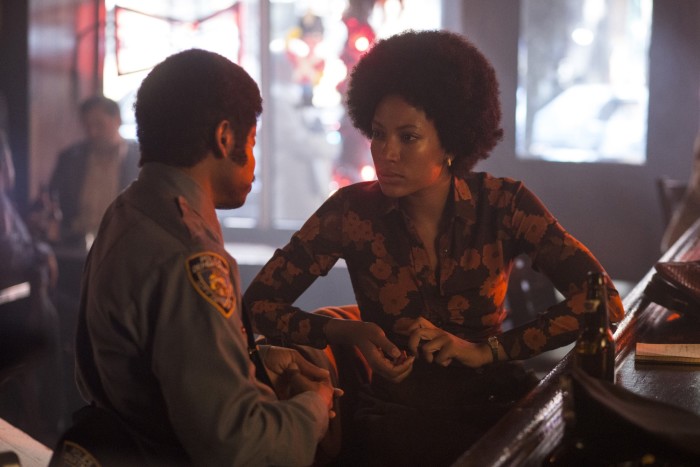 Home for the Holidays
We also get another glimpse of the girls' internal lives this week. Eileen goes home to see her son and to tell her mother that the movie business may be starting to take off for her, but their talk is interrupted as Eileen's ex-husband shows up. She scoots out through the back door of the house before she has to deal with it, promising her mother that things really are looking up.
There's change in the air for Officer Alston (Lawrence Gilliard Jr.) and Sandra (Natalie Paul), too. She finally agrees to go out on a date with him after dodging and refusing the question more than a few times. And Bernice (Andrea-Rachel Parker) seems to be settling in well enough, too, as we see her at the diner with a new coat and a new 'do.
Meanwhile, Darlene (Dominique Fishback, once again one of the most compelling presences on the show) gets what she's owed for the video she shot back in the pilot. Larry (Gbenga Akinnagbe) tells her that there's good money to be made in porn and that she might even be signing autographs if she becomes famous, but it's a proposition that she gently turns down. She tells him that she hated the experience of shooting, and that she doesn't want these videos out there 10, 20 years from now. He doesn't seem happy to hear it, but offers her a choice. If she doesn't want to do the movies, she'll have to go to the whorehouse. Their options are slimming as the cops crack down. The end of the episode sees Darlene in the whorehouse, sitting tentatively at the edge of the bed. She's not too happy to be here, either. As one of the girls said earlier, it's almost like a stable, and the flimsy nature of the place is only emphasized by the way the walls shake as people go at it in the other rooms. Like Candy, this isn't something she wants to do forever.