10 Underrated Zombie Shows To Watch If You Love The Walking Dead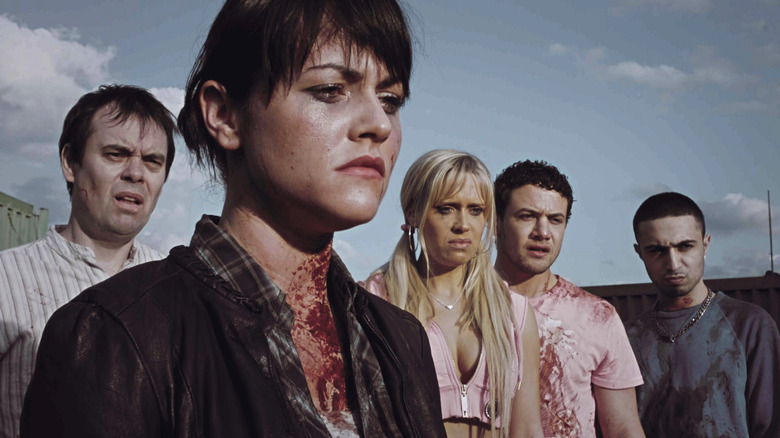 E4
After 10 seasons, "The Walking Dead" is concluding with its three-part Season 11. The show's universe is not disappearing forever, though. Besides the ongoing spin-off "Fear the Walking Dead," the episodic anthology "Tales of the Walking Dead" premiered in August 2022, and other spin-offs are in the works. Still, it's a strange feeling to watch over a decade of postapocalyptic drama creep toward a close. However, even as one of the most iconic zombie shows of all time is getting ready to end, the zombie subgenre refuses to die. Like the walking corpses we all love to fear, just when you think you've seen the last of them, another one is shambling around the corner. 
If you can't get enough of that undead goodness, there are a lot of lesser-known gems out there to satisfy your hunger for zombie content. From dark teen comedies to apocalyptic classics, here are 10 underrated zombie shows to check out if you love "The Walking Dead." 
Daybreak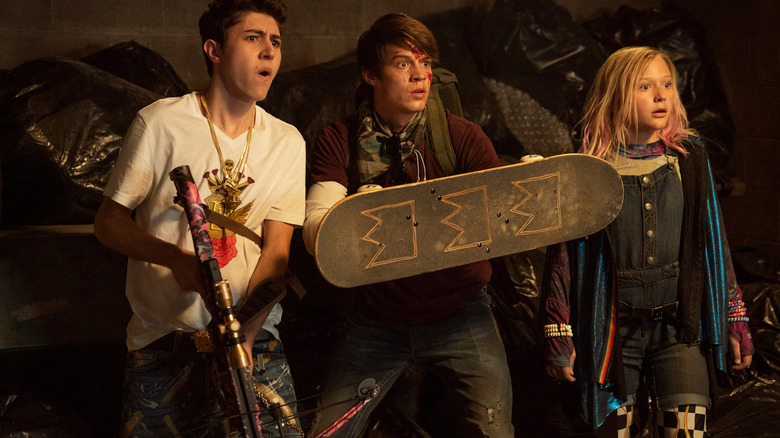 Netflix
"The Walking Dead" isn't the only zombie tv series based on a comic. Netflix's 2019 show "Daybreak" is an adaptation of Brian Ralph's graphic novel series of the same name. That's pretty much where the similarities between the two series stop. "Daybreak" is a zombie apocalypse tale by way of John Hughes, with fourth-wall-breaking leads, satirical takes on high school cliques, and a colorful collection of teenage characters. 
After his hometown of Glendale, California is turned upside down by the appearance of zombie-like creatures called Ghoulies, 17-year-old Josh (Colin Ford) sets off on a quest to find his missing girlfriend, Sam Dean (Sophie Simnett). Along the way, he bands together with a 10-year-old pyromaniac and his former school bully. They come up against Ghoulies, roving bands of evil jocks and cheerleader warriors, and a mysterious antagonist named Baron Triumph. The show was unfortunately canceled after its first season, but its 10 episodes provide plenty of action, surprises, and snark. 
Dead Set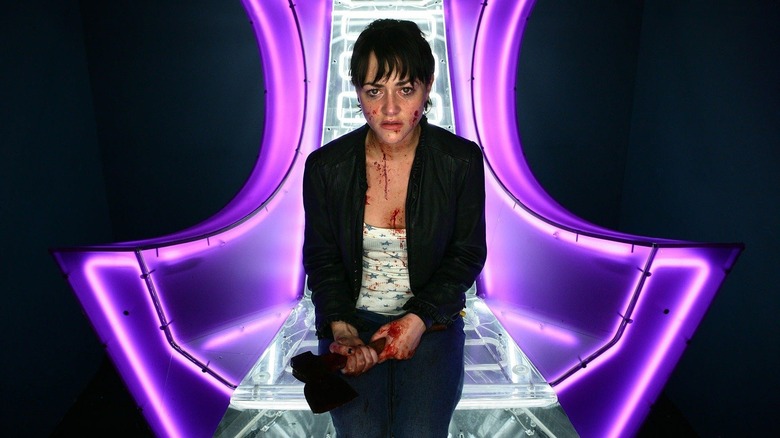 E4
If you consider yourself a fan of zombies and reality television, then look no further than "Dead Set." Written and created by Charlie Brooker of "Black Mirror" fame, this five-episode miniseries takes place on the set of the British reality show "Big Brother." It follows a bottom-of-the-rung runner on "Big Brother" named Kelly (Jaime Winstone), who finds herself reluctantly leading a group of survivors when chaos descends on the production studio in the form of a zombie outbreak. She must work with her boyfriend, Riq (Riz Ahmed), as well as the remaining contestants on the show to find their way to safety. 
As Kelly struggles to keep things running smoothly, alliances are forged and backs are stabbed (literally and metaphorically). "Dead Set" is a devastating, frightening, and darkly funny look at the intersection of horror and popular culture. It spotlights an industry that chews people up and spits them back out — if the zombies don't get to them first. 
In the Flesh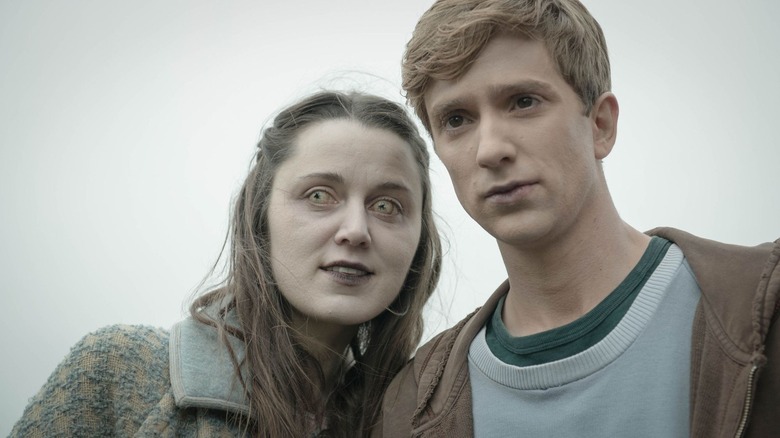 BBC Three
What happens after the cure to a zombie plague is found? Could former zombies rejoin society and live peacefully side by side with humans? These are the questions posed by BBC's "In the Flesh." The show takes place after The Rising, a Romero-style zombie outbreak where everyone who died in the prior year was reanimated as mindless, cannibalistic zombies. A new scientific discovery has brought hope, however, in the form of a drug that restores consciousness to the living dead.
Once the "cured" reanimated people are able to remember who they were before The Rising, they are placed in a rehabilitation program intended to help them adjust to this brave new world. These patients, officially diagnosed with Partially Deceased Syndrome, face a wide array of challenges, from prejudiced humans to the memories of what they did while they weren't themselves. The protagonist of the series is Kieren Walker (Luke Newberry), a reclusive, guilt-stricken 18-year-old doing his best to cope. "In the Flesh" skips the societal decline and zombie uprising that most other shows focus on, resulting in a thoughtful, truly unique story about life after death and what makes us human. 
All of Us Are Dead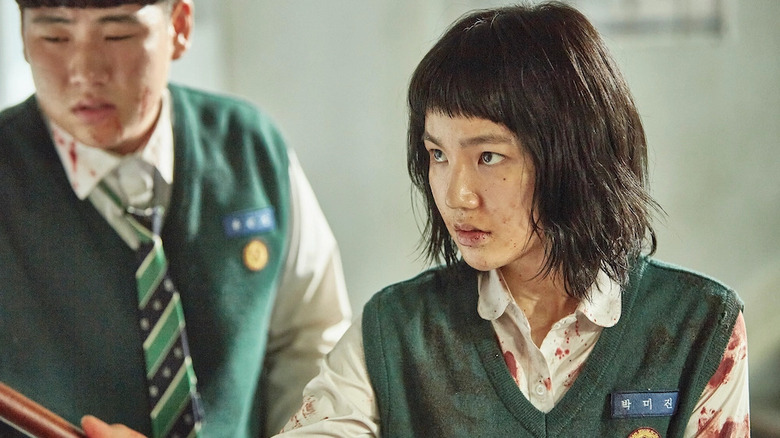 Netflix
Some might not consider this show underrated, given its climb to the top of the Netflix charts following its debut. Nevertheless, this Korean zombie series deserves to be as much of a household name as "The Walking Dead." Based on the webtoon "Now at Our School" by Joo Dong-geun, "All of Us Are Dead" follows the students of a Korean high school who are trapped there following a zombie outbreak. With no food, water, or way to communicate with the outside, the students must rely on their surroundings, their survival instincts, and each other in order to stay alive. 
Like "The Walking Dead" and other zombie shows before it, "All of Us Are Dead" is about more than just hordes of the ravenous undead. It explores themes of disaffected youth, grief, and finding hope in the face of tragedy. Critics have praised the show for its grounded portrayal of teenage struggles, excellent dialogue, and nuanced, relatable characters. The series follows in the footsteps of "Squid Game" and "Hellbound," as Netflix introduces yet another excellent Korean show to English-speaking audiences. 
iZombie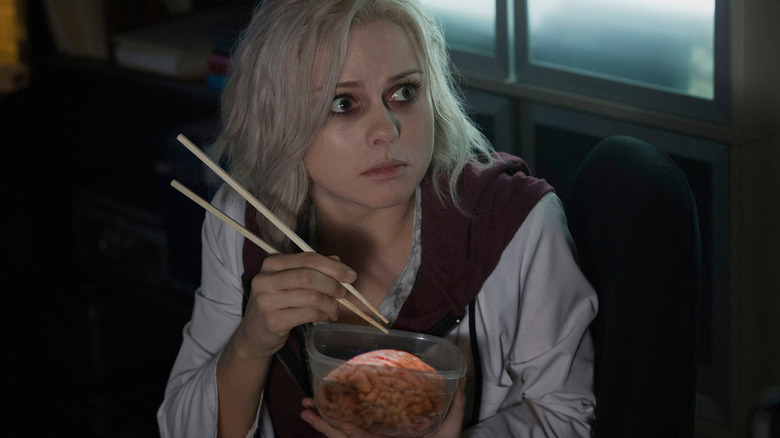 The CW
Who said zombies can't use their insatiable appetites for good? For example, what if a zombie ate a murder victim's brain, only to find that their macabre meal allowed them to see the victim's last memories before their death? Zombie apocalypse meets police procedural in "iZombie," a CW dramedy about a medical student turned zombie who helps solve murders by eating the victims' brains. Promising overachiever Liv Moore (Rose McIver) loses a grip on her seemingly perfect life when a boat party ends with her unzipping her own body bag and suddenly craving human brains. 
No mindless shuffling here! Liv is able to function as a regular member of society (with an unusual appetite) working for Dr. Ravi Chakrabarti (Rahul Kohli) at the Seattle Police Department. When she discovers the side effect of her eating habits, she poses as a police psychic to assist Detective Clive Babineaux (Malcolm Goodwin) in his homicide investigations. However, as Liv helps to catch the most dangerous humans in Seattle, it becomes clear that she's not the only zombie in the city — and the others aren't as peaceful as she is. If that's not enough for you, the show was also co-created by "Veronica Mars" creator Rob Thomas. So, expect all those brains to be served with plenty of quips on the side. 
Z Nation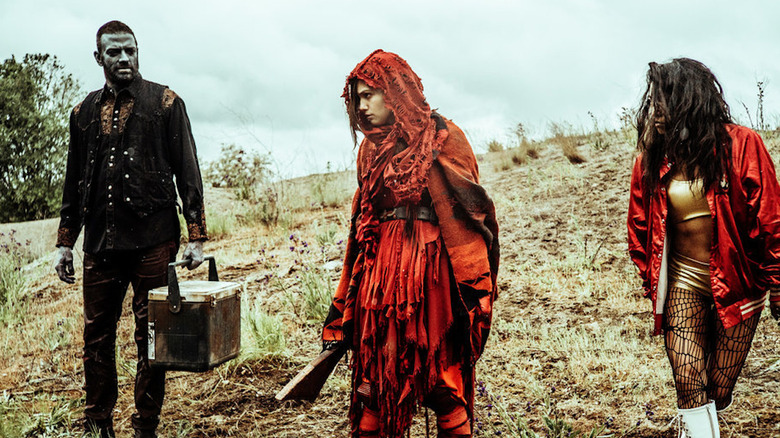 Syfy
You might not expect a zombie show from production company The Asylum (best known for the "Sharknado" franchise) to be any good. At the very least, you'd probably expect it to fall into the "so bad it's good" category. However, "Z Nation" manages to defy expectations with some genuine tension and a few potent scares. Taking place three years after a zombie virus has killed most of humanity, the show centers around Murphy (Keith Allan), the only known survivor of a zombie bite. Because of his strange immunity to the virus, his blood contains antibodies that could hold the key to a miracle vaccine.
A group of survivors, led by Simon "Citizen Z" Cruller (DJ Qualls), must smuggle Murphy from New York to the CDC in California so that work on the vaccine can begin. Danger lurks around every corner and nothing — including Murphy himself — is as it seems. The show occasionally veers into campy territory, and it has difficulty deciding how seriously it wants to take itself. Still, if you're willing to roll with those punches, it can be a fun, entertaining ride. 
Santa Clarita Diet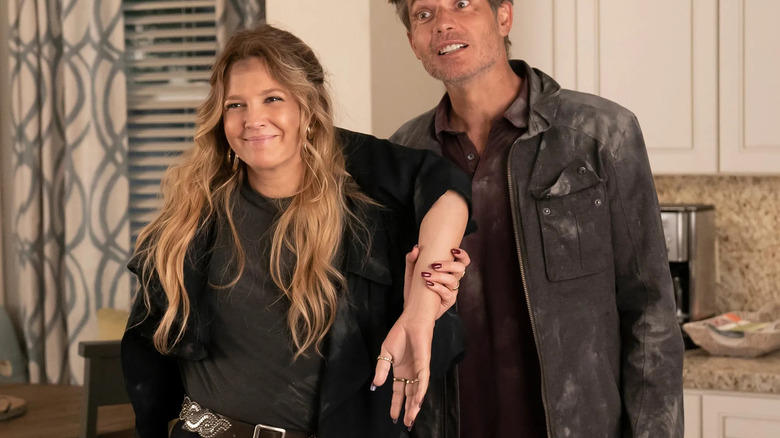 Netflix
Ah, suburban life. Manicured lawns, white picket fences, the undeniable craving for human flesh. "Santa Clarita Diet" is a horror-comedy that puts all the gore and body horror of zombies against the backdrop of idyllic Santa Clarita, California. Sheila (Drew Barrymore) and her husband Joel (Timothy Olyphant) are a pair of perfectly ordinary real estate agents just trying to support their family and run a successful business. Until Sheila starts to change, that is. That's to be expected in a marriage sometimes: people mature, and they grow apart. They don't usually start walking around without a pulse and feeding on the neighbors, but when you really love someone, you do your best to make it work. 
So, that's what Joel does, and the two navigate Sheila's new lease on death as a team. It's not all smooth sailing, though. They have to keep Sheila fed, hide her secret, and get to the bottom of what caused her transformation in the first place. "Santa Clarita Diet" is gory, funny, and sweet all at the same time. The show was sadly canceled in 2019, but there are still three bloody, bingeable seasons available on Netflix. 
Black Summer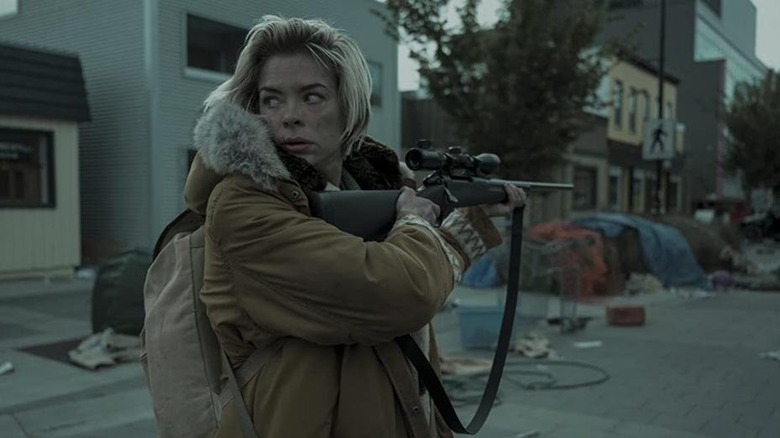 Netflix
Though it began as a spin-off of "Z Nation" and is set within the same universe, "Black Summer" manages to stand on its own. Six weeks after the start of the zombie apocalypse first hits, a woman named Rose (Jaime King) is separated from her daughter. In order to get back to her, Rose must embark on a potentially deadly journey through the crumbling world around her. Along the way, she joins up with a group of other survivors, many of whom are also trying to find their lost loved ones. 
The resulting series is stark, tense, and surprisingly minimalist given its predecessor. Some of the characterizations are neglected in service of tone and horror, but the show makes up for it with plenty of action and brutality. If you're here for lots of dialogue and developed personal relationships, you might want to keep looking, but the rough edges of "Black Summer" surround a dark, compelling zombie story. 
Kingdom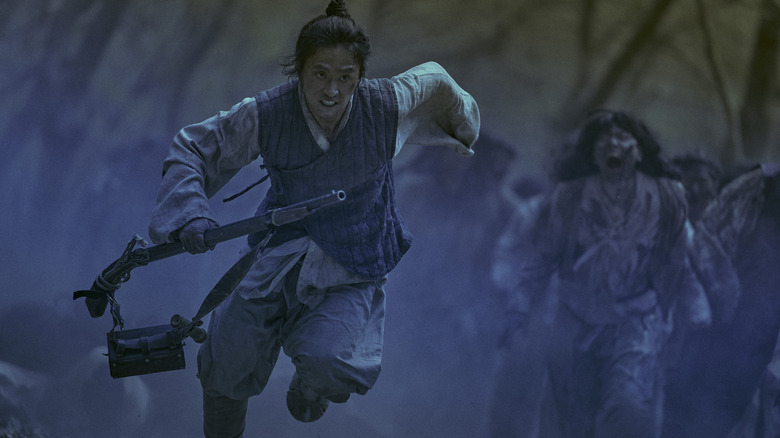 Netflix
There aren't very many zombie period pieces out there. Sure, you have your occasional "Pride and Prejudice and Zombies," but generally the undead rear their rotten heads sometime in the present, or the not-so-distant future. Enter the Korean Netflix series, "Kingdom." Created by Kim Eun-hee and based on the webtoon "The Kingdom of the Gods," "Kingdom" takes place in a fictionalized version of 16th century Korea, three years after the end of the Imjin War. 
"Kingdom" centers around Crown Prince Lee Chang who, after the king falls ill with a mysterious disease, finds himself face to face with a deadly plague sweeping across the country. Only this is no ordinary sickness; its victims rise from the dead. What follows is "The Walking Dead" meets "Game of Thrones," with plenty of its own original flavor. Lee Chang battles both the violent masses of infected citizens and political rivals gunning for his throne. 
Ash vs Evil Dead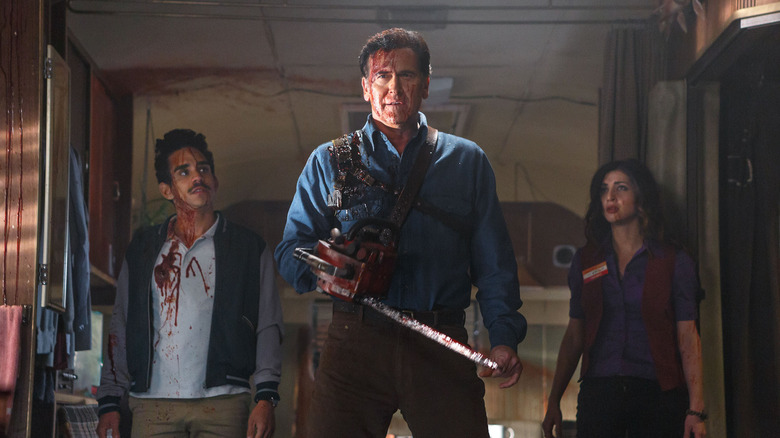 Starz
Sure, you might not classify the Deadites as zombies so to speak, but what are most zombies if not some kind of "evil dead"? Set 30 years after the events of the original trilogy, the series sees an older, grizzled Ash working as a stock boy at Value Stop and spending his free time drinking in dive bars. After a regrettable, intoxicated night, Ash accidentally reawakens the curse contained by the Necronomicon Ex-Mortis. 
As the forces of evil threaten to destroy humanity, Ash must come out of retirement and, with the help of his coworkers Pablo and Kelly, battle the titular evil dead once more. "Ash vs Evil Dead" puts a fun, fresh spin on the "Evil Dead" mythology, and packs in a lot of gruesome enjoyment. Now that star Bruce Campbell has retired from playing Ash, this Starz series is the last place you can see him bring his iconic character to life — signature chainsaw arm and all.