Tales Of The Walking Dead Teaser: Not Everyone Is Interested In Survival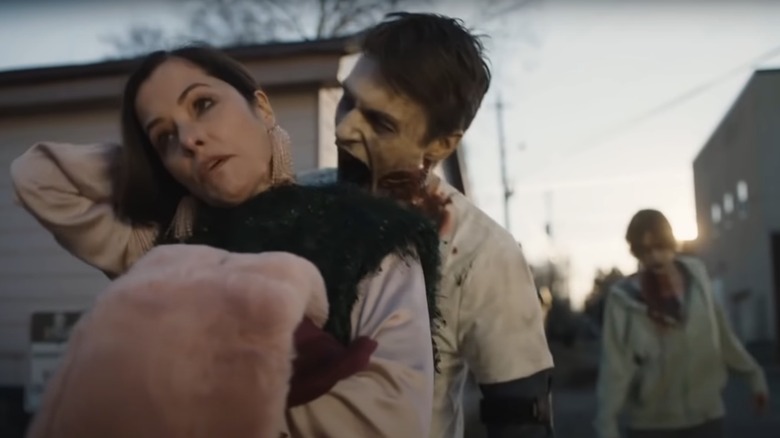 AMC
With "The Walking Dead" coming to a close after 11 seasons, the mega-popular zombie franchise is continuing to expand its universe with another spinoff series. This time, in the form of the six-part episodic anthology, "Tales of the Walking Dead." The series will explore six different stories set around the apocalypse, with new characters as well as some series favorites. AMC released the first teaser trailer for the new show during the midseason finale of "The Walking Dead" on Sunday night, giving our first look at the variety of perspectives brought to the world of the Walkers, as well as a glimpse into the life of the woman who would inevitably become Alpha of the Whisperers (Samantha Morton) on "The Walking Dead."
While "Tales of the Walking Dead" still doesn't have a precise release date, the teaser does indicate a Summer 2022 premiere. In addition to Morton, the new series features a confirmed cast of Terry Crews, Olivia Munn, Parker Posey, Anthony Edwards, Daniella Pineda, Poppy Liu, Jillian Bell, Jessie T. Usher, and Danny Ramirez. There's always the possibility of other "TWD" favorites appearing throughout, but there's a good chance AMC is keeping that information close to the chest. The fifteen-second teaser leaves plenty of room for theorizing, but based on the small thumbnails of each story, "Tales of the Walking Dead" looks to differ in tone compared to "The Walking Dead" and "Fear the Walking Dead." 
Check out the teaser below and speculate for yourself.
Tales of the Walking Dead teaser
The teaser features six different thumbnails, one for each episode, and showcases characters in a wide range of circumstances. Based on the clothing choices and interior lighting, it looks as if "Tales of the Walking Dead" will heavily focus on the start of the Walker apocalypse, and showcase how the events impacted the rest of the world outside of our core team on "The Walking Dead." The teaser ends with Parker Posey, dressed up and armed with a pale pink fur stole, offering the side of her neck to a walker.
"Just get it over with" she screams before being bitten. In the teaser thumbnail preview, Posey is seen walking with Jillian Bell, who is not present at the time of Posey's biting at the end of the thumbnail. Are they best friends? Sisters? Lovers? Mortal enemies? Was Bell ripped apart limb from limb by walkers in front of Posey and now she's offering herself up as a zombie snack because she feels she has nothing left? For a franchise that has always had survival at the forefront, "Tales of the Walking Dead" is already taking a huge swing by showing a character who seemingly doesn't care about survival.
"Tales of the Walking Dead" will be available on AMC and the AMC+ streaming service sometime in the summer of 2022.