Nicolas Cage Channeled A Fan-Favorite Batman As His Kick-Ass Inspiration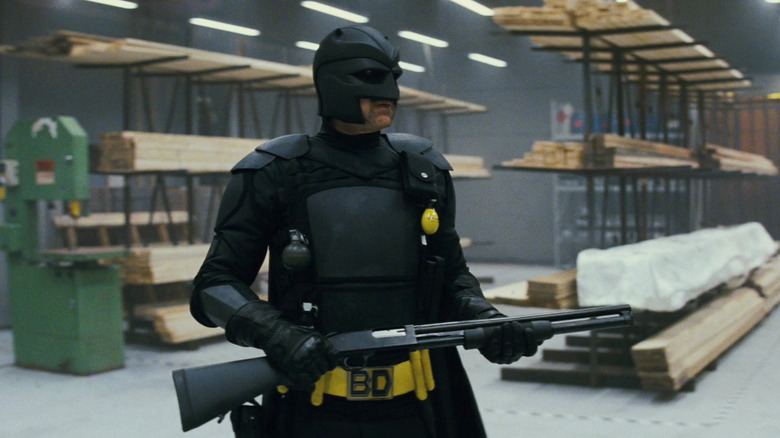 Lionsgate
Everyone's favorite actor who always gives 100%, Nicolas Cage, recently did a Reddit Ask Me Anything to promote his latest movie, "The Unbearable Weight Of Massive Talent," and it went about as amazingly as can be expected. Cage was characteristically candid, as always, and shared quite a bit about himself, his career, and his love of movies. Cage is a well-known lover of superheroes. He played Ghost Rider and was even supposed to play Superman at one point, so it's no surprise that questions arose about his comic book inspirations. For his role as Big Daddy in the comic book satire "Kick-Ass," Cage channeled one perfectly classic caped crusader, and the results were perfect. 
Taking hints from the original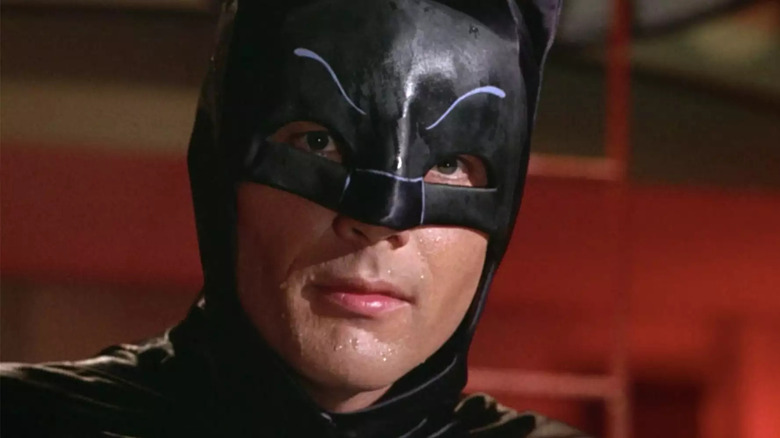 ABC
Reddit user BennieWilliams asked about Cage's role as Big Daddy, and wondered if Adam West, who played Batman in the 1966 television series, was the main inspiration for his performance. Cage was unequivocal in his answer, revealing that West was the ultimate archetype:
"I would give it all to Adam West. I grew up watching him on the 60s Batman show and he is where it begins and where it ends as Big Daddy. I met Adam West once and I said 'did you see I was channeling you?' and he said 'I saw you TRY to channel me!'"
While West might not have thought Cage's performance accurately mimicked his campy but impassioned delivery, fans appreciated the homage quite a bit. Originally the character wasn't supposed to be much like West's Batman beyond being a goody-two-shoes with a similar costume, but Cage reportedly did the voice for director Matthew Vaughn and that was that. Vaughn loved Cage's vintage-inspired interpretation, and it gave Big Daddy an extra layer of lovability. Seriously, who doesn't love 1960s Batman? 
We already knew that Cage was a big fan of the 1966 "Batman" series, because he told a local news station earlier this year about a dream role of his: Egghead, played in the series by Vincent Price. It would be great to see Cage take on one of the weirder villains in Batman's bizarre cadre of criminals, but there's no telling whether or not that casting perfection will ever come to pass. In lieu of watching Cage unleashing ovum-based insanity on Robert Pattinson's Batman, at least we can always go back and watch him portray a part of the 1960's series in his own weird way. "Kick-Ass" is a violent and often truly shocking film, but Cage's performance is rooted in West's earnest goodness, and it gives the film much-needed heart.