Year Of The Vampire: Queen Of The Damned Is A Turn Of The Millennium Time Capsule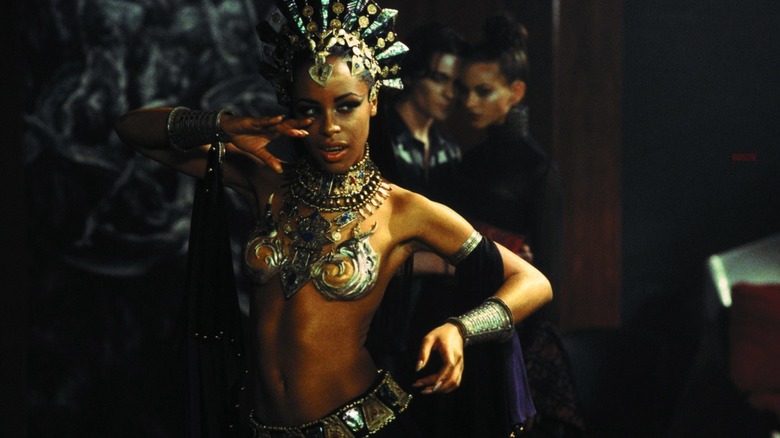 Warner Bros.
(Welcome to Year of the Vampire, a series examining the greatest, strangest, and sometimes overlooked vampire movies of all time in honor of "Nosferatu," which turns 100 this year.)
Some vampire films are beautiful examinations of what it is that makes us human. Some are exercises in style and aesthetic, embracing the otherworldliness of vampirism to deliver haunting new stories. "Queen of the Damned" is neither of those things. It's a messy, confusing adaptation of one of Anne Rice's best novels, but in its own weird way, it's a perfect example of vampire fiction from its era. The turn of the millennium permeates every frame of the film, even those that are supposed to take place in other centuries, and the nu-metal soundtrack is a magical time capsule. 
"Queen of the Damned" was released in 2002, in the sweet spot between fellow vampire disasterpieces "Dracula 2000" and "Blade: Trinity." Some fans of Anne Rice's novels were disappointed in just how loosely the third book in her "Vampire Chronicles" was adapted, and the film is a totally different take on her material than 1994's "Interview With the Vampire," leaving fans of that film cold. On top of being loathed by critics, the film's release was overshadowed by tragedy when star Aaliyah, who played Akasha, the titular queen of the damned, died in a plane crash in the Bahamas shortly after she finished filming. As a result, "Queen of the Damned" has mostly been relegated to a footnote in vampire cinema history, despite having some truly great moments, fun performances, and, again, an absolutely killer soundtrack. 
What it brought to the genre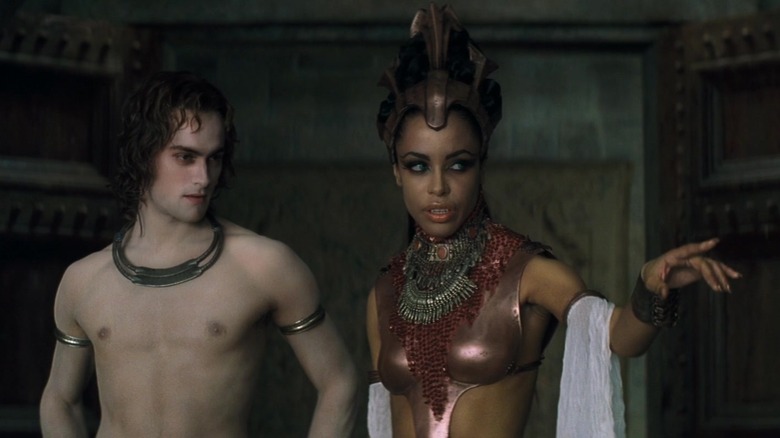 Warner Bros.
"Interview with the Vampire" is a vampire movie classic. Neil Jordan's direction is sumptuous as Tom Cruise's Lestat and Brad Pitt's Louis stalk the streets of New Orleans and Paris in centuries past. It follows Rice's novel fairly closely and was beloved by fans and critics alike. "Queen of the Damned," directed by Michael Rymer, contains a mix of the narratives from the second and third novels of Rice's "Chronicles," reducing most of the side plots and characters from "Queen of the Damned" to a single line or scene. Instead, the film focuses exclusively on the love triangle between the Brat Prince Lestat (Stuart Townsend), the vampire queen Akasha, and Talamasca researcher Jesse (Marguerite Moreau). 
"Queen of the Damned" sees Lestat waking after a century-long nap when he hears a rock band practicing near his cemetery. The music reminds him of the songs he used to play for the sleeping parents of all vampires, kept in a tomb by his vampiric maker, Marius (Vincent Perez). He decides to live openly as a vampire rock star, going against the secrecy that his kind have kept for millennia, and he awakens Akasha in turn. The several-thousand-year-old queen decides she wants to take over the world, with Lestat at her side, and that's when he must choose between his queen and his fellow vampires. It's not exactly a great consolidation of Rice's third novel, which begins in the Old Kingdom of Egypt and follows its vampire family over thousands of years before arriving in the present day. It's messy and occasionally confusing, but it also has a glossy goth cool that's hard to ignore. It relishes in its campier moments, too, with both Townsend and Aaliyah leaning hard into vamping about, making even the most basic scenes a lot more fun. Rymer went on to direct episodes of "American Horror Story" and "Hannibal," so he clearly sharpened his campy horror fangs here.
A messy adaptation with a perfect soundtrack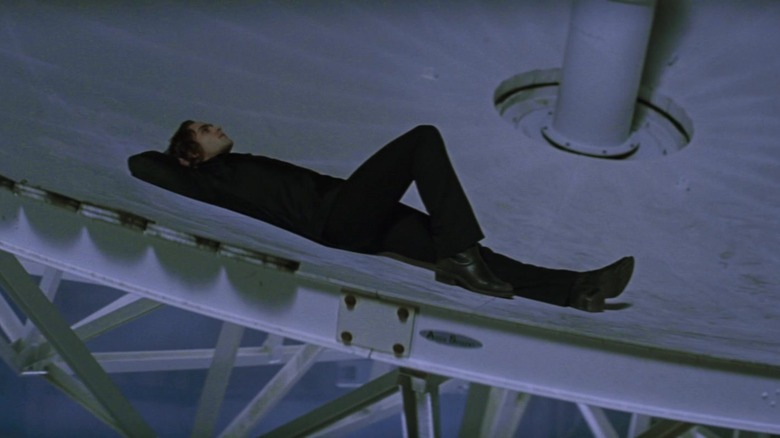 Warner Bros.
While many of the Year of the Vampire entries are elaborate exultations explaining why a particular vampire film is a masterpiece, "Queen of the Damned" is a little too messy for that. When it works, it's a great little gothic slice of the early 2000s; when it doesn't, it's kind of a fever dream. The thing that really makes it stand out, however, is its soundtrack. After all, this Lestat is a rock star, and we see him perform several of his songs, so it better sound great. 
Korn lead singer Jonathan Davis provides Lestat's vocals in the film, and his growling and roaring sound is truly otherworldly, especially coming out of Townsend's befanged mouth. Davis wrote and produced the soundtrack with Richard Gibbs, former keyboard player for Oingo Boingo and prolific composer for film and television. Due to contractual obligations with his record label, Davis couldn't provide the vocals for the original motion picture soundtrack release, so each song was sung by a different nu-metal performer. Wayne Static of Static-X, Chester Bennington of Linkin Park, Marilyn Manson, David Draiman of Disturbed, and Jay Gordon of Orgy all provided their versions of Lestat's wicked crooning, and these songs still rock. The soundtrack also features bangers from The Deftones, Tricky featuring Alanis Morrisette, and Kidneythieves. It's impossible to listen to any of these songs and not immediately imagine yourself in a vampire club. 
"Queen of the Damned" isn't a perfect movie, but it commits fully to its vampiric vision and has one of the most perfectly curated soundtracks in cinema history. It will be interesting to see what shape the "Interview with the Vampire" television series takes, and whether or not their Lestat can slink and skulk as well as Townsend.