The Daily Stream: Interview With The Vampire Brought Anne Rice's Undead Characters To Life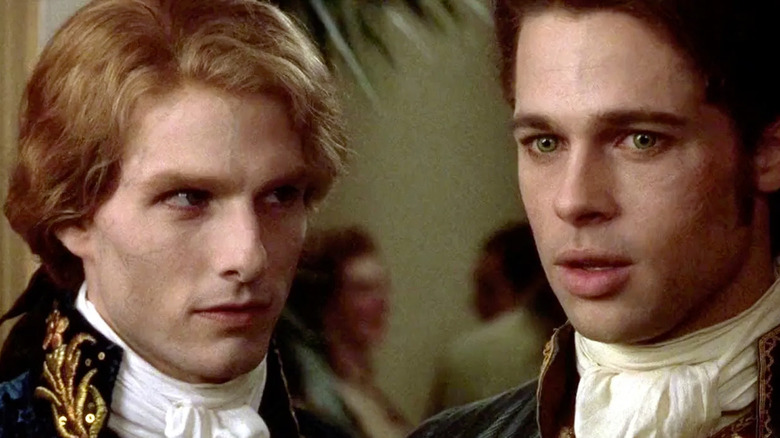 Warner Bros.
(Welcome to The Daily Stream, an ongoing series in which the /Film team shares what they've been watching, why it's worth checking out, and where you can stream it.)
The Movie: "Interview With the Vampire."
Where You Can Stream It: HBO Max
The Pitch: The first book in Anne Rice's The Vampire Chronicles gets a big, glitzy Hollywood adaptation – and it's damn good! Vampire Louis (Brad Pitt) recounts his story of becoming a bloodsucker, taking us back in time, and introducing us to Lestat (Tom Cruise), a self-righteous dandy vampire who loves his work (his work being "Drinking people's blood"). It's all very over-the-top, unapologetically queer, and pretty damn great. The film also marked the debut of Kirsten Dunst, who is fantastic, playing a child vampire furious that she can never really grow up. 
Why It's Essential Viewing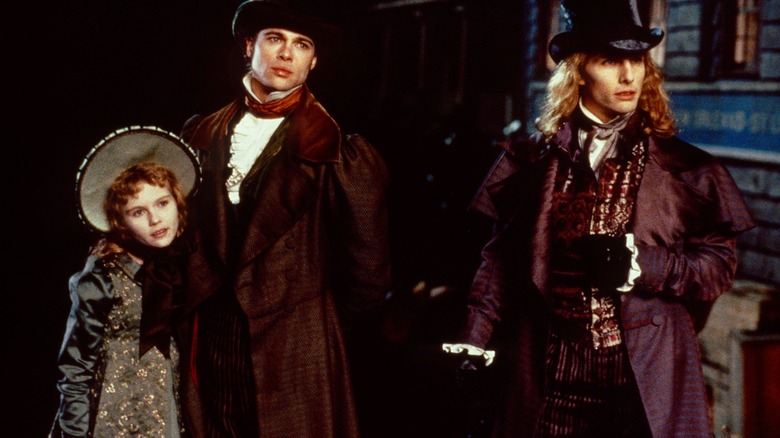 Warner Bros.
Anne Rice died this week, leaving behind an undeniable legacy. Rice didn't exactly invent the idea of the romantic, tragic vampire, but she certainly influenced the shift towards that in regards to bloodsuckers. Rice's Vampire Chronicles were heavily influential, so much so that there was a point where publishers had to flat-out refuse vampire novels since everyone was rushing to be the next Anne Rice. Rice's books, which contain a multitude of queer-coded vampire characters throughout history, have their issues. In fact, as the series went along, it got worse and worse. But the first of the books, "Interview With the Vampire," remains essential. 
Paramount Pictures bought the movie rights to Rice's book in 1976 before it was even published. But the project languished, changing hands and eventually ending up at Warner Bros. Rice wrote the script, and reportedly, one of her drafts actually turned Louis into a female character. Rice reasoned that Hollywood, and movie audiences, wouldn't accept the not-so-subtle gay undertones between the characters of Louis and Lestat, and figured it would make more sense to make one of the leads a woman. Cher was even considered for the part.
Thankfully, reason prevailed, and the two main characters remained male. Neil Jordan was brought on board to helm the film, and while Rice receives the sole screenwriting credit, Jordan rewrote a large chunk of the material himself. No matter: the film still captures Rice's work, streamlining it a bit for mass consumption. The end result was great, although Rice wasn't exactly jumping for joy over the adaptation. At least at first.
Rice felt the casting of Tom Cruise as her character Lestat was a mistake (she initially envisioned Rutger Hauer in the part). After Cruise was cast, Rice was aghast and suggested several replacements, including John Malkovich, Peter Weller, and Jeremy Irons. She even suggested that Cruise and co-star Brad Pitt switch roles, feeling Pitt would be a better Lestat than Cruise. In the end, Cruise won Rice over, so much so that she personally called up Cruise to tell him she had been wrong. 
Cruise may not seem like the obvious choice to play Lestat, but he really sinks his teeth (see what I did there?) into the part, and I'd argue that this is one of his career-best performances. "Interview With the Vampire" was a hit, so you'd think Warner Bros. would rush to keep making sequels. But they didn't. A sequel/reboot, "Queen of the Damned," wouldn't arrive until 8 years later, and while that film has its fans, it's pretty awful. Sadly, Rice didn't live to see the Vampire Chronicles adaptations continue, but a TV series based on the books is currently on the way, ensuring that like her vampire characters, Rice's work will remain immortal.