Year Of The Vampire: Let The Right One In Is A Bloody Tale Of Young Love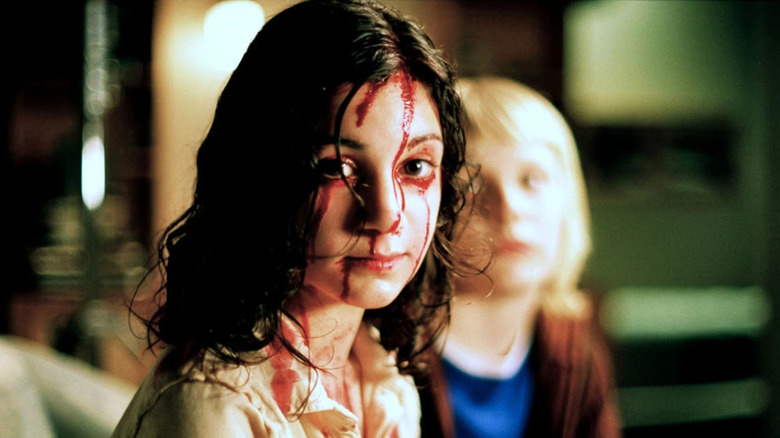 Magnolia Pictures
(Welcome to Year of the Vampire, a series examining the greatest, strangest, and sometimes overlooked vampire movies of all time in honor of "Nosferatu," which turns 100 this year.)
I love vampires more than most, and that's saying something. I've always loved the sexiness and capes, and the quippy lines they all seem to have (I guess living for a really long time gives you some comedy chops). It's with that in mind that I tell you about a vampire film that floored me with the complete lack of every one of those things. 
Years ago, I was sent to review a foreign film for a now-defunct website, and I had no idea what I was going into. No one even told me it had anything to do with vampires. That film was Tomas Alfredson's "Let the Right One In." I have to tell you, if you're not expecting it, this is a shocker of a film. The vampire in this film is a child. We're not talking about a character like Claudia from "Interview with a Vampire" who wants to be a grown up, or that baby vampire that Laszlo made in "What We Do in the Shadows." This child vamp was like nothing I'd ever seen before. The film is twisted, dark, and completely unexpected. 
"Let the Right One In" (or "Låt den rätte komma in," as it was called in its native Sweden) came out back in 2008 and stars Lina Leandersson as Eli (though Elif Ceylan voiced the role, because Leandersson's voice was considered too high). It also stars Kåre Hedebrant as Oskar, who has an inordinate amount of snot coming out of his nose in this film. Don't let that stop you from watching, though. "Let the Right One In" is one of the weirdest movies I've ever seen, and in the very best way.
What It Brought to the Genre
"Let the Right One In" is the story of 12-year-old Oskar, who is constantly bullied by his classmates. They're cruel, and he is terribly lonely. Then he meets Eli, who appears to be the same age, and they become friends. Around the same time a bunch of people start dying in mysterious ways in town. Yup. Eli is a vampire. (I'm using the pronouns she/her here because that's the way Eli is described in the official synopsis, but details in both the film and the novel suggest that her gender identity is somewhat complex.)
We've seen young vampires before, but the emphasis is always on them wanting to grow up and not being able to. In this film, Eli is more lonely than worried about looking like an adult. She seems to very much have accepted what she is, and even though she's lonely, she recognizes a kindred spirit in Oskar (Eli points out that while she actually does kill people, he obviously wants to kill his bullies, but just hasn't done it). She has the opportunity to hurt Oskar when he suggests a blood bond, but goes after someone else. Oddly enough, vampire film or no, this reads like a young love story. With blood. Lots of blood.
A Different Sort of Vampire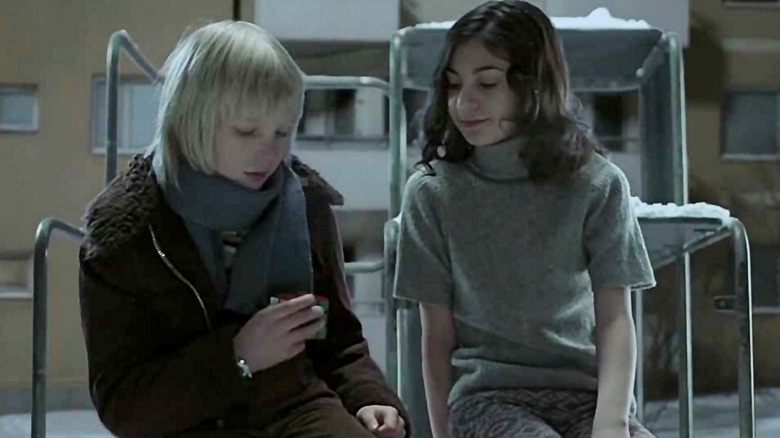 Magnolia Pictures
The vampire genre is full of allusions to the food chain, and how we all kill to eat, but the thing that stands out in "Let the Right One In" is how old Eli seems. She doesn't want to be an adult. It isn't a pining. It's just a feeling that you get from her; Eli has been here for a long time. There is a gravity to that, and very few young actors can pull it off. The contrast between Eli and Oskar is almost staggering. He's still a kid, wiping his nose (or forgetting to, which I will admit, freaked me out) on the playground, and dealing with the mean boys in his school.
I love "Let the Right One In" particularly because it was something completely new for me. I also love it because of the love story. This might seem silly to say about a vampire film, but it gives me hope. The idea that there is someone out there to love you, no matter who or what you are, is a beautiful thing to see.