Munsters Set Photo Reveals Our Best Look Yet At Rob Zombie's Reboot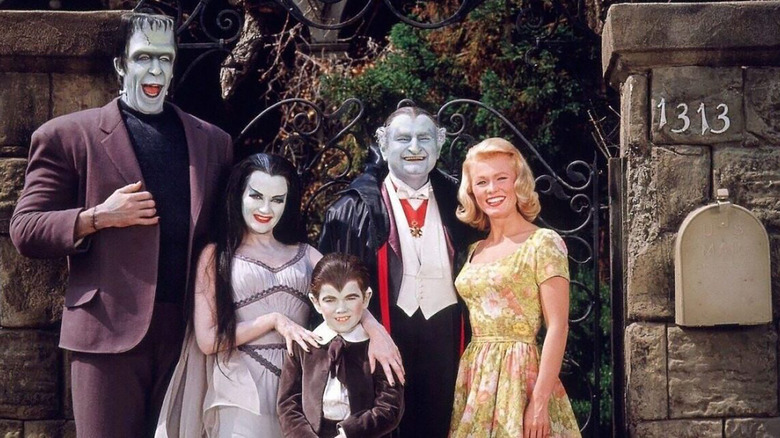 CBS
Rob Zombie's Instagram account has become the proverbial bait carrot hanging by a string in front of the faces of "The Munsters" fans everywhere. The famed musician and horror director has been using social media to provide the best behind-the-scenes looks at new characters, old favorites, set designs, and the vibrant lighting at 1313 Mockingbird Lane. Today, Zombie has once again given an exclusive preview of his "Munsters" movie, showcasing Jeff Daniel Phillips ("Agents of S.H.I.E.L.D.," "Halloween II") as Herman Munster, Sheri Moon Zombie ("House of 1000 Corpses," "Lords of Salem") as Lily Munster, and Daniel Roebuck ("The Fugitive," "Matlock") as Grandpa from the view of his monitor.
The image, released in full-color, shows the main Munsters family waiting between takes. Some of the earliest photos Zombie released from the set were in black and white, leading many to believe that "The Munsters" would follow the show's aesthetic. However, as Zombie continued with his casting announcements, many of the character photos made available have been shown with a coruscating color palette. While Zombie has still yet to officially confirm the film's presentation, it's starting to look more and more like the PG-rated "The Munsters" will be in full-fledged kaleidoscope goodness. Check out the on-set photo below.
Bring on the giallo lighting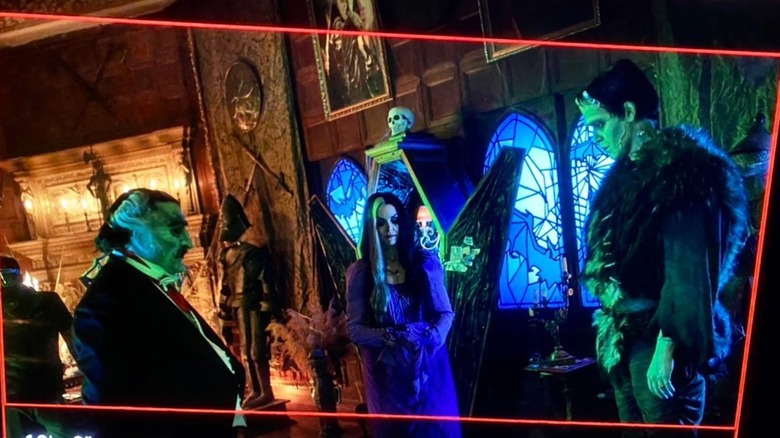 Rob Zombie/Instagram
Zombie posted the image of the main trio between takes, and commended them for their hard work and dedication to the craft. As it turns out, Jeff Daniel Phillips, Sheri Moon Zombie, and Daniel Roebuck each spent three hours in the chair for makeup before every production day, ahead of 14 hours of shooting. The photo was taken toward the end of the production day as the sun was beginning to rise. "Cheers to these three for always bringing the thunder," Zombie wrote. Zombie also included a flurry of emojis throughout the caption, which is weirdly endearing? Perhaps it's my own implicit bias at play, but Rob Zombie never struck me as an "emoji guy," but seeing the skulls, bats, and lightning bolts scattered throughout adds an additional sweetness to an already kind-hearted message.
Joining the main trio, "The Munsters" also stars Richard Brake ("31," "Bingo Hell") as Dr. Henry Augustus Wolfgang, Catherine Schell ("Space: 1999," "On Her Majesty's Secret Service") as Zoya Krupp the Gypsy Queen, Sylvester McCoy ("Doctor Who," "The Hobbit") as Igor, Cassandra Peterson (Elvira: Mistress of the Dark) as real estate agent Barbara Carr, and Jorge Garcia ("Lost," "Nobody Knows I'm Here") as Floop, Dr. Wolfgang's hunchback assistant and best friend to Herman Munster.
"The Munsters" is slated to be released theatrically with a simultaneous streaming release on Peacock.