The Greatest Moments Of Johnny Knoxville's WrestleMania Match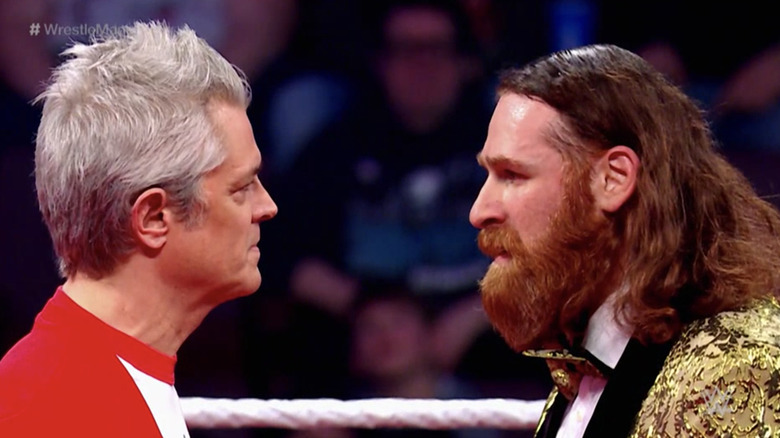 Peacock
While promoting "Jackass Forever" in early 2022, franchise star and beloved daredevil Johnny Knoxville visited the WWE Universe and announced his intentions to enter the annual Royal Rumble match. Since the winner gets a championship match at Wrestlemania, this drew the ire of WWE Superstar Sami Zayn because he felt that the Hollywood star wasn't deserving of an opportunity on The Grandest Stage of Them All. Following a clothesline from AJ Styles and a frog splash from Montez Ford, Knoxville was eliminated from the Royal Rumble by Zayn. However, that was just the beginning of a feud between the self-proclaimed Great Liberator and the South Knoxville Strong Boy.
For months, Knoxville and Zayn antagonized one another, with Zayn even crashing the red carpet premiere of "Jackass Forever" to attack Knoxville. In the weeks that followed, Knoxville retaliated by dedicating his Instagram presence to making vignettes mocking Zayn, building up their feuding storyline with more dedication than, say, the lackluster "feud" between the SmackDown Women's Champion Charlotte Flair and Ronda "Dear God, Get Her Off My Screen" Rousey. At one point, Knoxville even caused Zayn to lose his Intercontinental Championship.
We knew that Zayn v. Knoxville was going to be a gut-busting good time, but none of us could have predicted that the match would end up being one of the very best of WrestleMania weekend. Here are some of our favorite moments from the incredibly memorable Anything Goes Match, which is currently streaming on Peacock.
Stop right now, thank you very much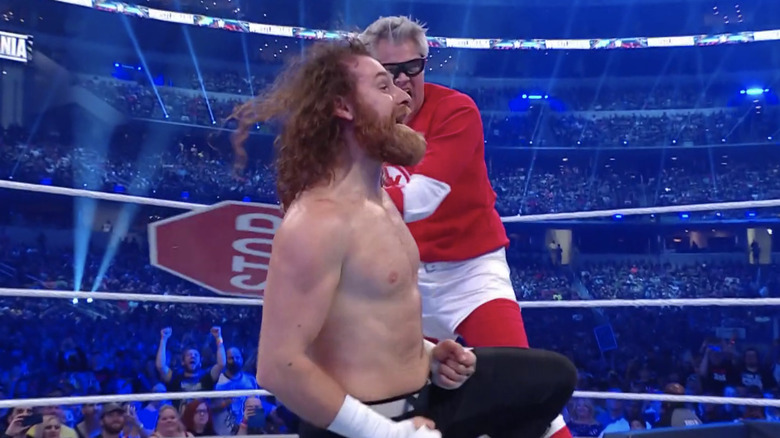 Peacock
Considering the nature of the match, both competitors quickly filled the ring with assorted plunder not too long after the bell rang. Zayn and Knoxville hit each other with trash can lids, a crutch, a fire extinguisher, and a baking sheet before Johnny went through a table and Sami was stopped in his tracks by an airhorn. But a stand-out moment from early in the match came with the introduction of a stop sign.
As soon as Knoxville used the sign on his opponent, veteran commentator Michael Cole yelled, "STOP!" While it may be a simple joke, I remember cracking up at the call. Cole was joined by former NFL punter and current podcaster Pat McAfee in the announce booth for this match, adding another layer of fun to the proceedings. Not only were the competitors putting on a great show in the ring, but the announcers were also having a great time, which added to the whole experience. 
Meanwhile, Cole, a former war correspondent, did an excellent job of calling the match while adding corny dad jokes that absolutely worked (except for one that fell flat, but we'll talk about that later). If any other WWE announce team was assigned to call this match, it definitely would not have been as fun. (Ben F. Silverio)
Party Boy brings the party and a denim speedo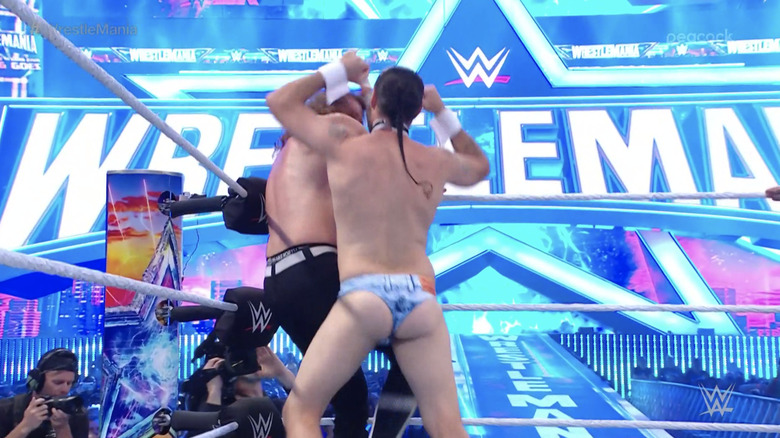 Peacock
With an "anything goes" match stipulation, we knew there would be some special appearances from the "Jackass" crew, and half the fun was trying to figure out who was going to show up from behind the curtain. After Knoxville blew an airhorn in Zayn's face to throw him off his rhythm, an American hero entered the ring. 
Clad in a t-shirt, Chippendales-esque wrist cuffs, and tearaway athletic pants, Chris Pontius stormed the ring to really get the party started. With Knoxville laying on the ring apron like a slug, this was Pontius' time to shine. And shine on like a crazy diamond he did, especially when he released the cheeks.
After taunting Zayn with some ridiculous dance moves, the shirt was ripped off, the pants were torn away, and as commentator Pat McAfee loudly declared, "Pontius' cheeks are at WrestleMania!" Now in full Party Boy mode, Pontius gyrated Zayn into a corner before being thrown across the ring and rolled out under the ropes. This gave Knoxville just enough time to attempt a roll-up win on Zayn, who, of course, kicked out. Pat McAfee, who clearly grew up watching "Jackass," was having a ball of a time, while fellow commentator Michael Cole tried really, really hard to imply McAfee was gay for having admitted that he's seen more of Pontius' body than "probably any other man in history." 
Joke's on you, Michael Cole! Pretty much every millennial has seen Pontius' cheeks. Get with the program, old man. (BJ Colangelo)
Wee Man > Hulk Hogan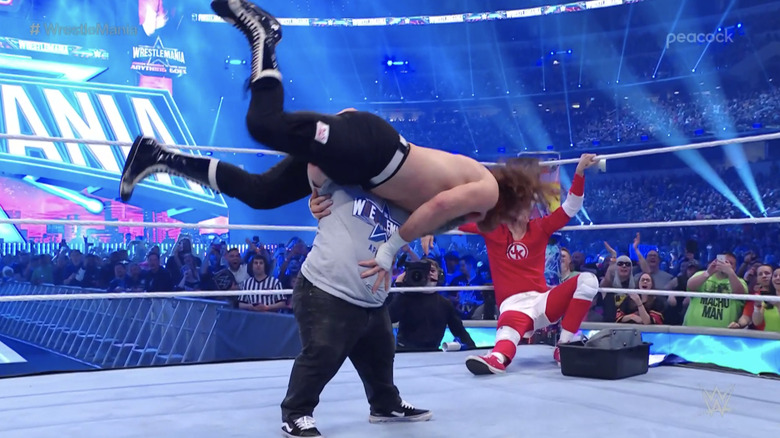 Peacock
A surprise appearance from under the ring will always bring the gold, especially when it comes in the form of Jason "Wee Man" Acuña. As Sami Zayn looked under the ring for a weapon to take down Zayn, he was met with the fury of Wee Man who knocked him square in the face, only to ambush him ringside and punch the hell out of him against the barricades. Jasper Dolphin and his dad, Compston "Darkshark" Wilson ("Jackass Forever," "Loiter Squad"), were ready to cheer him on as Wee Man just punched and slapped as fast as he could.
Zayn retreated to the ring, but Wee Man was clearly out for blood. As Zayn tried to get his bearings, Wee Man kicked him square in the knee and used this as an opportunity to recreate (and honestly, improve) one of the most iconic WrestleMania moments in history. Just as Hulk Hogan did to Andre the Giant during their "David and Goliath" feud at WrestleMania III, the 4'0" Wee Man scooped up the 6'1" Sami Zayn and delivered him a body slam that launched the audience into a frenzy. 
"Wee Man used to kick himself in the face, now he's body-slamming Sami Zayn!" yelled Pat McAfee. 
The lack of recovery time from Zayn allowed Knoxville the chance to set him up for a tornado DDT, a move that I'm genuinely shocked Knoxville can pull off at 51-years-old after decades of treating himself like a human crash-test dummy. (BJ Colangelo)
Giving Sami Zayn a big hand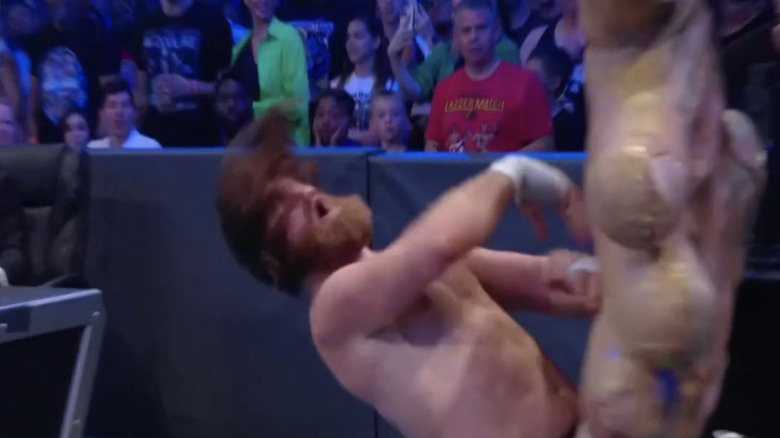 Peacock
One of the greatest gags in the history of "Jackass" is the High Five. As seen in "Jackass 3D," Wee Man lures his unsuspecting friends into the kitchen where Johnny Knoxville is waiting with a comically large spring-loaded hand to give them a full-body slap. At one point in Knoxville and Zayn's match, I said that it would be funny if they could incorporate that bit, but I was unsure how they would do it. And suddenly, BAM! Zayn walked near the time keeper's area and got nailed by a giant hand. Flawless.
Knoxville pulled a number of surprises like this out of his bag of tricks. At the start of the match, he unleashed a fire extinguisher on Zayn because the former NXT Champion was stirring up trouble with the "Jackass" crew at ringside. Later, when Sami was preparing to jump off the top rope for a high-risk maneuver, Johnny unveiled a remote control that set off the pyro in that ring post. A startled Zayn lost his balance from the distraction and landed split-legged on the turnbuckle. 
These antics from both men throughout the match were an excellent mix of physical comedy and "Looney Tunes" cartoons. It's the perfect marriage of comedy and professional wrestling. 
Sorry, Mr. McMahon. I meant "sports entertainment." (Ben F. Silverio)
Kids, don't try this at home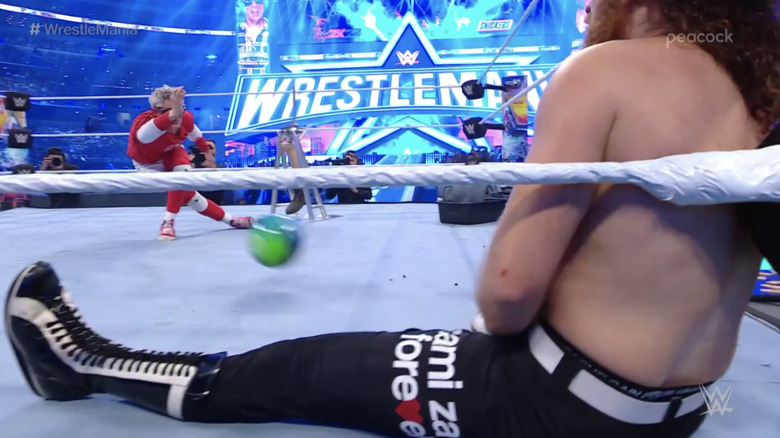 Peacock
Despite warnings to not try this at home (that my friends and I definitely ignored), no "Jackass" production would be complete without someone getting hit right in the balls. While many wrestlers like Shayna Baszler and Pete Dunne (who unfortunately goes by the mononym "Butch" now) attack a body part on their opponent by utilizing joint manipulation, those "Jackass" boys are masters of genital devastation. That's why Knoxville had to incorporate these tactics into his offense against Zayn at Wrestlemania 38.
As with any good comedic bit, these nut shots followed the rule of three. The first one was entirely Zayn's fault since he introduced a bowling ball into the match. However, it was Knoxville who used it against a dazed Zayn looking for respite against a bottom turnbuckle. The second one came with Wee Man's introduction to the match. After the now-iconic body slam, he helped Knoxville pull an intricate apparatus out from under the ring. It resembled a trebuchet, but it had a boot at the end of the arm. Using this machine, Wee Man and Johnny nailed their foe with a low blow. 
Again, everything is legal in an Anything Goes Match.
As for the final nut shot, it came during the closing moments of the bout. (Ben F. Silverio)
It's a ZAYN-y action, a crazy contraption ... it's Mousetrap!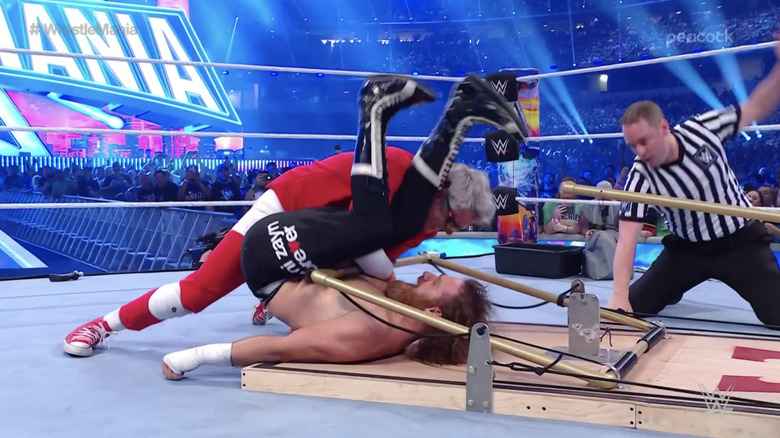 Peacock
Mousetraps have a lengthy history in the "Jackass" universe, so when Sami Zayn got snapped by one from under the ring only to realize it was part of a table covered in mouse traps, it felt both horrifying for whoever was going to take that table spot, but immediately hilarious for the audience knowing that there's no way it wasn't going to be a great time. The stunt was set up early on in the match, but it was Knoxville, however, who ate an in-ring table spot, causing anyone who knows his history of head injuries to clutch their invisible pearls like a concerned mother while trying not to laugh. 
It almost seemed as if the mousetrap table had been forgotten, until Knoxville snapped Zayn's groin with barbecue tongs and launched him from the top rope through the mousetrap-covered table. Zayn can truly do it all, my dudes.
As Zayn stumbled back into the ring, the entire "Jackass" crew had set up a giant mousetrap, a clear bed of destruction awaiting Sami Zayn. In order to get Zayn where he needed him, Knoxville busted out a taser and zapped him, laying him in the perfect position for the oversized mousetrap to snap down on him. The gimmick didn't work at first, because "Jackass" pranks don't always work on the first go, but when it finally did, it was glorious. The mousetrap arm slammed onto Sami Zayn's chest, allowing Knoxville to pin him and win the match. 
With a 1–0 record, Johnny Knoxville now has a better WrestleMania singles record than all-time greats like Sting, William Regal, and Ric Flair. (BJ Colangelo)