The 20 Best Will & Grace Episodes, Ranked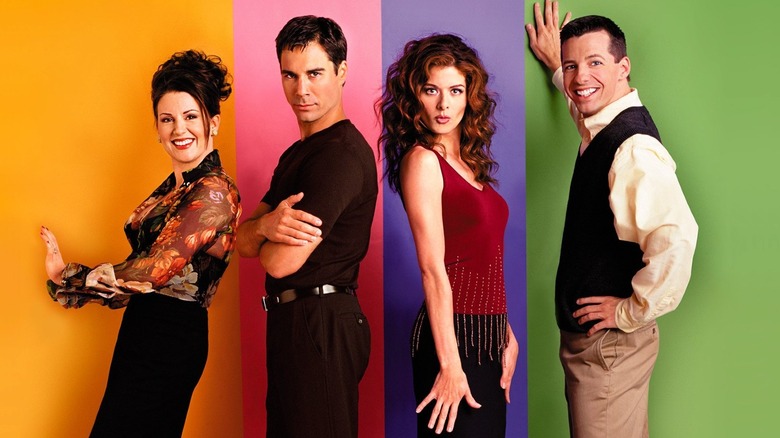 NBC
"Will & Grace" premiered on September 21, 1998. Its depiction of gay characters was revolutionary for the time, allowing a wider audience to see the LGBTQ+ community as people with real dreams and desires. Created by David Kohan and Max Mutchnick, the comedy followed interior designer Grace Adler (Debra Messing), Manhattan lawyer Will Truman (Eric McCormack), actor-singer-dancer Jack McFarland (Sean Hayes), and drunken socialite Karen Walker (Megan Mullally) through various shenanigans. Love, life, and friendship are common themes in the show.
As with many of our favorite series, the hilarious saga was rebooted in 2017 with a new storyline largely ignoring the Season 8 finale. That was certainly a brave choice, as the initial ending seemed like the right move, gut-wrenching as it was. For the sake of this best episodes list, the focus lies solely on the original run of the show from 1998 through 2006. Decades later, "Will & Grace" remains a tightly-written, wonderfully-performed TV show that will go down in history as one of the greatest of all time.
20. All About Christmas Eve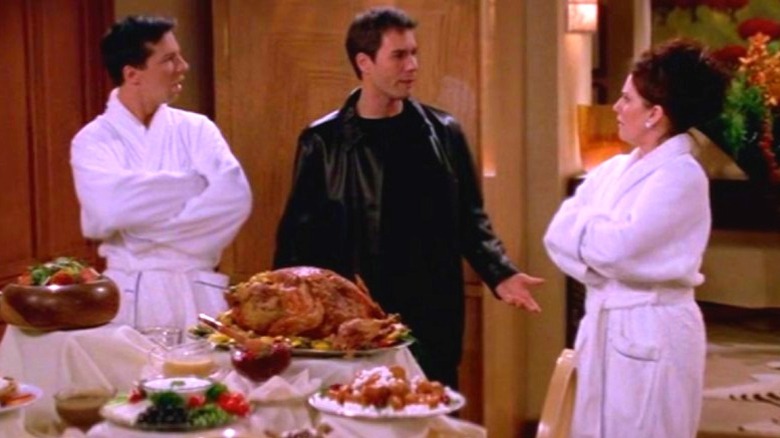 NBC
Grace's marriage to Leo (Harry Connick Jr.) throws a wrench into her friendship with Will on more than a few occasions. In "All About Christmas Eve," Grace snags two tickets to see "The Nutcracker," Will's favorite show since childhood, and presses Will into ditching his Christmas Eve plans with Jack and Karen. Leo keeps being called back to the hospital, leaving Grace to jilt Will again and again and again. Each time, Will returns to the Palace Hotel, where Karen and Jack are hosting their own festivities, and they require Will to perform various stunts, including singing "The Twelve Days of Christmas" as the Count from "Sesame Street."
"All About Christmas Eve" is quirky and fun, containing some of the best physical gags of the show. One of the brightest spots happens when Karen, Jack, and Will sing classic Christmas carols in their robes as many of Karen's employees come in to fix random things. "We don't have to go out to carol!" Karen asserts. It's a hilarious bit that still holds up.
19. Last Ex to Brooklyn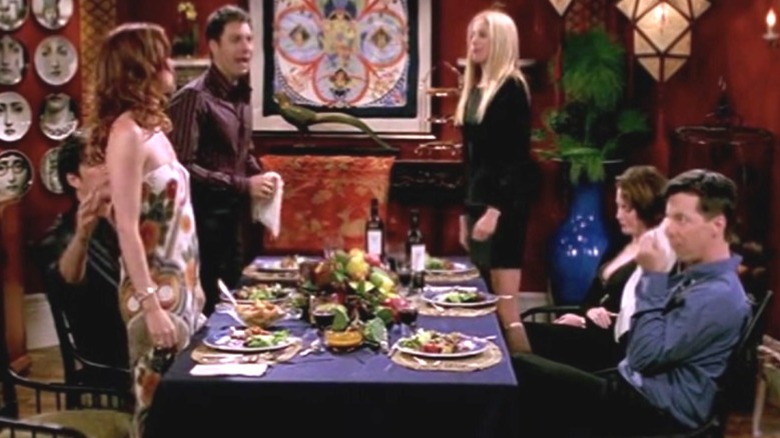 NBC
Grace first learns of Diane, the only woman with whom Will had hooked up, during Season 3. In "Last Ex to Brooklyn" (Season 6, Episode 2), Grace and Leo host a dinner party and invite Leo's ex-girlfriend, also named Diane (Mira Sorvino). Jack accidentally lets it slip that Will's Diane and Leo's Diane are one and the same, leading to the most heated, uncomfortable, and wonderfully hilarious dinner party ever.
Grace isn't nearly as upset that Leo once had a long-term relationship with Diane or, as the running joke in the episode goes, he "had her kabobs." The notion that Will had sex with Diane, but he couldn't with her, stings Grace on a deeply emotional level. Her blind neuroticism gives the episode ample room for wordplay, including several quips about hopping aboard trains and getting off. "Last Ex to Brooklyn" is a prime example of how the show excelled just as much with witty writing as it did with physical stunts.
18. Dolls and Dolls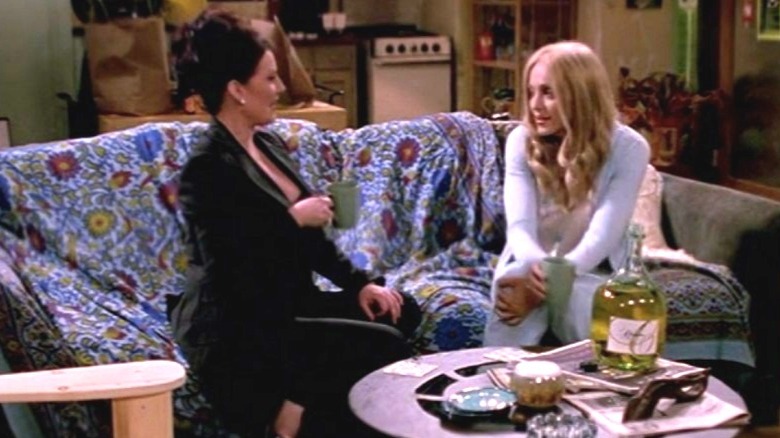 NBC
While lugging laundry bags to the laundromat, Will trips over his clogs and sprains his ankle. He's prescribed painkillers and becomes overly reliant on the medication. Grace and Jack intervene but fail in their attempts to console and guide their friend. From scouring frantically for loose pills and only finding Tic Tacs in his couch cushions to rejecting his crutches, Will tumbles down the rabbit hole throughout the episode.
Meanwhile, Karen yearns for human connection and decides to sublet an apartment like a normal person. A very peculiar obsessive-compulsive woman named Liz, played by Madonna, becomes her roommate, and the two hit it off pretty quickly. But a night out at the club leads them to flirt with the same guy, causing friction in their relationship. Everything comes to blows, and Liz kicks her out 一 only for Karen to reveal she is the landlord. "I am Walker Management, and I think I want you out," she proclaims.
The show has a long history of guest appearances (and not all of them land), but Madonna's dynamic with Mullally is top-tier comedy gold.
17. FYI: I Hurt, Too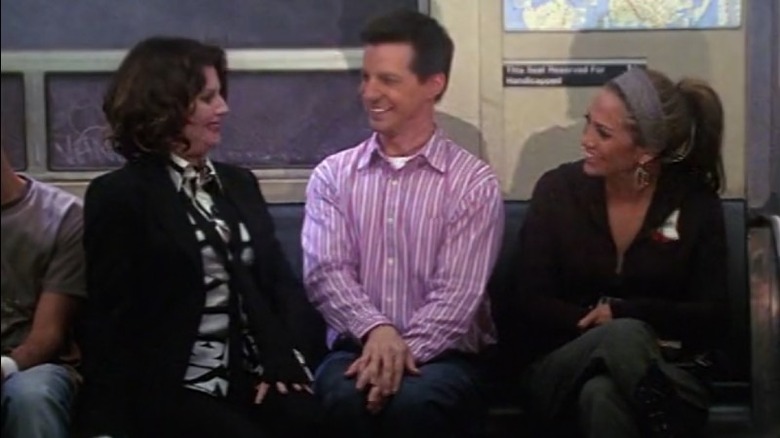 NBC
In the Season 7 premiere, Jack grows closer to Jennifer Lopez. The pop star first hires him as a backup dancer at the end of the previous season in an episode in which Karen marries Lyle Finster (John Cleese). When one of J-Lo's dancers slips on a discarded shrimp tail, they twist their ankle, and the legendary performer is minus one dancer. Naturally, Jack is a huge fan and has already committed her choreography to memory. "Girl, you're hired!" proclaims J-Lo.
As their friendship grows, Karen is in the throes of heartache and writes a song called "FYI: I Hurt, Too." Against his better judgment, Jack presents his new BFF with the sheet music right after she's received news her dog is dying. It's a hilarious misfire, and their friendship ends.
Elsewhere, Grace comes to terms with Leo's infidelity while he was away with Doctors Without Borders in Cambodia. To cope, she raids his apartment, stealing everything from his diplomas to a Rolex and furniture. Later, Grace gives him a second chance and invites everyone out for dinner to smooth out the emotional wrinkles. But it's futile. Nothing will ever be the same again. Juggling clever humor with real heart, "FYI: I Hurt, Too" is among the show's best balancing acts. 
16. Stakin' Care of Business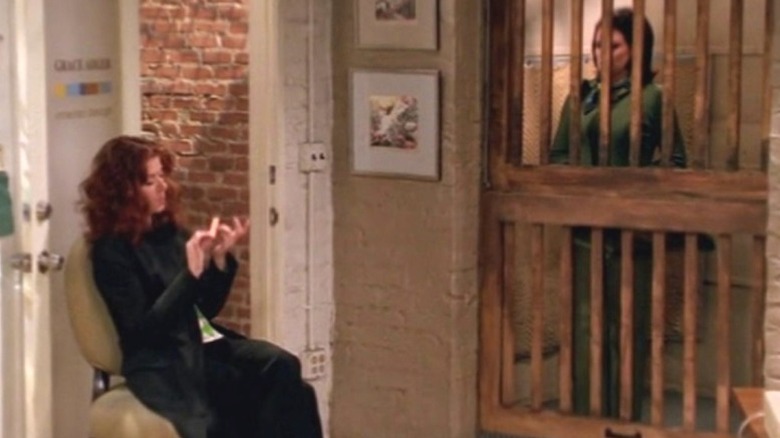 NBC
Grace has a dream of expanding her interior design business. In "Stakin' Care of Business" (Season 4, Episode 11), the office space across the hall goes up for sale, and it seems her dream may finally come true. When she considers going to a bank for a loan, Karen laughs off the idea, suggesting there's no way she'd ever be approved. Instead, she offers to loan Grace the money, but there's a catch: Grace must make a presentation detailing her five-year plan and financial projections and write an essay about why she "insists on wearing my heart this way."
When she does, Karen admits it was all a goof and says no to Grace's pleas. As she's leaving, Karen gets stuck in the service elevator, and Grace takes the opportunity to turn the tables. "I'm gonna need to see a presentation on why I should [let you out]," she says, pulling up a chair. Grace leaves Karen trapped for a few hours while she goes to see a matinee.
Meanwhile, Jack and Will are busy working on their fitness. To give his gym buddy a bit of encouragement during a workout, Jack shares a catchphrase he uses whenever he needs that extra adrenaline boost: "Stake it!" His claims to the phrase are called into question when another person asserts they've been using it for decades. "Stakin' Care of Business" is a goofball episode sure to bring the laughs.
15. Queens for a Day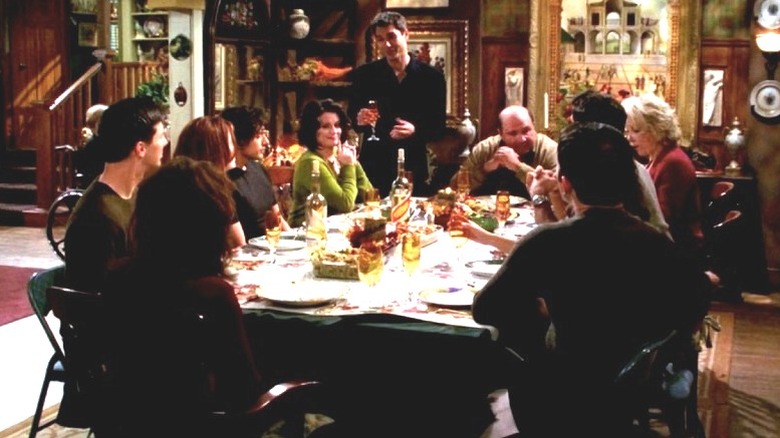 NBC
A two-part episode, "Queens for a Day" (Season 7, Episodes 10 and 11) focuses on Will cooking his first Thanksgiving meal for Vince's (Bobby Cannavale) family. Will has yet to meet the parents, and when could be a better time to rip off that band-aid than on Turkey Day? Things naturally don't go as planned, but the mayhem has little to do with food.
Vince's teenage cousin Sal (Josh Keaton) shamelessly makes out with Grace and Karen. "I just macked on two old ladies," Sal tells a friend over the phone. Vince's sister, Ro (Jamie-Lynn Sigler), comes out as a lesbian, effectively breaking off her engagement to her would-be groom, Matt (Benjamin Sprunger). Vince also contends with perceived slights and disappointment from his father (Robert Costanzo). All the friction leads to some of the show's best quips, especially in the dinner scene in which Will blurts out everyone's secrets in a fit of anger towards Vince's mother (Lee Garlington). Juggling its sharp wit, "Queens for a Day" manages to instill messages about family, the pressures of coming out, and gratitude in one fell swoop.
14. Sex, Losers & Videotape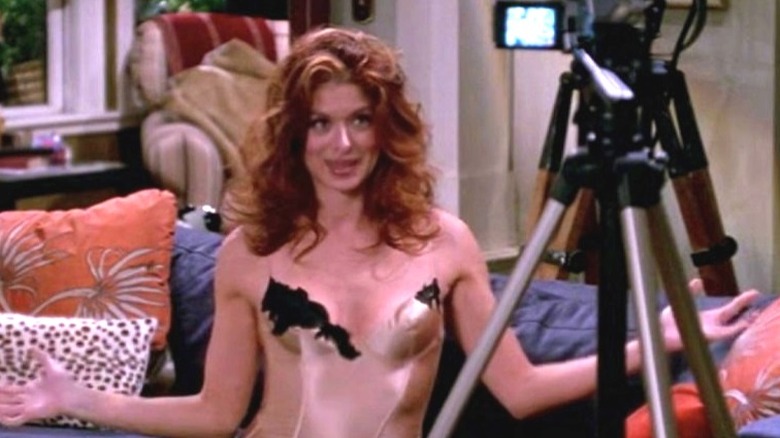 NBC
Themes of love and romance run through "Sex, Losers, & Videotape," a Season 5 standout. While Grace attempts to rekindle romance with her husband, Leo (who's away in Cambodia), by making a sexy video, Jack films her having a nice, long, and leisurely shower without her knowledge. "What an invasion of privacy!" screams Grace. But when Jack assures her she was "free and uninhibited," she perks up and enlists him to teach her how to be more natural on camera.
Meanwhile, Will forms an anti-love group with Karen and law firm boss Mr. Stein (Gene Wilder). As the unlikely trio pour out their hearts with stories of pain and heartache, Karen and Stein strike up a clothes-ripping romance behind Will's back. Eventually, he discovers the truth and feels even worse about his lack of a love life than before. Smartly written and acted, "Sex, Losers, & Videotape" is always good for a few guffaws.
13. Coffee & Commitment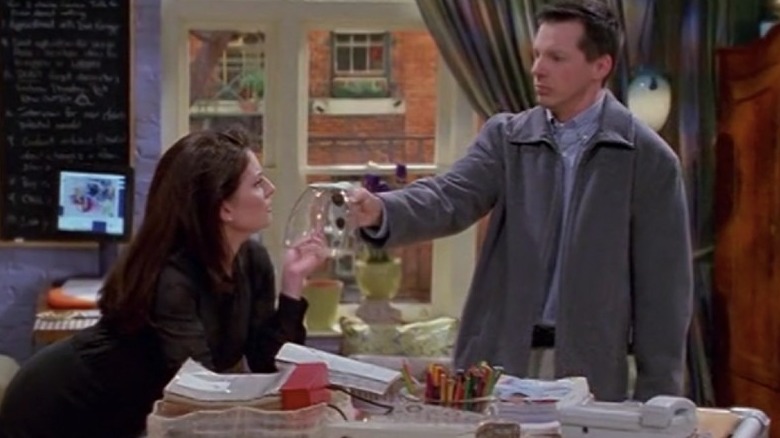 NBC
"Coffee & Commitment" (Season 3, Episode 11) takes aim at addiction and codependency in relationships. Jack's "coffee cutie" (as Karen calls him) gives him free coffee every hour on the hour. When his lover quits his barista day job, Jack remains fully addicted to iced coffee drinks. In her way, Karen attempts to help him quit caffeine. "I'll kick coffee, too!" she promises. During a weekend getaway to Joe and Larry's (Jerry Levine and Tim Bagley) wedding, Karen and Jack are both tested, as the wedding is an alcohol-free affair with only a large spread of coffee beverages available.
Will questions his codependent friendship with Grace. They do everything together, often sharing their finances, with Will most likely to bear the weight. From Will's perspective, he feels suffocated and trapped as though they're a married couple. Tempers come to a raging boil at the wedding, and Will finally expresses his loneliness and deep longing for a relationship. While reciting a lovely poem, the two realize their relationship is a bit unhealthy but fine, nonetheless.
12. To Serve and Disinfect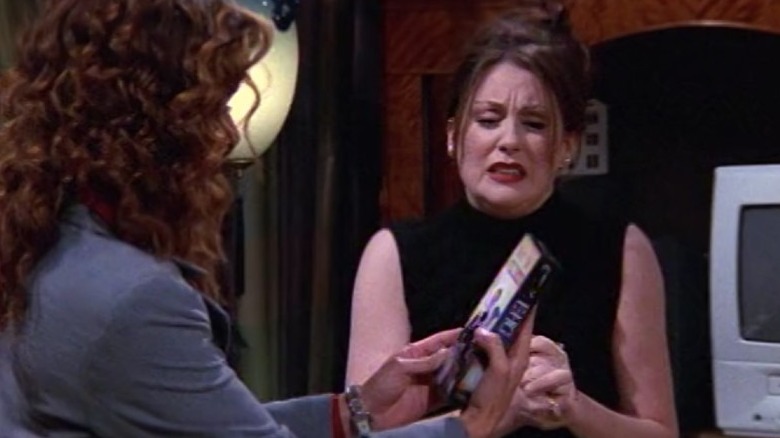 NBC
One of the best parts of "Will & Grace" is its willingness to talk openly about sex 一 and that includes porn. In "To Serve and Disinfect" (Season 2, Episode 6), Grace learns Karen once performed in a kinky video called "Next to Godliness" that saw widespread circulation in lower Manhattan back in the '80s. Karen is ashamed and decides to quit once Grace discovers her dirty little secret. "It's enough that I'm going to be the laughing stock of Manhattan, but now to have you throwing this in my face and laughing at me like that. That's it, I'm out of here," she says, grabbing her fur coat before slamming the door.
Down on his luck, Will decides to take a one-off gig as a waiter for Jack's catering company and ends up serving his former law school friends. When he witnesses how Jack is treated, he realizes how difficult the hospitality business is.
Later, Will and Grace trade stories of their day. Grace reveals she hunted down every single copy of "Next to Godliness" in sleazy midtown video shops so they can all be destroyed. "To Serve and Disinfect" is a wonderfully heartwarming testament to friendship.
11. Bed, Bath and Beyond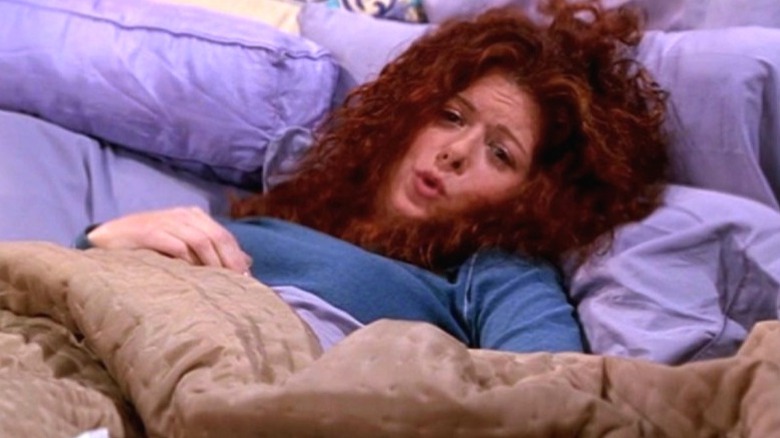 NBC
After breaking up with Nathan (Woody Harrelson), Grace takes to her bed for days to wallow in her heartache. In "Bed, Bath and Beyond" (Season 4, Episode 7), Jack, Karen, and Will try their best to give their dear friend a reason to climb out of bed. Will lays out an adorable outfit of wedges and a crop top, and Karen encourages Grace to admit all the things she still longed to tell Nathan. Later, Grace pulls out a home movie containing footage from her childhood. "Nobody's gonna love you!" she yells at the screen.
Jack attempts to share details about his new cabaret act that contains only songs with the word "one" in the title. Even Rosario (Shelley Morrison) sits bedside to give to try to pull Grace out of her funk. Nevertheless, Grace can only recover when she's good and ready. Karen, Will, and Jack drag a sluggish Grace into the shower, and in her exasperation, Grace delivers one of the series' best monologues. "Let me deal with it the only way I know how," she says. She crawls back into bed. But when the sun rises the following morning, the clouds have lifted, and she reclaims her life.
10. Polk Defeats Truman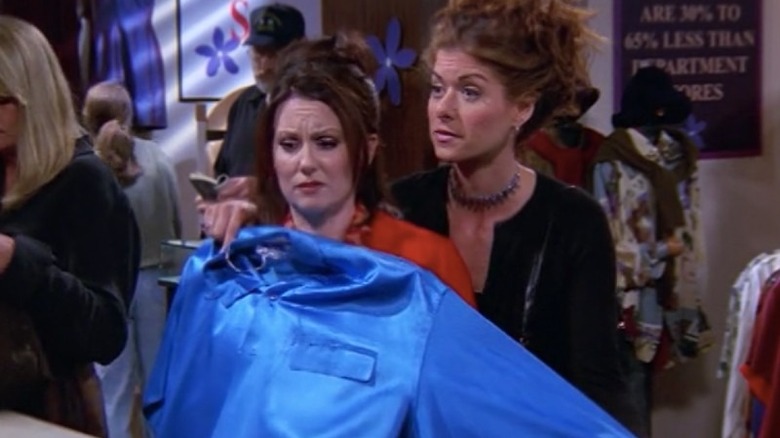 NBC
God bless Will, but he can be frustratingly hard-headed sometimes. In "Polk Defeats Truman" (Season 2, Episode 5), tunnel vision leads him to make arrogant decisions about his client base. When he locks in a lucrative deal for Harlin Polk (Gary Grubbs) to purchase a cable company, Will cuts the cord with numerous other clients, including Grace's Aunt Honey, so he can focus solely on Polk's flourishing empire. He quickly learns a hard lesson when Polk fires him because he wants to hire a lawyer with a higher profile.
Grace overdrafts her corporate account by thousands, soon learning Karen cashed all her "paychecks" because her husband, Stan, is forcing her to stick to a budget. Frantic, Grace offers to teach her how to live more frugally and how to shop at a local mall rather than at expensive boutiques. During a shopping trip, Karen pretends she's trying on tacky tracksuits to wear when she and Stan go boating with friends. Stan immediately sends a helicopter. "Budget crisis over!" Karen squeals with glee.
9. The Big Vent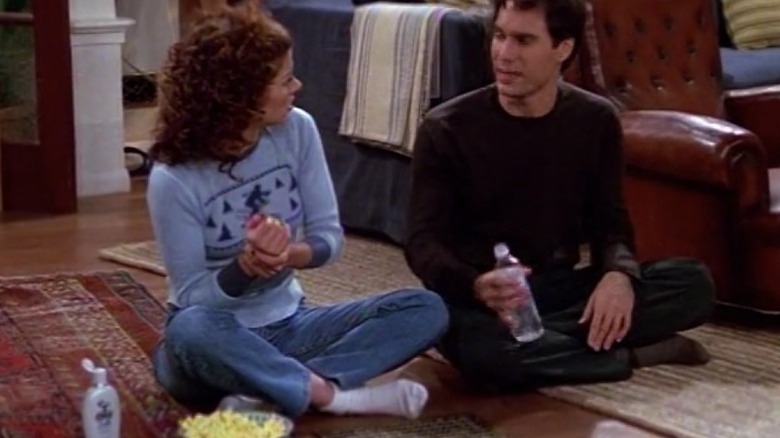 NBC
Truth be told, we all love a good soap opera. In "The Big Vent" (Season 1, Episode 10), Grace becomes hooked on spying on her downstairs neighbors. She shirks all responsibilities and spends her days glued to the living room vent. Like an episode of "Days of Our Lives" or "General Hospital," the details about her neighbor's torrid affair with her husband's brother eventually rope Will into Grace's fixation.
Working on a new play, Jack feels disconnected and unheard by his friends. Karen advises him to turn his pain into art, so he pens a fantastical drama about his two friends and his death. Karen plays God's assistant at the pearly gates. "Jack is huge in heaven," she says.
When they're able to tear themselves away from the vent, Grace and Will attend the show's opening night and realize how disinterested they have been. It's a turning point for them both.
8. Von Trapped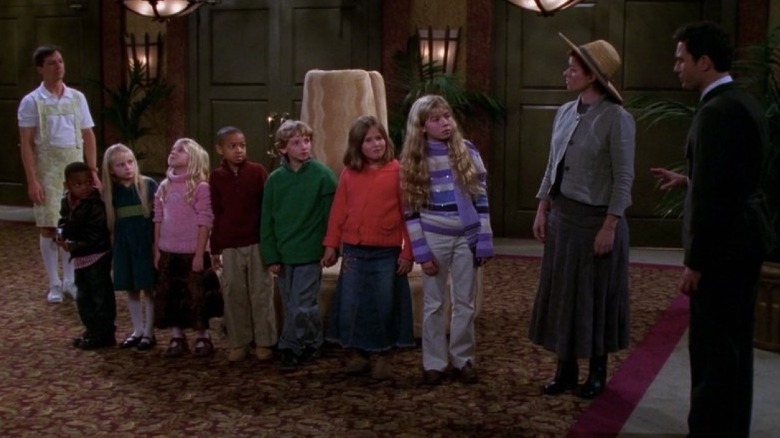 NBC
Any diehard "Will & Grace" fan already knows how many "The Sound of Music" references there have been in the show's history. "Von Trapped" (Season 8, Episode 10) took that musical fanaticism to a whole new level by essentially adapting the classic 1965 film and setting it inside a movie theater. Grace, Will, Jack, and Karen are attending a live "The Sound of Music" singalong when Karen tosses her flask over the balcony and hits someone in the head. This leads to the theater being shut down until management tracks down the culprit.
As a result, our group is targeted and must go into hiding. They take shelter in a backroom storage closet. An usher, with whom Jack had been flirting, rats them out, mirroring the plot of "The Sound of Music." "Von Trapped" is appropriately outlandish, but it knows exactly what it is. More than anything else, it's a spirited, wholesome tribute.
7. Grace, Replaced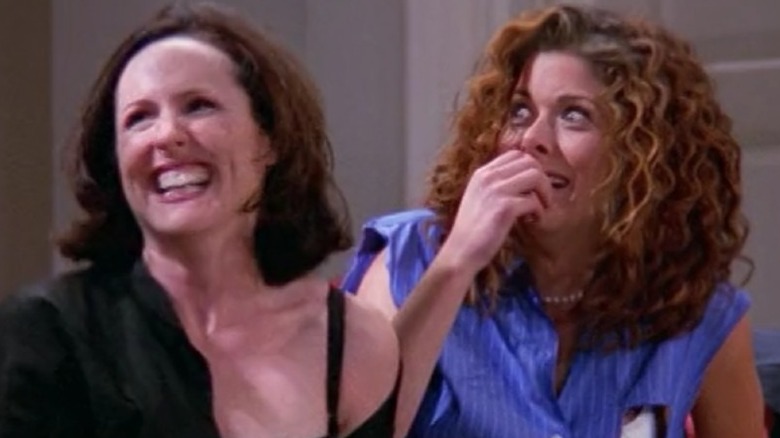 NBC
Molly Shannon makes the single best guest appearance on the show in "Grace, Replaced" (Season 1, Episode 18). Playing a neighbor named Val, Shannon infuses her performance with the goofy aloofness for which she is known. When Grace gets busier and busier with work and blows off plans with Will, he meets Val while doing laundry in the basement. Their chemistry is immediate.
"I don't like how chummy she is with your husband," Karen snidely remarks. "It's good he has a new friend," Grace counters. However, as the episode progresses, it becomes clear how close Will and Val have grown. During a game night with Rob and Ellen (Tom Gallop and Leigh-Allyn Baker), Val finishes a single round in the exact amount of time as Grace once did. "Hey, Grace, we're the same," beams Val. And that's when things change.
Val and Grace then compete for Will's affections, and the situation devolves into a physical altercation that results in ripped clothing and pulled hair. They make up, of course, and so begins one of the greatest, weirdest friendships in the show. Val later appears in five additional episodes, each as hilarious as the next.
6. Alive and Schticking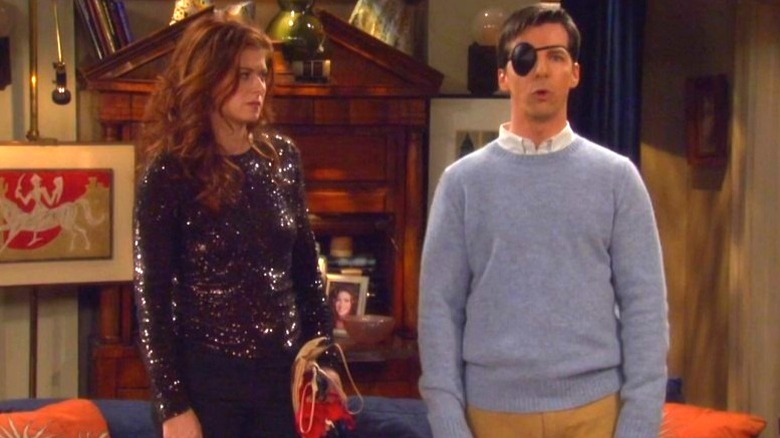 NBC
One of only two live episodes, the Season 8 premiere titled "Alive & Schticking," set entirely in Will's apartment, follows the revelation that Stan faked his death. Karen, now dating Malcom (Alec Baldwin), who was hired to lure Will back into a law career, is initially unbelieving that her late husband has been alive the whole time. Stan allegedly died during Season 5, but as Rosario admits, she has been getting updates ever since.
Grace probes Jack for advice on having an extramarital marital affair. However, Jack says he and Grace have always been the "moral center" of the group and later confesses that he has never cheated or been involved in an affair — much to Grace's shock. He also confides that his eyepatch resulted from a GRI (glitter-related incident) after a fire broke out on the set of his late-night talk show. Through their conversation, Grace decides that she couldn't possibly do what Leo did to someone else's marriage.
"Alive & Schticking" contains several moments with Debra Messing and Sean Hayes erupting into fits of giggles. It's always a delight to see consummate professionals barely able to keep a straight face. The show led to another live episode, "Bathroom Humor," which is also on this list.
5. Past and Presents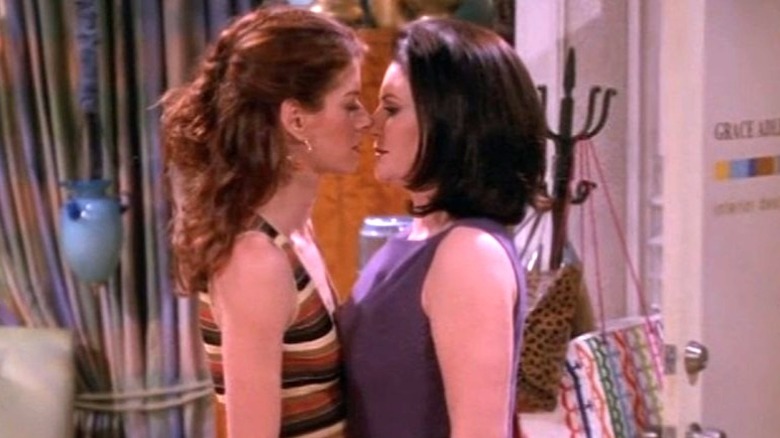 NBC
Grace's relationship with Nathan is one of the highlights of the show. The storyline reached its peak with "Past and Presents" (Season 4, Episode 2). It's Nathan's birthday, and Grace is naturally nervous about it. Still, she believes she's picked out the perfect gift: a first edition copy of "Zen & The Art of Motorcycle Maintenance." One afternoon in the office, Grace and Karen decide to share their gifts. A delivery person wheels out a shiny motorcycle from the backroom. Grace plays off her astonishment, shyly pulling out her gift. Of course, Nathan is far more ecstatic about the motorcycle and quickly leaves the office for a test drive.
Grace lets the facade slip. "I am going to kick your ass," she seethes, squaring off with Karen. The exchange is played with such seriousness that you can't help but laugh uncomfortably. Later, Karen brings a bodyguard for good measure. Grace then buys Nathan an expensive diving watch to make up for the price difference, but he admits that he hates watches.
Will struggles at the law firm when his former childhood bully, Kevin Wolcheck (Adam Goldberg), gets hired as a partner. With Jack's help, he learns how to stand up for himself as an adult. When Kevin forces Will to write up a contract with a client, Will fudges the verbiage to make Kevin out to be an incompetent lawyer. It's a classic payoff to a truly great episode.
4. Das Boob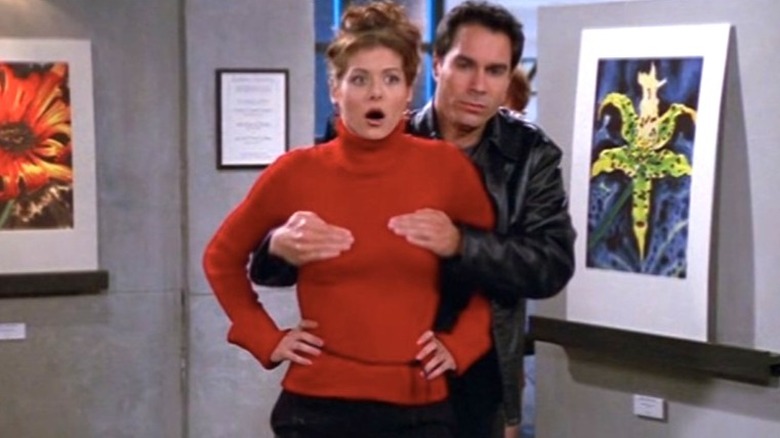 NBC
Grace has always been comfortable in her skin. That's what makes her such a force in the show. In "Das Boob" (Season 2, Episode 3), Grace succumbs to pressure when her high school crush, Donald Dorio (Scott Patterson), calls her up out of the blue after seeing her photograph in the newspaper. The photograph in question has been doctored or distorted to some degree, making the reader believe that certain assets are much larger than they are. "Look, it's the dynamic duo," Karen quips.
On a shopping trip, Grace buys a couple of hydra-bras (bras filled with water). Having invited her to his gallery opening, Donald is immediately mesmerized by her new look. Grace gives Karen a big hug to thank her for taking such an interest in her love life. Karen's broach gets caught on one of Grace's boobs, popping her liquid-filled bra. In a hilarious gag, Will clutches her chest to stop the leak. Donald's reaction is priceless.
3. Bathroom Humor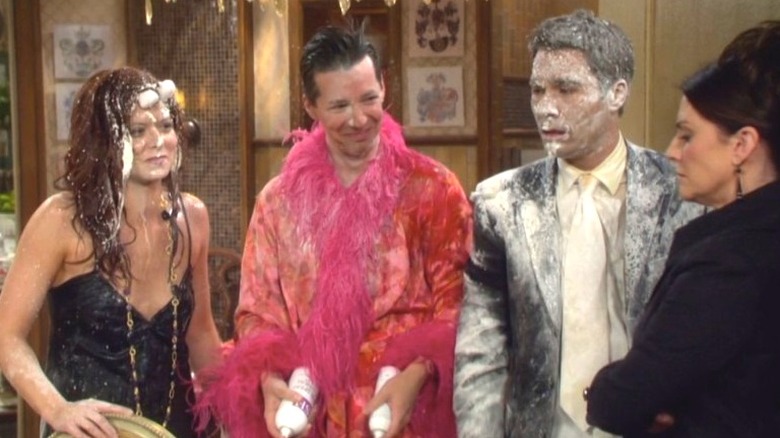 NBC
Set inside Karen's lavish bathroom, "Bathroom Humor" (Season 8, Episode 11) is the second live episode. Once again, the mistakes make this episode a delight. The story centers predominantly around the revelation that Karen has been throwing a birthday party for herself for the last 10 years and has never invited her closest friends. Jack, Will, and Grace fight over who it could be that led Karen to be so ashamed that none of them could be included. The physical gags, including a fight with baby powder, eye drops, and makeup, are the best the show ever attempted. And it's made even better by its live context.
Matt Lauer and Leslie Jordan (as Beverley Leslie) are welcome additions to the hilarity. Even Rosario gets a nice moment when she comes to clean up the mess with a high-powered vacuum strapped to her back. Karen confesses that her birthday trips with the gang to Chinatown and a crappy dinner are what she cherishes most, and that's why she's never invited them to the bash. It's a much-needed aw-shucks moment to conclude one of the best live episodes of all time.
2. Moveable Feast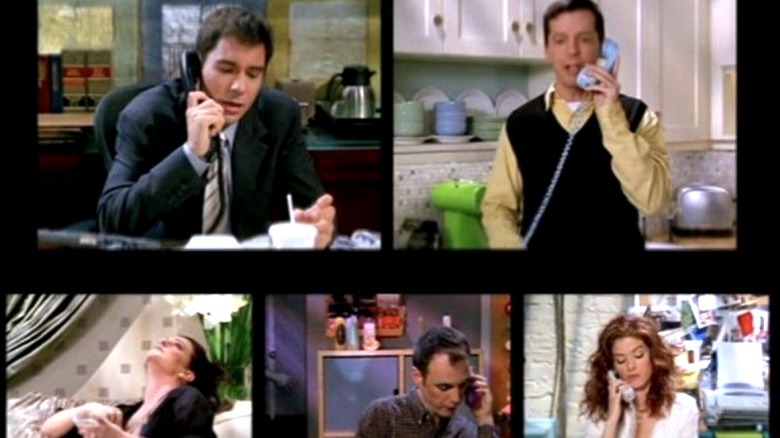 NBC
Every show has to do a Thanksgiving episode. Those are the rules. "Will & Grace" did several, but "Moveable Feast" (Season 4, Episode 9 and 10) is the cream of the crop. The opening involves a split-screen with Grace, Will, Karen, Jack, and Jack's friend all on the telephone, each being put on hold to distract from what is happening. When the call finishes, only Jack's friend is left and has gone from no make-up to full-on drag attire — wig and all. That's the set-up to pull you into a two-parter that only gets better from there.
Will and Grace make a vow that they are no longer at the mercy of their families when it comes to the holidays. Instead, they decide to host their own dinner, with Jack, Karen, and Rosario in attendance. As set up in the opening sequence, they reluctantly decide to make one-hour stops with each of their families, including to prison to see Stanley, before coming back to have their holiday meal.
"Moveable Feast" touches on important themes of gratitude, family, and forgiveness in a way most TV shows get wrong.
1. The Hospital Show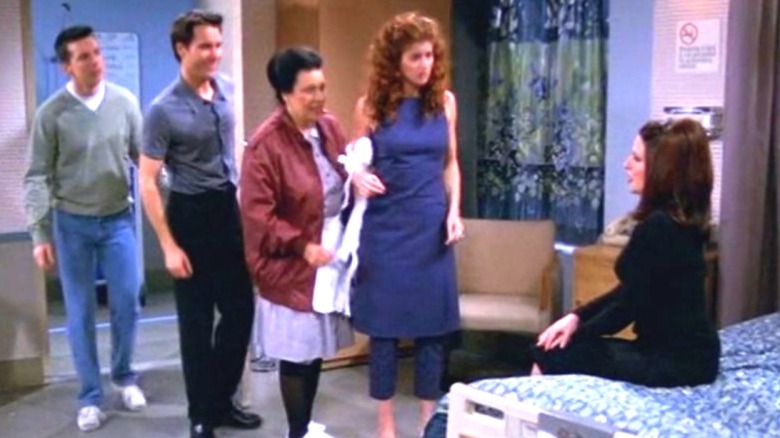 NBC
"Will & Grace" is such a top-tier show that it is difficult to hone in on the best episode. "The Hospital Show" (Season 2, Episode 17) takes the cake, though. TV comedy doesn't get much better than this. When Stan has angina (a type of chest pain), he is rushed to the hospital. The incident throws everyone into an emotional whirlwind. Even Karen is struggling to deal with reality. To distract themselves, Rosario whips out a stack of cash and convinces Jack, Will, and Grace to place bets on who Karen will open up to first.
The doctor on duty catches wind of this scheme and reveals the news to Karen. Together, they decide to play a little trick on the group. Karen persuades Jack to cut up all his credit cards while Rosario cleans the hospital to make her feel better. Then, Grace, who is incredibly afraid of needles, is forced to give blood for a transfusion. Will is put through the wringer as well and manipulated into dating detestable sleaze-ball Neil (Dan Bucatinsky).
"The Hospital Show" is the gold standard in terms of the delicate balance between comedy and drama.