'Will And Grace' Is Officially Returning For 10 More Episodes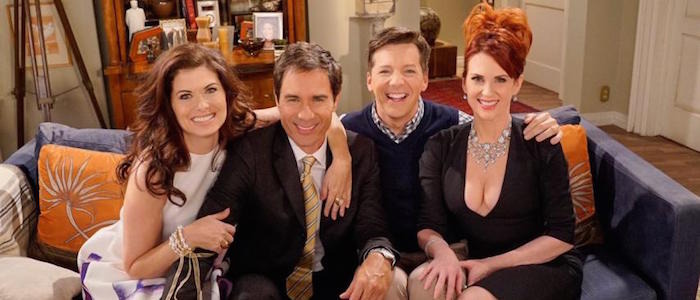 Welcome to 2017, a year where no television show is ever over – it's just hibernating, waiting for the inevitable comeback. The latest beloved television show to return from the Great Beyond is NBC's Will and Grace, which will air 10 new episodes during the network's 2017-2018 season.
Will and Grace originally ran for eight seasons and 194 episodes, picking up 83 Emmy nominations and 16 wins (including at least one win for each of its four leads) between 1998 and 2006. The new season, which is described as a limited series by NBC and follows a reunion episode that aired last year, will see the return of Eric McCormack, Debra Messing, Sean Hayes and Megan Mullally as Will, Grace, Jack, and Karen. Original creators Max Mutchnick and David Kohan are on board as showrunners. There's even a brief trailer for the revival:
Naturally, the announcement came with some effusive statements from everyone involved. Here's NBC Entertainment Chairman Robert Greenblatt:
We're thrilled that one of the smartest, funniest, and most defining comedies in NBC history is coming back. This groundbreaking series for everything from gay rights to social and political commentary — all disguised as a high-speed train of witty pop culture — is coming back where it belongs.
And here's President of NBC Entertainment Jennifer Salke on how the reunion came together:
We started talking with Mutchnick and Kohan about producing new episodes right after they shot the secret reunion show back in September, and the fact that all four of the original stars were excited about getting back into production is a testament to the joyful experience they had doing nearly 200 episodes for eight seasons. Few things cut through the clutter these days, especially in comedy, and Will and Grace is one of the best.
Mutchnick's statement is far more restrained:
Dave and I are absolutely thrilled about the opportunity to write what Will, Grace, Jack and Karen are thinking about in 2017.
While I never watched much Will and Grace back in the day, I know many people who include it among their favorite sitcoms of the past few decades. And I've also met many older folks whose views on LGBTQ men and women started to shift after watching and enjoying the show, so hooray, television! I probably won't be among those watching the new episodes, but I'm certainly happy for all the fans out there. If I can get new episodes of The X-Files, you can get more Will and Grace! Hopefully, you all will fare a little better.
There is no air date for the new episodes yet, but you should expect the new season to begin this Fall.