The Morning Watch: Fantastic Beasts Unlocks Dumbledore's Past, Spider-Man: No Way Home Honest Trailer & More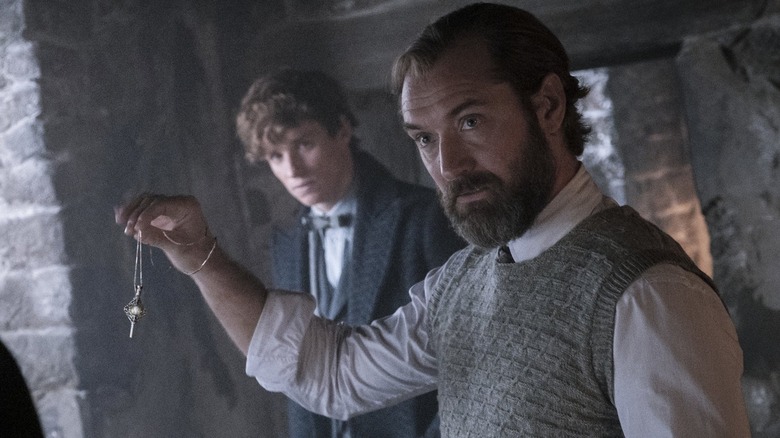 Warner Bros.
(The Morning Watch is a recurring feature that highlights a handful of noteworthy videos from around the web. They could be video essays, fan-made productions, featurettes, short films, hilarious sketches, or just anything that has to do with our favorite movies and TV shows.)
In this edition, Warner Bros. is begging us all to forget about J.K. Rowling's transphobia, Ezra Miller's recent arrest, and Mads Mikkelsen replacing Johnny Depp by delivering this genuinely fascinating "Fantastic Beasts: The Secrets of Dumbledore" featurette about the wizard's past with Grindelwald. Plus, our friends over at Screen Junkies have finally given "Spider-Man: No Way Home" the Honest Trailer treatment. And finally, '90s icon David Duchovny sits down to track his acting career from Denise on "Twin Peaks" all the way to his upcoming film, "The Bubble."
Fantastic Beasts gets real with Dumbledore's Past
We're nearly a week away from the release of "Fantastic Beasts: The Secrets of Dumbledore," and Warner Bros. has provided us a behind-the-scenes look at what it took to tell a story about one of the most intriguing characters in the wizarding world of "Harry Potter." Jude Law plays a young version of Albus Dumbledore, who must come to terms with his complicated (to say the least) relationship with Gellert Grindelwald (Mads Mikkelsen) before he takes over the wizarding world for his own benefit. Dumbledore spoke about the tragedies and hardships witnessed by his family during the "Harry Potter" films, but the latest "Fantastic Beasts" entry looks to bring those stories front and center and help us understand exactly how the bearded wizard we loved as an old man truly came to be.
'The worst kept secret in Nerdom'
When they're not being the equivalent of Neil deGrasse Tyson hating on movie logic for the sake of being a hater, the Honest Trailers from Screen Junkies series are pretty damn spot-on. Now that "Spider-Man: No Way Home" is available on VOD following a record-breaking theatrical release, the "Spoiler Alert" police have hopefully laid down their arms and won't freak out if we dare discuss the honest facts of the "No Way Home" trailer. Almost immediately, the trailer calls out the existence of all three live-action Spider-Men in the same place as being "the worst kept secret in Nerdom," which might be the understatement of the century. As per usual, the Honest Trailer is totally spot on, but their pitch for a Disney+ series centered on the faculty and staff of Midtown High? Genius. Brilliant. 10/10. No notes. I will live forever disappointed until a workplace comedy at Midtown High becomes a reality.
David Duchovny retraces his career
In the latest installment of Vanity Fair's "Timeline" video series, the publication sits down with David Duchovny to discuss some of his most memorable performances across film and television. He discusses what it's like to play Denise from "Twin Peaks" again after 25 years, confesses that his most hilarious line as the harbinger hand-model J.P. Prewitt in "Zoolander" was improvised, and gives us an early look at the upcoming Netflix COVID-comedy from Judd Apatow, "The Bubble." Sadly, as the video focuses on Duchovny's more prominent roles, there's no discussions of "Don't Tell Mom the Babysitter's Dead" or his villainous streak in "The Craft: Legacy," but there's plenty of discussions about "Californication" and why Hank Moody was exactly the type of comedic role that Duchovny had been looking for his entire career.