Fantastic Beasts: The Secrets Of Dumbledore Trailer: The Wizarding World Is Back For More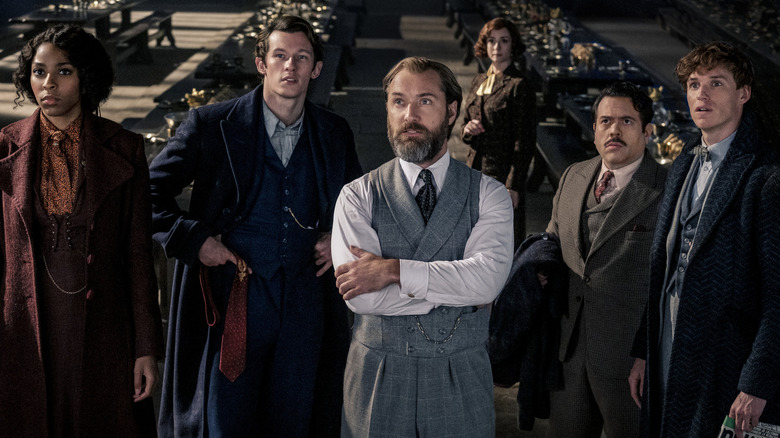 Warner Bros.
Today brings a little bit of magic to the table as a brand new trailer for "Fantastic Beasts: The Secrets of Dumbledore" has been released. We previously got a teaser trailer for the third entry in the "Harry Potter" prequel series, but with the movie just a couple of months away, it's time to offer audiences another look at what is coming for Eddie Redmayne's Newt Scamander and Jude Law's sexy Albus Dumbledore. Let's have a look-see.
'Fantastic Beasts: The Secrets of Dumbledore' trailer
This latest entry in "The Fantastic Beasts" saga will be picking up in the aftermath of 2018's "The Crimes of Grindelwald," with Grindelwald serving as the main villain of this series of movies much in the same way that Voldemort was the big bad of the "Harry Potter" films. You'll likely notice that it is no longer Johnny Depp (nor is it Colin Farrell) taking on the bad wizard role. Rather, it is Mads Mikkelsen, who has stepped in to take over for Depp following his various controversies. Setting the messiness of it all aside, Mikkelsen is one of our finest actors so it's hard to be bummed about this in any way. For a little more context, here's the synopsis for the movie:
Professor Albus Dumbledore (Jude Law) knows the powerful Dark wizard Gellert Grindelwald (Mads Mikkelsen) is moving to seize control of the wizarding world. Unable to stop him alone, he entrusts Magizoologist Newt Scamander (Eddie Redmayne) to lead an intrepid team of wizards, witches and one brave Muggle baker on a dangerous mission, where they encounter old and new beasts and clash with Grindelwald's growing legion of followers. But with the stakes so high, how long can Dumbledore remain on the sidelines?
Can the magic come back?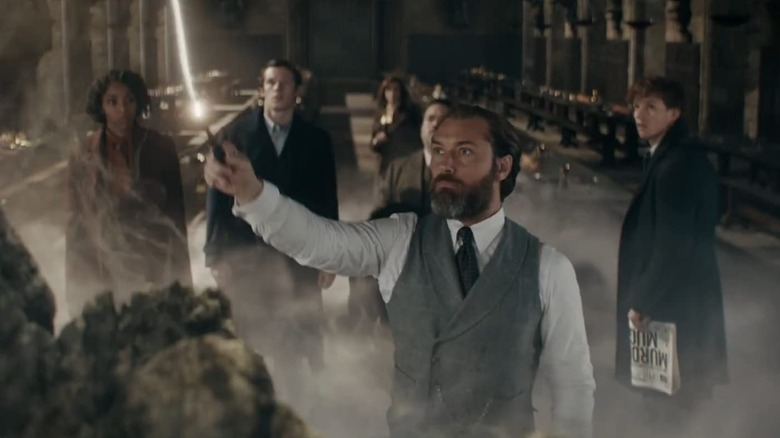 Warner Bros.
The first "Fantastic Beasts" did a pretty decent job both critically and commercially of expanding the Wizarding World without any of the characters that helped to make it such a success. Unfortunately, "The Crimes of Grindelwald" left much to be desired (again both critically and commercially), which put a great deal of pressure on this movie to deliver, given that J.K. Rowling originally said she had a five-movie plan for the series. It most certainly doesn't help anything that Rowling has become a hugely controversial figure given her comments about trans people over the past few years. Can this entry bring the magic back? We'll know soon enough.
The cast here also includes Ezra Miller, Dan Fogler, Alison Sudol, William Nadylam, Callum Turner, Jessica Williams, Victoria Yeates, Poppy Corby-Tuech, Fiona Glascott, Katherine Waterston, Maria Fernanda Cândido, Richard Coyle, Oliver Masucci, and Valerie Pachner.
The movie is directed by David Yates, working from a screenplay by J.K. Rowling and Steve Kloves. Yates, for his part, has been a gigantic part of this franchise having directed the last four "Harry Potter" movies and all three entries in this franchise thus far as well. David Heyman, Rowling, Kloves, Lionel Wigram, and Tim Lewis are on board as producers, with Neil Blair, Danny Cohen, Josh Berger, Courtenay Valenti, and Michael Sharp serving as executive producers.
"Fantastic Beasts: The Secrets of Dumbledore" is set to hit theaters on April 15, 2022.