The Morning Watch: Behind The Adam Project VFX, Halo TV Series Primer & More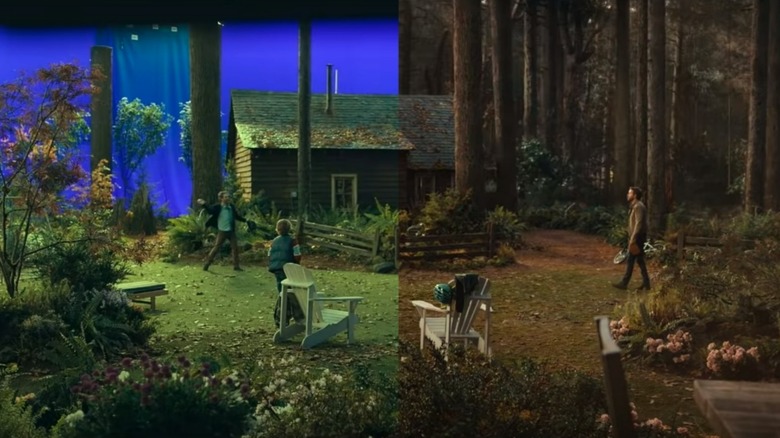 Netflix
(The Morning Watch is a recurring feature that highlights a handful of noteworthy videos from around the web. They could be video essays, fan-made productions, featurettes, short films, hilarious sketches, or just anything that has to do with our favorite movies and TV shows.)
In this edition, go behind the scenes of "The Adam Project" to break down the VFX used in the location work, various action sequences, and vehicle design of the Netflix movie starring Ryan Reynolds. Plus, get a comprehensive walkthrough of all things "Halo," from the original 2001 Xbox game to the new Paramount+ series. And finally, actor Karen Gillan becomes the latest celebrity victim subject of Wired's Autocomplete Interview, where stars answer the most Googled questions about themselves.
Behind the FX of The Adam Project
First up, the Netflix Film Club YouTube account provides us a behind-the-scenes look at the virtual worlds, digital set extensions, and various objects created entirely by the VFX wizards behind "The Adam Project." Filmmaker Shawn Levy, of course, is no stranger to working in VFX-heavy productions, having directed various episodes of "Stranger Things," last year's "Free Guy," and the "Night at the Museum" trilogy (not to mention the third "Deadpool" movie, as we learned earlier this month). Levy, actor Zoe Saldaña, and VFX Supervisor Alessandro Ongaro ("Ghostbusters: Afterlife," "Ant-Man and the Wasp") dig into the backyard fight sequence, the car chase, and the time jet.
A Halo primer with Cortana
Next, Paramount+ brings us a handy guide for newcomers to the "Halo" franchise. Those who've come to the new sci-fi series with very little in the way of background knowledge may quickly find themselves a little overwhelmed by the sheer amount of lore and backstory on display in the early episodes, which we previously reviewed here. Narrated by the famous, peppy artificial intelligence Cortana (Jen Taylor, reprising her voice role from the games for the new series), we're given a brief overview of the most important aspects of the franchise to keep in mind while watching the Paramount+ series. Don't think of this as homework, though. It's more like ... essential research. There might even be a few interesting nuggets for seasoned fans and gamers here, too.
Karen Gillan answers the internet's most searched questions
Finally, who doesn't love seeing unsuspecting celebrities exposed to the deranged whims of the internet? Wired has gotten quite a bit of mileage out of sitting movie stars down and subjecting them to Google's autocomplete algorithms, based on the most searched questions regarding any particular celebrity. This version puts "Dual" and "Guardians of the Galaxy" co-star Karen Gillan in the hot seat, forcing her to address concerns such as her famous Scottish accent, her role as Nebula in the MCU, and the specific race of the extraterrestrial foe-turned-ally (spoiler alert: for those wondering, she's a "Luphomoid," whatever that is), the possibility of returning for another round of "Doctor Who," and plenty more.