How Moon Knight Was Influenced By Steven Spielberg, Children Of Men, And More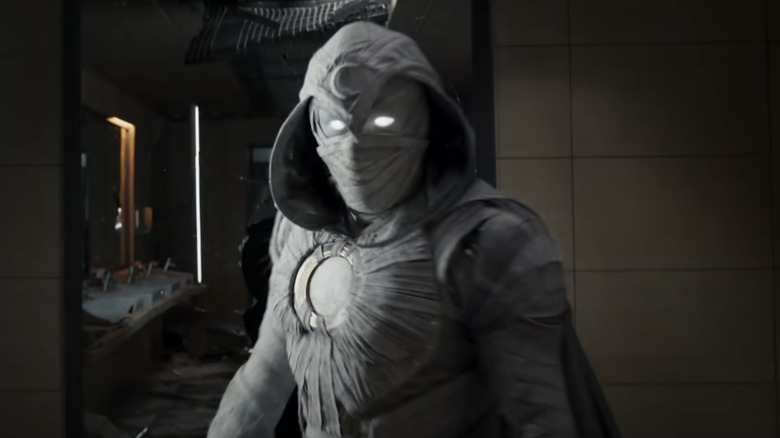 Marvel Studios
The Disney+ premiere of "Moon Knight" is almost upon us, meaning you'll soon be able to see Oscar Isaac formally enter the Marvel Cinematic Universe. In "Moon Knight," Isaac plays Steven Grant, aka Marc Spector, a superhero with dissociative identity disorder. While showrunner Jeremy Slater originally pitched "Moon Knight" as "Raiders of the Lost Ark" in the MCU, Slater has since been joined by other collaborators, each of whom will bring their own unique influences to the six-episode streaming series.
Two of those collaborators are Justin Benson and Aaron Moorhead, the directing duo behind such films as "Resolution," "The Endless," and "Synchronic" (the latter of which co-starred Anthony Mackie, who, of course, led his own Disney+ series, "The Falcon and the Winter Soldier," last year). Benson and Moorhead are helming two episodes of "Moon Knight," while Egyptian filmmaker Mohammad Diab is directing the other four.
In /Film's forthcoming interview with Benson and Moorhead, they discussed some of their own influences for "Moon Knight." Benson first name-checked the 1966 Ingmar Bergman film "Persona" (!) and Steven Spielberg, though not necessarily because of Indiana Jones. He said:
"We actually went to a lot of different things about people who are struggling with identity, but even as lofty as something like 'Persona.' In terms of the camera work, it was a bit of a combination of the legendary moving master shots that Spielberg does. Of course, as a filmmaker, you reference Spielberg and you think, 'He's a master for a reason.' So we're watching 'War of the Worlds' and seeing how he's able to develop a wide into an insert into a closeup and all that. It's not just, 'Wow, how clever.' What it does is it lets you establish character without cutting so much. That was something that was really important to us, and really important to Mohamed."
'We're watching something like Children of Men'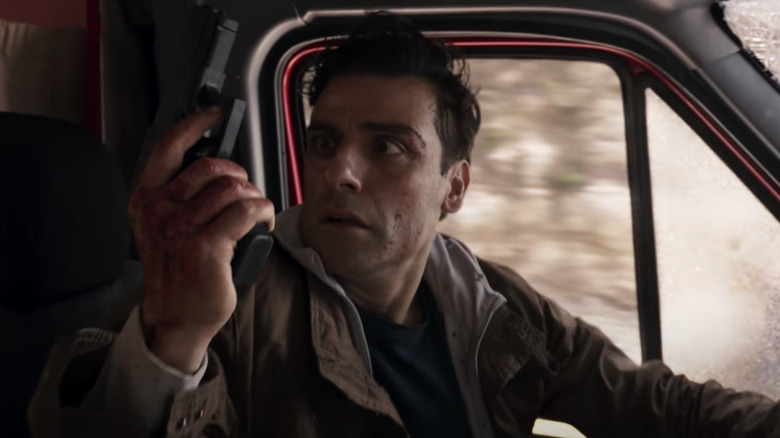 Marvel Studios
The last Disney+ series from Marvel Studios, "Hawkeye," featured a car chase that was clearly indebted to director Alfonso Cuarón and cinematographer Emmanuel Lubezki's camerawork in "Children of Men." Benson also cited that film and its single-shot action sequences as a model for how "Moon Knight" will keep itself anchored to the perspective of Isaac's character. He continued:
"So we're watching something like 'Children of Men,' which has very, very few cuts in it, and relating that to how we feel about the master shots that Spielberg puts together. And it all jived with the way that we wanted to present this, which is something that feels like it's very subjective to Steven Grant and Mark Spector's point of view. It's always kind of being presented as he experiences it. And minimizing cuts is a really good way of doing that."
Finally, Moorhead chimed in with a few more "Moon Knight" inspirations, two of which have a horror bent. He said:
"Also I'll give you three more sort of references or titles that came up a lot on set, but unfortunately, we won't be able to say exactly why, because we'd be ruining it for everyone. But I think it's interesting to hear. 'The Descent,' 'Free Solo,' and the opening scene of 'The Exorcist.' They were all brought up a lot."
"The Descent" is a monster movie set in a cave system where a team of spelunkers encounter sightless terrors. "Free Solo" is a documentary about a rock climber, while the opening scene of "The Exorcist" features a priest encountering the malign supernatural presence of the demon Pazuzu at an archeological dig in Iraq.
Based on what we know of "Moon Knight" and what we've seen of it in trailers so far, it's a safe bet Moorhead is thinking of the moon god Khonshu in Egypt when he references "The Exorcist" and "The Descent." You can also see how "Children of Men" might be an influence on the truck chase shown in the trailers for "Moon Knight."
You'll be able to spot all the references yourself when "Moon Knight" premieres on Disney+ on March 30, 2022.