Ultraman Season 2 Promo: Get To Know The New Character, Alien Wadoran Maya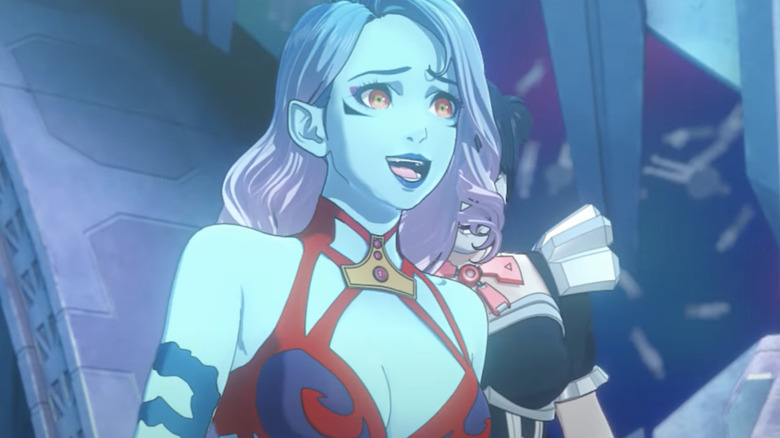 Netflix
It's spring in Japan and the cherry blossoms are blooming, as is Netflix's ever-growing anime slate, which is, of course, accessible to subscribers worldwide. Season 2 of "Ultraman," which puts an anime spin on the original tokusatsu (literally "special effects") hero, is bearing down on us in mid-April. In the meantime, Netflix has released a fresh promo introducing viewers to the new blue-skinned character Alien Wadoran Maya, who will make her debut in "Ultraman" season 2.
Ultraman is a character with a 56-year history, beginning on Japanese television in 1966. The quintessential giant hero — known for fighting giant monsters across cityscapes in his silver-and-red armor — Ultraman has developed into a multi-billion-dollar media franchise, which now includes this anime series. Netflix's "Ultraman" centers on Shinjiro, the son of the original Ultraman, who inherits the mantle from his father in order to defend Earth from an alien invasion. Ryohei Kimura provides the Japanese voice of Ultraman while "Hunger Games" star Josh Hutcherson serves as his voice in the English dub.
Shinjiro is not alone in defending Earth, as he's joined by several other Ultramen. In season 2 of "Ultraman," "six warriors band together," and there are also some new characters on hand, like Alien Wadoran Maya. Check out her character file below.
Ultraman season 2 character file: Alien Wadoran Maya
In the promo, Alien Wadoran Maya, voiced by Ayane Sakura, offers insight into the mindset of her alien species and how stealing the lives of earthlings is essential to their survival. Their motivations are reminiscent of Thanos in "Avengers: Infinity War" insofar as they want Earth to sacrifice half of its population.
"Ultraman" season 2 hails from directors Kenji Kamiyama and Shinji Aramaki, who have a busy spring ahead of them in terms of their output. This week also saw the release of a trailer for season 2 of "Ghost In The Shell: SAC_2045," another Netflix anime series they are directing. That one will hit in late May, so if you're a fan of their work, you'll only have to wait a few weeks before you get your fix of it on Netflix.
Here's the synopsis for "Ultraman" season 2 via Tsuburaya Productions:
A global mass disappearing event takes place among humanity. Rena and Shinjiro simultaneously vanish. In the wake of these events, freelance journalist Kotaro Higashi investigates this mysterious disappearance incident. The aliens behind it are the terrorist organization Dark Star. They transmit a message to those on Earth. "Give us half of the Earth, or sacrifice half of its people... make your choice." At the same time, the recently disappeared Rena and Shinjiro are teleported to the Dark Star ship orbiting the Earth.

Learning too much, Kotaro is caught in the crossfire between Dark Star and the SSSP, and is almost left for dead ... In the final battle, our heroes face off against the Golden Fortress. Facing this giant mecha destroying the city, ULTRAMAN, SEVEN and ACE are joined by ZOFFY, JACK, and TARO. At long last the 6 ULTRAMAN heroes have assembled!
"Ultraman" season 2 hits Netflix on April 14, 2022.