Top Gun: Maverick Trailer: Get Back In The Danger Zone, For Real This Time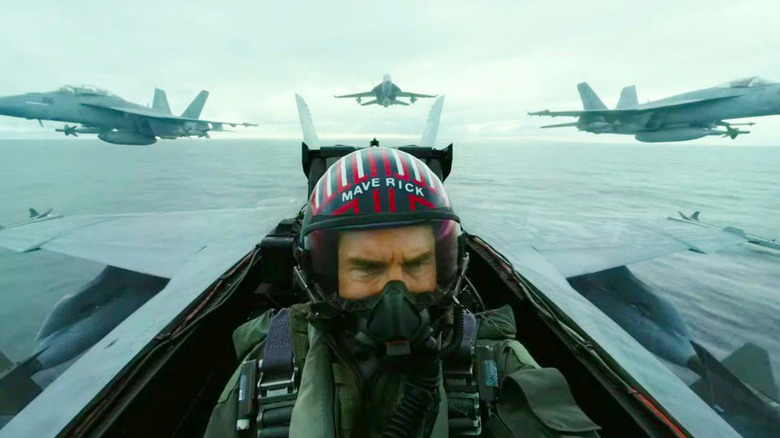 Paramount
After a long, long wait, audiences are finally about to get back in the cockpit and ride into the danger zone with Tom Cruise in "Top Gun: Maverick." 
The sequel to Tony Scott's 1986 blockbuster, "Top Gun," which is now in the National Film Registry, has been brewing for many years. It first entered development in 2010 before Scott died in 2012 and the project went into a period of radio silence. In 2017, Cruise popped his head back up to announce the title and it was confirmed thereafter that his "Oblivion" director, Joseph Kosinski, would be helming "Top Gun: Maverick."
The film was originally scheduled to hit theaters in the summer of 2019, but it needed more time to orchestrate its flight sequences, and then the pandemic happened. Instead, what we got that summer was the first trailer, followed by a second trailer in December 2019.
Now, at long last, the actual release of "Top Gun: Maverick" is barreling down on us in less than two months. The movie will screen first at the Cannes Film Festival on May 18, 2022, bringing Cruise to the fest for the first time in thirty years, since 1992, when his romantic drama, "Far and Away," co-starring then-wife Nicole Kidman, played out of competition as the closing film. It will then go into wide release theatrically on May 27, 2022.
Do you feel the need ... the need for speed? If so, check out the latest trailer for "Top Gun: Maverick," below.
Top Gun: Maverick trailer
In "Top Gun: Maverick," Cruise reprises his role as the titular Maverick, and he's joined by Miles Teller, who is playing the son of Anthony Edwards' deceased character, Goose, from the original "Top Gun" movie. Val Kilmer is also set to return as his character, Iceman, who now outranks Captain Maverick as a Vice Admiral.
The film's cast also includes Jennifer Connelly, Jon Hamm, and Ed Harris, among others. Cruise's "Mission: Impossible" director, Christopher McQuarrie, contributed to the script with Ehren Kruger and Eric Warren Singer, while Kosinski and cinematographer Claudio Miranda worked with Sony to develop a new camera extension system that would allow them to fit six cameras in the fighter jet cockpit with Cruise.
Here's the official synopsis for "Top Gun: Maverick:"
After more than thirty years of service as one of the Navy's top aviators, Pete "Maverick" Mitchell (Tom Cruise) is where he belongs, pushing the envelope as a courageous test pilot and dodging the advancement in rank that would ground him. When he finds himself training a detachment of Top Gun graduates for a specialized mission the likes of which no living pilot has ever seen, Maverick encounters Lt. Bradley Bradshaw (Miles Teller), call sign: "Rooster," the son of Maverick's late friend and Radar Intercept Officer Lt. Nick Bradshaw, aka "Goose."
"Top Gun: Maverick" is in theaters on May 27, 2022.