How Quentin Tarantino Convinced Michael Keaton To Star In Jackie Brown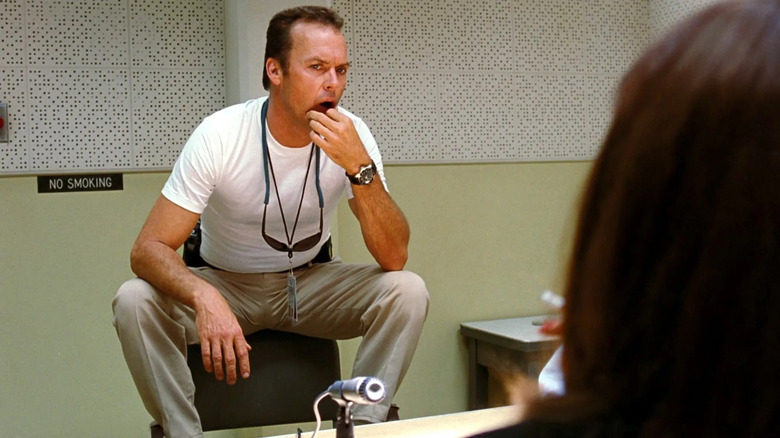 Miramax Films
The career of Michael Keaton is one rife with unforgettable roles. He's even revisited some of those parts, with the veteran actor set to reprise his role as Gotham's dark knight in both "The Flash" and "Batgirl." It's not the first time Keaton's casting has been cause for buzz — the actor has had some interesting casting experiences. Especially when it comes to some of his biggest career launching roles and most iconic characters. There was the near-miss in which Tim Burton almost chose a Rat Pack member over Keaton for the title role in "Beetlejuice." Or how about when Burton lobbied hard to get the star under the cowl for his iteration of "Batman?"
Keaton is no stranger to his casting being up in the air. That certainly wasn't the case when Quentin Tarantino was looking to fill the role of ATF agent Ray Nicolette for his third film "Jackie Brown," his sights set firmly on Keaton. The only problem? No one was fighting as hard to keep Keaton out of the movie as Keaton himself.
Hitting the town with Quentin and Keaton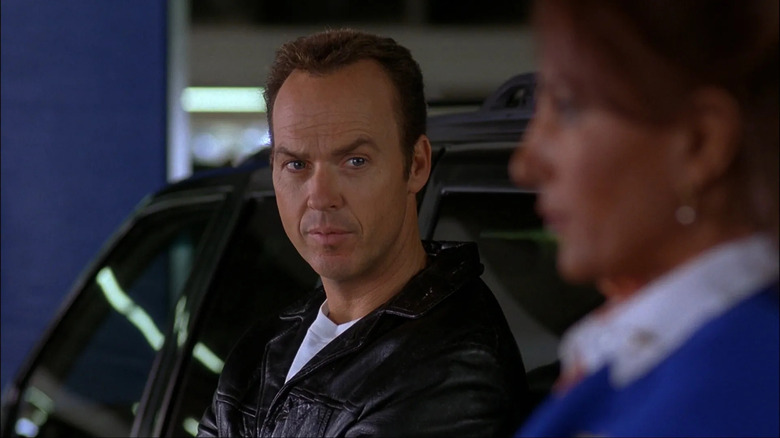 Miramax Films
Tarantino was fighting an uphill battle trying to convince Keaton he was perfect for the role of Nicolette. While the actor has never explicitly stated his reasons for initially rejecting the part, it's clear that the director had zero doubt in his ability. As reported by Mental Floss, Tarantino opened up about his attempts to persuade Keaton and even tried to give an explanation for his hesitation.
"His whole process was to convince me that he's not right for the role," Tarantino revealed. "But he never quite convinced me ... Michael's whole thing is to deny himself and to say he's not right."
If there is one mind in a Hollywood not so easily swayed, especially when it comes to his cast, it's Tarantino. So what happens when an unstoppable force meets an immovable object? They drink until one become more amenable. At least that's the road Tarantino took using the oldest trick in the book: inviting him out for drinks.
"We go out on Sunset Boulevard (Los Angeles), Quentin has us drinking Jagermeister," Keaton explained. "Firstly, who drinks Jagermeister man? Anyway, I don't know what happened but the next thing I'm heading home and I'm doing the movie. So I go, 'I guess I'm doing it.' My agent is all excited and goes, 'Really? Why?' And I'm like, 'I don't know, I just woke up an hour ago and I don't remember.'"
Who drinks Jagermeister? The weekend festival kids sneaking the green bottles into Coachella and — apparently — Tarantino when he's trying to score the actor he wants. All's fair in love, war, and casting hijinks we suppose. Nobody knows what was said at the meeting, but one one can only imagine an impassioned and perhaps slightly tipsy Tarantino gesticulating madly to Keaton all the colorful reasons why he was born to play Nicolette. Making sincere but hyperbolic claims the film would crumble without him. Whatever it took all it cost Keaton was a hangover and Tarantino got his charismatic ATF agent. Given the other standout performances by icons Pam Grier, Robert Forester, and Samuel L. Jackson — not to mention a side-splitting Chris Tucker cameo — it's no small thing Nicolette is never lost in the sidelines. But the biggest irony is just how much Keaton ended up loving the character he tried so hard to get out of playing.
Keaton loved the role enough to play Nicolette twice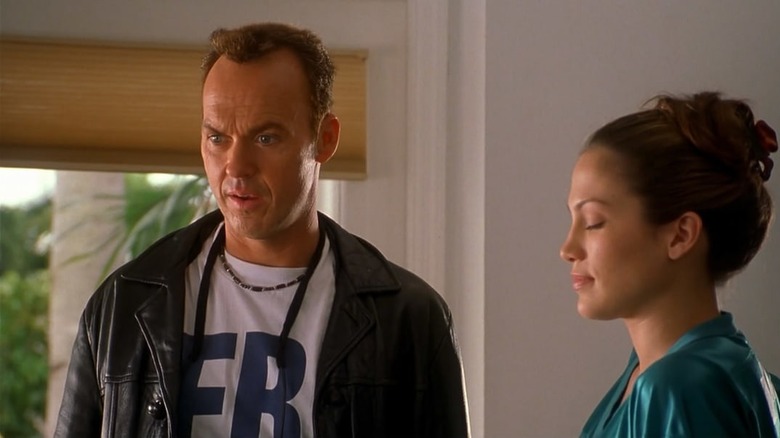 Universal Pictures
A year after "Jackie Brown" was released Keaton appear in Steven Soderbergh's 1998 film "Out of Sight" in an uncredited part. Those who've seen both films will know however that the actor's appearance is something of a special cameo. Proof that Keaton was unwilling to let go of his role as agent Nicolette after filming had wrapped on Tarantino's project.
"Nobody had ever done it (play the same character in an unrelated film) then and that was what appealed to me when Soderbergh called," Keaton explained, adding, "I wanted it to be like you might be in a Starbucks and see Ray Nicolette and not think anything of it."
Nowadays audiences are inundated with the phenomena of universe-sharing films, especially with intentional behemoths like the MCU. But somehow it still never loses its thrill. Interestingly enough the reason Soderbergh might've been interested in including Keaton has to do with the fact that both "Jackie Brown" and "Out of Sight" are adaptions of Elmore Leonard novels. Since Nicolette is a character created by Leonard, it makes at least some sense he could show up in a film adaption of one of his stories — and getting the guy who's already played him on the big screen was obviously the cherry on top.