The 25 Best Michael Keaton Movies, Ranked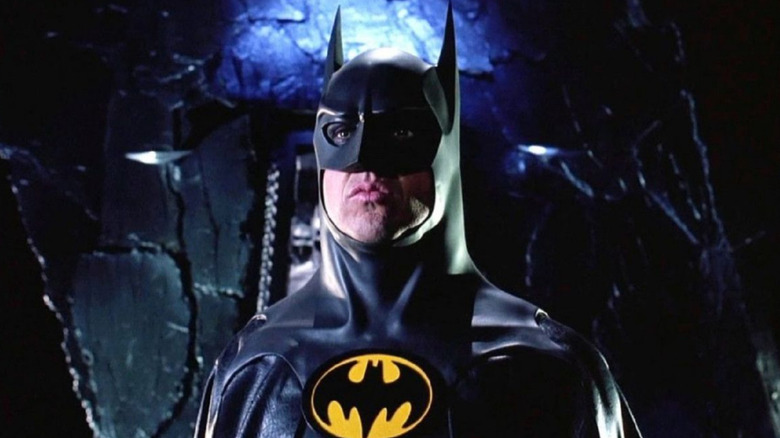 Perhaps best known as the Caped Crusader of Tim Burton's "Batman" films, Michael Keaton has had a wide-ranging and thriving career. Keaton started off in comedy, training at the legendary Second City, before working on iconic television series such as "Mister Rogers' Neighborhood" and "Maude." Keaton finally entered the big screen in "Night Shift" with a crackling, frenetic energy that would launch a successful film comedy career before Burton took the risk of casting him as Batman, a role that would change the trajectory of Keaton's work by proving he could tackle action and drama. 
Since then, Keaton has taken on a variety of roles, bringing a wry cynicism, emotional truth, and humor to the screen that endears audiences far and wide. With such a broad filmography, we've gathered 20 of Michael Keaton's top film roles, ranked from worst to best.
25. The Last Time (2006)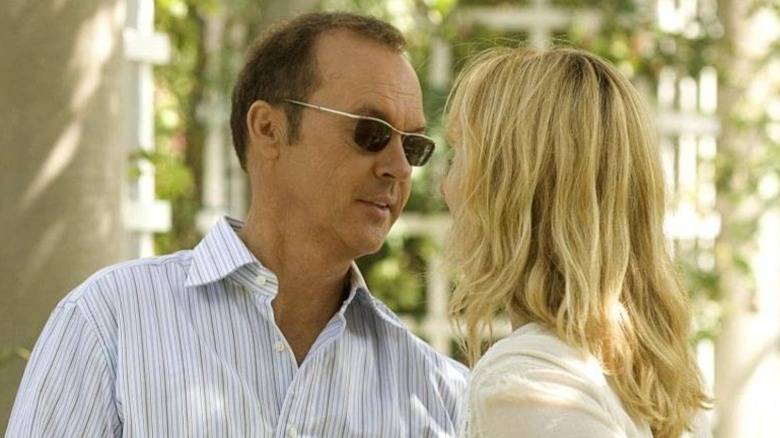 Element Films
A lesser-known film from the middle stage of Keaton's career, "The Last Time" is a middling, peculiar film that still showcases a strong performance from Keaton, who stars as Ted Riker, a successful New York salesman who seemingly has it all. Ted's life becomes more complex when his company hires Jamie (Brendan Fraser), a young, green Midwesterner who can't make a sale. Ted takes Jamie under his wing, but his mentorship doesn't prevent Jamie from falling to the worst of his own depressive instincts. 
As Jamie spirals, Ted grows closer to Jamie's fiancé, Belisa (Amber Valetta), discovering there's more to life than work. When things come to a head, Ted learns that Jamie is not at all what he appeared to be, making him question his relationship with both Jamie and Belisa. "The Last Time" is both a relationship drama and psychosexual thriller full of whiplash, but Keaton manages to find moments of truth in a thinly drawn character, a testament to his abilities and intelligence as an actor.
24. Pacific Heights (1990)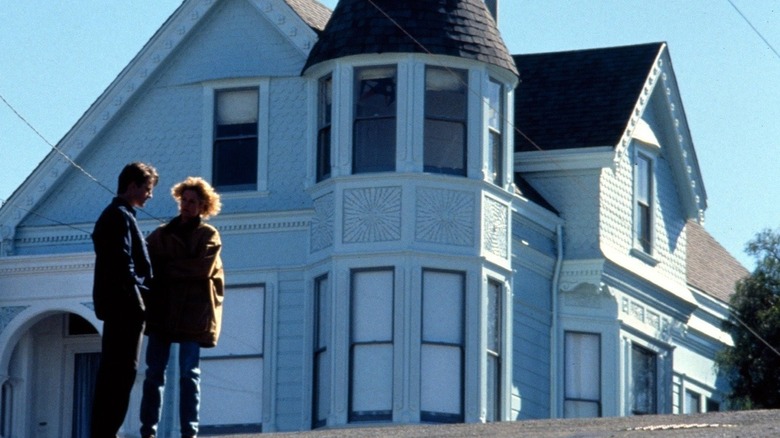 Morgan Creek Entertainment
A fun and shlocky domestic thriller that feels incredibly tied to similar genre films of the era, "Pacific Heights" revolves around Patty (Melanie Griffith) and Drake (Matthew Modine), a couple who pours their time and money into restoring a home in San Francisco that they manage and rent out to tenants. Their newest subletter is Carter (Michael Keaton), a smooth and seemingly wealthy man who Drake is impressed with, but Patty is skeptical. Patty's suspicions prove to be right as Carter's manipulative behaviors pile up, first with not paying the rent, and then outwardly antagonizing Drake. 
What plays out is a gaslighting game of cat and mouse with a quietly unhinged Keaton pulling the strings as tensions ramp higher and higher. While Keaton has played a wide range of characters throughout his career, Carter is one of the few purely sociopathic types he's portrayed, making it a standout role in his filmography. Despite the great cast, the film is far from perfect, but it's worth watching, especially if you enjoy Keaton's more villainous roles.
23. Dumbo (2019)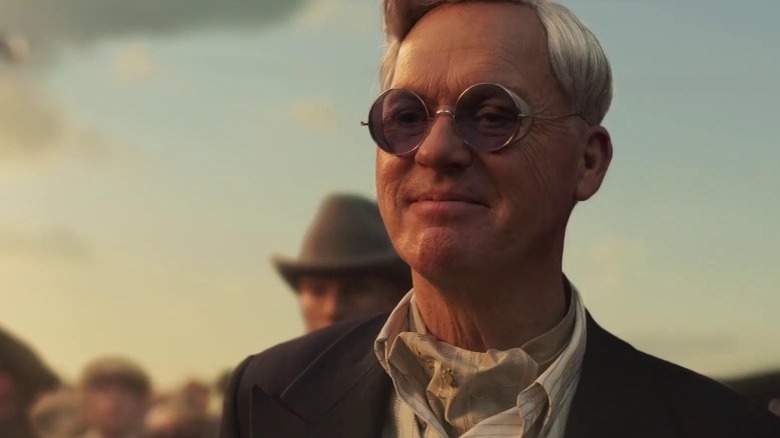 Walt Disney Pictures
"Dumbo" reunites Keaton with his "Batman" director, Tim Burton, in the live action adaptation of the 1941 classic Disney animated film. The film follows the Farriers, a circus family going through a difficult time. The father, Holt (Colin Farrell), returns home from World War I disabled and finds his family unit changed. His wife has died from the flu and his two young children, Milly (Nico Parker) and Joe (Finley Hobbins), have been working to survive on their own. To make matters worse, Holt learns he can no longer perform in his former routine, but will instead handle the newly acquired elephants, including a special baby elephant with gigantic ears. 
Milly and Joe soon discover baby Dumbo can actually fly, transforming the small circus into an act worthy of attention. Dumbo's popularity brings a competing circus named Dreamland to town, helmed by V.A. Vandervere (Michael Keaton). While the Farriers are initially swayed by Vandervere and Dreamland's shiny veneer, they soon discover something sinister lurks under the surface. A later career Burton layers Keaton in elaborate wigs and costumes that would make it easy to obscure a real performance, but Keaton still manages to find truth between the more ridiculous moments. While the film is largely boring and uneven, Keaton's villainous performance is one of the more fun and memorable parts, a remarkable feat.
22. Night Shift (1982)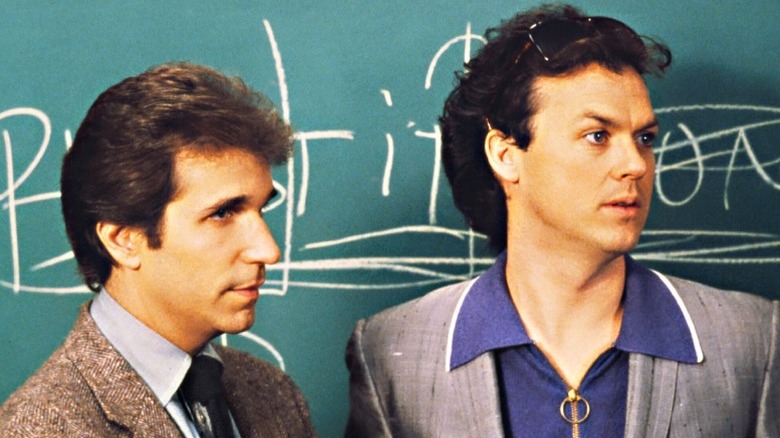 The Ladd Company
Ron Howard's first studio feature film was also Keaton's first starring film role. "Night Shift" reunites Howard with his former "Happy Days" costar Henry Winkler, who stars as Chuck Lumley, a mild-mannered morgue attendant who gets demoted to the night shift. There, he meets his new coworker Billy Blaze (Michael Keaton), his polar opposite. Billy is high octane, fast-talking, and scheming, always looking for a quick buck. Then Chuck befriends his neighbor, Belinda (Shelley Long), a sex worker whose pimp was recently murdered. 
After telling Billy about her situation, Billy suggests he and Chuck step in to help Belinda. Eager to impress her, Chuck and Billy begin running a prostitution ring out of the morgue. While the film's plot and politics are a bit peculiar, Keaton enters the big screen with the swagger and energy of a veteran actor. Watching "Night Shift" as Keaton's first major film role, it's clear why the film kicked off Keaton's career. Opposite Winkler's straight man, Keaton's zany comedy is allowed to shine, cementing a persona he would carry for years to come.
21. Johnny Dangerously (1984)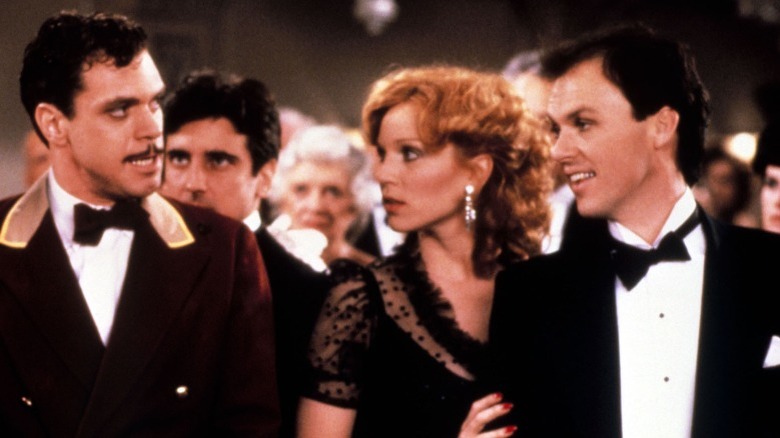 Twentieth Century Fox
Keaton's third-ever film role sees him further honing his comedic chops and film persona in a witty and fun period piece. Directed by Amy Heckerling, "Johnny Dangerously" is a silly farce starring Keaton as Johnny, a gangster telling his own life story in 1930s New York. Johnny gets recruited into the criminal lifestyle at a young age in order to help pay for his sick mother's medical bills, but soon learns he has a knack for the business, working his way up the ranks. As Johnny ascends in the mob, eventually taking over from his former boss, he maintains his popularity in the neighborhood and everywhere he goes, except with the warring gang led by Danny Vermin (Joe Piscopo). 
As the conflict escalates and zany antics ensue, Johnny has to work to protect his friends and family while reevaluating whether the mob is the best path for him. "Johnny Dangerously" is a goofy and risky film that plays with 1930s slapstick comedy while breaking the fourth wall at every turn. With a lead role that would have been easy to play over the top, Keaton's comedy never goes overboard as he manages to ground the film with an even performance.
20. The Dream Team (1989)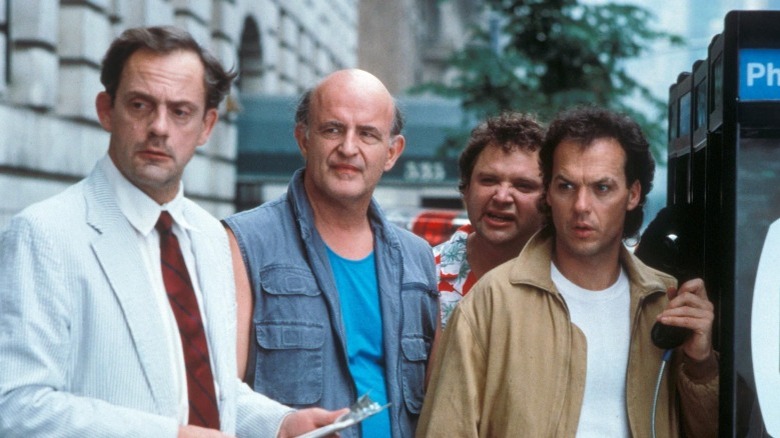 Universal Pictures
A wackier Keaton film released the same year as "Batman," "The Dream Team" centers on a group of men with a variety of psychoses in a mental institution. When their doctor gets permission to take them to New York City for a baseball game, things take an unexpected turn when he witnesses a murder and is injured in the melee. The men, unable to fend for themselves, discover their doctor has wound up in the hospital in a coma, and have to find their way in the city alone while evading the killers who are after their doctor, and now them. 
Keaton stars as Billy, a violent and pathological liar who is still the most capable member of the group and becomes the leader in their doctor's absence. While still an early film in the Keaton canon, "The Dream Team" sees a more toned-down comedic performance despite the high concept premise. While a bit of a rough film, Billy is a role that showcases both Keaton's comic energy and his grounded connection to character.
19. Multiplicity (1996)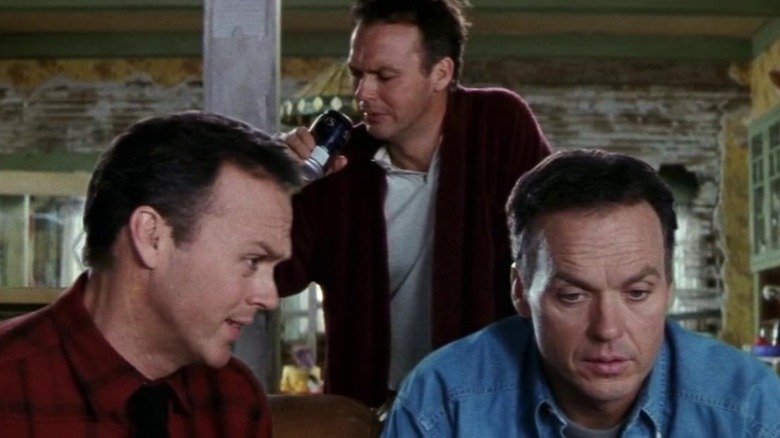 Columbia PIctures
The spiritual successor to director Harold Ramis' earlier film "Groundhog Day," "Multiplicity" explores similar metaphysical issues through comedy. Keaton stars as Doug Kinney, a family man who is stretched thin between his grueling construction job and the pressure to spend time at home with his wife Laura (Andie MacDowell) and their kids. As Doug faces increasing demands at work and home, he turns to an unlikely source that he comes across at a construction site. Doug believes Dr. Leeds (Harris Yulin) is a therapist only to discover he's a geneticist who claims he can solve his problems with the power of cloning. 
Of course, chaos and hilarity ensue as Doug tries to keep his clones a secret and also manage the ethics of having three clones who look exactly like him but are completely different from him in personality and live secretly under his roof. While "Multiplicity" shows off Keaton's comedy chops with him playing four distinct and funny characters, it's neither his nor Ramis' best film, largely because the politics don't hold up. However, it's still worthwhile for Keaton fans to take in one of his more iconic comedic roles.
18. First Daughter (2004)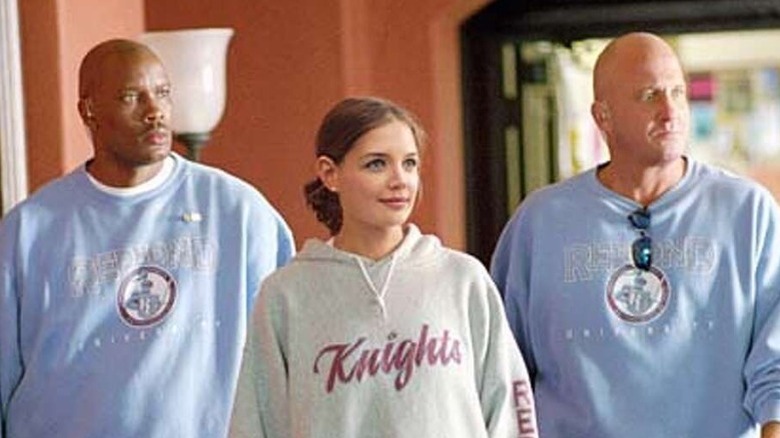 New Regency Productions
"First Daughter" chased the wish-fulfillment trend of films like "The Princess Diaries" and its very similar counterpart, "Chasing Liberty." The film stars Katie Holmes as Samantha Mackenzie, the child and first daughter of the United States president (Michael Keaton). While she has a privileged life, Samantha doesn't enjoy the nonstop surveillance by the Secret Service and tabloids, opting to go to college in California to attempt to be "normal." Once she gets to college, Samantha meets James (Marc Blucas), who helps to free her from the rigid world she's been living in, but he may have secrets of his own. 
"First Daughter" is a highly conventional film, marking a sort of lull in Keaton's career, but it is also strangely nostalgic to revisit a film that posits being the president's daughter as the stuff of fantasy and magic. Keaton plays well with this whimsy, molding his dopey dad persona into a competent political figure that anchors the lighthearted film with real emotion. It's a reminder of his skill as an actor in the face of even the silliest premise.
17. Jackie Brown (1997)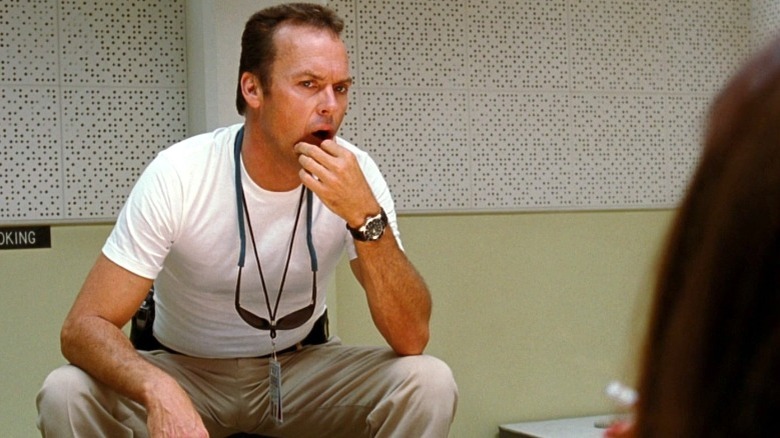 Miramax
One of Quentin Tarantino's most acclaimed films, "Jackie Brown" follows Pam Grier as the eponymous title character, a flight attendant whose life turns upside down when the FTA arrests her for smuggling money for her arms dealer boss, Ordell Robbie (Samuel L. Jackson). Ordell works with a bail bondsman, Max Cherry (Robert Forster), to bail out Jackie with the intention of killing her so she can't snitch, but Jackie regains Ordell's trust before he has the chance. As the story unfolds, Jackie works multiple angles, gaining the confidence of Agent Ray Nicolette (Michael Keaton), Max, and Ordell to earn her freedom in a fun, suspenseful, and sultry thriller. 
As Nicolette, Keaton walks the line between a young and stylish cop who wants to trust and help Jackie, and a cynical federal agent who puts himself and his work over anyone else. While his role is smaller in comparison to others in the film, Keaton's energy balances well in a talented ensemble cast, taking and giving at the right moments. Keaton would later briefly reprise the role in Steven Soderbergh's "Out of Sight" (1998), another film adaptation of an Elmore Leonard novel.
16. The Paper (1994)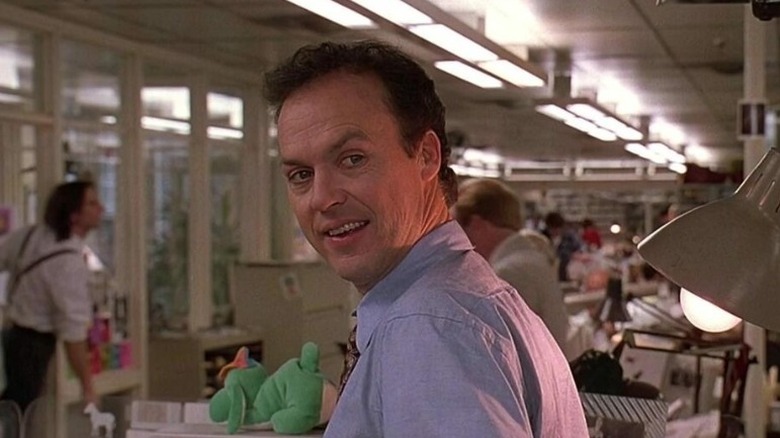 Universal Pictures
Keaton's third film with director Ron Howard revolves around the fast paced and intense world of tabloid journalism. Henry (Michael Keaton) is an editor trying to find the next big story when a double homicide rocks the news cycle. While his direct supervisor, Alicia (Glenn Close) wants to go for the easy story that's guaranteed to sell papers, their boss, Bernie (Robert Duvall), reminds them to focus on the story rather than fighting amongst themselves. 
Of course, the fight between Henry and Alicia only escalates as Henry's instinct that there's something deeper drives him to work up until the deadline to break a bigger story, all while his pregnant wife, Marty (Marisa Tomei), vies for some of his attention, too. "The Paper" is a bit of a scattered movie, but has an incredible ensemble cast with a high-energy Keaton at the center. As Henry, Keaton perfectly plays an intelligent man who continues to make bad decisions, driven by his addiction to news and journalism, while trying to balance his genuine love for his wife, making for a silly but earnest performance.
15. Much Ado About Nothing (1993)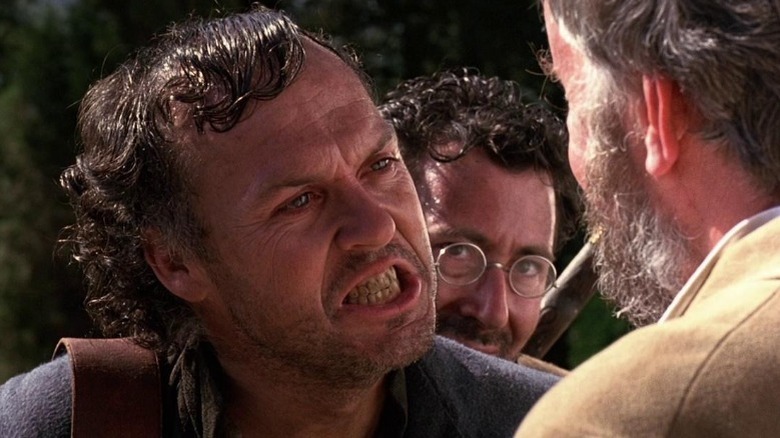 Renaissance Films
Kenneth Branagh's adaptation of Shakespeare's classic play follows young couple Claudio (Robert Sean Leonard) and Hero (Kate Beckinsale) who are happily soon to wed. With the help of friends, the two conspire to set up fiery opposites, Hero's sister, Beatrice (Emma Thompson), and Claudio's best friend, Benedick (Kenneth Branagh). However, things go sideways when a jealous Don John (Keanu Reeves) conspires to break up the wedding, just as Beatrice and Benedick are growing closer. 
Thankfully, the local, bumbling constable Dogberry (Michael Keaton) manages to untangle Don John's plot, saving the day and reuniting Hero and Claudio, and thus Beatrice and Benedick in a classic comedy of errors. Dogberry is a truly hilarious character, even in the context of Keaton's career, one made funnier through Shakespeare's wordplay which Keaton handles masterfully. For many actors, Shakespeare is taken so seriously that the material itself can be lost as a result. However, Keaton manages to hold onto his sense of play, a standout highlight of the film.
14. The Protégé (2021)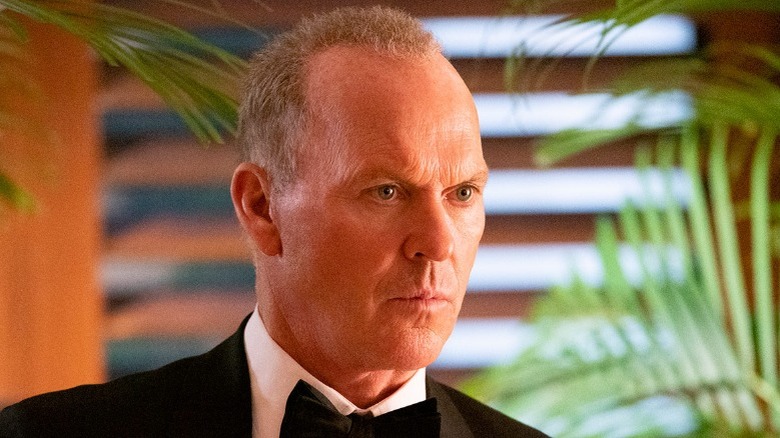 Millenium Media
A splashy action thriller, "The Protégé" stars the excellent Maggie Q as Anna, an unstoppable assassin who has been raised by another legendary killer, Moody (Samuel L. Jackson), after her family was murdered when she was a small child. Moody is her mentor, boss, and only family. When he winds up on the wrong end of a hit, Anna vows to avenge his death. Complicating matters is Rembrandt (Michael Keaton), whom Anna meets through her day job only to discover he is involved in the plot to take down Moody. 
Helmed by the skilled Martin Campbell of "Casino Royale" fame, "The Protégé" is a complex film with incredible action sequences. Keaton's villainy here is far more restrained than in some of his comedic or more unhinged performances in films such as "Pacific Heights" or "Spiderman: Homecoming."  Keaton delivers a downright creepy performance. Rembrandt is a memorable big bad who manages to hold his own alongside the incredible cast. "The Protégé" is a must-watch.
13. Worth (2020)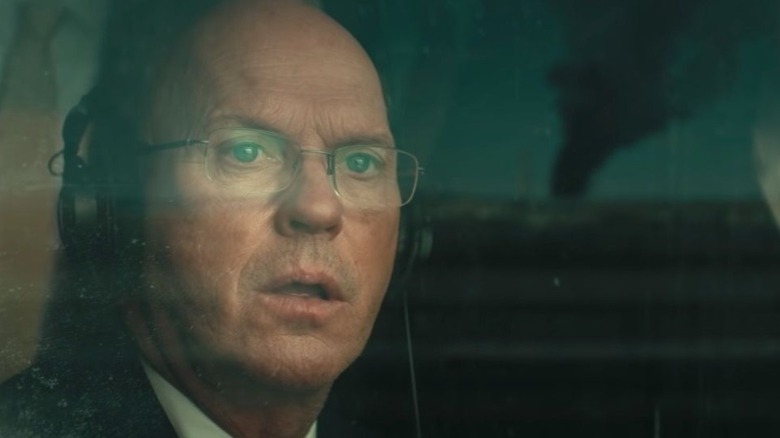 Higher Ground Productions
As the defining American cultural moment of the modern era, several films have been made about the September 11th attacks. "Worth" tells the true story of the Victim Compensation Fund, spearheaded by Kenneth Feinberg (Michael Keaton). Kenneth is an attorney, professor, and mediator with a renowned reputation who is moved to serve his country but sees the matter of the fund as one clearly determined by legal precedent: the value of human life has a definable worth. As Kenneth develops a formula to calculate the compensation victims should receive, he's met with pushback and outrage, but initially responds that the rules are the rules for a reason, hiding behind his staff who meets with the victims face to face. 
However, when Charles (Stanley Tucci) leads a group of victims demanding Kenneth fix the fund, he's forced to listen and consider more nuanced solutions for the real people who need his help. While the film is a bit trite and rote, Keaton delivers a grounded and subtle performance as a man who is grappling with how to help people with the tools at his disposal. As Feinberg becomes more emotionally involved, Keaton keeps a tight rein on his emotions, never going over the top or delivering a stereotypical cheesy scene while providing plenty of catharsis.
12. The Founder (2016)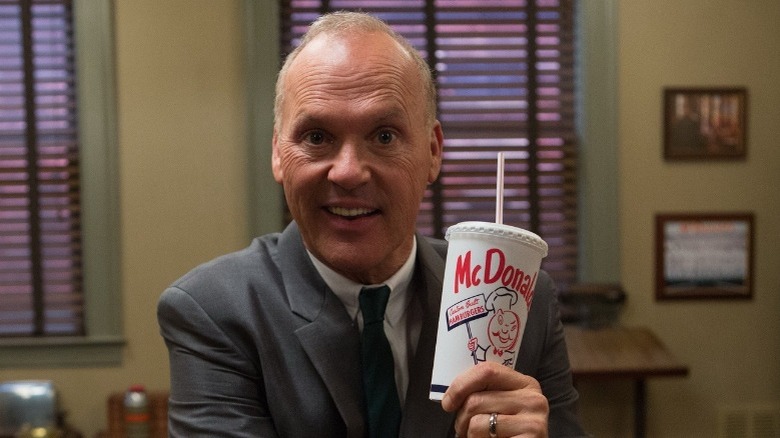 The Weinstein Company
A roundabout biopic about the origins of McDonald's, "The Founder" follows businessman Ray Kroc (Michael Keaton) in 1950s Indiana who sells milkshake machines to drive-thru restaurants. Ray is successful, but not taken seriously due to the unique products he sells. When a drive-thru in California orders an extraordinary eight machines from him, Ray decides to visit them in person and is immediately impressed by their business: McDonald's. A family business run by two brothers, Richard (Nick Offerman) and Mac (John Carroll Lynch), McDonald's features a streamlined menu with fast service, making it stand out from many similar restaurants that Ray has visited. 
Ray soon becomes intrigued in the business and convinces the brothers to work with him, taking on the task of franchising the restaurant. However, while he assures them that the standard of their family business will remain, Ray's focus remains on profit, leading to a conflict that would develop one of the most successful companies in the world. As Ray, Keaton is slick and smarmy while still managing to be charming and trustworthy, a perfect salesman. Keaton's cunning and intelligence shine through as an ambitious character that shouldn't be endearing but is.
11. Spiderman: Homecoming (2017)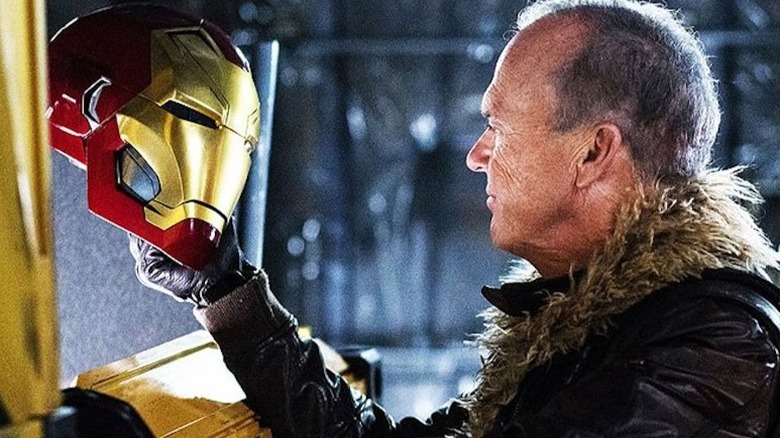 Columbia Pictures
One of the things that has endeared Michael Keaton to fans is his down-to-earth attitude about his career, including embracing more superhero films as a nod to his earlier work as Batman. "Spiderman: Homecoming" instead sees Keaton as the villain, The Vulture, immediately introducing Keaton in the opening shots of the film as a man working against the systems of the world he lives in to get a little piece of what he thinks he deserves. The film follows Tom Holland's Peter Parker, fresh off the heels of his escapade with the Avengers in "Civil War." 
Peter has to juggle his day-to-day life as a high schooler with his journey to become a hero, all while investigating The Vulture, who smuggles recovered weapons from Avengers battles. As The Vulture, Keaton leans into the unbridled energy and mania of playing a comic book villain on the big screen while maintaining a grounded presence. Audiences have seen numerous iterations of Spiderman and countless big-screen villains, yet Keaton still manages to take hold and make his own impression, a remarkable feat for the genre.
10. Mr. Mom (1983)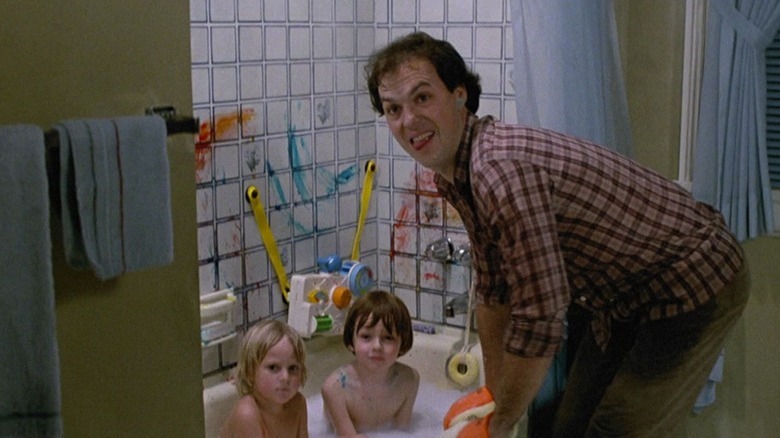 Sherwood Productions
Keaton's second feature film role sees him working with a John Hughes script in a charming family comedy about the economic and societal pressures of the 1980s. Keaton stars as Jack Butler, an engineer at a car factory in Detroit who is unexpectedly laid off. Jack's firing sees him swapping roles with his wife, Caroline (Teri Garr), as she heads into the workplace and he takes over the household duties. While Jack initially struggles to take care of their three children on top of Caroline's other chores, he soon finds his own ways of doing things. 
As Jack settles into his new routine and begins to find joy in being a full time parent, Caroline gets more sucked into working, creating a tension in their marriage that leads them to each confront what they want for their family. Keaton's background in comedy shines in this lighthearted film as he deftly weaves between sillier moments (like Jack's addiction to "Young and the Restless") and the more tender moments with his family. Overall, Keaton manages to avoid the trappings of the premise, finding the heart of the story and character rather than leaning into the easy heteronormative jokes, making it a performance that largely holds up nearly forty years later.
9. The Trial of the Chicago 7 (2020)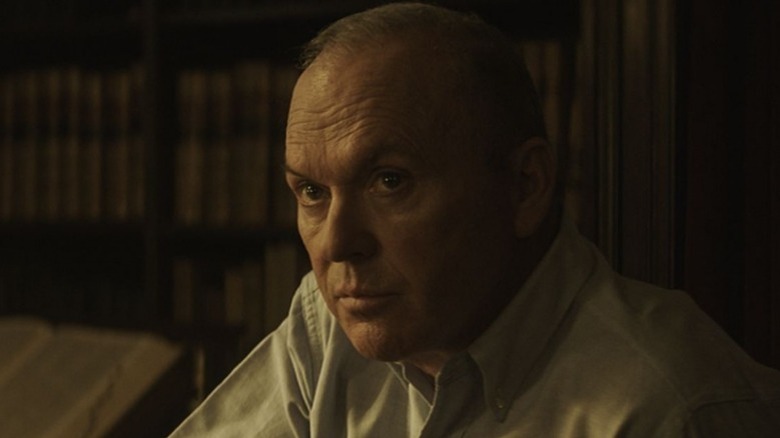 DreamWorks Pictures
Written and directed by Aaron Sorkin, "The Trial of the Chicago 7" is an unsurprisingly treacly historical biopic that documents a group of anti-Vietnam war activists who were arrested for inciting riots during protests at the 1968 Democratic National Convention in Chicago. Sorkin's political lens doesn't do the most careful job of delineating the politics of the situation as he tries to draw a direct line of comparison to the politics of the present, but the cast is nonetheless an impressive ensemble that represents the differing ideologies around activism. 
Yahya Abdul-Mateen III shines as Bobby Seale despite the film somewhat fumbling its racial dynamics, and Keaton's role as former U.S. attorney general Ramsey Clark provides him with minimal screen time. However, Clark's turn as a government informant who testifies on behalf of the Chicago Seven was crucial, spurring investigations into civil rights violations by the Chicago police. Though Keaton has a minor supporting role, he delivers a steely, competent performance that drives the film to its third act, which secured him his record-breaking third SAG award.
8. Clean and Sober (1988)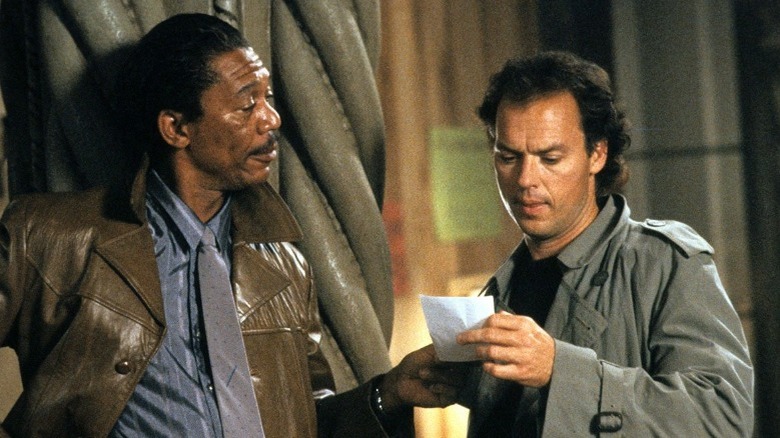 Warner Bros.
Though he has a strong background in comedy, Keaton proved early on in his career he could handle serious dramatic roles with the same skill. Another film that feels particularly of its time, "Clean and Sober" follows Daryl Poynter (Michael Keaton), a commercial real estate broker and drug addict whose life changes when he embezzles from his company after a night of partying too hard. In an effort to evade the cops, Daryl checks himself into rehab, not intending to take it seriously. When he meets his counselor, Craig (Morgan Freeman), it's clear he sees through Daryl immediately, and while Daryl doesn't want to be in the clinic, he has nowhere else to go. 
Soon, Daryl stops trying to score drugs and begins to focus more on his wellbeing. When he leaves the clinic, he'll find that rehab was just the first step, and his life outside is more challenging than ever. Keaton weaves between defensive and wry, and wounded and aching, turning out a performance that feels raw and true. While the film itself is a bit flawed, Keaton anchors the story in a role that feels painfully earnest, making it one of his best.
7. My Life (1993)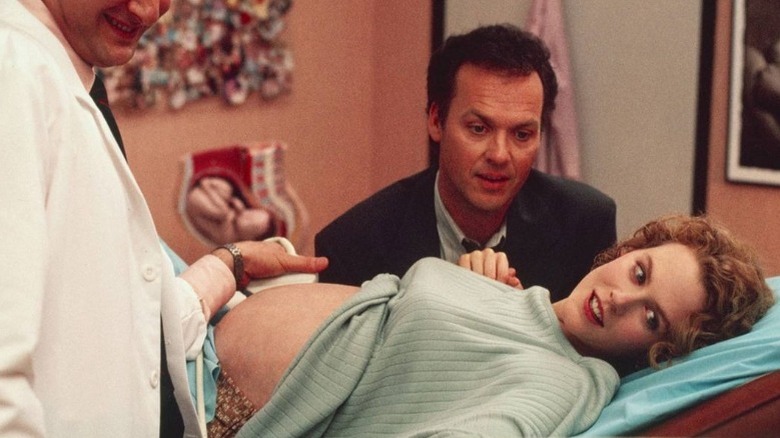 Columbia Pictures
One of Keaton's quieter roles, "My Life" is a heartbreaking film that manages to avoid many trappings of the melodrama. The film follows Bob Jones (Michael Keaton), a man who seems to have everything going for him: a beautiful wife, Gail (Nicole Kidman), a baby on the way, and a job he loves. When Bob learns he has terminal cancer, though, his life changes in the blink of an eye as he prepares for his death. Bob begins to make a video diary for his future child, and in the process, starts to uncover pieces of himself along the way. 
As he attempts to heal and make meaning of the tragedy, Bob learns new ways to connect with his loved ones and be grateful for the time he does have. "My Life" is a difficult film to watch, but Keaton delivers an incredible performance, moving through every phase of Bob's illness with care, empathy, and surprising warmth and humor, making for a profound and real character.
6. Toy Story 3 (2010)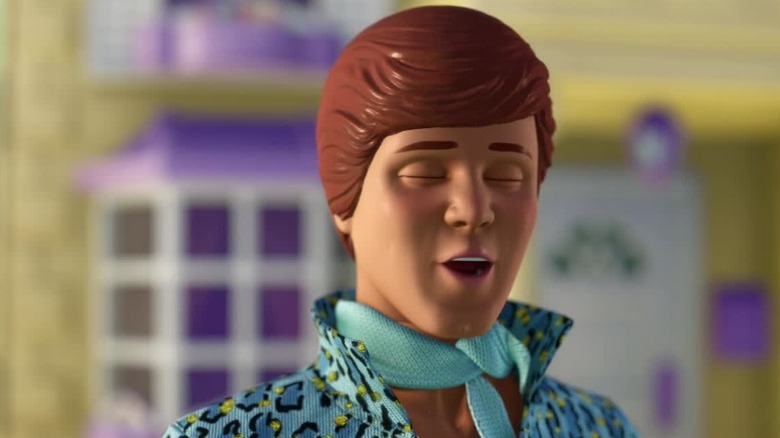 Pixar Animation Studios
The third film in the "Toy Story" saga sees Woody (Tom Hanks) and the gang grappling with Andy's impending departure to college. While Andy (John Morris) sorts through his belongings, some of his toys accidentally end up donated to Sunnyside Daycare while Andy is packed for Woody's dorm room. At Sunnyside, the toys are excited to get to play with new kids, but soon discover daycare is nothing like Andy's room. Aside from the onslaught of excitable toddlers, Sunnyside is run by a mafioso teddy bear, Lotso (Ned Beatty), who ensures they can never leave, despite Woody's best efforts. 
Lotso is helped by several henchmen toys, some more menacing than others, including a Ken doll (Michael Keaton), who seems to finally meet his match with Andy's younger sister's old Barbie doll (Jodi Benson). "Toy Story 3" showcases another aspect of Keaton's talents as a voice actor, highlighting his humor in ways that would likely not have been possible in live action. As Ken, Keaton is shockingly heartfelt and hilarious, a true highlight of the film that sparked a spinoff short focused on Ken and Barbie.
5. The Other Guys (2010)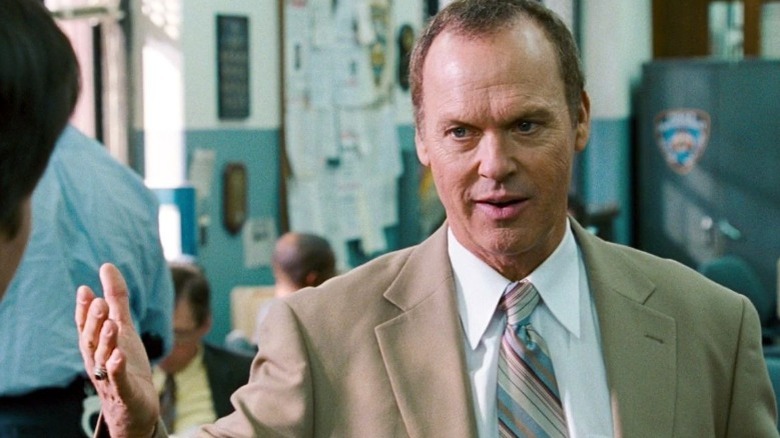 Columbia Pictures
"The Other Guys" sees Keaton in a triumphant return to comedy in one of the funniest roles of his career. The film follows two cops, Allen (Will Ferrell), a strait-laced and nerdy accountant, and Terry (Mark Wahlberg), a tough talking detective who's assigned to desk duty after shooting Derek Jeter in the line of duty. The two, who couldn't be more opposite, are assigned to work as partners but live in the shadows of the department's more suave and hot shot detectives. 
Allen and Terry finally earn their chance to become "real" cops when they stumble upon a case surrounding a famous venture capitalist, David Ershon (Steve Coogan), which their captain, Gene (Michael Keaton), wants to bury. Directed by Adam McKay, "The Other Guys" is unsurprisingly goofy with Keaton comfortably holding his own against heavyweight Ferrell. As Gene, Keaton finds the humanity behind absurd comedic moments, creating a character that is unique from the stern police captain archetype. Keaton delivers jokes with empathy and warmth, including a hilarious runner of TLC song references that make the entire film worth watching.
4. Beetlejuice (1988)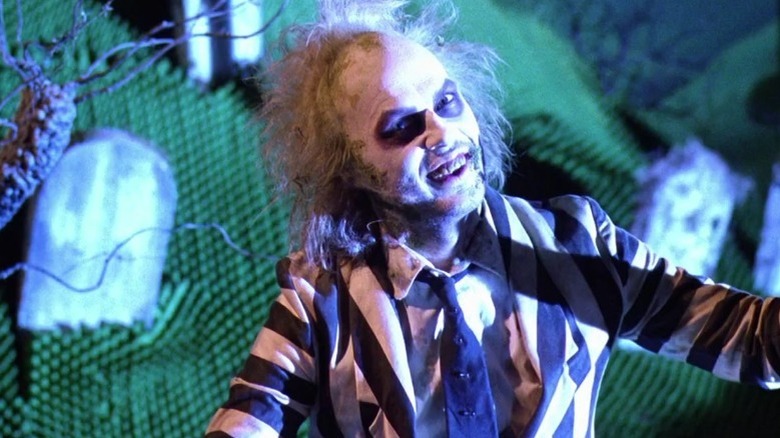 The Geffen Company
"Beetlejuice" is easily one of Michael Keaton's most iconic and best film roles. The film follows Barbara (Geena Davis) and Adam (Alec Baldwin), a typical happy, young, married couple who die unexpectedly in car accident and are shocked to discover they've become ghosts haunting their own house. With a new family moving into their beloved home, Barbara and Adam decide to try to scare them away, but realize they have no idea how to do so, until they stumble upon a mystical demonic spirit guide by the name of Beetlejuice (Michael Keaton). 
With Beetlejuice's help, Barbara and Adam properly scare their new roommates and come closer to regaining their home. Yet as Barbara and Adam grow closer with the family's daughter, Lydia (Winona Ryder), they have to figure out how to deal with the chaotic and unpredictable Beetlejuice. Keaton delivers a singular and electric performance, at turns zany and terrifying. As Beetlejuice, Keaton performs with the manic energy of a pinball machine and never misses out on an opportunity for a laugh, making for one of the most memorable film performances of all time.
3. Spotlight (2015)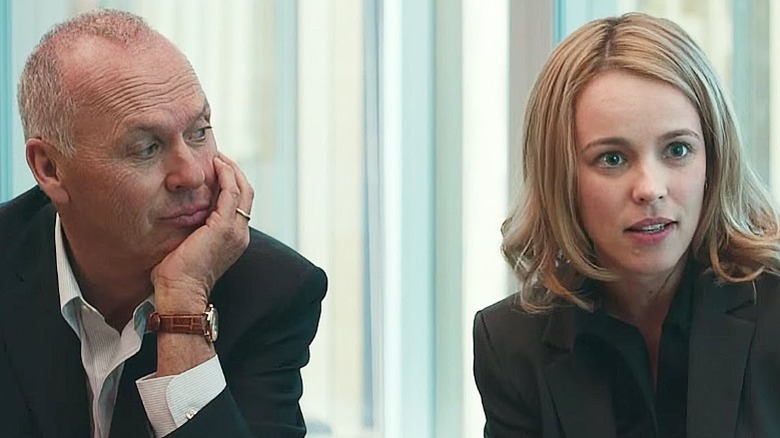 Anonymous Content
While Keaton is best known for his higher energy genre roles, his skill shines in understated performances, too. "Spotlight" is a quiet and harrowing drama about the real-life group of investigative journalists at the Boston Globe who uncovered the massive child sexual abuse and molestation scandal within the local Catholic Church. When a new chief editor arrives at the globe, Spotlight editor Robby (Michael Keaton) is encouraged to use his investigative resources at the desk to look into claims of pedophilia within the church. 
The Spotlight team is initially hesitant to investigate, knowing the story will blow up the community and be difficult to report, but after initial digging are shocked to find just how big and horrifying the evidence is. As Spotlight's work expands, Keaton's Robby takes a measured approach, motivating his team to continue their work while making sure they get the story exactly right. Keaton leads a stellar ensemble cast, including Mark Ruffalo and Rachel McAdams, anchoring the film with a thoughtful and grounded performance. Keaton ultimately delivers a nuanced and character-driven performance, one of the very best of his career, that's worth the emotional weight of the film.
2. Batman (1989) and Batman Returns (1992)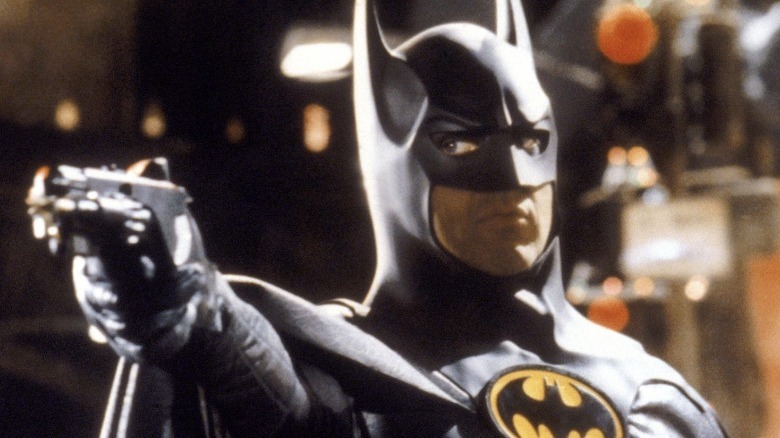 Warner Bros.
Arguably Keaton's most famous role, his second film with director Tim Burton was seen as a controversial casting choice at the time as Keaton was perceived as a comedic actor who wouldn't be serious enough for the dark and brooding hero. However, the films were hugely successful and Keaton's Batman has become one of the most beloved comic book characters in cinema history. Across two films, Keaton's Bruce Wayne held his own against villains like the Joker and Penguin while nurturing a surprising and complicated romance with the Catwoman. 
Unlike many superheroes, Batman is self-made, a billionaire vigilante dedicated to cleaning up his city after witnessing the brutal mugging and murder of his parents as a young child. As Bruce Wayne, Keaton embodied a confident and smooth playboy that easily transformed into the tough, slick, and smart caped crusader while still channeling the raw emotional through line of Batman's core trauma. In the thirty years since donning the cowl for Burton's films, Keaton's Batman has become so beloved he's set to reprise the role in two separate projects for DC, marking a full circle moment for his career.
1. Birdman or (The Unexpected Virtue of Ignorance) (2014)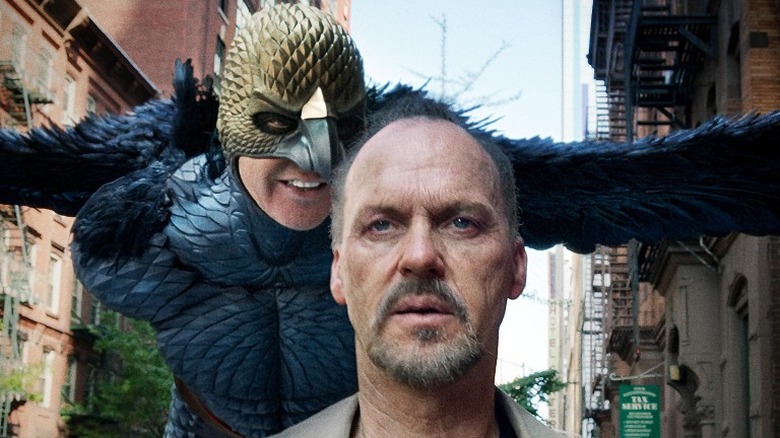 New Regency Productions
While Keaton has embraced his relationship with Batman fans and gone on to work on several superhero films, "Birdman" was the first film that satirized Keaton's own career, a role that would earn him his first Oscar nomination. The movie stars Keaton as Riggan Thomson, a middle-aged movie star, best known for starring as the superhero Birdman (who shares a canny resemblance to Keaton's own Batman). After Birdman, Riggan's career is struggling, and in an effort to be taken seriously as an actor, he adapts, stars, and directs a play based on a Raymond Carver book. 
As the play ramps up toward opening night, Riggan fights his own internal battle of perception and self-image, making for a surreal and breathtaking film. Keaton's performance is nothing short of masterful, raw but controlled, as Riggan's grip on reality and his own understanding of the world around him shifts from moment to moment. Keaton plays with satire, inviting the viewer to compare Riggan's career to his own while creating a character that is wholly unique, making for a lasting and indelible performance.