Tim Burton Originally Wanted This Rat Pack Member To Play Beetlejuice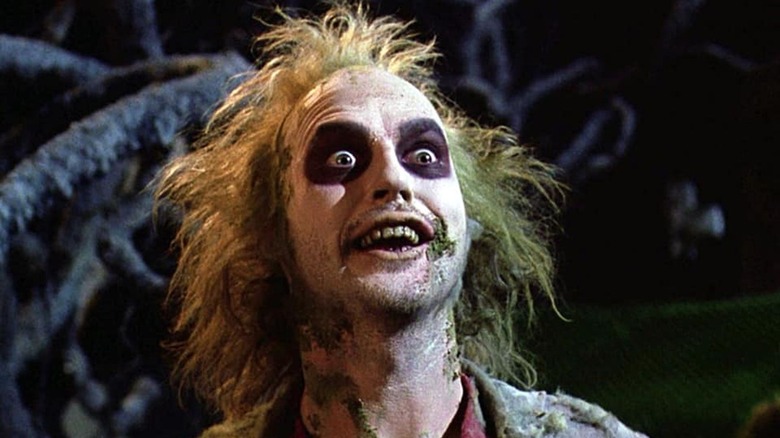 Warner Bros.
We may receive a commission on purchases made from links.
After the smashing success of "Pee-Wee's Big Adventure," Warner Bros. looked to Tim Burton for his next big movie. His original plan was to make "Batman," but the studio was a little nervous to greenlight the massive film as his next project and wanted him to make another feature while he worked on the script to prove "Pee-Wee" wasn't a fluke. Burton was the new hotness in town, so he was thrown plenty of scripts for consideration. But one stood out among the rest.
According to the book "Burton on Burton," as legend has it, he was really disappointed by the lack of originality and imagination in the scripts presented to him, until "Little Shop of Horrors" producer David Geffen presented him with "Beetlejuice." The fantasy horror comedy from "Tales from the Darkside" scribe Michael McDowell immediately won Burton over, and the fact McDowell wrote the script for the "Alfred Hitchcock Presents" segment "The Jar," which Burton had previously directed, surely didn't hurt matters.
"Beetlejuice" was a massive box-office success, winning the Academy Award for Best Makeup and three Saturn Awards: Best Horror Film, Best Makeup, and Best Supporting Actress for Sylvia Sidney as Juno, the case worker. Michael Keaton in the titular role and Winona Ryder's Lydia Deetz have become two of the most popular Halloween costumes for horror fans, and the legacy of "Beetlejuice" even inspired an animated television series, video games, and a fantastic stage musical. But had Burton followed his original plan, "Beetlejuice" could have been a very different movie.
Burton wanted to cast Sammy Davis Jr. as Beetlejuice
In a 1999 episode of "Late Night with Conan O'Brien," Tim Burton appeared as a guest to promote the release of "Sleepy Hollow," when he was asked to talk about the weirdest reaction he'd ever received from a studio executive. Burton chuckles quietly to himself, and then admits that his original choice for the titular role in "Beetlejuice" was Sammy Davis Jr. Yes, the same Sammy Davis Jr. who hung out with Frank Sinatra, Dean Martin, Peter Lawford, and Joey Bishop, known in pop culture history as the Rat Pack.
It's hard to imagine anyone other than Michael Keaton as the ghost with the most, but the original Betelgeuse character was wildly different from what we saw in the final product, as seen in the second draft of the script. He started out as a winged demon who spoke in a pidgin dialect, taking on a human form out of convenience. The character would have been far removed from the fast-talking, sharp-tongued character Keaton delivered, which subsequently led to his casting as "Batman."
Had Burton gotten his way, Sammy Davis Jr. would have been the first Black leading character in a Burton film. Burton came under fire in 2016 when Samuel L. Jackson was cast in "Miss Peregrine's Home for Peculiar Children," with many realizing just how white his filmography is. With the exception of the Williams family in "Mars Attacks!" played by Jim Brown, Pam Grier, Ray J, and Brandon Hammond, Burton's films have a serious diversity problem. He tried to defend his position by calling it "an aesthetic choice," which is super gross and inexcusable. His next project is "The Addams Family" spin-off series "Wednesday," which notably includes his most diverse cast after a nearly 40-year career, featuring ​​Luis Guzmán as Gomez, Jenna Ortega in the titular role, along with Naomi J. Ogawa and Joy Sunday in supporting roles.