Superhero Bits: Doctor Strange 2 To Conjure Avatar 2 Trailer, Bella Thorne Wants To Play Lady Deadpool & More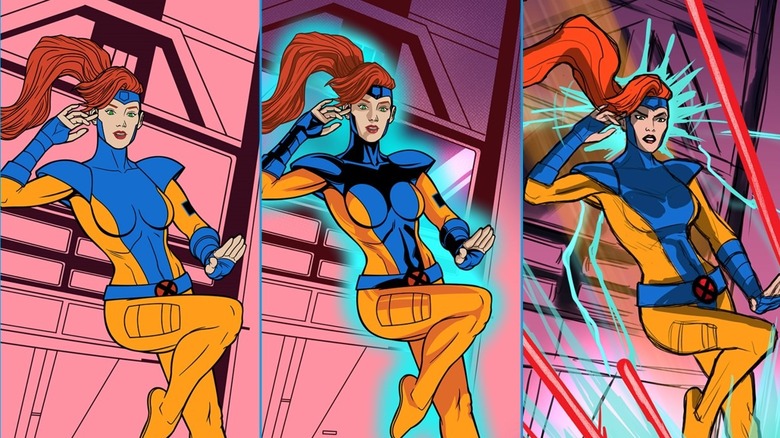 Hasbro
(Superhero Bits is a collection of stories, updates, and videos about anything and everything inspired by the comics of Marvel, DC, and more. For comic book movies, TV shows, merchandise, events, and whatever catches our eye, this is the place to find anything that falls through the cracks.)
In this edition of Superhero Bits:
"Avatar 2" trailer will be attached to "Doctor Strange 2."
Bella Thorne wants in on the "Deadpool" franchise.
"Riverdale" officially has characters with superpowers now.
Zestworld looks to give the comic book world a shake-up. 
Zestworld looks to shake up the comics industry
Marvel and DC will likely always be the top dogs in the comic book industry, but Zestworld is a new creator-driven platform that has secured a great deal of funding (to the tune of $9.37 million) to try and shake things up a bit. The company is a "creator-first digital publishing platform focused solely on comic creators," and with this round of funding, Zestworld intends to "launch the ultimate platform for comic creators to build their business and manage their community." Amanda Conner, Jimmy Palmiotti, Peter J. Tomasi, Eric Canete, Phil Jimenez, and Alex Segura are just some of the creators set to utilize the platform. Much like Substack, it appears we have a new way to read comics and potentially a place for Hollywood to find new IP to exploit. It will be interesting to see how this progresses as Zestworld puts that money to use.
Riverdale, a show about Archie Comics, now has characters with superpowers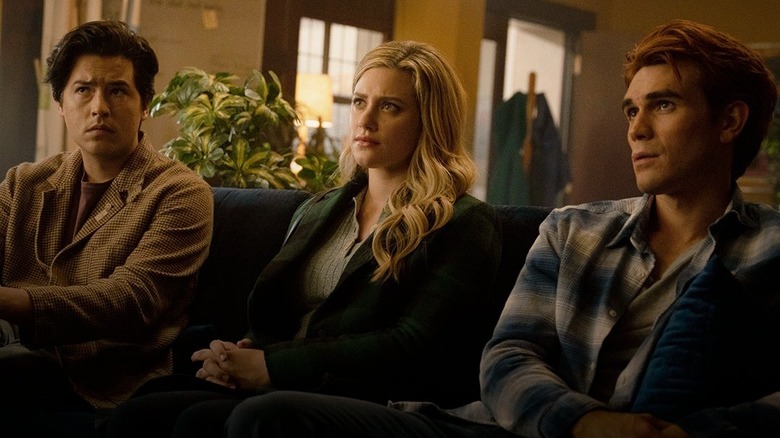 The CW
There was a time when The CW's "Riverdale" was a kind of edgy, sexy take on the "Archie Comics" universe. That time has long since passed. As many fans have discussed in the wake of the show's latest episode, Archie Andrews and Betty Cooper now essentially have super powers in the show. So yeah, it has kind of jumped the shark. Showrunner Roberto Aguirre-Sacasa discussed this craziness in an interview with TV Guide, saying the following:
"It's funny. When we were talking about this, we wanted to pick up on abilities the characters had already sort of displayed or manifested. We always joke that Archie's unkillable, and with Betty, we've made a big deal in the past that she's been able to identify serial killers by looking in their eyes and having this sort of sixth sense about it. So that's how we started talking about these gifts, if they're gifts, or curses, if they're curses."
We'll see how this plays out as the season unfolds, but this is an unexpected turn of events.
Check out this wild Morbius motion poster
The long-awaited "Morbius" movie starring Jared Leto will be here in no time after years (and we do mean years) of delays. Whether or not it manages to justify the long wait remains to be seen, but if absolutely nothing else, it has gifted us the above motion poster, which is pretty damn cool and works as a really unique bit of marketing. This certainly beats a bunch of Photoshopped heads centered around the movie's title. "Morbius" hits theaters on April 1, 2022.
Moon Knight director has beef with The Rock's Black Adam movie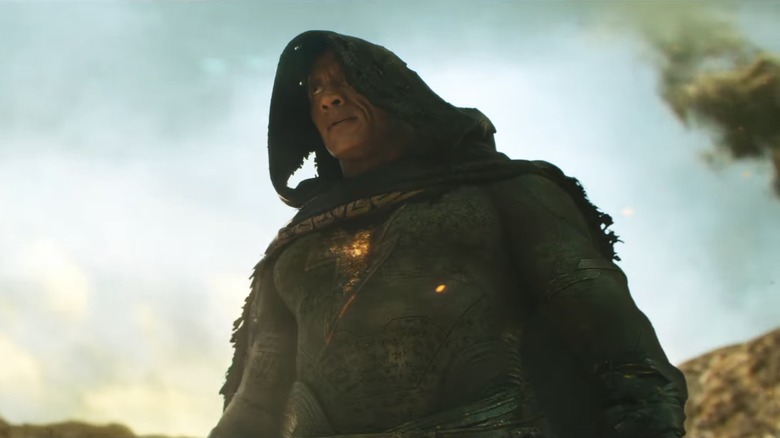 Warner Bros.
Dwayne "The Rock" Johnson's "Black Adam" movie has been discussed for more than a decade, but will finally be arriving in theaters later this year. It takes place in the fictional nation of Kahndaq that is no doubt inspired by Egypt. That, however, is something that Mohamad Diab, a director of Marvel's "Moon Knight" series, has some beef with. Speaking with Filfan (via Comic Book Resources), Diab explained that he worked very hard to put Egyptian representation into their show, whereas "Black Adam" went another way with it.
"I was really annoyed with DC when they set Black Adam in a fictional Middle Eastern country as an excuse to cast non-Egyptians, when it was obviously meant to be in Egypt. Representation opportunities shouldn't be wasted. But it's not a full mistake since it's based on an iteration of the comics that doesn't mention Egypt."
It is indeed a bit of a tricky situation, as "Black Adam" appears to be staying more faithful to the comics here, though Diab's point is easy to understand. Much of this could depend on how everything turns out once "Black Adam" actually arrives in October.
New Spider-Man: No Way Home concept art
Artist Ryan Meinderding has shared some brand new concept art from "Spider-Man: No Way Home." Specifically, he has revealed some of the artwork that brought together all three of the Spider-Mans in the movie's final act, with Tom Holland, Andrew Garfield, and Tobey Maguire swinging heroically into action. This is a little different than it ended up in the movie itself, but it's easy to see how this sketch helped lead to what we ultimately got.
Bella Throne still wants to play Lady Deadpool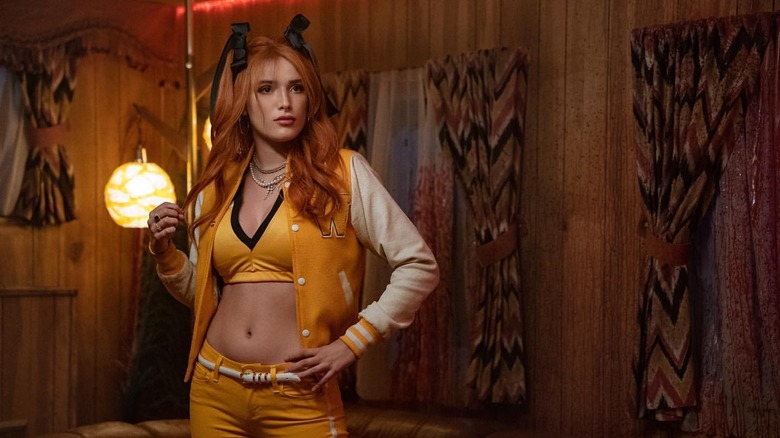 Netflix
At long last, "Deadpool 3" is finally moving forward at Disney with a new director and Ryan Reynolds set to return as the Merc With a Mouth. And if there is any chance that the studio is interested in bringing Lady Deadpool into the mix, Bella Thorne is interested in the gig. Speaking with Comic Book Movie, the actress was asked specifically about taking on that role and said the following:
"Yes, superheroes are definitely fun. I love action stuff, naturally, and I do a lot of action stuff with stunts and whatnot. It's just always really fun on set and it breaks up the work day when you get to concentrate on the body and feel and how to perform not just using your voice. That's always really fun for me. Deadpool is my favourite. It's so raunchy and, hello, who doesn't love Ryan Reynolds? He just f***ing nails that role to the floor."
Whether or not Lady Deadpool makes the jump from page to screen at any point remains to be seen. If that time comes, Thorne seems ready to take that call.
Daniel Radcliffe addresses those Wolverine rumors (again)
For a long time, fans have wanted to see Daniel Radcliffe ("Harry Potter") cast as the new Wolverine. This undyingly persistent bit of fan-casting was purely cooked up by the internet, and it seemingly will not die. The actor has had to talk about it a bunch over the years, and there appears to be absolutely nothing to it other than a section of fans that would like to see it happen. In the above video, Radcliffe once again discusses the whole thing with Jimmy Fallon on "The Tonight Show" and does his best to explain the whole situation: That there's really nothing to it, and that he's flattered by the suggestion, but that's really all there is to it. Perhaps we should let this one go for a while.
Doctor Strange in the Multiverse of Madness to include the Avatar 2 trailer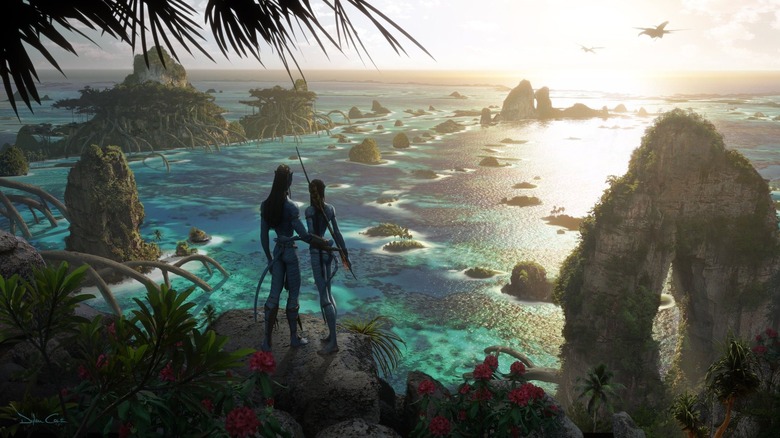 20th Century Studios
"Avatar 2" is finally coming out this year after years and years of delays. Disney promises that James Cameron's long-awaited sequel won't miss its current December release date, which means the marketing train will be getting underway sooner rather than later. To that end, a new report from The Ankler reveals that the first trailer for the film will debut alongside screenings on "Doctor Strange in the Multiverse of Madness," which hits theaters on May 6. The idea here is to give some extra juice to those screenings, with the trailer likely only available in theaters for the first few days. So those who are particularly interested in returning to Pandora would do well to check out the "Doctor Strange" sequel on opening weekend.
Marvel Legends Jean Grey figure from Hasbro
Lastly, today brings the reveal of Hasbro's latest edition to its Marvel Legends line, a '90s edition of Jean Grey from "X-Men: The Animated Series." Not only does the figure capture the mutant's likeness from the show quite well, but it also comes complete with VHS packaging that gives that extra touch and retro feel. The figure retails for $27.99 and is due to arrive in October. Full details and pre-order information can be found by clicking here.