Andrew Garfield Says Spider-Man: No Way Home Doesn't Really Need Any Oscars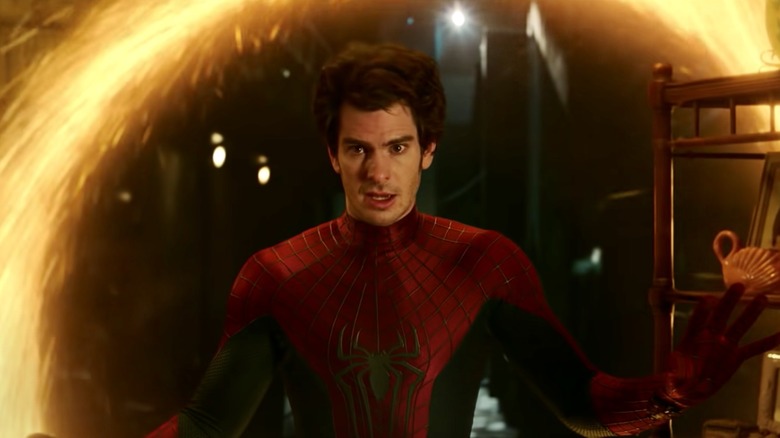 Sony Pictures Entertainment
"Spider-Man: No Way Home" hit digital platforms last Tuesday and it's still chugging along at the box office on its way to a juggernaut $2 billion haul. You can see it at home or in some theaters still, but one place where you won't see it much is at the 94th Academy Awards next weekend. Unlike "Black Panther," which received seven Oscar nominations including one for Best Picture a few years ago, "No Way Home" only scored a single nom in the Best Visual Effects category. Its only hope now is the new #OscarsFanFavorite category.
One of the Spider-Men in "No Way Home," Andrew Garfield, does have two other movies that are up for some additional awards this year. "Tick, Tick... Boom!" has earned Garfield a Best Actor nom and "The Eyes of Tammy Faye" has earned his co-star, Jessica Chastain, a Best Actress nom, while those two films are also up for Best Editing and Best Make-Up and Hairstyling, respectively. So how does Garfield feel about "No Way Home" not getting any love in the Best Picture category while other movies that have been less well-received, such as "Don't Look Up," take up space among the ten nominees?
He seems to be taking it in stride. Speaking to The Telegraph (via ComicBook.com) the actor said of "No Way Home:"
"I mean, it's the sixth biggest movie in the history of movies. I personally feel pretty satisfied with the audience response. I think that's plenty."
This ain't the People's Choice Awards (or is it?)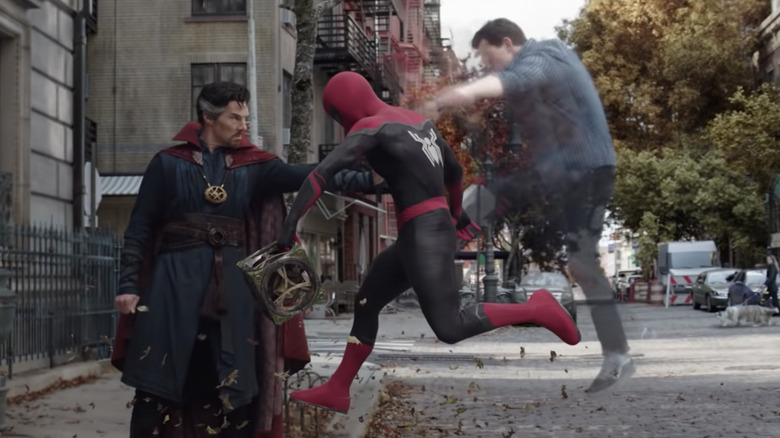 Sony Pictures Entertainment
Personally, I tend to agree with Garfield on this. Isn't it enough for "No Way Home" to be one of the biggest movies of all time? It held a virtual monopoly over the box office for weeks on end. At this point, the only five movies in history that have taken in more money than it are "Avatar," "Avengers: Endgame," "Titanic," "Star Wars: The Force Awakens," and "Avengers: Infinity War." Only two of those, the ones directed by James Cameron ("Avatar" and "Titanic") were nominated for Best Picture.
The flip side to this is the very real feeling that the Academy can sometimes be myopic, favoring its idea of arts over entertainment. The Oscars have a clear preference for standalone films, especially dramas, over franchise sequels. But while they've recognized "Joker" and the aforementioned "Black Panther" with Best Picture nominations, they have also missed nominating other superhero films that transcended the genre.
Back in the late 2000s, after a widely perceived snub for "The Dark Knight," the Academy expanded the Best Picture category from five nominees to ten to make room for more popular entertainment. Fast forward to this year, when the Academy, in a bid for more audience engagement amid declining TV ratings, announced that it was "thrilled to partner with Twitter" for a new variation on the abandoned "Most Popular Film" idea.
Voting for the new #OscarsFanFavorite category is already closed, but if you think the Academy Awards should be more like the People's Choice Awards — or perhaps algorithmically adjusted to reflect social media feedback — this category would certainly seem to steer them in that direction (and away from the telecasting of some below-the-line categories that are arguably more important).
We'll see if "Spider-Man: No Way Home" comes away with the dubious glory of the #OscarsFanFavorite award when the Academy Awards broadcasts on Sunday, March 27, 2022.