Halo TV Show Team On Making 'Intelligent Sci-Fi,' Battling Expectations, And More [Interview]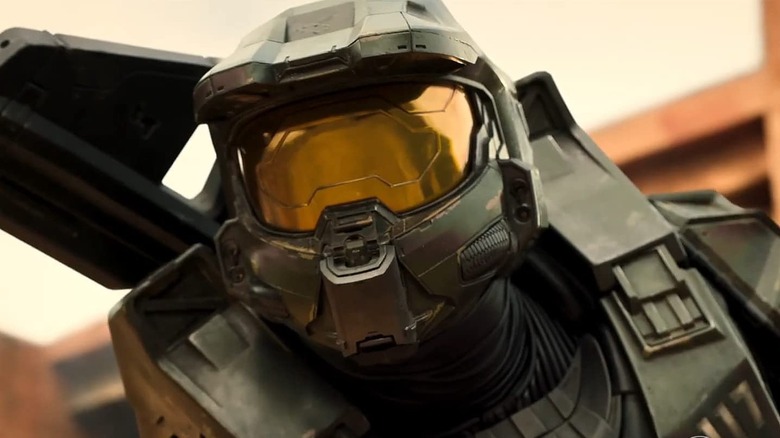 Paramount+
There are very few video games of any kind that have managed to establish a global audience and pop culture awareness in the way that "Halo" has since its inception in 2001. The original "Halo: Combat Evolved" helped to turn Microsoft's Xbox into a huge hit, and almost single-handedly ensured the company's place in the 21st century console wars. Now, after more than 20 years, the franchise is making the jump to Hollywood with a big new "Halo" TV series for Paramount+. The people who are bringing it to fruition in front of and behind the camera are a mixed bag of newcomers and those who have been invested in the series for years, and they've all now become an important part of the franchise's history. The first episode of the series debuted at this year's SXSW Film Festival, and we spoke with several of the folks who helped get this show over the finish line.
A long time coming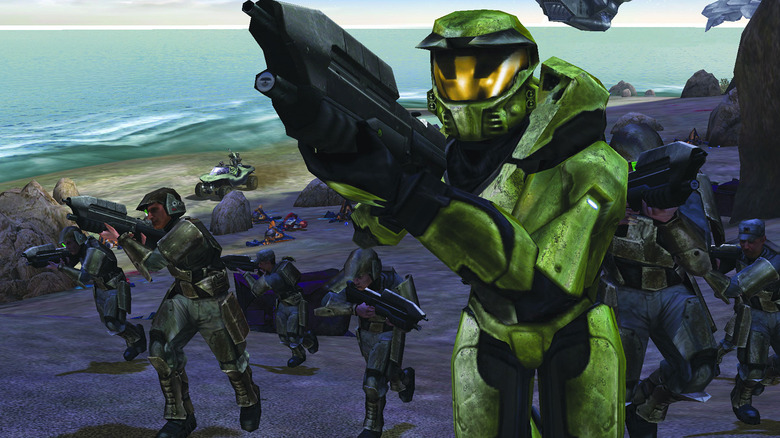 Microsoft
It did not take long for Hollywood to come knocking after "Halo" took off. Before the era of streaming, it was eyed as a big-budget movie and, as has been well documented, what became "District 9" originally started life as a "Halo" movie. That didn't exactly pan out, and despite may attempts since then to get something going, nothing materialized until now. "You know, 21 years ago, I started working on this game in a small booth. Just in front of a microphone," said Jen Taylor, the voice of Cortana, the highly intelligent AI that aids the game's protagonist, Master Chief, in his various quests over the years. Taylor is coming along for the show as well, and she explained that this is something she's been hoping to do for many years: 
"It's such a thrill to have been working on something, and to hear so much about something, and to be so involved in the story and the lore, and then to actually be on the set. My first day I was on the set of [the] ship, and it was a little — it was awing. I was a little dumbstruck by it, to feel like, 'I'm here.' And to see how detailed everything is. It was such a thrill to see it come to life."
While the look of Cortana has changed, it is Taylor doing the voice and she even provided the performance capture for the character, so it is very much the person who made this character what she is helping to bridge the gap between media. Taylor was even in New Zealand some time back when a different iteration of the show nearly happened, and she had fun with a Warthog, a classic vehicle from the games, that was built but never truly put to use since that iteration fell apart. "I got on a Warthog at Weta in New Zealand," Taylor revealed, "because they had built one down there for the show they were going to do. They had done promo work for it when they were going to do it down there. And so when I was at Weta, I got on the Warthog. You weren't supposed to. I did it anyway."
Meanwhile, Kiki Wolfkill is one of the executive producers of the show who has been involved in the franchise on the video game side of things for years. As such, she's also been through her fair share of these stops and starts along the way. For her, it's the realization of something she thought might never see the light of day. Here's what she told us: 
"I think it's incredible to finally be here. I mean, obviously the process took a long time and I would say there are many, many days when I thought this day would never come, but the intent was always there. I would say the intent to bring the universe to life and live-action, the intent to really create a story that's focused on John and the Master Chief and his journey, and to develop characters in a way that's really hard for us to do in the game. So that intent was always there. It was the execution of it and lining up all the pieces that took a long time. But now that we're here and bringing the world to life, it's incredible."
As has been highly-publicized, the story at hand will simply deal with dramatizing a 26th century conflict between humanity and an alien threat known as the Covenant, and it will not be directly adapting any of the games. Fans will surely be of two minds about that, but one thing is still very much present: The Spartan soldier known as Master Chief, who is at the center of this epic sci-fi tale.
The man under the helmet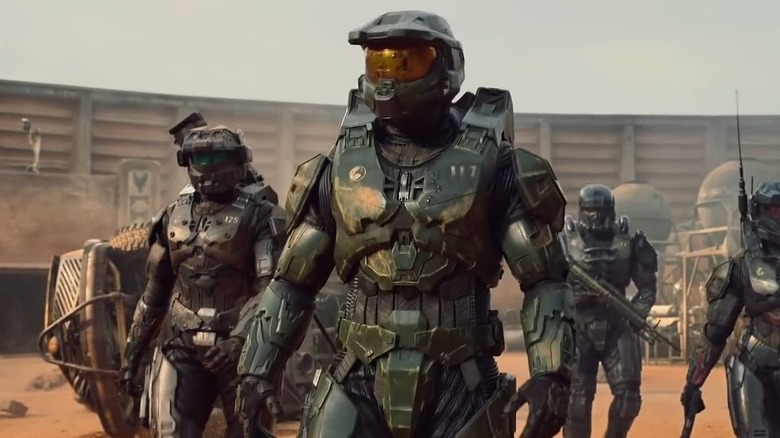 Paramount+
The task of bringing any iconic character to life is not an easy one. As for bringing Master Chief to the masses for the "Halo" show? That duty falls to Pablo Schreiber, star of movies such as "Skyscraper" and "Den of Thieves," as well as shows such as "Orange is the New Black" and "American Gods." But this time, he's truly front-and-center as the warrior through whom the action flows. Schreiber knows this role comes with baggage. In speaking to us, he said the following: 
"From the moment I got cast in this role, I knew that it was a big deal. I started to get a sense of how much this, the Halo universe, means to so many people and how much the character means to so many people. I mean, we've all played as the Master Chief when we play the game. There's this sense of ownership that a lot of people have over this character that I knew was going to make it an interesting dynamic in terms of how to adapt it for a TV show. And now, being on the cusp of releasing it and having everybody see the work that we've done, I'm really, really excited."
One major element of the character in the games is that he absolutely never takes his helmet off. However, the show won't be like "The Mandalorian," as Master Chief is indeed going to be taking off his head gear for the show. As Schreiber tells it, this was something they always knew was going to be a part of this iteration of "Halo" and is necessary for the story they are looking to tell. Schreiber explained the decision to us, saying: 
"Frankly, it's the only way to tell this story in long-form television format. The game was made as a first-person shooter, where you're meant to believe that you're the Master Chief. And so the character was kept vague for that reason. And you infuse the character with your own personality and your own subtleties. This is a TV show being made for long-term success. And in order to do that, you have to bring the audience along with you. And really the only way of doing that is seeing the face, knowing how the character's feeling about things. That's how you empathize with them. That's how you go along with them on the journey."
The actor also points out that "'Who is the Master Chief?' is kind of the big question that we're going to fill in the first season," and to do that, they felt having the helmet off was key. Again, fans of the games will surely have opinions about this, but adaptations like this are sometimes necessary when a project jumps to another medium.
The support team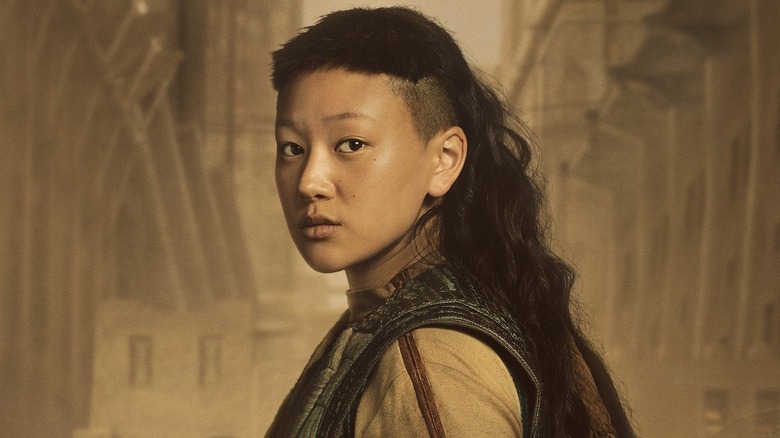 Paramount+
No man can move mountains alone, and Schreiber has quite a bit of company on this journey to bring one of the biggest games in the world to life. Aside from Taylor, who is helping to anchor the show to the games, one of the people joining Master Chief will be Yerin Ha, who was actually the first person to be cast for the series (ironically enough, Taylor was the final person cast). Ha plays Quan Ah, and amazingly enough, she got the job after responding to an open casting call she saw on Facebook. At the time, Ha was finishing up at the National Institute of Dramatic Art. Now? She's at the center of a globally recognized franchise. "It's a dream come true, really," Ha says. "I feel so privileged and blessed that I get to be part of something so special and loved. And I think 'Halo' has become such a massive phenomenon because of the amazing story that it tells, and the game, and everything that they explore through that."
There's also Dr. Catherine Halsey, played by Natascha McElhone of "The Truman Show" and "Designated Survivor" fame. "I do remember my husband playing 'Halo' years ago," she says, though she wasn't so sure about signing on for the show when it came across her desk. While the scripts evolved over time, it came down to the themes they would get to explore through "Halo" that convinced her to go on this ride. McElhone explained her decision to us like this: 
"I would get to explore all these themes that I'm so interested in, and that we'd be making intelligent sci-fi. That's an awful expression, but I mean, sci-fi that is interested in looking at the things that we don't yet know might exist ... different time scales, different timelines, different universes, different ways of living, trying to imagine what the future is. That's all in addition to the canon of the game and the characters that we get from that. And hopefully, the fans will come along with us, into our new explorations."
Olive Gray is also among those who are getting a chance to take the spotlight in "Halo." They had previously starred in shows like "Half Moon Investigations" but, to say the very least of it, this is the most high-profile project Gray has ever been a part of, taking on the role of Dr. Miranda Keyes. "I was so excited and still am so excited to be a part of this," Gray said. "I'm so conscious of the magnitude of what this game is and what this world is, and always have been because I grew up with my friends playing the game and being super interested in the game. So it was a big, big honor to get that call."
A vote of confidence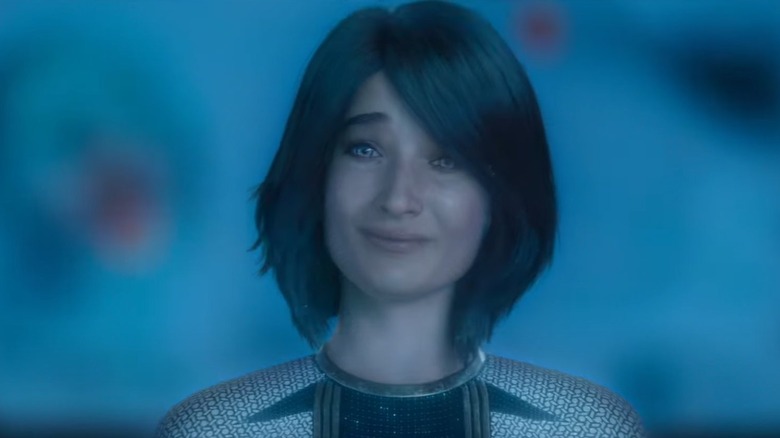 Paramount+
Paramount+ seems extremely confident in what they have with "Halo" — so much so that they handed out a season 2 renewal to the show before it even premiered, with filming set to begin this summer. On the one hand, the pressure is on to deliver the goods. On the other hand, it just ensures they have more runway to tell the story they're aiming to tell. Taylor spoke a bit about the expectations to us, saying: 
"It's hard to focus on expectation. That just kind of shuts you down. I think we're just trying to tell a really beautiful, basic, simple story, in a big world. Right? But mainly about humanity. I can only speak for myself, but to walk away with that notion, right? Of reclaiming one's humanity, discovering one's humanity and what that means. What does it mean to be a human? In this crazy situation, in this particular world?"
For Wolfkill, the season 2 renewal was great news, as the team will be able to take all of the lessons learned during the course of filming the first season and apply them to the sophomore run. Despite being exhausted, there is an eagerness on everyone's part to get back in the saddle. "I think as soon as we all finished season 1, we're exhausted and we're meeting like, 'Here's what we want to do for season 2. Here are all the things we learned,'" Wolfkill told us. "We learned a lot. 'Here are all the things we would do differently.' I think everyone was just sort of chomping at the bit to get going. Having that commitment now feels great and it's just exciting, 'cause we're just raring to go."
With a big-budget show in a high-profile franchise such as "Halo," the burden of expectations is great. There is an expectation that the show will attract subscribers, and that it can become a part of the larger pop culture conversation. For Schreiber, having this second season already ensured gives him extreme confidence that they will be able to break through the noise and become one of the best shows around, which is really saying something. Schreiber confidently told us the following: 
"It's the first time I've ever been involved in something that's been renewed before it airs, which feels like a great vote of confidence from Paramount+ to do that — double down before we even start. I couldn't be more excited for people to experience this season. But also, it just gives me great faith and confidence that we're going to be able to go into the second season really just trying to deepen everything. We're really telling a high-end story that could exist in any genre, let alone not just science fiction, not just a video game adaptation. The place I want it to be is in the high-end television realm, where it's competing with the best shows on TV, and we will get there. This is going to be one of the best shows on TV. I promise."
"Halo" premieres on Paramount+ on March 24, 2022.