Superhero Bits: Spider-Man: No Way Home Gag Reel, Daredevil Reboot Rumors & More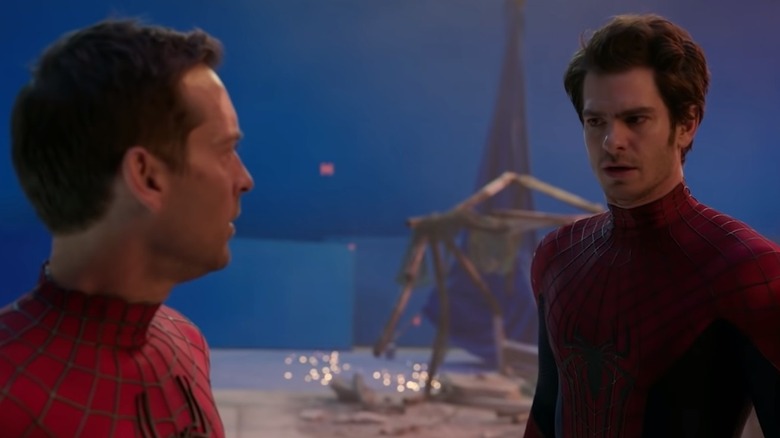 Sony Pictures
(Superhero Bits is a collection of stories, updates, and videos about anything and everything inspired by the comics of Marvel, DC, and more. For comic book movies, TV shows, merchandise, events, and whatever catches our eye, this is the place to find anything that falls through the cracks.)
In this edition of Superhero Bits:
Jane Foster returns as Thor in a new series from Marvel Comics.
"The Batman" HBO Max release date has seemingly been confirmed.
A "Daredevil" reboot may well be in the works.
The "Spider-Man: No Way Home" gag reel.
Vote on your favorite Spider-Man suit ever
Amazingly enough, 2022 marks 60 years of "Spider-Man" in the world and Marvel wants to know what your favorite look for the beloved superhero is. As such, they have launched a poll to determine what fans think is the hero's best suit over the years. Is it the classic blue and red suit? What about his black symbiote suit from "Secret Wars?" The Iron Spider perhaps? Cast your vote now! Those interested in having their voice heard can vote by clicking here.
The Flash Season 8 The Fire Next Time promo
Here is the official promo for the eighth episode of the eighth season of "The Flash" on The CW:
Barry (Grant Gustin) trusts his instincts during a murder investigation, believing the suspect, despite the overwhelming evidence against him, meanwhile Iris (Candice Patton) gives Allegra (Kayla Compton) an opportunity to be a mentor.
David McWhirter directed the episode, which was written by Joshua V. Gilbert.
Jane Foster & The Mighty Thor series announced by Marvel Comics
Natalie Portman is making her return to the MCU in this year's "Thor: Love and Thunder," and she will be picking up the mantle as our new Thor. Rather conveniently, Marvel Comics has announced a brand new series with Jane Foster at the center. As revealed by The Mary Sue, "Jane Foster & The Mighty Thor" is set to hit stands this summer, with Torunn Grønbekk on board to write, with Michael Dowling handling the artwork and Ryan Stegman doing covers. The synopsis for the book reads as follows:
When Mjolnir comes crashing through Jane Foster's apartment window, she fears the worst has happened to Thor. As Asgard's greatest enemies—including Hela, Ulik the Troll, and Enchantress—mount an assault on the Golden Realm, Jane must find Thor and save Asgard—even if that means she must once again risk her life to become Thor herself!
"Jane Foster & The Mighty Thor" #1 hits stands in June.
Is this when The Batman hits HBO Max?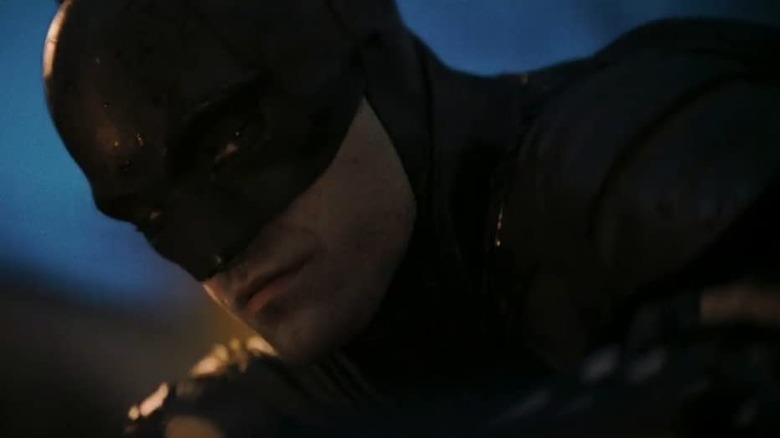 Warner Bros.
This needs to be taken with a grain of salt as it has been chalked up to a "tech glitch" within the Warner Bros. ranks. That having been said, it appears we now know when "The Batman" will be available to stream on HBO Max, as well as when it will air on HBO in broadcast. As noted by sites such as Yahoo, said glitch has revealed that Robert Pattinson's debut as the Dark Knight will be on HBO Max on April 19, with the movie set to air on HBO for the first time on April 23. This does line up with the previous 45-day exclusive theatrical window that had previously been reported, so it makes sense. But we should wait until we get definitive confirmation from someone within the studio's ranks.
The Defenders and Agents of S.H.I.E.L.D. get welcomed to Disney+
Disney+ fans recently got a deluge of Marvel content to enjoy as Netflix's loss was Disney's gain. "Daredevil," "Jessica Jones," "Luke Cage," "Iron Fist," "The Punisher," "The Defenders," and "Agents of S.H.I.E.L.D." are all now exclusively streaming on Disney+, and the above video serves as something of a welcome wagon for the fan-favorite shows. Now, whether or not this ends up leading to them joining the core MCU in the future remains to be seen but, for now, the shows are under the same roof as most of the rest of Marvel's movies and TV shows, which is undoubtedly convenient and sensible.
Did this No Way Home deleted scene tease more Spider-Men in the MCU's future?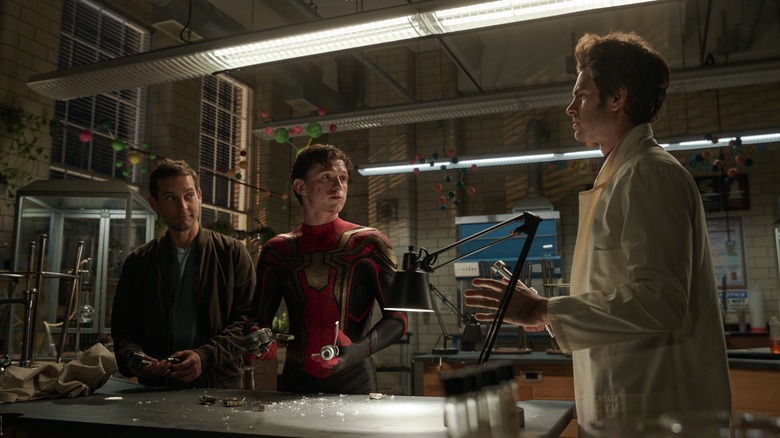 Sony Pictures
Recently, "Spider-Man: no Way Home" was made available to rent and purchase digitally and the home video release includes lots of bonus features, such as some deleted scenes. One of them, as noted by Heroic Hollywood, may have signaled the return of both Tobey Maguire and Andrew Garfield's Spider-Man in the future of the MCU. In the theatrical cut of the movie, as Tom Holland's Peter is saying goodbye to his fellow Peters, he says simply, "I'll see you." However, in an alternate take included on the home video release, the exchange sees Holland saying "I'll see you later." Garfield then replies, "You know where to find us."
Now, this was deleted for a reason and we don't want to read too much into this but it seems this iteration of the scene would have hinted at future appearances from the other Spider-Men. That having been said, given how much money "No Way Home" made it would be shocking if Sony isn't already trying to make other appearances happen.
The Batman Easter eggs
"The Batman" has been in theaters for a couple of weeks now and that means the world is easing up just a little bit in terms of spoilers. To that end, the folks at DC have put together a pretty comprehensive guide to Easter eggs that are scattered throughout director Matt Reeves' reboot of the franchise. Obviously, this is going to be littered with spoilers so only those who have seen the movie should check it out. But those who are interested can click the link in the tweet above and go Easter egg hunting.
A Daredevil reboot is reportedly in the works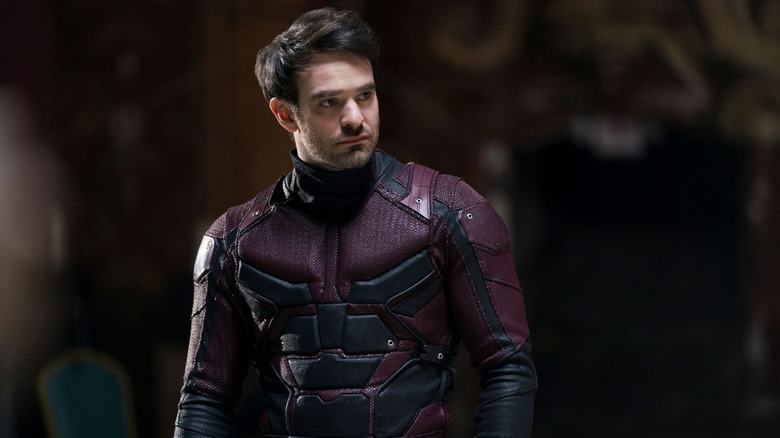 Marvel Studios
Don't get too excited/upset just yet but it seems that Marvel Studios may well have plans for "Daredevil." While there is very little by way of actual information at the moment, the often reliable industry publication Production Weekly has listed a "Daredevil Reboot" among the projects that are currently gearing up for production. There is no other information to go on at this time and it is worth pointing out that Marvel Studios and Disney have not confirmed this news. That having been said, with Charlie Cox appearing as Matt Murdock in "Spider-Man: No Way Home," this feels inevitable. And it feels highly unlikely that they would recast the role, so don't sweat that term "reboot" too much. Keep your eyes open as we'll be sure to bring more details your way as this situation evolves.
Spider-Man: No Way Home gag reel
Lastly, the folks at Sony have released a new gag reel from "Spider-Man: No Way Home." The video is relatively brief but it shows some behind-the-scenes footage of both the heroes and villains of the massive blockbuster having some fun while making the film. We see Jamie Foxx goofing around as Electro while doing some blue screen work, with Tobey Maguire and Andrew Garfield making one another laugh a few times. We can expect this and a great many more special features on the upcoming Blu-ray release, for those who are still into physical media. Be sure to check it out for yourself above.