The 15 Most Influential Horror Movie Stars Of All Time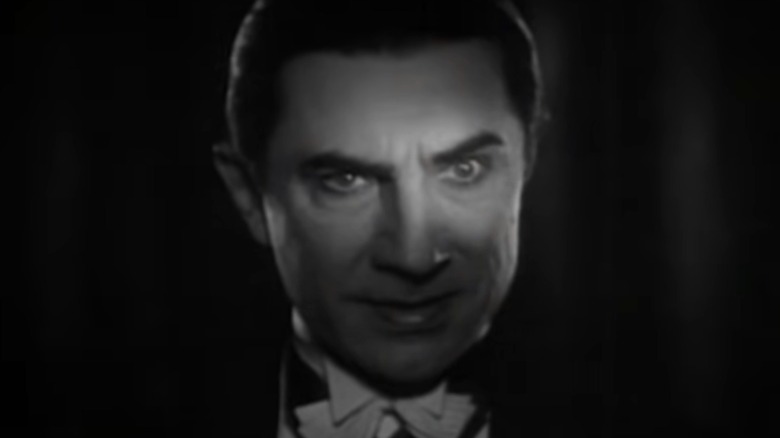 Universal
Some of the biggest movie stars have roots in horror movies. A typically low-budget genre, horror allows anyone and everyone to come play, have a good time, and potentially jumpstart their careers. From Johnny Depp in "A Nightmare on Elm Street" to Jennifer Aniston in "Leprechaun" to Kevin Bacon in "Friday the 13th," actors could get their feet wet on the silver screen, add a credit to their resume, and get eyes on their work. Many would move to other genres, leaving horror in the rearview mirror, but others would become influential figures for generations to come.
Since the silent era, horror films have unearthed our deepest, darkest fears. Whether it's the suffocating shadows of a Gothic castle or the motel down the road, stories come to life through the filmmakers' keen attention to detail and vision. The actors entice viewers into their world, allowing us to live vicariously through the events on the screen. If they do their jobs well, they became stars and help guide the horror genre to its next stage. As in the action genre, the stars drive the story through layered performances and often became intrinsically tied to their characters.
As we look back through history, here are our picks for the 15 most influential horror movie stars of all.
Jamie Lee Curtis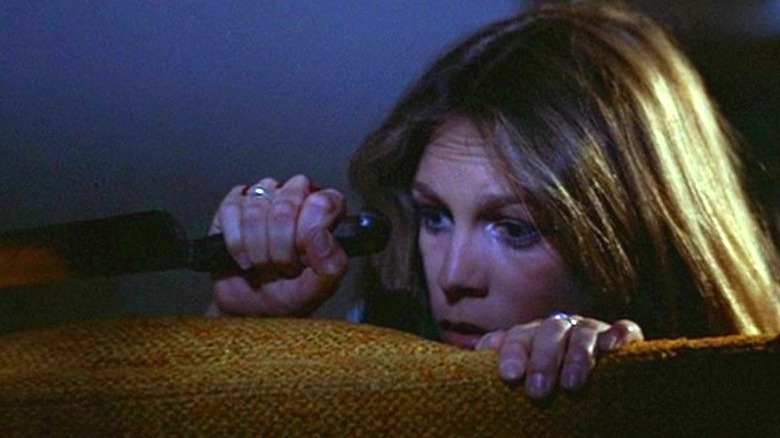 Compass International Pictures
When you think "scream queen," Jamie Lee Curtis instantly comes to mind. Aside from her iconic run as Laurie Strode in the "Halloween" franchise, this powerhouse actor has led countless other horror IPs, including "Prom Night," "Terror Train," "The Fog," and "Roadgames." Curtis imbues each terror-filled performance with enough emotional weight to counterbalance the scream-filled atmosphere. It's no surprise she's come to define the classic '80s slasher flick, and her influence on the long line of final girls in her wake is unmatched.
From Alice in "Friday the 13th" to Erin from "You're Next," a little bit of Laurie Strode appears in nearly every final girl role. There's also an element of transcendence in the character, which Curtis herself has confirmed. In discussing the 2021 release of "Halloween Kills," Curtis remarked how Laurie's arch-nemesis, Michael Myers, had "transcended on some level, but so has Laurie."
One could argue Curtis herself has transcended the horror genre. And I'm not talking about her genre-spanning repertoire, either. You simply cannot discuss influential horror figures without her, and generally speaking, the genre would not be the same without Curtis' immense contributions. She continues to empower women and the LGBTQ+ community onscreen and off.
Bela Lugosi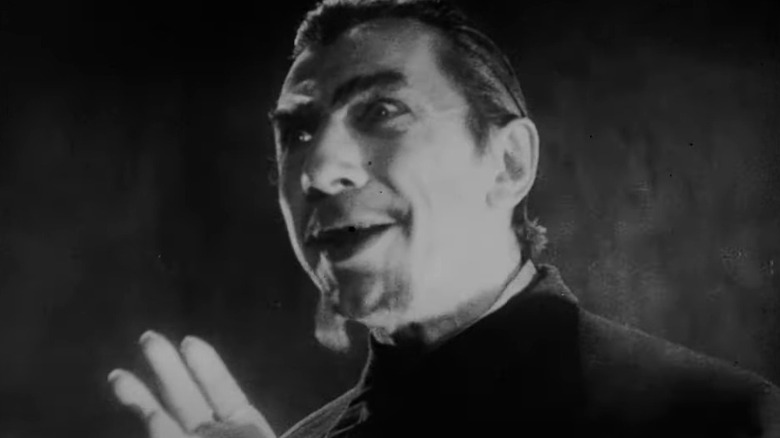 United Artists Corp.
Bela Lugosi is synonymous with Dracula. Initially, he took on the role in a 1927 Broadway adaptation of Bram Stoker's 1897 novel before moving to Hollywood and donning the cape in Universal's 1931 movie version. Directed by Tod Browning, the film was the first sound adaption of the source material and helped cement Universal as a trailblazer for horror cinema. "Dracula" was a blockbuster release and opened the floodgates for other Universal monster classics like "Frankenstein," "The Invisible Man," and "The Wolf Man."
Aside from the film's spooky imagery, Lugosi's performance is charming and sinister, enticing the viewer to suspend disbelief. Especially for the time, "Dracula" did things few other studios were willing to do. For his part, Lugosi completely changed the trajectory of horror. It's upon his shoulders all other iterations of the character, including Christopher Lee's turn in Hammer's series of "Dracula" films, rest.
Following his iconic performance as Bram Stoker's legendary vampire, Lugosi struggled against typecasting. He was often cast as a villain or mad scientist. Despite numerous other films, including "White Zombie," "The Black Cat," and "Son of Frankenstein," it's the indelible image of Lugosi as Dracula that endures. There's even a comic based on Lugosi's take on the Count. To this day, few actors have had such an impact as Bela Lugosi.
Brad Dourif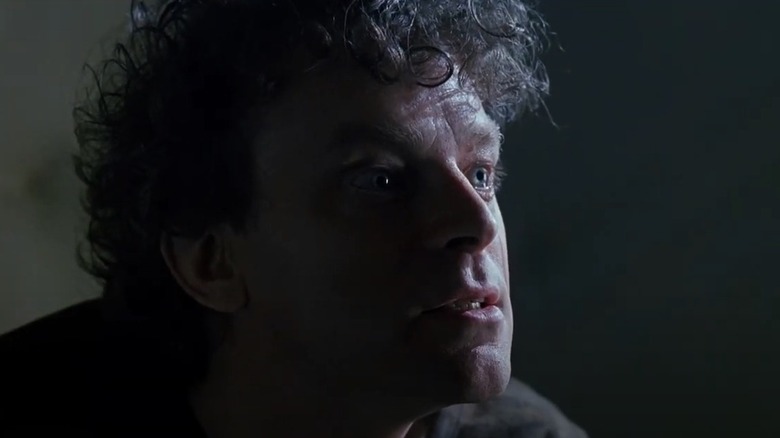 United Artists
Looking at the modern era, Brad Dourif easily makes the shortlist of influential horror actors. His performance as the voice of Chucky in the popular "Child's Play" franchise, which spans seven feature films and a TV series, walks a tightrope between laugh-out-loud hilarious and terrifying. The classic haunted doll story has been reinvented numerous times, from 1945's "Dead of Night" to Talky Tina in the 1963 "Twilight Zone" episode, "Living Doll," but none have witnessed such a long-standing legacy as Chucky.
"Chucky, at this point, is so famous. He's been part of the zeitgeist for 30 years, and the number of times Chucky is mentioned in famous rap songs you hear on the radio four times in an hour means he's a cultural reference point," Dourif's daughter Fiona has said. Dourif also referenced the bloodthirsty doll as "the ultimate coyote — which, in terms of American personas, is very much alive."
Dourif is also a skilled dramatic actor. His performance in 1975's "One Flew Over the Cuckoo's Nest," earned him a Golden Globe and an Oscar nomination. Despite his impressive resume, Dourif's legacy is very much wrapped up in the horror genre. Aside from voicing the killer doll, Dourif has appeared in many other important horror films, including "Body Parts," "Trauma," and "The Exorcist III." His pedigree also includes roles in Rob Zombie's 2007 "Halloween" remake and its sequel. If anything, Brad Dourif has forever perfected the killer doll archetype, and no one can surpass him.
Tony Todd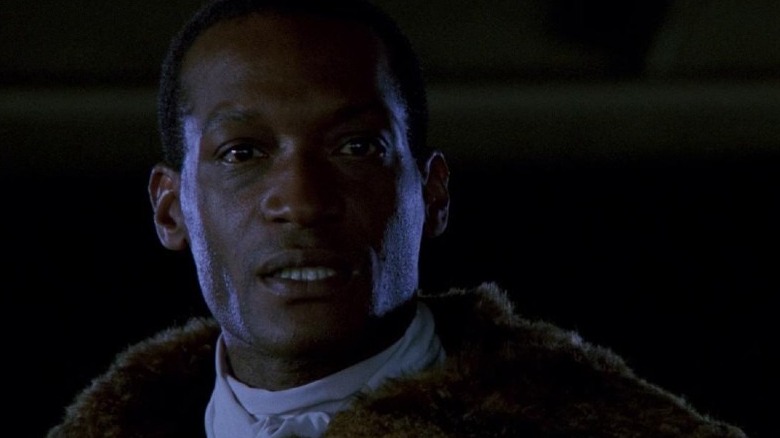 TriStar Pictures
Tony Todd's turn as Candyman, an urban legend that haunts Chicago's Cabrini Green housing project, is wildly menacing and among the greatest horror performances ever. Across four entries in the "Candyman" franchise, the actor has made horror history, earning a rightful place for his character alongside such slasher icons as Jason Voorhees, Freddy Krueger, and Michael Myers. Todd also starred in the 1990 "Night of the Living Dead" remake and several installments of the "Final Destination" franchise.
As evidenced by Shudder's 2019 documentary, "Horror Noire: A History of Black Horror," the importance of Black representation and visibility is indisputable. Throughout his career, the genre stalwart has portrayed both heroes and villains, taking great care to fully devote himself to his performances and showcase a wide breadth of complex characters. Todd's boldness and commitment to his craft are incredibly influential, leading the way for modern-day tastemakers like Jordan Peele and Nia DaCosta.
Anthony Perkins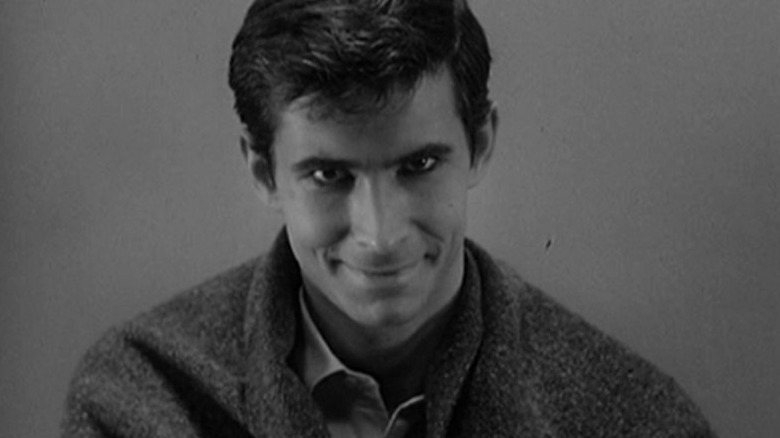 Paramount
The 1996 book "Split Image: The Life of Anthony Perkins" explores the dual life actor Anthony Perkins lived. While he never explicitly came out as a gay man, his sexuality was well known in Hollywood. As such, Perkins' role as Norman Bates in "Psycho" and its three sequels, including the 1990 made-for-TV "Psycho IV: The Beginning," is vital to cinema history. It's not only a magnetic, disturbing, and unforgettable performance, but it served as a lightning rod for representation for the LGBTQ+ community.
Before his "Psycho" days, Perkins had positioned himself as a dashing, romantic lead, taking impressive spins in "Fear Strikes Out" and "Tall Story." When Norman Bates came along, he faced typecasting and took an eight-year hiatus from making American films, finally returning in 1968 for "Pretty Poison." This led to a flood of other work, including roles in  "Catch-22," "Murder on the Orient Express," and "Mahogany."
Perhaps what stands out most with Anthony Perkins and his body of work is the complexity with which he balanced masculinity and femininity. Without conscious effort on his part, Perkins demonstrated that queer people could lead with force.
Robert Englund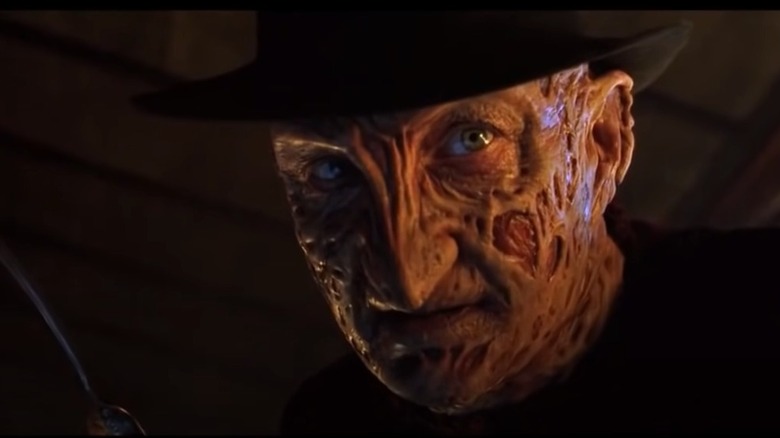 New Line Cinema
Robert Englund worked for many years as an actor in science fiction in such projects as "Galaxy of Terror," the TV miniseries "V," and its sequel "V: The Final Battle." Feeling the pressures of typecasting, he donned the razor glove for a little New Line Cinema film called "A Nightmare on Elm Street" in 1984. Through his landmark performance, he created one of the most iconic horror villains of all time, Freddy Krueger. With his snappy one-liners, demented laughter, and fondness for slicing up teenagers, Krueger changed the game for slasher films and the horror genre as a whole.
While "Halloween's" Michael Myers kicked off the initial wave of silent masked killers, including hockey-masked knock-off Jason Voorhees, Freddy upended conventions and expanded what you could do with the format. As the nefarious dream demon, Englund went on to star in seven sequels, including 1994's "Weds Craven's New Nightmare" and 2003's "Freddy vs. Jason."  He has also ventured outside the "Nightmare" franchise to appear in a slew of other horror essentials, including "Urban Legend," "Hatchet," and "Behind the Mask: The Rise of Leslie Vernon." 
While Englund reclaimed his razor glove in a 2018 episode of "The Goldbergs," he says his days of playing the iconic monster are behind him. "I don't think I'll ever don the makeup again," he initially said. Later, he walked back those remarks, claiming "I might have one left in me." Either way, his legacy is more than assured in the halls of horror.
Vincent Price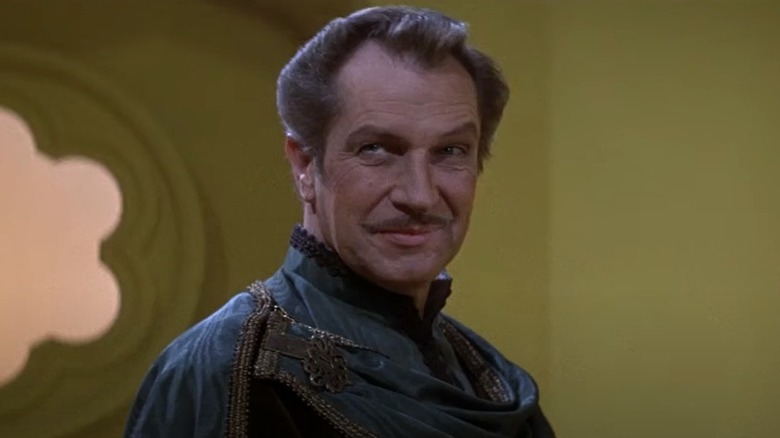 American International Pictures
In horror's classic era, few names are as recognizable as Vincent Price. Before becoming a genre legend, he had already built an impressive resume from his roles in such films as "The Song of Bernadette," "Laura," and "Leave Her to Heaven."  Although he played the title role in Universal's "The Invisible Man Returns," it was his performance in 1953's "House of Wax" as sculptor-turned-murderer Professor Henry Jarrod that put him on the horror map in a major way. The New York Times called Price's performance "monstrous." You can't get a better endorsement — even if the review is largely scathing.
Price went on to lead countless more horror films, most notably "House on Haunted Hill," "The Abominable Dr. Phibes," "The Pit and the Pendulum," "House of Usher," and "The Masque of the Red Death." Regardless of the role, Price had a natural presence that transcended the screen and endeared him to the audience. His daughter, Victoria Price, sums up his legacy best: "He did [things] with great joy, generosity of spirit; He always tried to give back everywhere he was. His sense of fun, in terms of how he moved through the world, was infectious."
Boris Karloff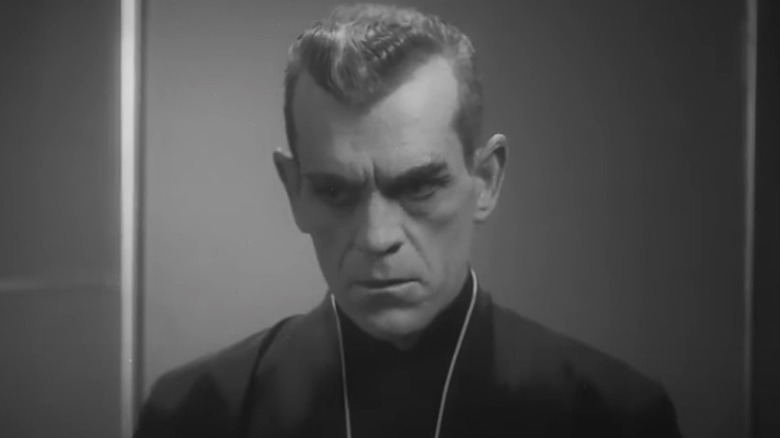 Universal
The Universal Monsters would not be quite the same without Boris Karloff's remarkable contributions as Frankenstein's monster in "Frankenstein," "Bride of Frankenstein," and "Son of Frankenstein." Upon cementing his horror icon status, the Indian-English actor went on to many other genre roles in such films as "The Old Dark House," "The Mummy," "The Body Snatcher," "Arsenic & Old Lace," and "The Black Cat." In 1966, he voiced the Grinch Dr. Seuss' "How the Grinch Stole Christmas!" — a performance that won him a Grammy for best recording for children two years later.
With the career-spanning documentary, "Boris Karloff: The Man Behind The Monster," fans get an even clearer picture of Karloff's tangible impact on horror and old Hollywood. In particular, his portrayal of Frankenstein's monster has influenced how performers approach other horror villains like Michael Myers and Jason Voorhees. Both characters borrow significant elements from Karloff's defining performance, including his slow, methodical pace.
In the trailer for the documentary, a brief soundbite captures Karloff's off-beat performance style, immense presence, and power with the public: "He was the consummate character actor. A character actor who became a star."
Kane Hodder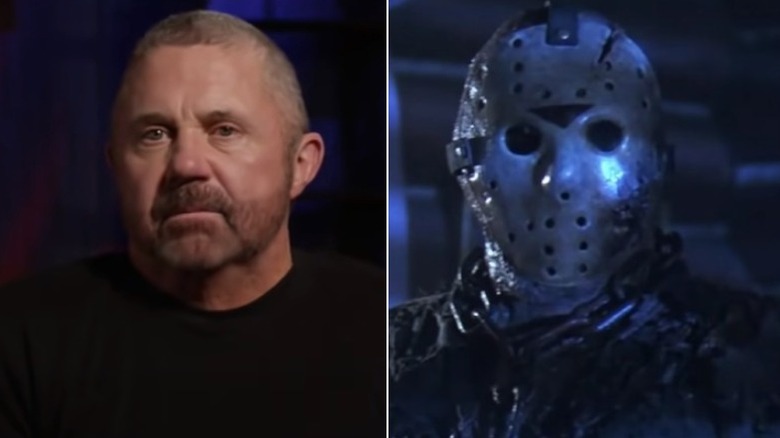 Epic Pictures Releasing/Paramount
If you regard Jason Voorhees as the modern equivalent of a classic monster, you wouldn't be terribly off base — especially in later "Friday the 13th" sequels in which Jason is resurrected from the dead as a zombie. His once clumsy gait is upgraded to a lumbering step. Many consider the best portrayal of Jason to belong to Kane Hodder, who donned the hockey mask in four films: "Friday the 13th Part VII: The New Blood," "Friday the 13th Part VIII: Jason Takes Manhattan," "Jason Goes to Hell: The Final Friday," and "Jason X."
Largely a stunt actor, Hodder also worked on "Leatherface: The Texas Chainsaw Massacre III," "Wishmaster," "The Devil's Rejects," and the "Hatchet" franchise. His resume is long for good reason. Hodder is a consummate professional, lending undeniable believability and credibility to the projects he undertakes. Few stunt performers can imbue their roles with as much feeling. Jason Voorhees never utters a word, but Hodder makes you feel the emotion in every single frame.
Lin Shaye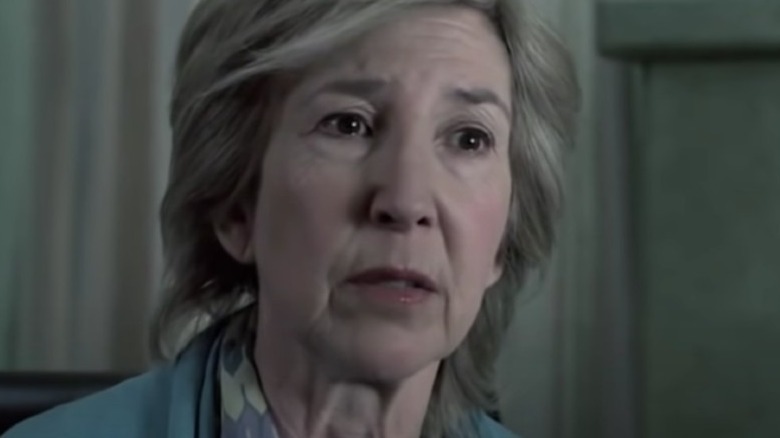 FilmDistrict
Lin Shaye might be the most unlikely pick on this list, but her status as a cult favorite grows by the day. Her decades-long reign as one of horror's most captivating performers began with "Alone in the Dark" back in 1982. Her role in that film as "Receptionist at Haven" started a historic career that includes parts in "A Nightmare on Elm Street," "Critters," "Dead End," "2001 Maniacs," "Tales of Halloween," and the "Insidious" series. She's been in numerous genre projects, making an impression even when she appears on screen for just a few minutes.
Whether she's hunting down ghosts, serving as the narrative force for a film's allegorical underpinnings, or simply screaming bloody murder, Lin Shaye delivers haunting performances that linger long after the movie is over. There's not a role she doesn't knock out of the park. As many others have proclaimed, she is the definitive Godmother of Horror.
Peter Cushing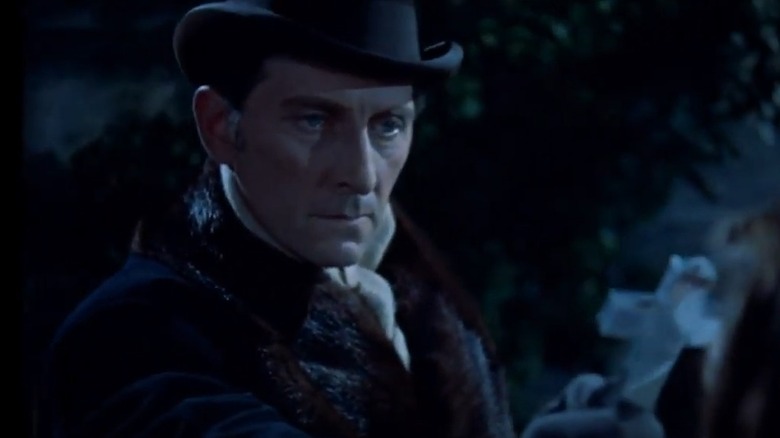 Universal
Peter Cushing's career spanned more than six decades, and his influence was not beholden to genre boundaries. In the horror sphere, he's most associated with the 1950s through the 1970s era of Hammer films, namely his roles as Victor Frankenstein in 1957's "Frankenstein," Van Helsing in "Horror of Dracula" and "The Brides of Dracula," Sherlock Holmes in "The Hound of the Baskervilles," John Banning in "The Mummy," and Dr. John Rollason in "The Abominable Snowman."
Outside of horror, he played Dr. Who in 1965's "Dr. Who and the Daleks" and 1966's "Dalek's — Invasion Earth 2150 A.D."  and Grand Moff Tarkin in the original "Star Wars." His resume also extended well into stage work, audiobooks, and various other art forms. There's little he did not accomplish in his lifetime.
His range as an actor was most admirable. A reviewer once stated of Cushing's performance in "The Curse of Frankenstein": "Peter Cushing gets every inch of drama from the leading role, making almost believable the ambitious urge and diabolical accomplishment." In an instant, he could chill your blood or make you cheer. Peter Cushing remains one of horror's most beloved stars.
Lon Chaney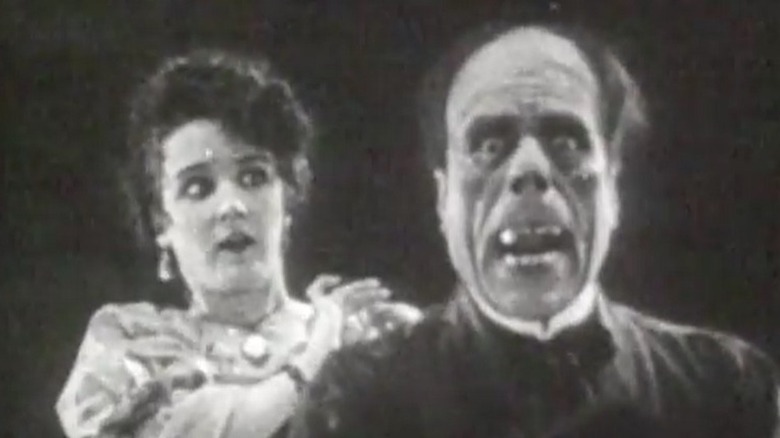 Universal
Lon Chaney is forever known as "The Man of a Thousand Faces." A prominent actor in the silent movie era, he could dramatically transform himself through his physicality and detailed expert makeup effects. He is best known for his roles as Quasimodo in 1923's "The Hunchback of Notre Dame" and the Phantom in 1925's "The Phantom of the Opera." Chaney, along with many other notable performers of the era like Buster Keaton and Clara Bow, laid the foundation for powerful visual storytelling during cinema's infancy.
His other considerable efforts include his roles as the Hypnotist in "London After Midnight," Fagin in "Oliver Twist," Tito in "Laugh, Clown, Laugh," and Blind Pew in "Treasure Island." The 1957 biopic, "Man of a Thousand Faces," starring James Cagney, attempted to reframe his legacy through a fictionalized exaggeration of his life and career. Nearly 100 years later, Chaney's influence on modern make-up and performance is still felt throughout the horror genre.
Christopher Lee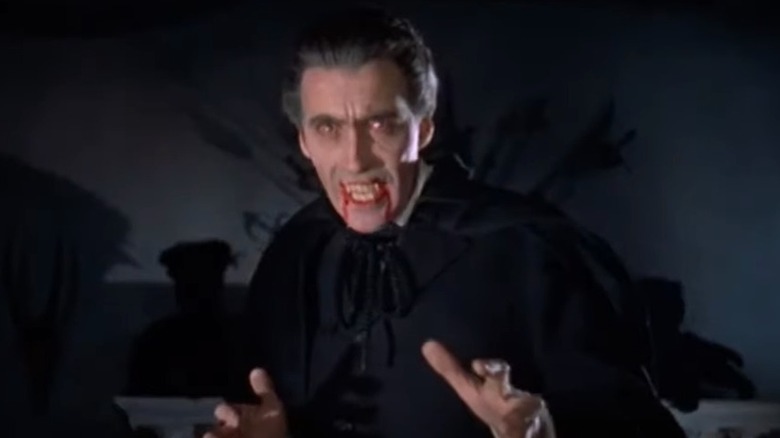 Universal-International
Another prominent fixture in classic Hammer horror films, Christopher Lee is best known for playing the bloodthirsty Dracula. The actor performed the iconic role in nine films, including 1958's "Horror of Dracula" with Peter Cushing, "Dracula: Prince of Darkness," and "Dracula Has Risen from the Grave." Bela Lugosi may have originated the role for film in the 1931 Universal movie, but Lee modernized the fanged villain for a new generation. Lee's portrayal of the vampire Count added an air of romanticism to the role.
Lee also took on roles in "The Curse of Frankenstein," "The Hound of the Baskervilles," "The Wicker Man," and "Return from Witch Mountain." Through the next several decades, he continued to work steadily. After the turn of the Millenium, he went on to star in several "Star Wars" films and "The Lord of the Rings" trilogy. His body of work makes him an easy pick for this list. The boldness of his electric and incredibly nuanced roles changed horror filmmaking forever.
Barbara Crampton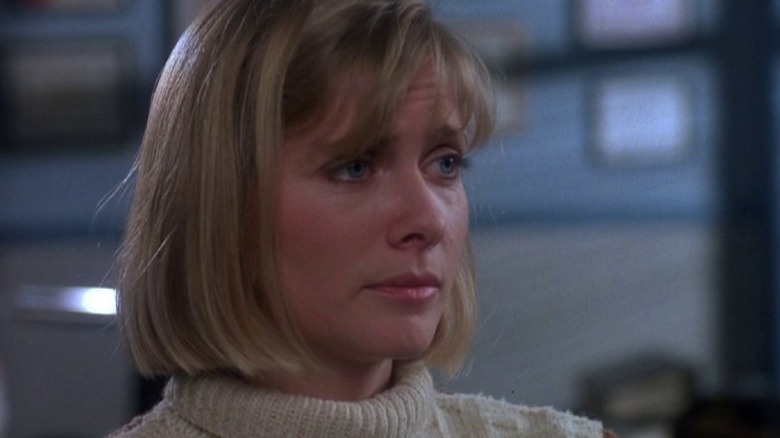 Empire Pictures
The 1980s horror scene would not be the same without Barbara Crampton. Her influence is due largely to such defining '80s classics as "Re-Animator," "From Beyond," and "Chopping Mall." These schlocky, low-budget terrors gave Crampton a legacy few others have. Her roots are in daytime soap operas, including "Days of Our Lives" and "The Young & the Restless." Later, she took on several other horror projects such as "Puppet Master" and "Castle Freak." 
Crampton then went on an involuntary hiatus. Fortunately, she made an epic comeback in 2011's "You're Next," and that opened the floodgates for a bonafide Barbara Crampton Renaissance. In the next decade, she starred in "We Are Still Here," "Tales of Halloween," "Little Sister," "Puppet Master: The Littlest Reich," "Superhost," and "Jakob's Wife." 
Her work bucks the restrictions that are so frequently placed upon women in film. Historically, as women age, roles shift from the leading ingenue to matriarchal figures. Instead, Crampton has gone against expectations and defined her career on her terms. 
Adrienne Barbeau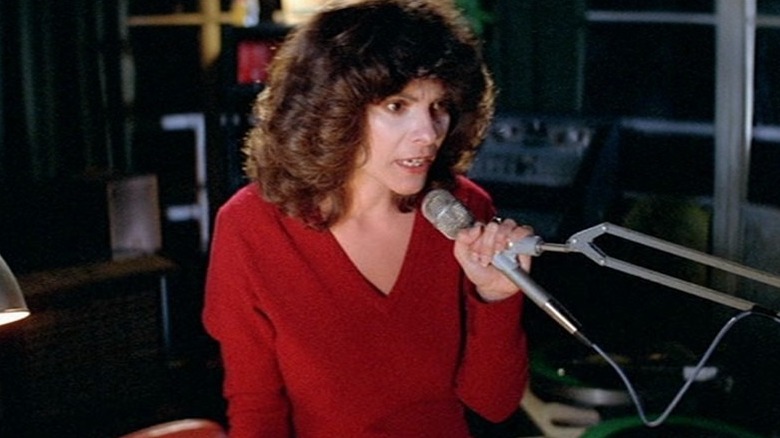 AVCO Embassy Pictures
Adrienne Barbeau came to prominence in the 1970s, co-starring in the hit television series "Maude" with Bea Arthur and originating the role of Rizzo in "Grease." Later, she transitioned to horror films, kicking things off with two John Carpenter films: "The Fog" in 1980 and "Escape from New York" in 1981. In 1982, she made a memorable appearance in "Creepshow," George A. Romero's team-up with author Stephen King.
Her career took another turn in the '90s when she voiced Cat Woman in "Batman: The Animated Series." She continued carving out a solid TV career for herself throughout the aughts and well into the 2010s, appearing in "Gotham Girls," "Carnivàle," and "General Hospital," and in guest spots on Shudder's revamped "Creepshow" series, "American Horror Stories," and "Cowboy Bebop."
Her work may not be as extensive as some of the other names on this list, but her influence on horror films as a female presence is substantial. Much like Sigourney Weaver and Jamie Lee Curtis, Adrienne Barbeau invites audiences to see women as badass, genre-defiers who can conquer the world.