/Answers: Our Favorite Character Actresses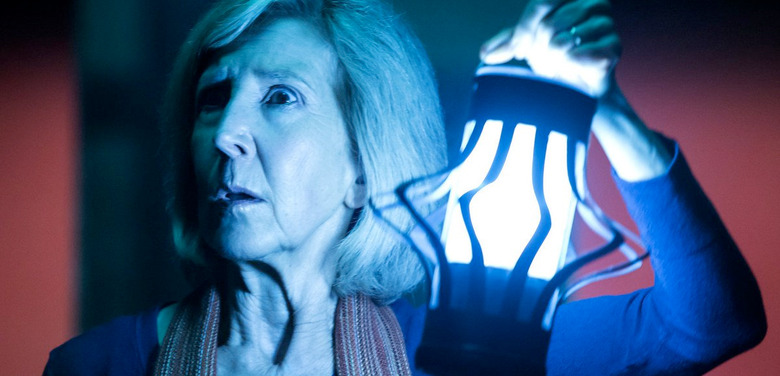 Every week in /Answers, we attempt to answer a new pop culture-related question. In this week's edition, we celebrate Insidious: The Last Key and the series' unlikely star, the great Lin Shaye, by asking "Who is your favorite character actress?"
Matt Donato: Lin Shaye
Today's "answer" was an easy one because even though Lin Shaye's role in Insidious: The Last Key influenced this week's column, she is an obvious choice. A 42-year career that started with "Whore" in Hester Street is now a longstanding horror genre legacy. She's done slashers with Wes Craven and comedy with the Farrelly brothers; played Eleanor Roosevelt (FDR: American Badass!), Helen Keller (Helen Keller vs. Nightwolves), and "Teacher" (A Nightmare On Elm Street). Is there a performance she can't deliver?
With seriousness, Lin Shaye has made a career out of hunting ghosts, creeping out audiences and acting her way into a brand of cult status reserved for the likes of Danny Trejo or Jennifer Coolidge. She's notched 197 credits to date, from the smallest bit-parts to leading endeavors like, yes, Insidious: The Last Key. She can flip a switch from comforting granny to psychopathic meltdown at the drop of a sewing needle, unafraid of the madness she might cause. Shaye casts such a warm aura, which explains why she chameleons so well into dark genre projects (and lighter comedies).
Today's audiences might know her best as Insidious' Elise Rainier, but my favorite exemplification of Shaye's talent has been Dead End ever since I watched it this past December (as part of my massive Christmas horror rank-up). In the film, she gets stuck on an unending road with her doomed family and loses her marbles. Highlights include Shaye shoving her face with crumbly snacks at a disgusting pace, wholly desensitized by the death of her son. If you want a masterclass in horror character acting, look no further than this wintery time-loop paradox. Shaye is a wacko mastermind, even besting her on-screen counterpart played by Ray Wise.
I'm "the horror guy," so of course my favorite character actress has seen her share of death and bloodshed. Lin Shaye is  a mighty powerhouse when it comes to playing the exact part needed. Do yourself a favor. If Insidious is your only knowledge of this Dame of Damnation, burn through her catalog. It might take a while, but you'll understand why every indie director and their brother wants the name "Lin Shaye" in their credits.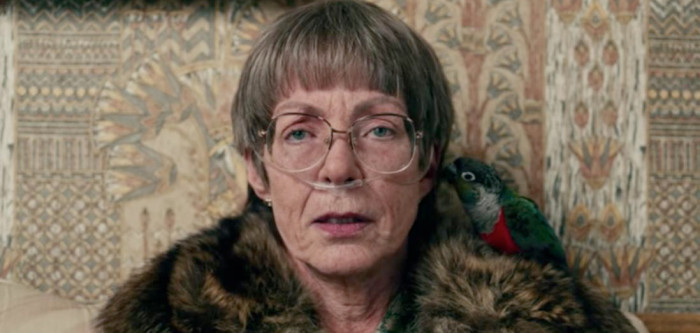 Ethan Anderton: Allison Janney
You'd be hard-pressed to find a more decorated, hard-working character actress than Allison Janney. Her career really took off with her consistently Emmy-winning supporting role on Aaron Sorkn's hit political drama The West Wing, and ever since then she's disappeared into a variety of characters in both film and television. In the past decade alone, she's appeared in an average of five movies every single year, not to mention guest starring on several TV shows and starring in the CBS comedy series Mom, for which she also earned several Emmy nominations.
Janney's big screen work has seen her play the romance novel writing principal of Padua High School in 10 Things I Hate About You; Maya Rudolph's obnoxious, inappropriate former boss in Away We Go; the prim, proper and quirky mother of Amanda Bynes in Hairspray; the Weimaraner-loving Bren MacGuff in Juno; the gossipy, foul-mouthed neighbor Betty in The Way Way Back; Melissa McCarthy's blunt agency boss in Spy and a sharp detective and the only sensible character in The Girl on the Train.
But this year Janney turned in what just might be her best performance to date as LaVona Golden, the mother of figure skater Tonya Harding in this year's awards contender I, Tonya. As the tough, rude, cold and abusive coach to her daughter, Janney turns in a relentlessly rough performance leaving room for little to no redemption. While Janney has consistently made characters similar to LaVona Golden at least somewhat likeable, she gives no such leeway here. It's the kind of role that will likely land her an Oscar nomination.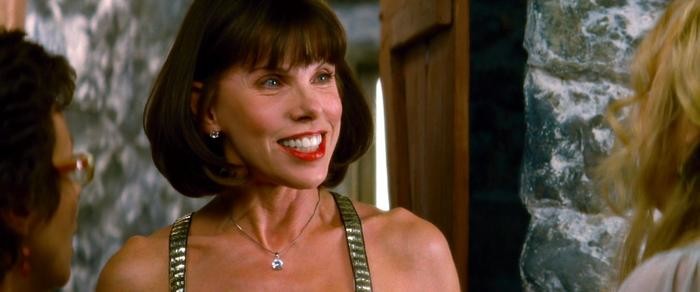 Vanessa Bogart: Christine Baranski
From the disturbingly peppy Camp Chippewa counselor in The Addams Family Values to the sympathetic reporter Mary Sunshine in Chicago, Christine Baranski has played a part in some of my favorite films. She delights on stage and screen with enough charisma and class for ten leading ladies. She describes her own career as being one of, "great one-liners and great clothes," and really, what more is there to life than that? Whether she is playing a judgmental mother to a Bad Mom or an ABBA singing cougar in Mamma Mia, she disappears into every character. She is believable every step of the way. Having studied at Julliard, and working on and off Broadway, Christine Baranski floats in and out of roles on stage and screen with an ease that is equal parts professionalism and unquestionable talent.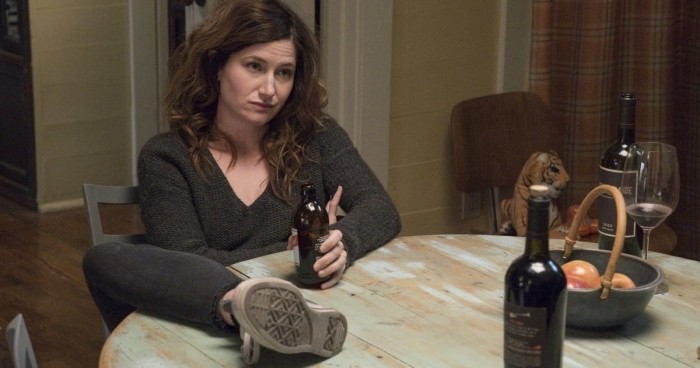 Chris Evangelista: Kathryn Hahn
Give Kathryn Hahn all the roles in all the movies, please. Hahn's profile has risen quite nicely recently, thanks to stand-out roles in the multiple (how are there more than one?) Bad Moms films, and also her lead in the Amazon series I Love Dick. Before that, however, Hahn appeared mostly in supporting roles, yet no matter how small the part, she always killed it. With a knack for dry, droll wit coupled with sudden brashness, Hahn is a character actress who is adroit at both laugh-out-loud comedy and introspective drama. It's the comedy she's most-known for, though, and with good reason. Hahn appeared late in Parks and Recreation's run in a recurring role, as no-nonsense political operative Jen Barkley. With her limited screen time, Hahn delivers one hilarious line after another in her patented blunt way. Few comedic moments have ever made me laugh more than when Hahn, as Barkley, delivers the line, "I'm gonna go spend my time doing exactly what I want to do because I don't have children."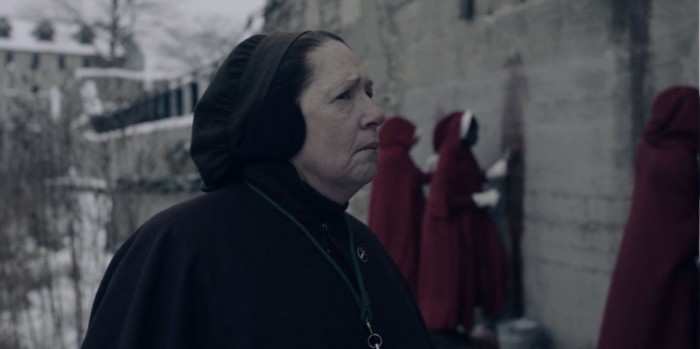 Hoai-Tran Bui: Ann Dowd
Ann Dowd had been plodding away in often thankless, but solid roles, on television for nearly 30 years before she earned her Emmy-winning breakthrough performance as the menacing Aunt Lydia in The Handmaid's Tale. And it's about time. Dowd has long been an unseen talent on the periphery of middling-to-great TV series for years, but the one-two punch of her awards-nominated roles in The Leftovers and The Handmaid's Tale have put her in the spotlight. Dowd is an indomitable force in The Handmaid's Tale, alternately tender and terrifying as the woman in charge of subduing the young women into embracing their new fates as walking wombs. Every word that Dowd lacerates Elisabeth Moss' June and her fellow handmaids with stings just as much as the cattle prods with which she abuses them. She's brusque, severe, and virtually unrecognizable in the role, as Dowd is usually cast in matronly supporting roles.
But Dowd is not unfamiliar with unsettling characters. Though 2017 was Dowd's year, one of her most powerful performances flew relatively under the radar in 2012, with Compliance. She accumulated some Oscar buzz for the role of a fast food restaurant manager who unwittingly puts an employee through disturbing and invasive search procedures, but not enough can be said about Dowd in this film. She delivered a complex, distressing performance in the film, which elevated the thriller from playing out as a glorified social experiment. It was perhaps the closest to a central role in a film that the actress has gotten in her decades of work — though that may soon change with the stellar year that she just experienced.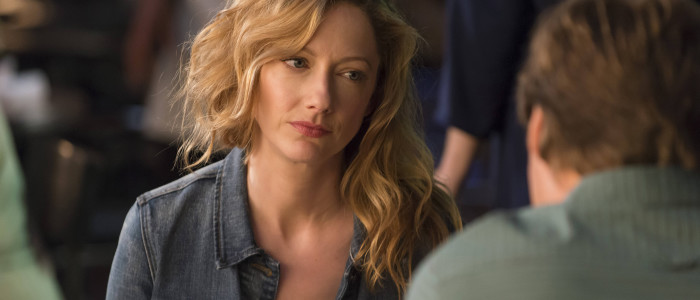 Ben Pearson: Judy Greer
When it comes to character actresses I'm consistently happy to see whenever they pop up in a movie, Judy Greer tops the list. She slips effortlessly between genres, breezing her way through romantic comedies and doing her damnedest to leave a mark in some of the world's biggest blockbusters (Jurassic World, Ant-Man). She's also supremely talented at voice acting, proving to be an essential part of the audio landscape of TV shows like FX's Archer. Her comedy work is outstanding (Arrested Development and a brief role on It's Always Sunny are my personal favorites), but she's equally capable of delivering solid dramatic performances as well. Not only that, but she's disappeared entirely and brought humanity and warmth to the personality of an ape through her motion capture performance in the Planet of the Apes trilogy. Greer has it all – range, depth, humor, pathos – and if she never gets a starring role that takes her career to an entirely new level, the rest of the movie world will benefit from the fact that she's always around, popping up in unexpected places and doing constantly solid work all the while.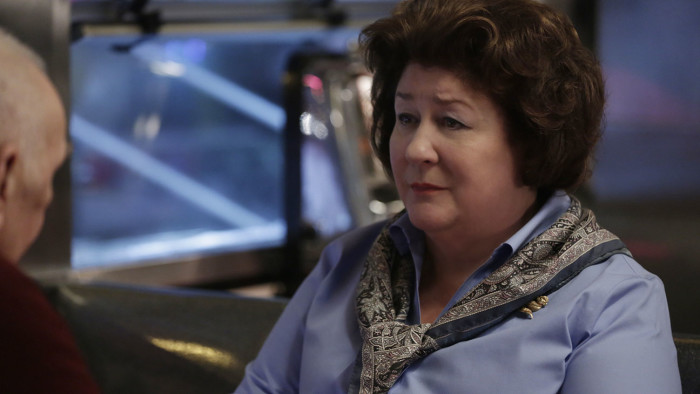 Jacob Hall: Margo Martindale
Margo Martindale looks like a midwestern American aunt and that may be the key to her success as an performer. While she rarely headlines any movies or TV shows, she has found a way to weaponize her "ordinariness." You look at Martindale and you see a person, not an actress. Of course, this means she has played a lot of loving familial figures over the years (and she's quite good at that). But other projects have seen her gleefully play against type. As a crime boss in Justified and a Russian agent in The Americans, she proved that villains and spies don't have to look like movie stars...and they're more effective when they don't. Of course, Martindale has been so good for so long that BoJack Horseman has transformed her into a recurring character who is a celebrated character actress and a deranged criminal mastermind. Quite frankly, Margo Martindale can do anything.