Robert Englund Returning As Freddy Krueger For An Episode Of 'The Goldbergs'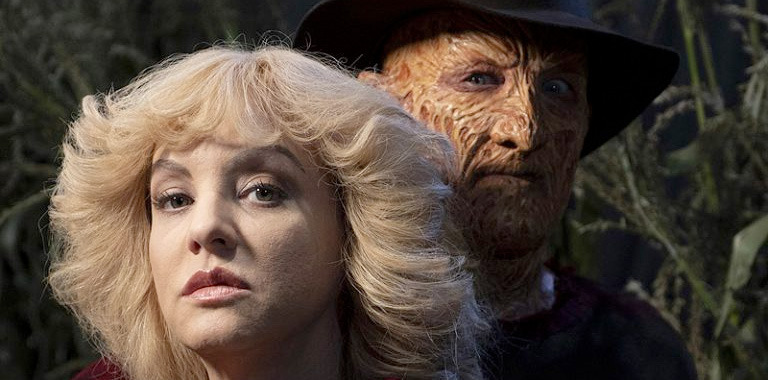 Before the summer break, the ABC comedy series The Goldbergs got a visit from a certain big-headed parody of Darth Vader in an episode that paid homage to Spaceballs, complete with a voice cameo from Rick Moranis as Dark Helmet himself. Now the show that waxes nostalgic about the 1980s will be paid a visit by an icon from the horror genre just in time for Halloween.
Robert Englund, who has portrayed the sharp-gloved, severely burned dream stalker Freddy Krueger in the Nightmare on Elm Street franchise, will reprise the famous role in the Halloween-themed episode coming this October.ABC News announced the guest star role for Robert Englund, who has played Freddy Krueger for decades in movies, TV specials, commercials and more. It will be the first time he's played the character in 15 years with his last appearance being in Freddy vs. Jason in 2003. The announcement came not only with the photo above, but this video featuring Goldberg matriarch Beverly (Wendi McLendon-Covey) hanging out with Freddy on set:
#TheGoldbergs Halloween episode this year is going to be a NIGHTMARE! @RobertBEnglund will guest star as the one and only Freddy Krueger! pic.twitter.com/JduaQYqeiP

— The Goldbergs (@TheGoldbergsABC) September 21, 2018
The episode will be appropriately called "A Nightmare on Elk Avenue," which is where The Goldbergs live. The youngest member of the family, Adam (played by Sean Giambrone), gets a little scared after seeing A Nightmare on Elm Street in theaters. The film famously hit theaters in 1984, but The Goldbergs has played pretty fast and loose with the 1980s timeline when it comes to the availability and presence of certain pop culture staples. That's why the show always acknowledges the time in which a certain episode takes place as "1980-something."
Details on Robert Englund's exact involvement haven't been revealed, but I think it's safe to say that much like Freddy Krueger's role in the movies, he will be haunting Adam's dreams and turning them into nightmares. The question is whether Robert Englund will also make an appearance without all the scary make-up, something he did as the series continued and became more and more meta in later installments.
Will The Goldbergs ever run out of 1980s movies and TV shows to reference? How long before they have to start digging into more obscure titles? With five seasons under their belt, they've already hit a lot of the major titles, but they're still going strong.
The sixth season of The Goldbergs premieres on September 26 at 8pm ET on ABC, but the Halloween episode featuring Freddy Krueger won't be airing until sometime in October. If you're behind on the series, or you're interested in picking it up, every single season is available on Hulu right now.