In The Wake Of Florida's Don't Say Gay Bill, Disney Employees Say No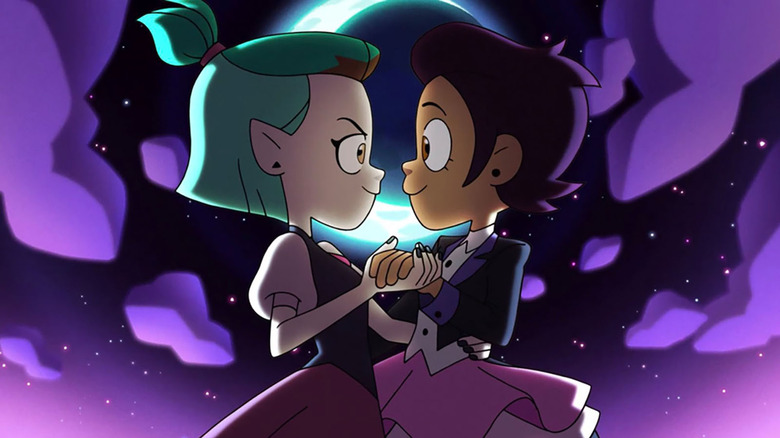 Disney+
All anonymous employees quoted in this piece will be referred to with gender neutral pronouns but may identify with other pronouns in their daily lives. This is an intentional decision to protect their identities, and not an act of misgendering. All anonymous employees have given their expressed permission to be identified in this way.
When fast-food chain Chick-fil-A's history of funding anti-gay legislation and charities was made public, many LGBTQIA+ people and allies swore off the pickle-brined chicken sandwiches for good. When Spotify doubled down on the massive controversy surrounding their platforming of Joe Rogan, high-profile artists pulled their music catalogs and users suspended their premium subscriptions.
The Walt Disney Company recently came under fire for not only contributing nearly $200,000 to the Florida Republicans behind HB 1557, the hateful "Don't Say Gay" bill, but for not denouncing the bill until after it had already passed both the Florida House of Representatives and Senate. Almost immediately, there were calls for boycotts and unsubscribing from the Disney+ streamer, but as anyone who works in the industry can tell you, it's not that simple when you're dealing with the most powerful entertainment conglomerate in the world.
As a quick reminder, The Walt Disney Company also owns Lucasfilm, Marvel Studios, 20th Century Studios (including the catalog of 20th Century Fox, Searchlight Pictures, Fox 2000 Pictures), Walt Disney Animation Studios, Pixar Animation Studios, 20th Century Animation, ABC, Hulu, Freeform, FX Networks, National Geographic, The Muppets Studio, It's a Laugh Productions, 80% of ESPN, 50% of A+E Networks, and the catalogs of Buena Vista Pictures, Touchstone Pictures, Hollywood Pictures, and this is just scratching the surface. Boycotting Chick-Fil-A is as easy as driving to a different restaurant. Boycotting Disney is like trying to remove sugar 100% from your diet — that s*** is in everything.
The backlash was immediate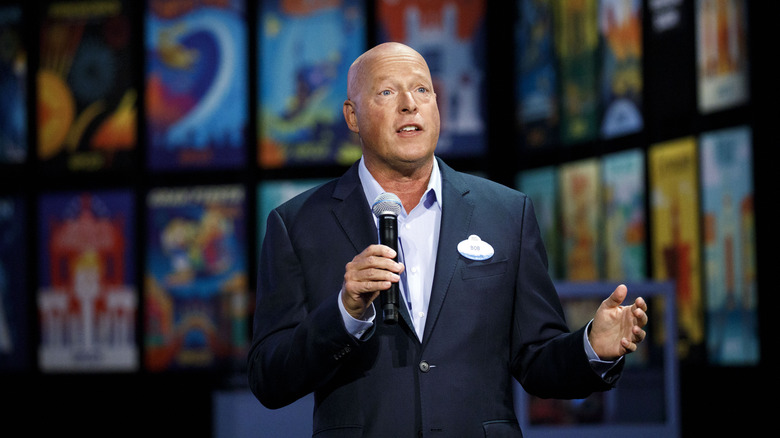 Bloomberg/Getty Images
When it was made known that Disney had given financial donations to Florida Republicans who backed the "Don't Say Gay" legislation, fans and employees alike immediately took Disney to task for their silence. Disney CEO Bob Chapek sent out a company-wide email trying to defend their initial silence, bringing up previous financial donations to LGBTQ+ organizations and claiming, "The biggest impact we can have in creating a more inclusive world is through the inspiring content we produce, the welcoming culture we create here and the diverse community organizations we support, including those representing the LGBTQ+ community."
Disney animation writer Benjamin Siemon posted a series of impassioned videos on Twitter, rightfully calling out the company for their inaction. Make no mistake, Siemon's decision to speak out against Disney is an act of bravery, because making an enemy out of the House of Mouse is the entertainment equivalent of trying to pick a fight with Zeus atop Mount Olympus, and not the animated-camp version voiced by Rip Torn.
"It's really scary to work in a place where you can tell that somebody has just chosen business interests over the ethics of caring for their employees and the audience they claim to support," an employee under the Disney umbrella shares with me anonymously. "I don't believe Disney is pro-Don't Say Gay, I think they're just opportunistic," they continued. The employee spoke highly of their work environment but believes Disney funds these politicians because it's better for their bottom line. "And if those people happen to also hate gay people or trans people, that's a devil's bargain they're willing to make, and it's just really demoralizing."
What the bill actually prohibits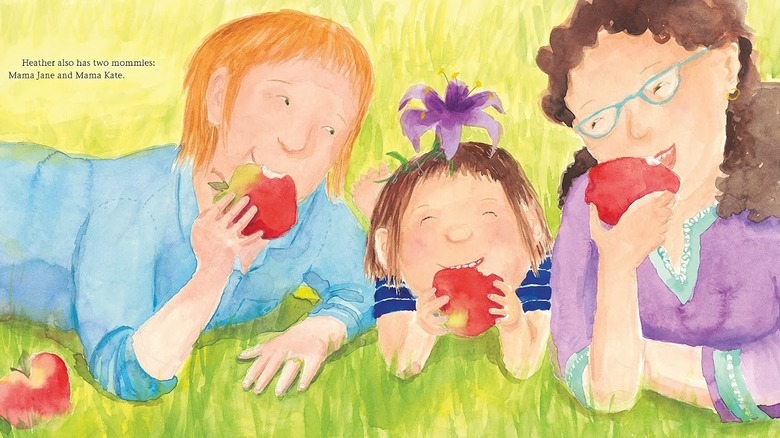 Alyson Books
The bill specifically notes that it bans public school districts from teaching about sexual orientation or gender identity in kindergarten through the third grade, or "in a manner that is not age-appropriate or developmentally appropriate for students." That last part is crucial, because it indicates that the ruling could extend to grade levels beyond third grade. The phrasing of "age-appropriate" or "developmentally appropriate" is also concerning, because this determination is completely subjective. During a Senate hearing on February 8, 2022, Republican Senator Travis Hutson used an example of a mathematical story problem that included the anecdote that "Sally has two moms or Johnny has two dads." Fellow Republican State Senator Dennis Baxley, who sponsors the bill in the Senate, said that is "exactly" what the bill aims to prevent.
Quick reminder the origin of the "Don't Say Gay" bill was an old man thinking "there's too many gay kids" & the bill is meant to stop kids from coming out. He said so himself. It wasn't designed to solve any existing problem except that we exist. Shouldn't be hard to condemn.

— Benjamin Siemon (@BenjaminJS) March 10, 2022
On the literal flip side, State Rep. Joe Harding, a Republican who introduced the bill, stated the complete opposite during a Twitter conversation with Amanda Deibert, a writer for "He-Man and The Masters of The Universe" on Netflix and the comic "DC Superhero Girls." Deibert and her wife, comic book illustrator Cat Staggs, have both openly spoken out against the bill, with Deibert noting, "My child and all her friends know she has two moms ... if you think it is about sex or sexually inappropriate for a child to know our family exists, the sick person is YOU." Deibert asked Rep. Harding directly if the bill limited a teacher reading a book about same-sex parents in an elementary classroom, to which Harding replied, "No ma'am." This means Florida congress members voted on a harmful piece of legislation with language so vague, supporters aren't even on the same page of what the bill can actually prohibit.
Sorry, Disney, but art is political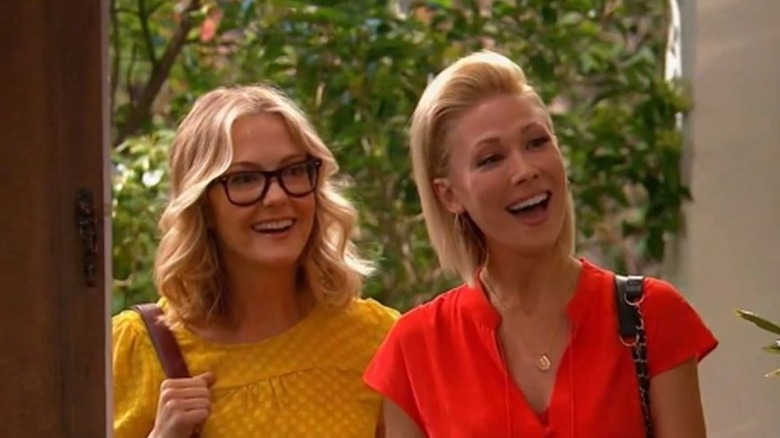 The Disney Channel
"As we have seen time and again, corporate statements do very little to change outcomes or minds," Chapek said in the first company memo. "Instead, they are often weaponized by one side or the other to further divide and inflame." He continued, "Simply put, they can be counterproductive and undermine more effective ways to achieve change."
Siemon again took to Twitter to debunk this statement, saying, "In 2016, Disney made a very public bid against Georgia passing a hateful bathroom bill and it killed it, but we didn't do that here." Disney did the same in 2019 regarding a strict abortion law as well. Chapek's desire to not get caught up in the middle of a political controversy backfired, to put it kindly, and went against Disney's established practice of speaking out.
"What Disney makes is political ... all art is inherently political," an anonymous employee tells me. "What stories we choose to tell, what stories we don't tell, that's a political statement."
Chapek seemed to believe that staying silent would be taking the middle ground, but as Desmond Tutu so famously said, "If you are neutral in situations of injustice, you have chosen the side of the oppressor." The safety and fair treatment of the LGBTQIA+ community is not a "political issue," and treating it as such is, frankly, disgusting. This alleged "middle ground" is not just a disservice to the current employees and audiences, but to the very foundation of what has allowed Disney this massive position of power in the first place.
Queer creatives and fans are at the foundation of Disney's success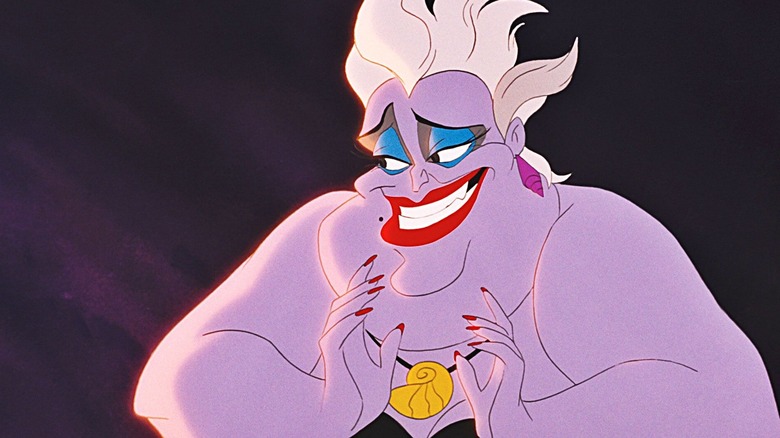 Walt Disney Productions
Chapek's first memo included a laundry list of films Disney has put out, and the statement, "These and all of our diverse stories are our corporate statements — and they are more powerful than any tweet or lobbying effort." Ignoring the fact that singing a song from "Encanto" isn't going to magically make this legislation disappear, this refusal to denounce the hurtful legislation is a slap in the face to the queer creatives and fans who kept Disney from going belly-up in the years known as The Disney Renaissance. Namely, Howard Ashman, the very man Roy E. Disney described in the "Waking Sleeping Beauty" documentary as "Another Walt." Had it not been for the brilliance of Howard Ashman, an openly gay man who unfortunately died due to complications from HIV/AIDS, the Disney empire we know today would not even exist to show this level of disrespect. 
As far as fans are concerned, film critic Leigh Monson put it perfectly in their review for "Luca," which has been jokingly referred to by many as "Call Me By Your Name" for kids. "From embracing decades of queer coding in its villains as a sort of camp sub-brand marketed to the gays who identified with them growing up, to the decade-long cycle of breathless news stories about how Disney has finally included a gay character in one of their films — only to have a single effeminate man receive a blink-and-you-miss-it confirmation that they might have a male partner — Disney loves to play to a queer audience with the conviction that we will be satisfied with scraps of subtlety."
The official Disney shop has no problem selling Mickey Mouse and Marvel pins with colors of the pride flags, but it's ghoulish that those funds can be siphoned into supporting people that wish to do the LGBTQIA+ community harm.
Welcome to the Mickey-eared hard place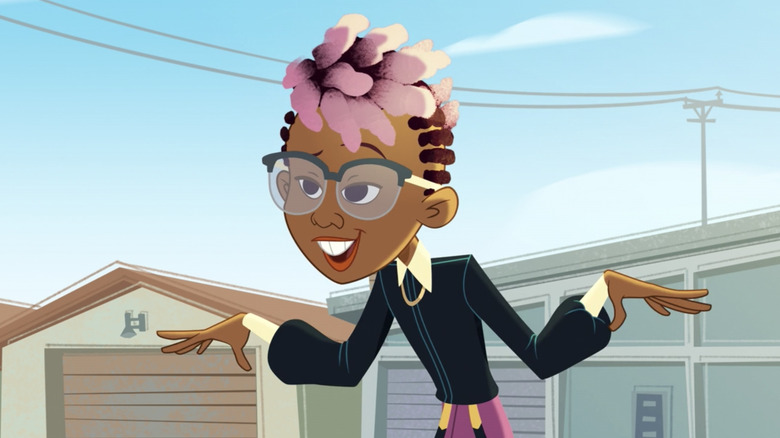 Disney+
Disney is also putting out some of their most progressive work in years, despite the fact Pixar employees have made it publicly known that the company still censors much of the overt queerness out of their work. Even still, the Disney+ original "The Proud Family: Louder and Prouder" made waves when the queer-coded Michael Collins from the original series came back canonically queer and voiced by openly gay actor EJ Johnson.
"What's really hard, and this is something that I don't have the answers here and I don't think anybody does, is that we need to celebrate that work," an employee tells me. "If we don't celebrate that work, then we'll see less of that work, and if we were to boycott Disney over this, which I get the impulse to do, that's only hurting LGBTQIA+ creators who were finally making inroads."
"I want to uplift the individual creators and artists who are working on those shows because those progresses, or however you want to frame it, those exist in spite of Disney as an organization at large," says Queer Kid Stuff founder Lindz Amer.
And so we are stuck between a rock and a Mickey-eared hard place. How do we continue to support the incredible strides LGBTQIA+ employees fought for from within the company, while still taking to task the higher-ups who make these horrible calls? How do we talk about the brilliance of Domee Shi's "Turning Red" knowing some of the profits made off the film's success may funnel directly into the pockets of the ghouls who accuse those against the bill of grooming children?
'I want real gay and trans people to be able to live'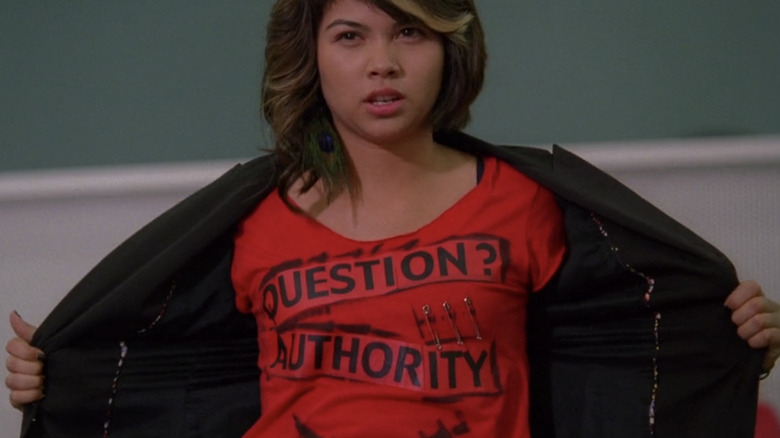 The Disney Channel
"If you're an artist living under capitalism, you need to find a way to pay your bills and have a place to live and support a family or do all of those things," one employee says. "If you're really lucky, you get to do that, but that means that you're making art for the way our system is set up for corporations that want to profit off of your work, but don't necessarily want to stand behind you." Telling affirming stories is important, but it's more important to take the politicians that are making the lives of queer people and their families more dangerous. "I'm glad that we can tell a story about a gay person or a trans person," they say, "But I also want real gay and trans people to be able to live."
Disney's refusal to speak out until it was too late not only hurts the audiences that consume their work, it hurts the people who work for them. It forces LGBTQIA+ entertainment journalists to continue writing about the content the company puts out, knowing full well the publicity given will directly correlate to their profit margins, but articles on the latest Marvel movie or "Star Wars" series brings in the readership that allow the increasingly disappearing entertainment publications to stay afloat. Thanks to the stranglehold Disney has on the entertainment industry, LGBTQIA+ workers across the entire industry have been put into an unfair and impossible position. "The people who actually get hurt are the ones whose show doesn't get renewed because people weren't watching," an employee says. "I don't know ... it's complicated, it's hard, and it shouldn't be this way."
A call for accountability
Chapek did eventually denounce the bill, apologize for the inaction, halt all political donations, and attempted to donate $5 million to the Human Rights Campaign, but the organization has refused to accept the funds until more "meaningful action" has been taken by Disney. "While Disney took a regrettable stance by choosing to stay silent amid political attacks against LGBTQ+ families in Florida — including hardworking families employed by Disney — today they took a step in the right direction," the HRC said. "But it was merely the first step."
Starting March 15 until March 22, 2022, LGBTQIA+ Disney employees have scheduled in-person and virtual walkouts as well as launching the Disney Do Better Walkout website, WhereIsChapek.com. The site features a flood of anonymous employee statements as well as a list of demands including (but not limited to) the end of donating to politicians who supported the bill, ceasing Disney's efforts to move employees from California to Florida, and a guarantee that anyone who refuses to relocate to Florida will not be terminated.
As Simeon stated on Twitter, "If Disney would reverse their plans to relocate their Imagineers and some support staff to Florida, it would be an actual step to show good faith towards its LGBTQ+ employees now forced to move to a hateful state and it would also financially punish Florida for its terrible bill." As much as people like to tout America as a land of freedom, when it comes to LGBTQIA+ people, some states are infinitely safer than others. No one should have to choose between moving to a non-affirming state in order to keep their job.
The need for anonymity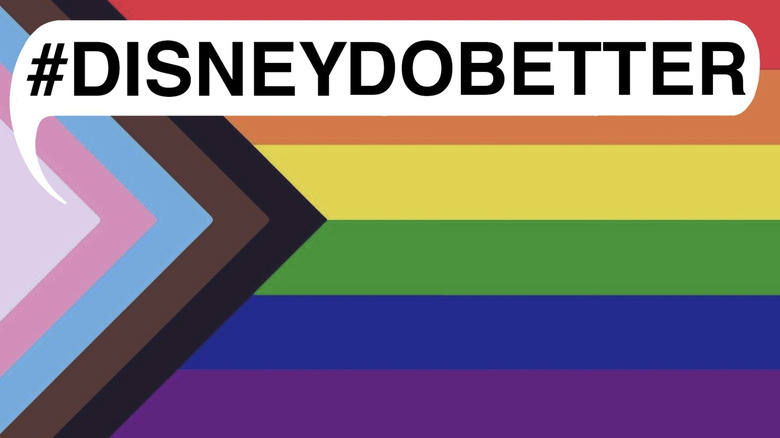 WhereIsChapek
It's important to note that the website and walkout organizers are not officially associated with the business employee resource groups (BERGs) and Pride Advisory Group within Disney, according to The Wrap. They also reported that the Pride Advisory Group, in a Pride Slack channel Tuesday, addressed the walkout without either endorsing or condemning it. "The Pride Advisory Group would like to address the potential walkout being communicated about in the Pride Slack channels that is slated to happen starting today and, potentially, escalating into next week," the message read. "We have not organized this walkout nor the accompanying list of demands and we neither endorse nor condemn these actions."
There is no "don't say gay" bill but given all the crazy sexualization of our kids propaganda I'm seeing maybe we need a "Don't Groom Our Kids" bill.

If the left needs to teach toddlers these things there can be few other rational explanations and parents need to push back now!

— Donald Trump Jr. (@DonaldJTrumpJr) March 15, 2022
While the grassroots campaign of WhereIsChapek may not have official ties to the Pride organizations, their efforts should not be diminished. Official organizations require membership names, and WhereIsChapek is a way for employees to speak out in anonymity. When the group shared their demands on Twitter, they were met with equal parts support and horrific harassment. "If these groomers want to make a difference, they should quit," said one hateful Twitter user. Supporters of HB 1557 have resorted to using conservative scare tactics, attempting to spark a moral panic surrounding the LGBTQIA+ community and allies. Anonymity is vital for these employees who are protecting themselves and their families by not putting themselves in the proverbial line of fire of people who believe them to be "groomers," "pedophiles," "child abusers," and "perverts."
Only a few with power have spoken up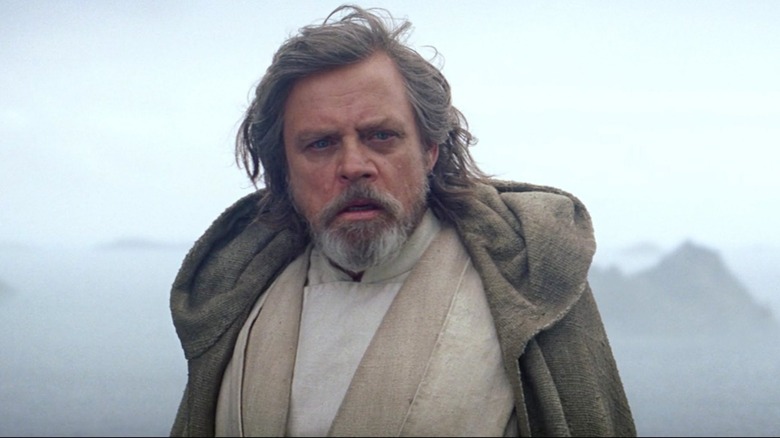 Lucasfilm
Amer and others like them have noticed the excruciatingly loud silence of so many people with power. "I think they're scared, but I think it's lip service allyship," they say. It's one thing for someone without power to remain quiet in order to be able to feed their families and stay alive, "but there are people who do have power who don't speak up, and that's where the problem is," Amer continues. What adds to the frustration is that many LGBTQIA+ creators already know what it feels like to be marginalized and struggle with employment opportunities, because it's so painfully common. Corporations may not listen to the "little guys," but they'll listen to a Hollywood A-lister like perpetual good guy Mark Hamill.
I wish I could say this message is a rarity. Sadly, I hear all too often from far too many people who are bullied & mistreated just for being their authentic selves. 💔 pic.twitter.com/IqHzYP6Rec

— Mark Hamill (@HamillHimself) March 12, 2022
"I compare my situation as a queer, trans, non-binary person, and I'm like, 'I am already at the bare minimum of what I can make to live as a freelance creator and artist, I am already in that struggle of worrying about livelihood at the intersection of anti-trans and anti-queerness,' so I look at those people and them being scared s***less, and I'm like, 'You just don't want to be in the position that I'm in right now,'" says Amer.
Now is a time for supposed "allies" to speak out alongside LGBTQIA+ people, especially the cis, white, straight, wealthy superstars who could very easily say, "I'm not going to do a Marvel movie again until you get it together" and spark genuine change.
The people in fear are the people Disney should be learning from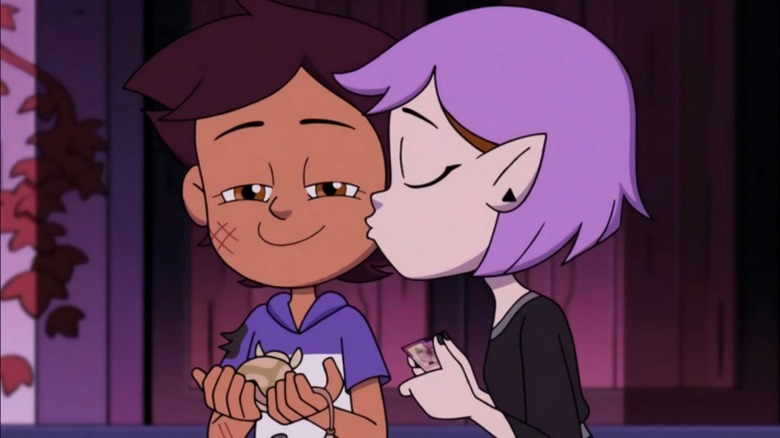 Disney+
Reading through the employee testimony on the Disney Do Better website is heartbreaking. "As a mother to a trans youth, it is hard to sit back and watch as her personal rights and existence are attacked without a fight," an employee said. "It makes me saddened to think the company I show up for in so many ways would not fight for us as well." Countless members of the community, allies, and parents of queer youth have been forced into anonymity in order to continue providing for their families and pursuing their passions. I admittedly was hesitant to even write this piece, fearful that I too would be blacklisted by Disney for daring to speak out, despite defending and championing their work when they do get it right. Fortunately, some creators, like Dana Terrace of "The Owl House," have spoken out.
I'm fucking tired of making Disney look good so WHO'S READY FOR ANOTHER ✨CHARITY LIVESTREAM✨ MARCH 13th!!!

More details to come. 🏳️‍🌈 #dontsaygay #disneydobetter pic.twitter.com/1MtumvjfB0

— Dana Terrace (@DanaTerrace) March 7, 2022
But we are not the ones who should be afraid and forced into anonymity — we are the ones that Disney should be seeking out and listening to. The fact that so many employees have been hesitant to speak publicly on such a personal and systemic issue should have been a sign to Disney that they have far more power than they are willing to recognize. Over and over again, employees have talked about how meaningful it has been to work for this company. People genuinely love Disney and want them to do and be better, because they don't call Disney World "The Happiest Place On Earth" for nothing. LGBTQIA+ employees, industry professionals, and audiences deserve to be heard, and Disney has a responsibility to course correct and repair the harm that they've caused with their inaction.
Disney is a symptom of a bigger issue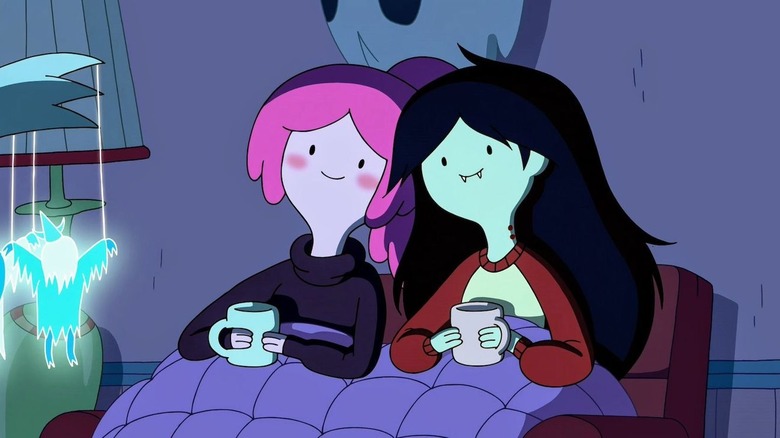 Cartoon Network
"It's not just Disney, is the thing, it's the entire kids' media industry," says Amer. "It comes down to capitalism for the most part, and a lot of stigma around queerness and kids that is super, super conservative." Given the power and control Disney has, they have the chance to be trailblazers in the industry, but for some reason (capitalism), they're still dragging their feet on normalizing and de-stigmatizing LGBTQIA+ content for children. "I don't think the kids media industry has any idea how much influence and power they have on kids' lives outside of their bottom line," Amer says, continuing:
"Imagine a trans kid character on a kid's backpack that they take to school, and that character is a role model for that kid. Imagine the huge impact that would not only have on queer, trans, and non-binary kids themselves, but on all of their peers. That helps get rid of bullying, and of misinformation and misunderstanding around the trans experience."
"Something that comes up with kids' media that I think not a lot of people understand, especially with other content creators who are in the adult world, is that there's no indie scene in children's media," Amer adds. "Pop culture really matters when you're talking about kids."
Amer's programming for Queer Kid Stuff is as close to an "indie scene" as possible, and while there are definitely small-scale creators in the kids' media world, they don't carry as much clout or access compared to something like the independent film world. The children's entertainment sector is one of the few that requires systemic change to occur from the people at the top, which means companies like Cartoon Network, Nickelodeon, PBS, DreamWorks, Sony Animation, Illumination, and, of course, Disney.
It's time for an industry-wide change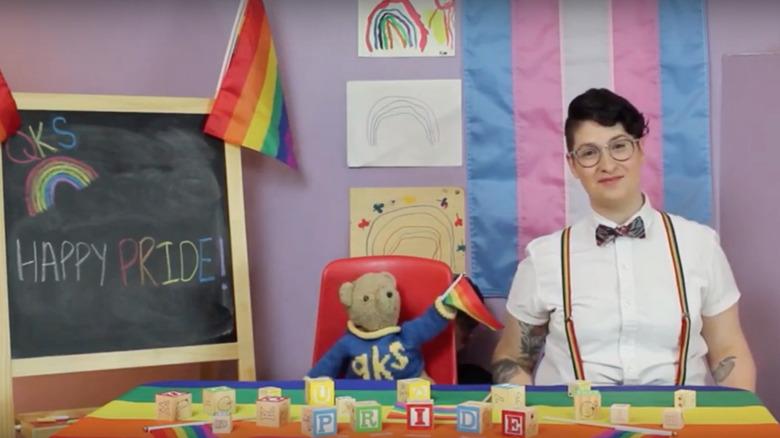 Queer Kid Stuff
While it's good that people have rightfully been calling out Disney, it's important to note that the entire children's/family animation industry is struggling to provide affirming LGBTQIA+ content for young audiences. Laika's "ParaNorman" featured the first openly gay character in a mainstream animated film, and that was only 10 years ago. The brilliant film "The Mitchells vs. The Machines" featured a queer protagnoist, but parental guide websites have been flagging the references to Katie Mitchell's queerness as "sexual content." For independent creators like Amer, having a history of queer content for children in their portfolio has likely contributed to employment difficulties.
"When I first made Queer Kid Stuff, basically coming out of college, it blew up on the internet. I tried to get jobs the traditional route like producing and PA stuff in kids' media, and I would get to final round interviews for all of these jobs -– these entry-level positions — and I'd be turned away. And say whatever you will about that, competitive job market, or whatever, but I'm pretty sure it's because they didn't want someone who had a web series called 'Queer Kid Stuff' to be associated with their brand, no matter how far down the ladder I was. I think that people are being actively locked out of the industry in a lot of ways, too. I think that I've survived and gotten to where I am just by sheer willpower and fight."
I asked Amer what the next step should be for Disney, and their answer was simple: "Give money, give power to queer and trans people, especially if you're trying to tell those stories, and work through your own anti-queer, anti-trans biases if you want to be a voice for people."
Moving forward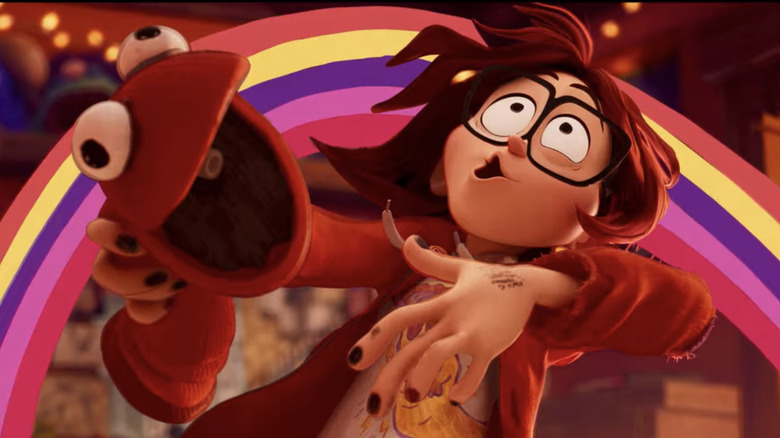 Netflix
Disney has scheduled a virtual conversation among its LGBTQIA+ employees on March 22, the same day of the planned walk-out which also includes the employees of Disney parks, resorts, and cruises. On April 13, Disney will be hosting its "Reimagine Tomorrow Summit" on the topic of equity, diversity, and inclusion in the workplace, and Chapek is due to participate. In the interim, Marvel took to Twitter to denounce any and all anti-LGBTQIA+ legislation, and Lucasfilm posted a similar message on Instagram. While the sentiments are appreciated, it feels like an empty gesture in place of tangible change. 
While movies still struggle to provide affirming LGBTQIA+, it is important to highlight the incredible strides being made on TV. "The Owl House," "Craig of the Creek," "She-Ra and the Princesses of Power," "Steven Universe," "Adventure Time," "Sailor Moon Crystal," "Gravity Falls," "Star vs. The Forces of Evil," "Danger & Eggs," "Cardcaptor Sakura: Clear Card," "The Loud House," "Clarence," "The Legend of Korra," "Arthur," "DuckTales," "The Proud Family: Louder & Prouder," and "SpongeBob SquarePants" all deserve their flowers for exploring queer themes in an industry that frequently tires to erase LGBTQIA+ stories from the final page.
Actions speak louder than words, and for the Disney company (and all of their subsidiaries), the ball is firmly in their court. And they better act fast, because Sony Animation and Netflix just pulled miles ahead.
"We do not want to silence ourselves for fear of a bigoted few." Here's to seeing and celebrating more queer stories! pic.twitter.com/QnJKKYr2b0

— The Mitchells vs. The Machines (@MitchellsMovie) March 16, 2022